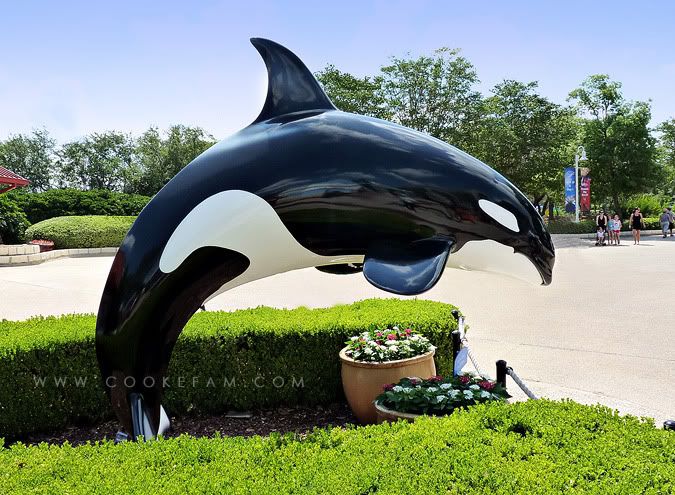 Before we went to Sea World, a friend from college who had just returned from Sea World with her family (hi, Kristen!), was kind enough to email me some advice. I also poked around some blogs to look for tips. And since I've now been myself, I thought I'd share what I think would be good to know if you're planning to go.
Disclaimers: We went to Sea World San Antonio, but some of these might apply to the other Sea Worlds too...not sure. We went with small children (ages 3 and 10 months). These so-called "tips" are in no particular order.
1.
Buy tickets and parking passes
online
before you go
. Not only do you get a little bit of a discount on tickets if you buy 4 or more, but you won't have to wait in line when you get to the park. With a pre-paid e-ticket, you can walk right up to the turn stiles.
2.
Check the Dolphin feeding times right when you get to the park.
You have to go over to the dolphin area to find out, and the times are posted on a sign. Apparently there's always one very close to the time of the park opening. We went to the first one and I honestly think we avoided some longer lines because of it. Not to mention that because it was the first feeding of the day, the dolphins were ready to eat!
3.
Download the Sea World
iPhone app
. It has an interactive map, show times, and a
bunch
of other handy info. Pretty neat.
4.
Take several snacks.
You are only allowed to take snack-size portions of food into the park, but if you're bringing kids, definitely bring some snacks. Being in the heat and just being active makes kids hungry. Ethan ate almost all of the snacks I brought for him and I brought a lot. He ate a full lunch too.
5.
Plan your day.
Look at the
park map
before you go and decide what you want to do. This way you are aware of where things are in the park and have some idea of what route you will take throughout the day. Be sure to factor in the shows you want to see. Planning your basic route will keep you from walking from one end of the park to the other repeatedly, which would be a total beating. Oh, also...it is highly unlikely that you will be able to see everything if you are only going for one day, especially if you are taking kids. So either go back another day or just prioritize what you want to be sure to see.
6.
Be aware of the water park line.
If you are going on a weekend (especially a Saturday in the summer time), just know that the line for the water park (to get in) will get long toward the middle of the day and into the afternoon. Yep...right about the time you want to pop in there and cool off. So, if it's something you really want to do, then plan accordingly and go a little earlier so you don't have to wait so long just to get in.
7.
Take a stroller and detachable bag.
Well, you only have to take a stroller if you have young kids. I would include preschoolers in this category because they will get hot and tired and you will not want to carry them because you will also be hot and tired. The "detachable" bag is for when you go into shows. Strollers are not allowed inside so you have to park them outside. In order to keep your camera and other stuff with you, it is just easier to have everything in a bag that you can just grab when you have to leave your stroller. I used two hooks to attach my canvas bag to the handle bar of our double stroller and that worked really well.
8.
Park your stroller in the shade, if possible.
We parked ours in the sun during one show and when we got out of the show the stroller was so hot that neither of our kids could sit in it.
9.
Show Reviews.
We went to
The Cannery Row Caper
(Sea Lions),
Azul
(Dolphins and Beluga Whale), and
One Ocean
(Shamu). They were all about 30 minutes long, but you have to get to the stadiums somewhere between 15-30 minutes early to get a good seat or even to get a seat in the case of the Shamu show.
The Cannery Row Caper
was fun, silly, and very cute for kids and adults. Ethan loved it. There was dialog but definitely enough action to keep kids entertained.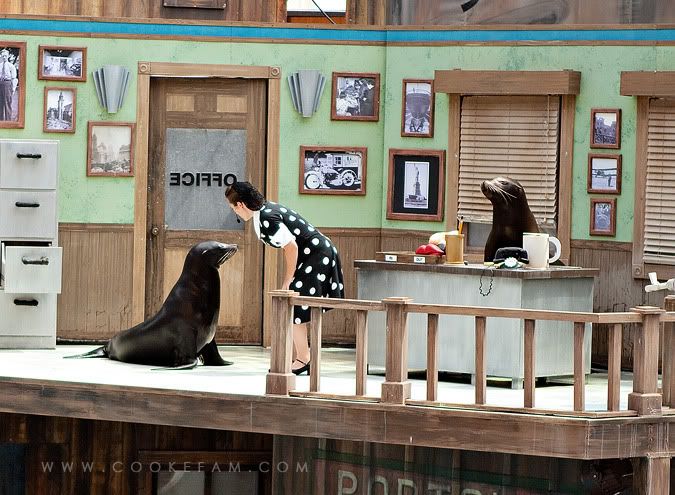 Azul
was billed as perhaps the best show at Sea World, but I was disappointed. Probably because I had heard it was so wonderful. But I had heard there were human acrobats and some diving and we saw none of that. Maybe our show was not complete for some reason. Not sure. The dolphins and the beluga whale were great, but the show we saw consisted mainly of the trainers talking and very little animal performance. Ethan was fidgety because of that, which also probably influenced my overall impression a little bit.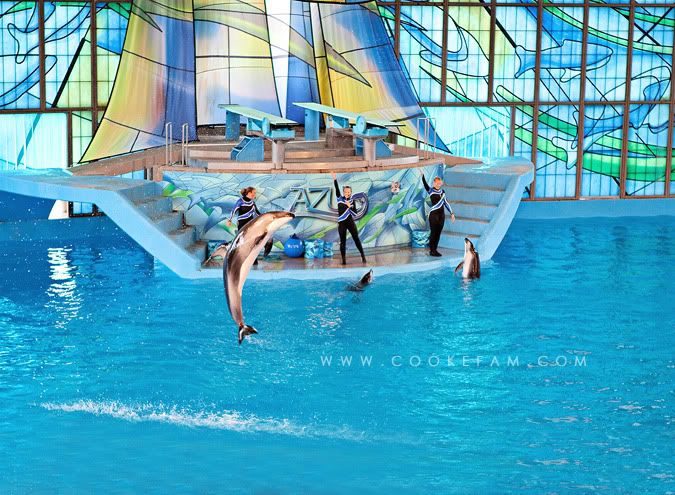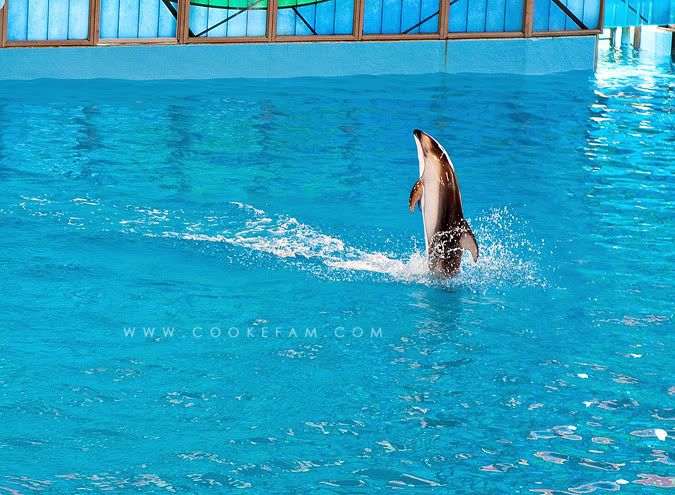 One Ocean
(Shamu) was our favorite. Ethan loved it as did all the adults. There is very little talking and very little down time during the show. The killer whales are almost constantly performing with music in the background. This show had just opened when we went (June 2011). You really can't go to Sea World without seeing Shamu and this show does not disappoint, in my opinion.