Yesterday I failed to mention one pretty important thing that will be happening in our family in 2010. It was a lovely Christmas surprise to both of our families, which we revealed with a simple little shirt that Ethan wore. As anticipated, the moms got it immediately but the dads took a minute...actually, I think they both had to be told. Maybe you can figure it out...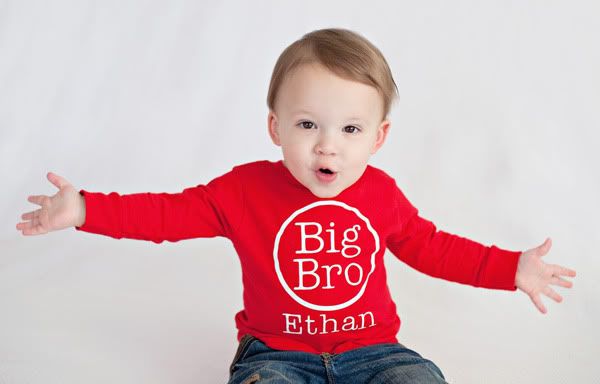 Somewhere around the date of August 19, 2010, Ethan will become a big brother and we will become a family of four! If it's not obvious, this was one of the fun parts of Christmas. Casey muscled through a very short Christmas Day celebration (despite his stomach bug) with my parents so that we could tell them since we had told his parents (as planned) the day before.
And, of course, I did not catch Casey's stomach bug, but "morning" sickness did hit on Christmas Day. Lovely. BUT...and this is huge (to me)...so far, it is nothing even close to the violence I experienced with Ethan for the first 21 weeks of his pregnancy. And for that, I am so thankful.