Due to a lot of activity around our house this week and a little bit of a computer "issue" (on which I will not elaborate), I am just now getting around to posting pictures of Ethan's birthday party last weekend.
All sorts of family showed up to help us celebrate two years of our boy. He is one loved little boy. How many other occasions have all of his grandparents AND great-grandparents together in one room? Not to mention aunts, uncles, and cousins. And one baby brother, of whose existence Ethan is still blissfully unaware.
The party had a train theme. That's what Ethan told me he wanted. Not really. He's got to get a grasp of what a birthday party is before he will be offering up any help in the theme department. Anyway, here are some of the details and decorations, including the amazing and delicious cake made by
Becky
. Seriously...I gave her a "sketch" of what I wanted and the cake looks
exactly
like it.

The balloons were a big hit with the birthday boy. Including the enormous #2 that is about four times his size (I did not know it was going to be that big). It's still hanging around the house.

For some reason, Ethan burst out in tears when we all gathered around him to sing "Happy Birthday." He did it again when Casey and I sang to him on his actual birthday. I don't know if it is the song or the singing, but there's something about it he apparently doesn't like!
And then, I brilliantly put trick candles on my two-year-old son's birthday cake for him to blow out. I suppose I did not read the fine print on the candle package. He refused to blow them out...each and every time. Although, he did get a kick out of them sparking to life again. (See his red little eyes from crying?)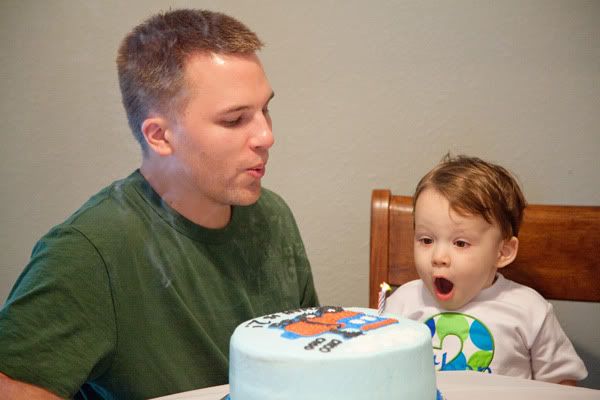 The boy made out with plenty of gifts. Good thing I had put 90% of his toys up in the playroom in preparation for this or Casey and I would be feeling a little bit like we lived in toy land. As it is, I am dying to organize the toys in the playroom...but that is another post for another time.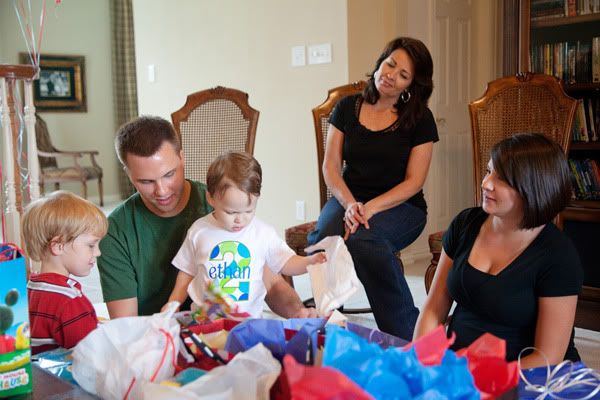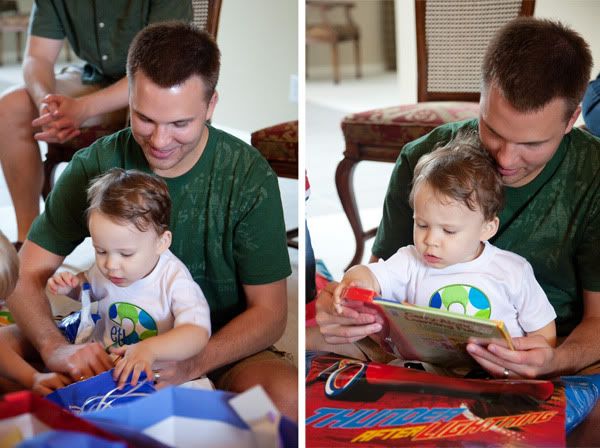 Thanks to my dad for taking the majority of these pictures so I could participate in everything. The full gallery of the party can be viewed on our
photo website
.