I've had Logan's nursery completed for a while now, I just haven't gone in there to take any pictures. He's still sleeping in the pack n' play in our room for now, so this room is still unused...it will probably never look quite like this again.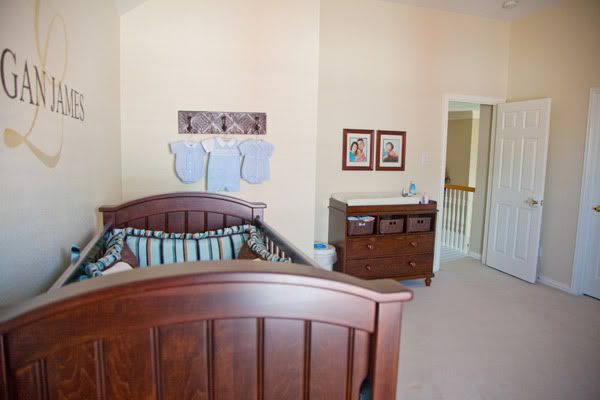 You may notice (or maybe not) that most of the things in the room were part of
Ethan's nursery
. We knew that we'd be using all the furniture again for our second child, but when we found out we were having another boy, I decided to use the bedding again too. I've done some different things on the walls, and the drapes are new, but the rest is just rearranged in a different room. Still, I love Logan's nursery. It is so peaceful and sweet.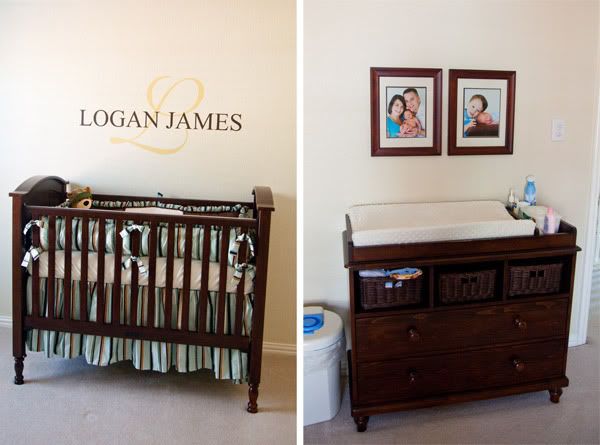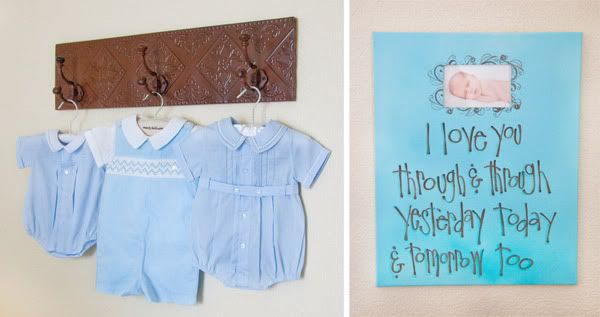 Room Notes (because sometimes I see things and wonder where to get them):
Paint Color:
Sherwin Williams
Antique White
Drapes:
Bed Bath and Beyond
Vinyl Wall Name:
Vinyl Lettering Etsy Shop
Cream Monogram Pillow (on rocker):
Ballard Designs
Crib, Changing Table:
Pottery Barn Kids
Rocker & Ottoman:
Lone Star Baby & Kids
Bedding: Custom - can't remember the name of the local store!
Round Side Table:
Target
Painted Canvas Wall Art:
I'm Not Spoiled Designs Etsy Shop
Wall Hook Rack:
Hobby Lobby