I'm trying to lose those last few pounds of baby weight. And I love to bake. Actually, I love to eat the products of baking. Those things do not go together. It's true, unfortunately! However, I believe a life without sweet treats is no life at all. And fall is prime-time for baking for me. Who can resist baking with pumpkin? There are just so many yummy recipes to try. So, I've come up with a solution that works for this time in my life so that my baking and weight loss can coincide....I give away as much of my baking as possible. It's not the easiest thing for me to do, but goodness knows I'd rather have a couple of sweets than none at all, so this works for me right now!


I made some
Chocolate and Pumpkin Pie Shortbread Bars
by
Picky Palate
. Boy, were they delicious. And since I made them the week of Halloween, they made the perfect treat to give to Ethan's preschool teachers. I designed and printed out the bag toppers in Photoshop. His teachers were thrilled and so was I since I didn't have these delicious bars tempting me at home. And believe me, I have
no
will power
at all
when it comes to sweets. If they are there...I
will
eat them.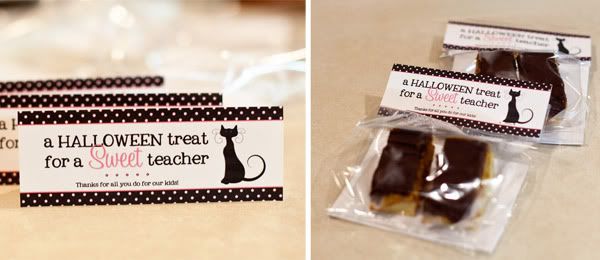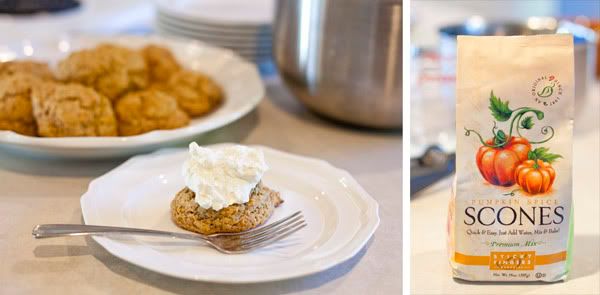 Then, I wanted to try the
Pumpkin Spice Scone
mix from
Sticky Fingers Bakery
that I came across at World Market. I've used their mixes before and love them, but this one must be seasonal because I hadn't seen it before. So, the morning of the
big swingset build
, I made the mix and let it be a sweet treat for all who came. Along with the coffee that my parents brought. Oh, and the made-from-scratch whipped cream that had Asian vanilla bean in it. My dad brought back some fresh vanilla beans from an Indian market in S. Africa on his last trip there. It was a perfect pairing.