I have used three different baby slings/carriers with my two boys now. I am not a fan of lugging around a bulky infant car seat. And you can't beat being hands-free...especially with two kiddos. With both Ethan and Logan, I have prefered to "wear" them when I go out shopping instead of using a stroller just because it's easier for me. Babywearing is also handy for parents whose babies like to be held a lot and are difficult to comfort. Neither of mine were that way, but I still love babywearing. So, here are my opinions on each sling/carrier I've used:


1.
Heavenly Bundle Sling
. This is a traditional hammock-style sling. I used it with Ethan when he was under two months old. I loved this sling while Ethan was small, but as he got heavier, it was not as comfortable for him or me because all of the weight was on one shoulder. After a certain point, Ethan didn't like to be held in the cradle position any more either. However, you can use the sling with many different positions and even with a toddler. I didn't because of the aforementioned comfort issue.

Here is the Ethan sleeping peacefully in this sling. He is just a few weeks old here. Awww. I miss him being so tiny.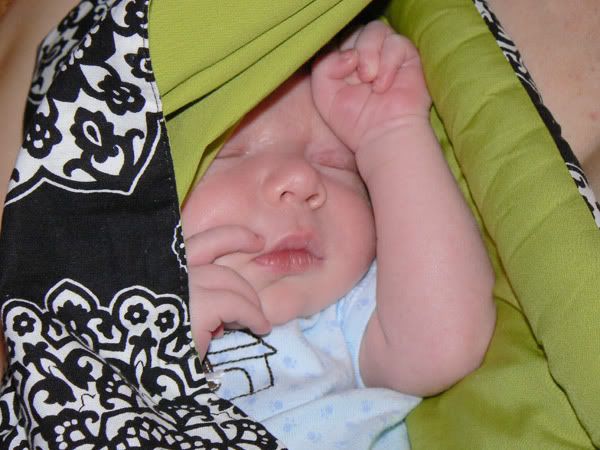 Here's a run-down of the pros and cons of the Heavenly Bundle sling (and likely most hammock-style slings).

PROS:
Easy to put on and put baby in and out
Folds up easily and compactly for diaper bag storage
Cute fabric choices
Several positions for baby
Usable up to toddlerhood (theoretically)

CONS:
Can hurt back because weight is carried on one shoulder
Not as comfortable to use with older/bigger babies (in my experience)
Can be difficult to find the right size for you and this brand of sling is not adjustable.

*I would like to note that you CAN use a hammock-style sling safely, although there have been some safety recalls lately. Use common sense and look at the tips on the Heavenly Bundle website to make sure you use this type of sling correctly and you'll be fine.

_____________________________________________________
2.
The Baby Bjorn Carrier
. This is what I used with Ethan after he "outgrew" the other sling. It was oh-so-helpful on our trip to Colorado when he was 2 months old. He slept really well in it, and as soon as I adjusted the straps to fit me well, it was fairly comfortable to wear. But it can still hurt your back just as any backpack would. And it's pretty awkward to store or carry with you.

The Baby Bjorn pictured in action in downtown Durango, Colorado with Ethan at 2 months old.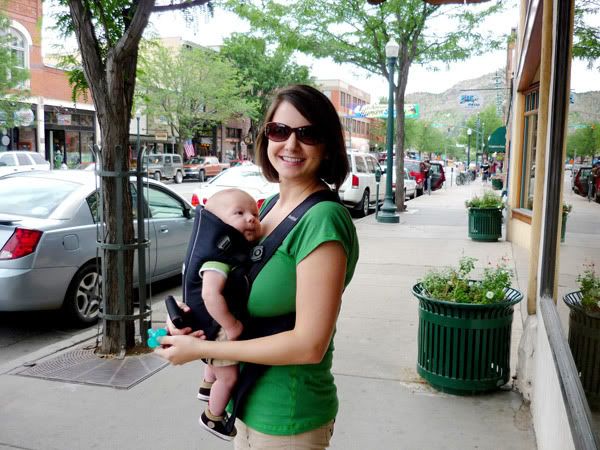 PROS:
Easy to put on and get baby in and out
Has head support for young babies
Breathable fabric
Dads may feel more comfortable wearing something like this as opposed to a sling
Baby can face in our out
Easy sizing (adjustable straps)

CONS:
Can cause some back pain, even when well-adjusted
Only two positions for baby; not as versatile
Awkward to store in diaper bag; bulky


___________________________________________________
3.
The Moby Wrap
. My mom gave me this as a shower gift when I was pregnant with Logan. I was interested because I'd heard so many great things about it and because I knew it would be important for me to have a versatile sling/carrier now that I'd have two kids to keep tabs on when we were out and about. And it turns out that I
love
the Moby Wrap. It is by far the most comfortable
and
versatile of the three slings/carriers. It distributes the weight well, does not cut into your shoulders or back, and the fabric has some stretch to it. It's not perfect (see below), but the pros far outweigh the cons in my opinion.

Logan tucked away in the Moby Wrap at about 5-6 weeks old. Now I use this same wrap technique with him facing out and he loves it.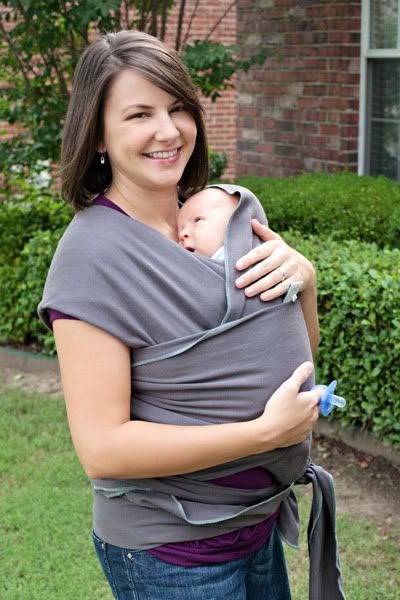 PROS:
Soft, stretchy fabric; available in many colors
Very comfortable to wear
Several different positions for babies and toddlers (even twins!)
Easy to master putting it on and baby inside
Easy sizing (one size fits all)

CONS:
Not as compact as I'd like just because of all the fabric
Learning curve to figure out the wrap techniques
*Here's a tip if you plan on using the Moby wrap...because there is so much fabric to this wrap, I have found it so much easier to throw it on quickly
before
we leave to go somewhere (if I know I'm going to use it when we get there). This way, you're not draging the ends in the parking lot or other dirty place when you put it on (it does touch the floor while you are wrapping it around yourself).