I mentioned in my
last post
that Ethan was really wanting some "Happy Halloween Decorations," as he calls them. And prior to this week, I had a grand total of 1 piece of Halloween decor in my possession. It's just not a holiday that I've decorated for in the past. I usually just put up my fall decor in September and leave it up until after Thanksgiving when I roll out the Christmas decor. But Ethan is into the spooky stuff and I figure I have just a few years where this will really be fun for the boys so why not go for it? Since this decision occurred a mere two weeks before Halloween, that didn't leave me a lot of time to pull things together, but it did afford me the opportunity to buy Halloween crafty stuff at 50% off!
Here's what I came up with, thanks to the inspiration I found floating around on
Pinterest
. Yes, it's true. I actually
made
some of the things that I've pinned on
my Halloween board
.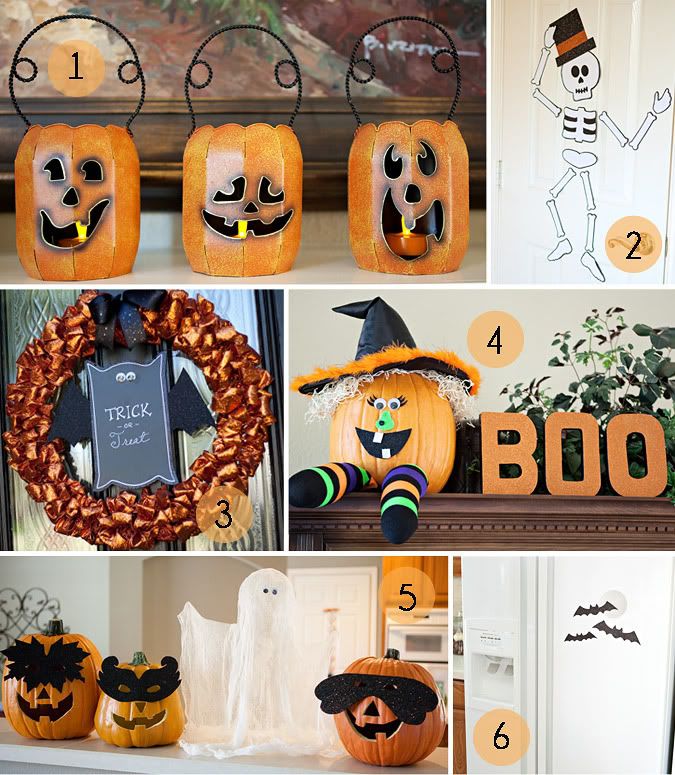 1. These tin jack o' lanterns are the one piece (or three pieces) of Halloween decor that I've had for years. I have not really ever used these, but I think I got them on clearance at Pier 1 back in 2003 or so. But I've always liked them so I've kept them all this time. I pulled them out this year and just put them on my mantel in between my fall stuff up there.
2. I remember growing up we had a paper skeleton named George that my mom always hung somewhere during October. So, when I found this
free skeleton printable at BHG.com
, I knew I had to use it. I printed it, backed it with black card stock, and taped it to a closet door in our living room. I added the sparkly top hat and used blue painters tape to attach it to the door. Our skeleton is named Fred. I don't know why I feel the need to name him...just carrying on the tradition, I guess.
3. Honestly, this wreath was a product of combining Halloween clearance stuff from Michael's and JoAnn's. The black plaque was just plain...I added the wording with a paint pen, eyes, and bat wings. The wreath itself is made from a wire form with wired orange glitter ribbon tied to it with the ends curled under.
4. Wendy the Friendly Witch (again, I feel the need to name her), is a fake pumpkin from Hobby Lobby with a felt piece and googly eye face, wrapping stuffer hair, and clearance hat (I added the feather trim) and socks. Does it bother me that her legs look like stumps? Yes, a little. But not enough to figure out how to change that. Sorry, Wendy. The "BOO" letters are from JoAnn's and just spray painted black with the fronts covered in orange glitter scrapbook paper.
5. The ghost was created with cheesecloth and starch. I followed
this tutorial
pretty much exactly. The masked jack o' lanterns are fake pumpkins that I carved up. I added the felt masks by using
free printables from GoodHousekeeping.com.
The felt that I used is the stiff, glittery kind. I'm keeping these inside right now, but I think they'll look great on the porch on Halloween night all lit up inside.
6. I used Disney's Family Fun
free bat printables
to cut out some glittery black paper bats for my fridge. I used silver paper and a cup to make a moon as well. They're attached with blue painter's tape.
That's it for this year. I wanted to keep it simple and just do a few things. Ethan loves it all. He's constantly talking about our Halloween decor so I think it was worth the day of crafting that took place to create all of this.