This year we added a new tradition to our holiday time...
A Meaningful Christmas
, which is a 24 day devotional series geared toward kids. Each day leading up to Christmas there is a scripture and short devotional that correlates with an ornament that is hung on the Christmas tree that day as a visual reminder of the lesson.
The creators of
A Meaningful Christmas
intended for the daily ornaments to be made by a group of 24 people, making this a group endeavor even though the devotionals are done by each family separately. I was contacted by a friend at church,
Abbe
, about participating, and since I'd heard about this devotional series the year before, I jumped at the chance.
After 24 women committed, we were each assigned a day for which we would make the corresponding ornament. We each made 24 of that same ornament to populate everyone's ornament collections. I was assigned day 12, which is the scripture about Mary and Joseph being told there was no room at the inn. In the instructions for my ornament, it said to have a door with a "no vacancy" sign on it. My interpretation had a bit of a retro twist with a red arrow sign (which I made in Photoshop) pointing to an "inn" made with scrapbook paper and with a corrugated cardboard roof.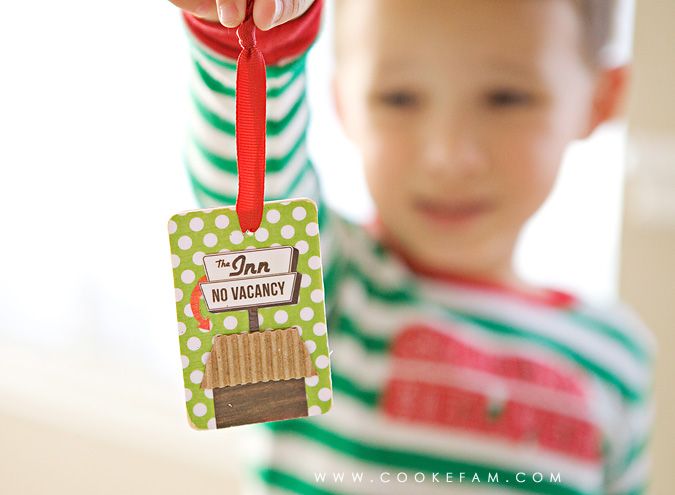 Then,
Abbe
hosted the ornament swap party where we all received our devo books and our ornaments. It was such a fun party with great food and great company. We each took a turn telling how we made our ornaments...crafty minds want to know! Unfortunately, I took the night off and did not get any photos of the swap party...I didn't even take my camera. But, I did come home with a tub full of the cutest hand-crafted ornaments you've ever seen.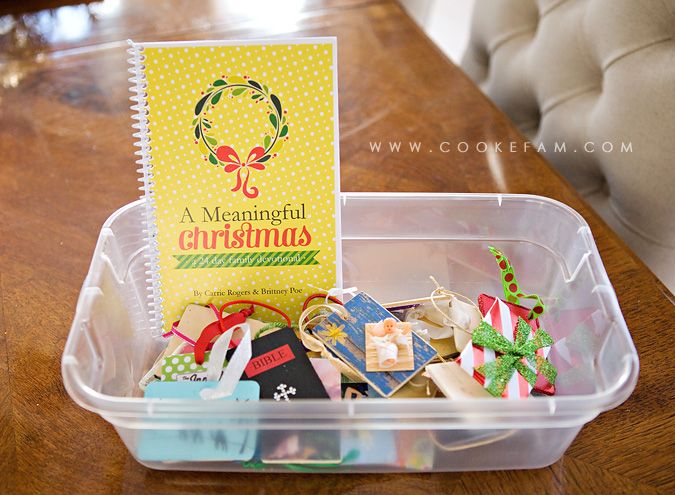 On December 1, we sat down for our very first devotional. I love that they are short and sweet but allow for further exploration and discussion as the boys get older. I had explained what we would be doing and Ethan was so excited to get started.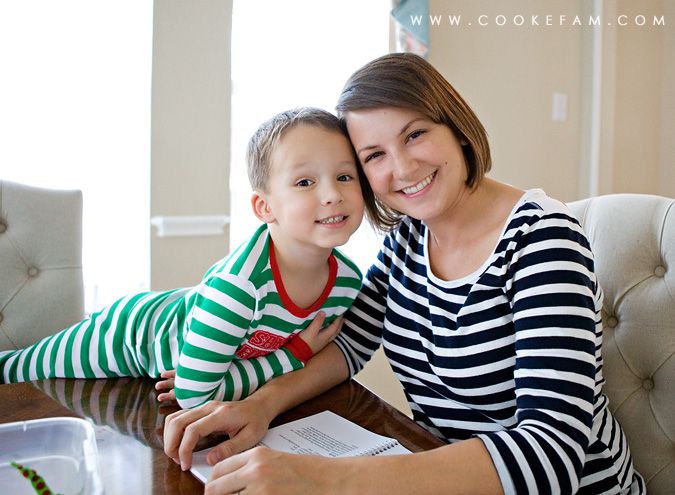 Logan is holding the ornament for day 1...and pretty happy about it, apparently!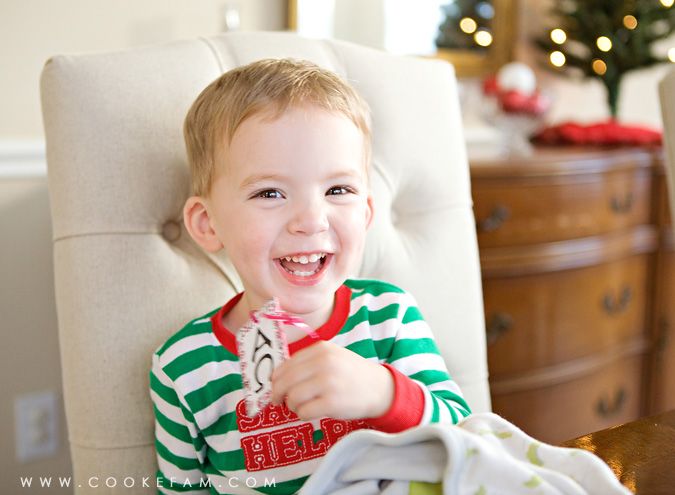 I look stern in this next photo, but I promise, I was just asking Ethan a question about what "alpha" and "omega" mean as I lead the devotional.
When we're done with each day's devo, we hang the ornament on the tree that symbolizes that day's lesson. The boys have really loved this and they take turns hanging the ornaments. Instead of putting them on our big tree where they'd get lost in the mix, we decided to use a small tree that sits on the buffet in our dining room that is decorated only with A Meaningful Christmas ornaments.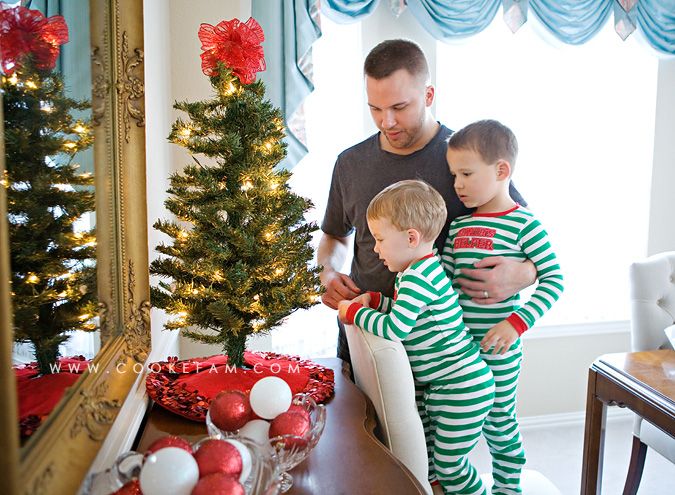 It's been fun watching the tree collect more and more ornaments. Here it is about half way through the month (there are also ornaments on the right side that can't be seen in the photo). And it has been a great tool to talk to the boys not only about the story of Jesus' birth, but also other things about Him. I love this fun and meaningful new tradition!