On our fourth day in Asheville, we had very loose plans for the day. But first, as always, we ate our wonderful breakfast at the inn...starting with brioche served with homemade blackberry balsamic jam.
Then, a simple, but delicious mixed fruit salad.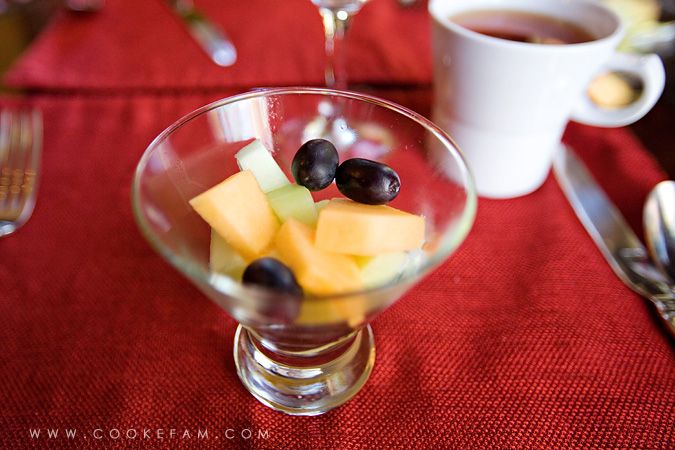 Good thing the fruit salad was so simple and light...because this third course was hearty...apple and sage sausage on top of roasted parsnip and yukon mash served with sausage gravy. Honestly, I can still taste the stick-to-your ribs flavors of this dish. Yum.
After breakfast we checked with the inn keepers about the closures on the
Blue Ridge Parkway
...our adventure for the morning. We planned to go to
Mt. Mitchell
via the parkway. But it's a road that is often closed in sections due to weather, rock slides, etc. We knew we'd have to check and see what the conditions were that day. The inn keepers assured us (according to the website) that there were no closures and we were in the clear to drive the parkway and see the mountain.
So, we hopped on the parkway a couple of miles from the inn and began what we thought would be about an hour and a half drive to Mt. Mitchell. We stopped along the way to check out and photograph the vistas, which is pretty much the point of driving on the scenic parkway.
After only about 20 minutes, we saw signs saying that the parkway was closed up ahead. We were forced to exit and were rerouted to the interstate, guided by signs for re-entry to the parkway. Well, we didn't get to reenter until we were past Mt. Mitchell.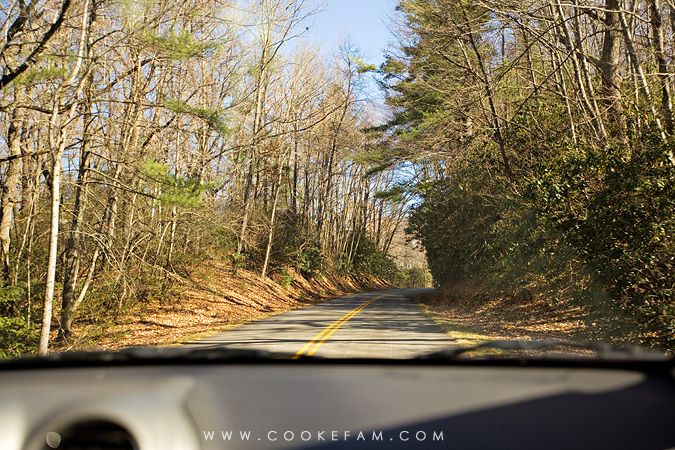 At some point, while we were driving on the interstate, we had decided to call the Blue Ridge Parkway phone number to hear the message about closures. And that's how we found out that not only was the parkway closed on the stretch that we wanted to travel, but Mt. Mitchell itself was closed too. Snow and icy conditions...which was hard to believe since we were down at a lower elevation enjoying temperatures in the 60s. We were bummed that our plans for the morning were wiped away, but we also knew that this was a possibility. We decided to just jump back on the parkway where it opened again and go from there just to drive it a bit.
We were able to get back on after about an hour of driving on the interstate, which is much further than an hour driven on the slow and winding parkway. But, when we did get back on, we were treated to some beautiful landscape, which is the hallmark of the Blue Ridge Parkway.
As we were driving, we started to see signs for Linville Falls and we decided to check it out since Mt. Mitchell was off limits. It turns out that Linville Falls are a series of waterfalls that can be viewed via hiking trails. We parked and decided to set out.
We actually really enjoyed the hiking. It was a gorgeous day to be outside.
The trail was not too difficult and you could pick the mileage you wanted to hike (depending on which falls you wanted to see and from what elevation). But we were definitely not wearing our hiking attire or shoes that day, since it was not on our original agenda. I was wearing my flats from Target...
Before long we were able to see the two lowest falls and the river that winds around the rocks.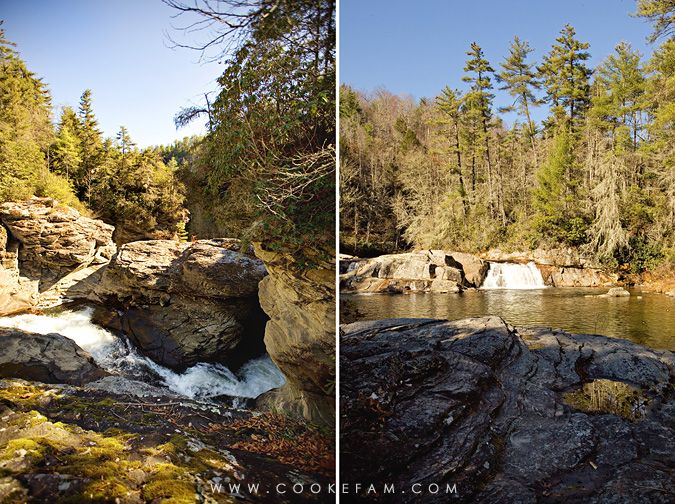 We decided to keep going from there and made it to two more look outs, going higher each time. Based on the mileage on the signs, we think we hiked about 2 miles total (there and back). It really was fun and spontaneous.
We had set out about 10am that morning, and with all our wandering and hiking, it was probably about 1:30 by the time we headed back to Asheville. (We skipped lunch that day...thank goodness for the hearty breakfast.) We decided to drive back on regular roads to make better time. Even on the regular roads, there was still beautiful countryside.
Back in Asheville, we hit up a collection of 3-4 antique stores all in a row. We did not leave empty-handed and saw some really fun and unique finds in here.
After that strip of stores, we pulled into one more (
Sweeten Creek Antiques
), 45 minutes before it closed. We thought that would allow us ample time to peruse the aisles. At 5 minutes to closing, we still had a few aisles to go and our arms were full of several things we'd picked up. I love antique stores...they basically offer treasure hunting for adults.
They locked the doors behind us after we checked out at Sweeten Creek, and then we dropped our finds back and the inn, freshening up for dinner. We ate at the
Tupelo Honey Cafe
in downtown Asheville that night. This is a very popular restaurant so we rushed to put our name on the list early in the evening...and still waited a full hour to be seated.
To start, they brought us huge, warm homemade biscuits served with blackberry jam and their own honey. And for some reason, this photo got saved instead of the other one I took, which was much better...grrr. A biscuit and honey is a great way to start out a meal.
I ordered a southern classic...shrimp and grits. My mom ordered one of their other specialties, the Sassy Garlic-Crusted Char Grilled Chicken. Honestly, I've never been much of a grits fan (born and raised in the South, but not the part of the South where grits are a big deal.), but I wanted to give it another chance since this is one of the cafe's signature dishes. It was really very good, but I kind of preferred the sassy chicken! And the mac n' cheese that came with my mom's dish was just perfect.
We also ordered a side of sweet potato fries because those are always good. And had we not been the unfortunate recipients of (uncharacteristic) bad service that night (we got overlooked in a shift change), we would have stayed to order one of their famous desserts.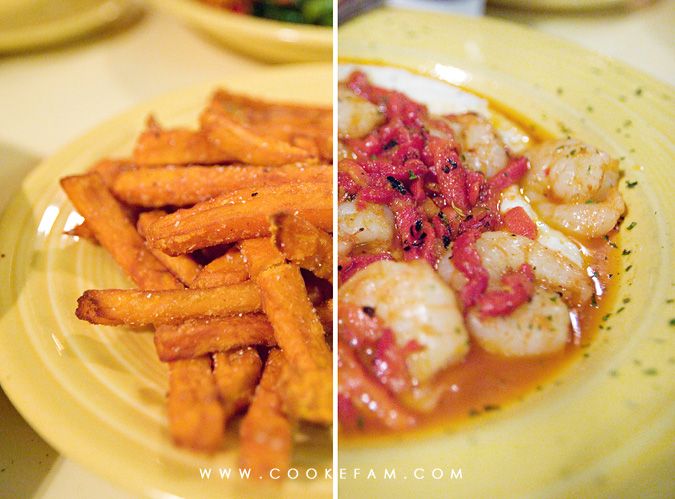 There's nothing more to report on this day...we went back to the hotel and watched TV in bed!