One of my favorite things I did for
my new office
was organize my desk area. In my case, the organization started by thinking about what I wanted to store in the desk and then coming up with a plan so that there was a space for everything. I literally sketched out what I wanted complete with measurements and the carpenter built it. Here's my first sketch (things changed a lot from this first draft):
Here's how the desk turned out. I was thrilled with it and could not wait to put all that storage to good use.
First of all, the drawers are super deep. And I lined them with teal wrapping paper (from The Container Store). Then I used clear bins to sort items (also from The Container Store). I actually wanted to use a patterned paper at the bottom of the drawers just for fun, but I never came across anything I really loved. But in the end, I am so glad I went with a solid because there's enough "pattern" going on with all my stuff in there!
I know it's weird, but this photo is like art to me. It makes me so happy. The combination of office supplies (which I love) and the "everything-in-its-place" organization is just my cup of tea.
Another drawer. Love this one too. It has my stationery, my label maker, electric stapler, and paper cutter. I have had that paper cutter since high school. I cannot part with it. And I use it all the time. I love having it in this drawer instead of crammed in the closet where there were about 5 things on top of it that I had to move each time I needed it.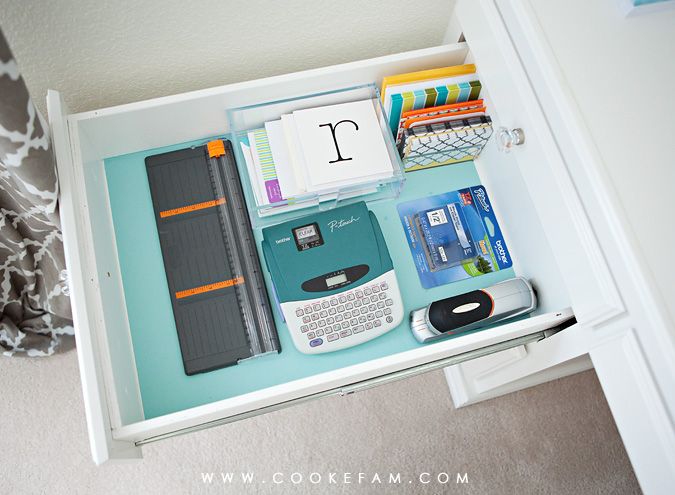 And some pops of purple, of course. I didn't feature that color in the room, but it's fun having a little bit of it in the drawers. I personalized that letter opener there by popping out the previous business card behind the plastic and making/printing my own using Photoshop. Took about 3 minutes and it's much more fun now.
One thing I knew I had to organize in my new desk were cords. Cords that previously didn't have a home. Cords that I'd have to search for each time I needed them...I hate that. This is so much better. They're right at my fingertips and not tangled.
Not pictured is my file drawer. It's the very bottom drawer on the left side of my chair space and it holds files for things like school info, insurance info, a tax file (so everything is in one place when I go to file our taxes), and others.
And then there's the upper storage cabinets. We actually have no book shelves in our entire house. Zero. Well, the boys have shelves in their rooms, but those don't count. We have no built-ins in the downstairs office, living room, or our bedroom. Casey's desk downstairs holds some books and I still have about 20 or so of mine down there. But, I am keeping fewer books these days...only the ones that I really, really love. But even then, I still have a small collection that needs a home. This is just one side of the cabinets...the other side has the top two shelves full of books and the bottom shelf for some magazines and my household notebook.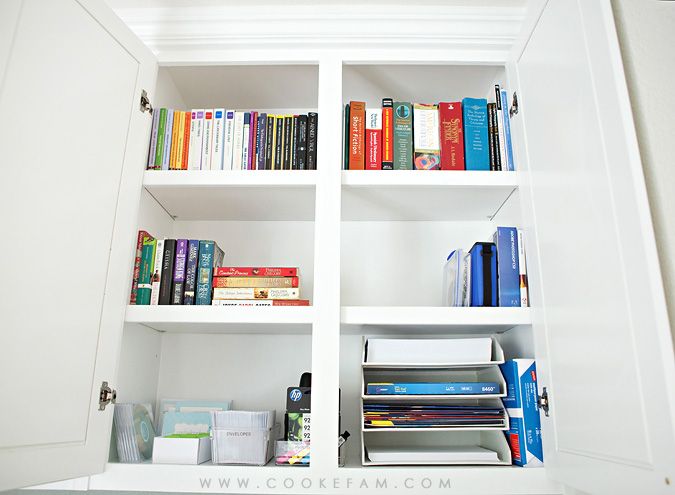 There are open spaces in my drawers and cabinets right now and my goal is to keep it that way. I really enjoyed the process of figuring out where each thing should go according to how and when I use it. And I enjoy the fruits of that process every day when I work at my desk. Organization is awesome!
PS - So far the boys have totally left my drawers alone. It's as if they sense that I would not like them poking around in there and messing them up. They may decide to try that some day, but so far so good!