The third day of our trip began with our scheduled photo shoot at Notre Dame. We met
Catherine
in the gardens behind the church at 8:45am and spent the next hour and a half walking around with her. I've already shown my
favorites from the shoot
, but here are a few more.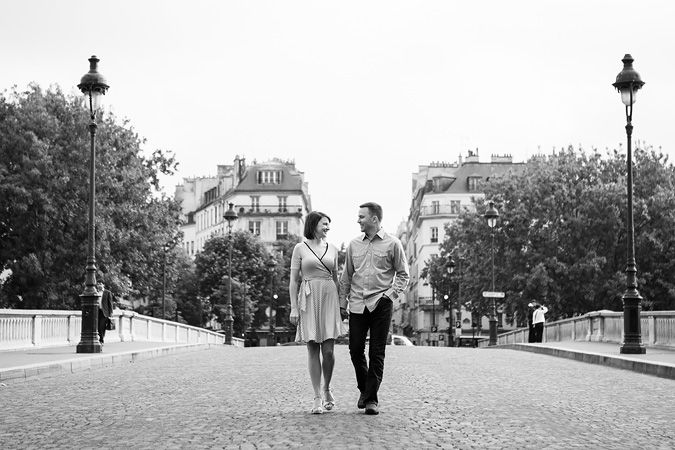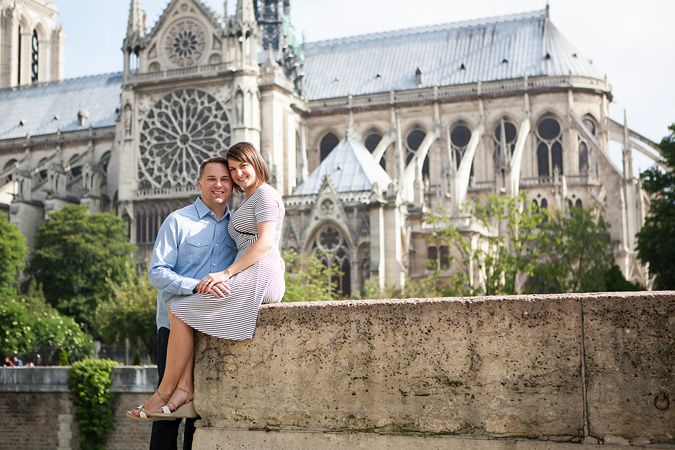 When we took those few shots at the cafe, we really did order drinks and sit down for a bit. It helped us warm up (remember, it was in the high 40's, low 50's at the time).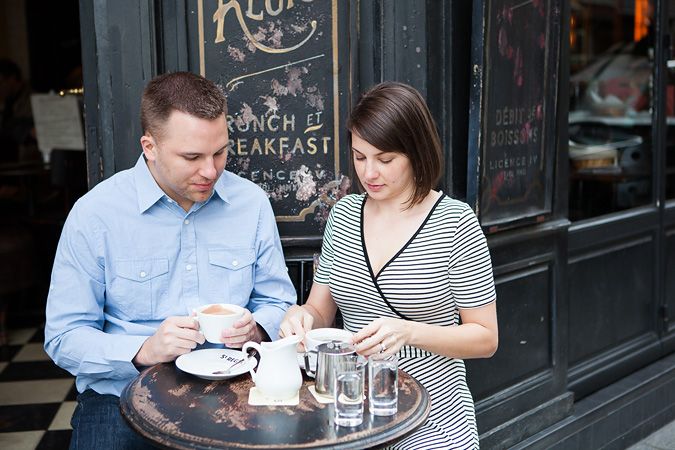 And as I said before, we ended the shoot at Shakespeare & Co. book store right on the left bank of the Seine across from Notre Dame. After we said goodbye to Catherine, we went inside the store to look around. There are no photos allowed inside because it's so small and they would like to allow for the comfort of their customers. And I didn't have my camera with me anyway!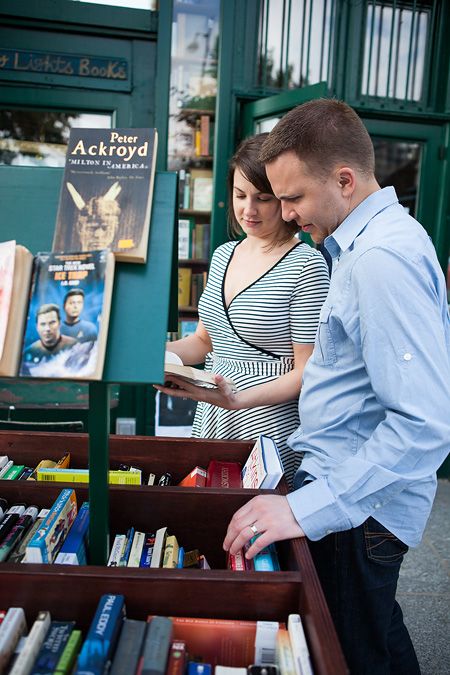 After we'd browsed through books to our hearts content, we headed back to our hotel to change clothes (grab a jacket, maybe?) and get my camera, etc. We headed back out to Notre Dame for the second time that morning...this time to actually look around and go inside.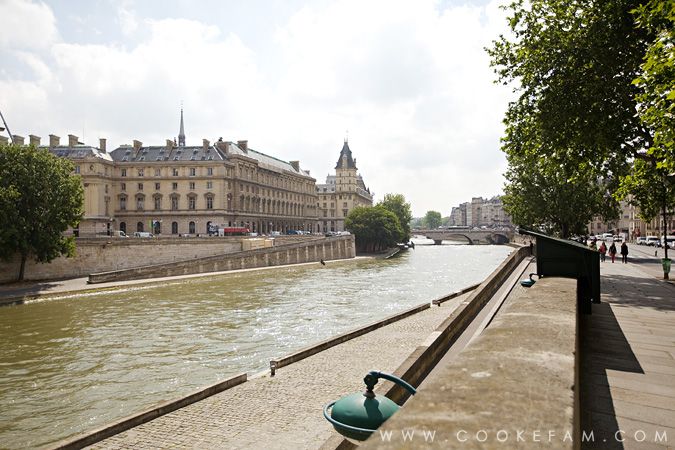 Pont Neuf from the other side...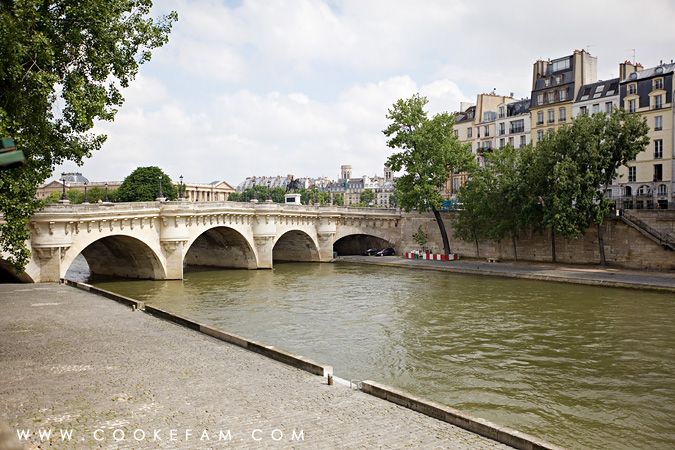 More stalls along the Seine. By this time of morning (11-11:30am or so) they were mostly all open for business.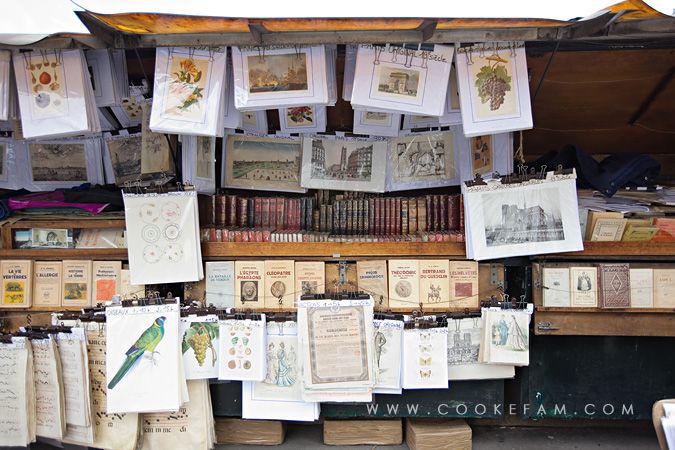 It so happens that Notre Dame is celebrating its 850th anniversary, which is completely mind-blowing. And because of that, they had erected tall risers right in front of the church. I am not sure for what purpose exactly, but people used them to sit down, obviously. And it gave me this higher vantage point for a photo of the church...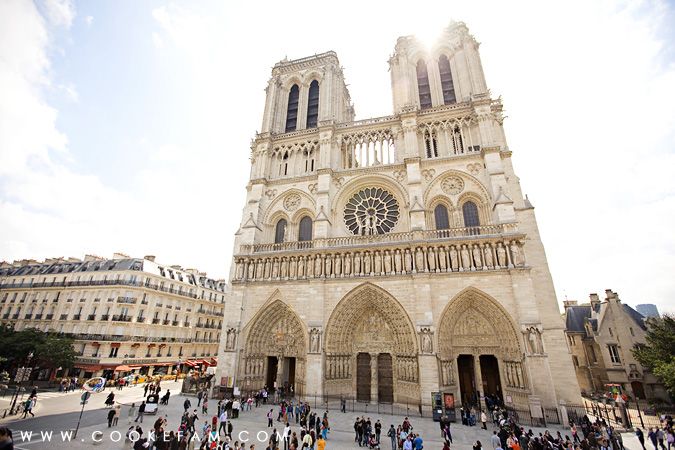 I have always loved Notre Dame cathedral. The last time I was in Paris, my friends and I were able to attend Easter mass at Notre Dame, which was done in the traditional Latin.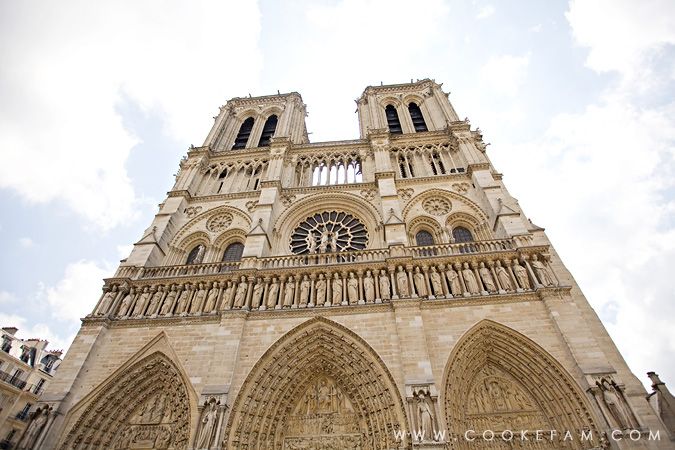 One of the things I love about Notre Dame is the beautiful architecture. For some reason, I vividly remember learning about the
flying buttresses
aspect of Gothic architecture in school. And the church sits right on the edge of the river...so beautiful.
Not to mention the exquisite carvings...
Inside is beautiful too. There is stained glass everywhere you turn and such a rich history to this church.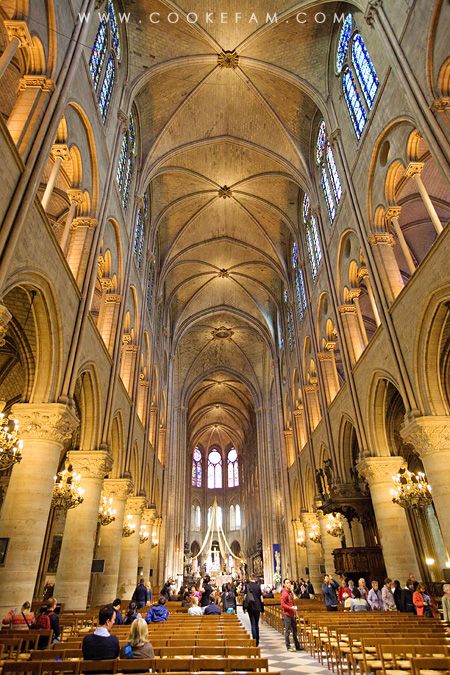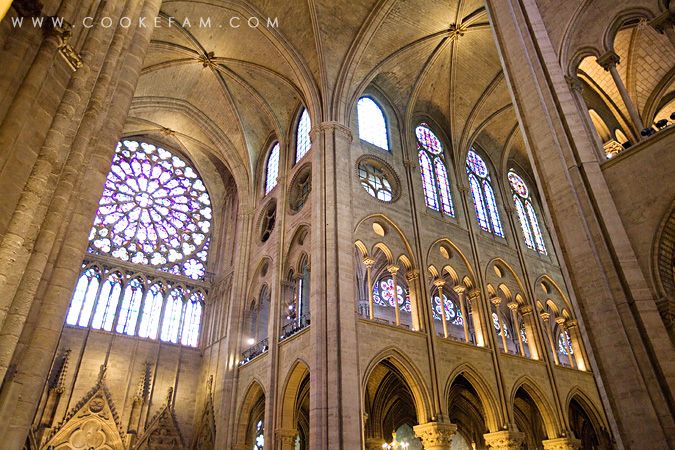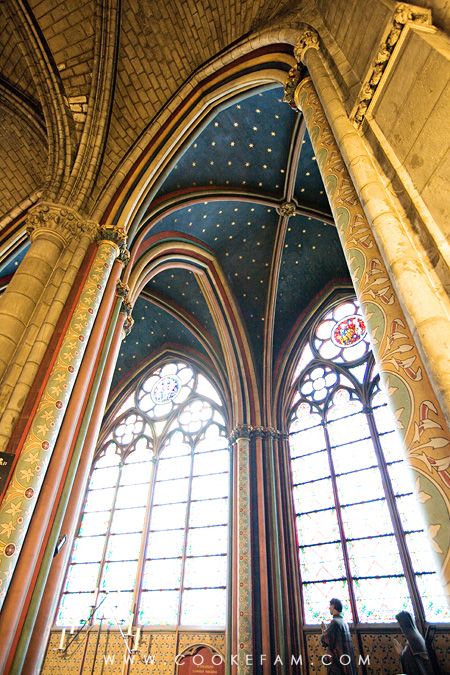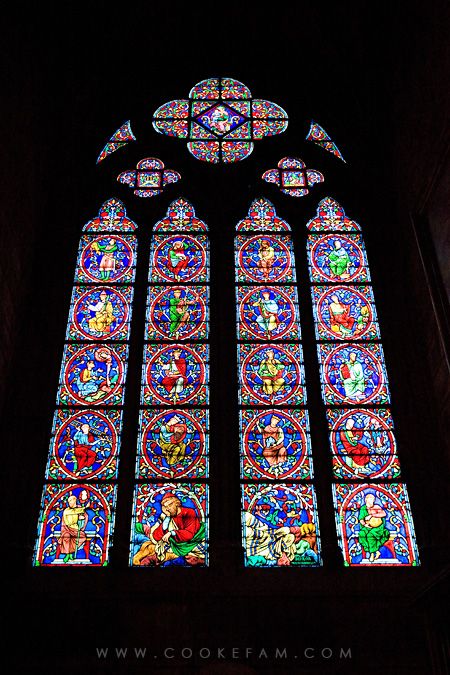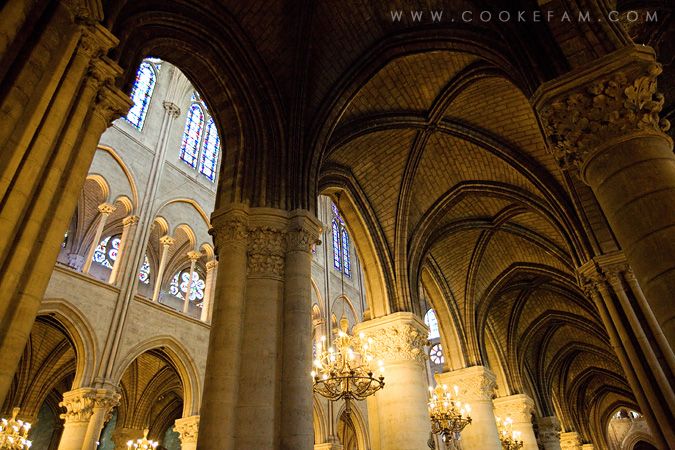 After we took our time touring the inside, we went back out the gardens at the rear of the church where we had started our photo session that morning. Flying buttresses are definitely at work here...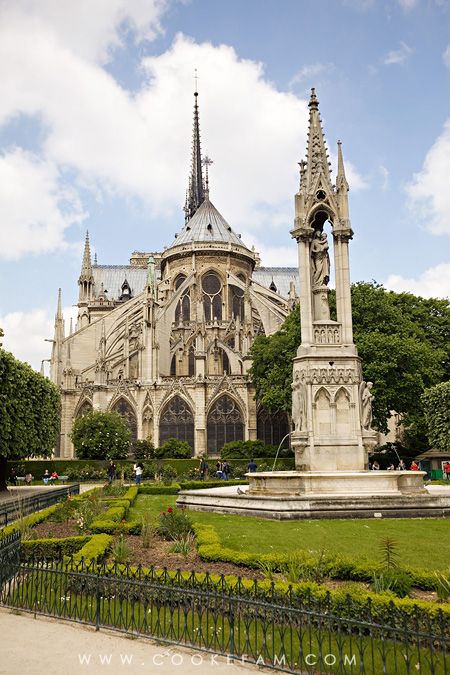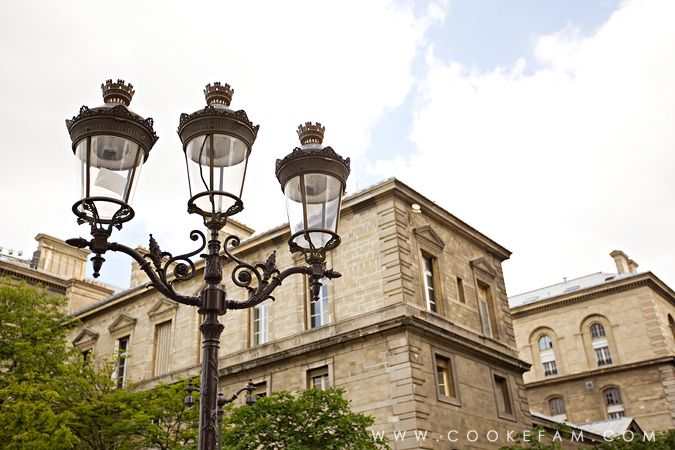 At this point, we were really hungry and we decided to get a little lunch before tackling the 387 steps to the top of the bell towers. We just stopped in a little cafe at the corner of the street across from the church. Casey had a croque monsieur and I had a ham and cheese crepe. Delicious.
After lunch we jumped in the line for the towers, which does not allow priority access for Paris Museum Pass holders. We waited for 45 minutes. We were pretty set on the fact that it was worth the wait, especially since we didn't have any pressing plans. This was the longest line we waited in on our whole trip and it went by fairly quickly. We met the family in front of us who were from the States and chatted with them. Finally, we were allowed to begin the climb...
All the way at the top, we were rewarded with gorgeous views of the city.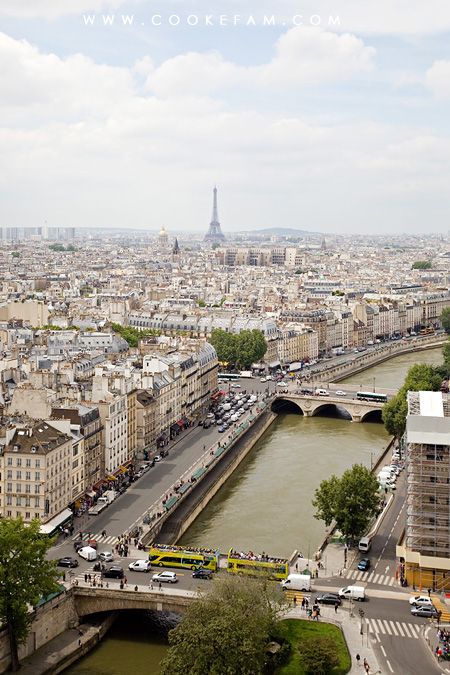 And close up views of the gargoyles on the cathedral...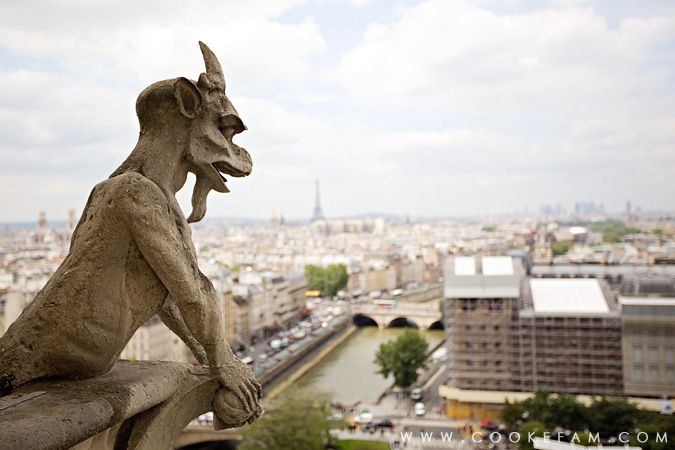 In the distance, on the hill, you can just barely make out Sacre Coeur.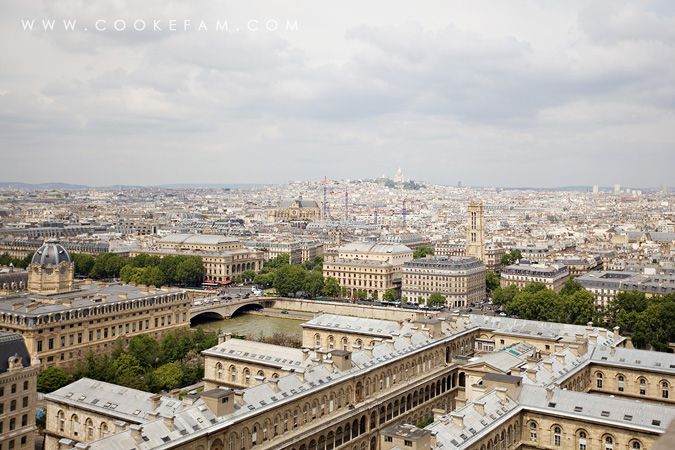 And the tall, dark tower in the photo below (which is loathed by many traditionalist Parisians) was our ticket (later in the week) to another spectacular view of Paris from above that replaced the trip up the Eiffel Tower, which we had skipped to avoid the lines.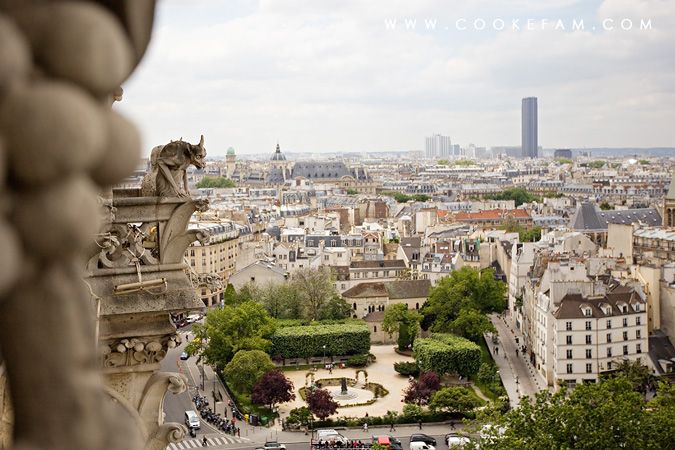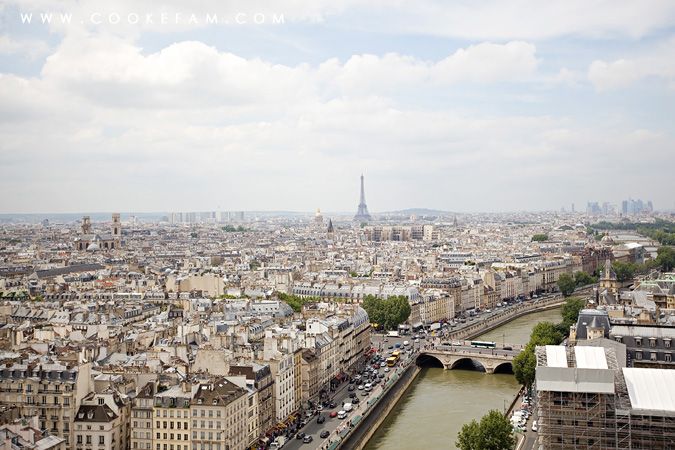 The sun couldn't quite decide whether or not to come out and stay that day. It was one of the colder days we had during the week, but even so, it never rained and was still quite nice (now that we had our jackets).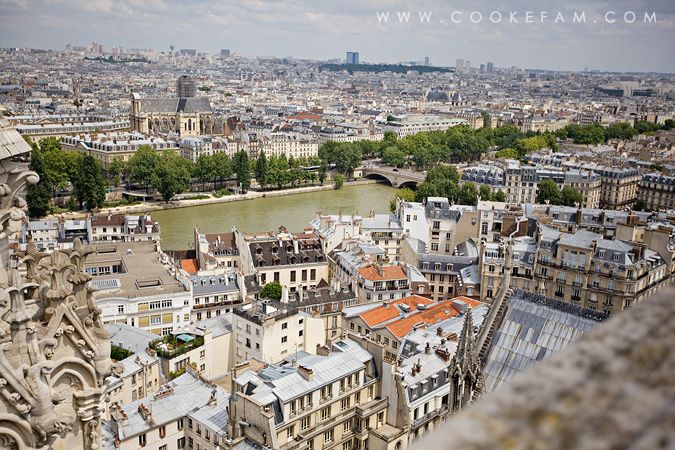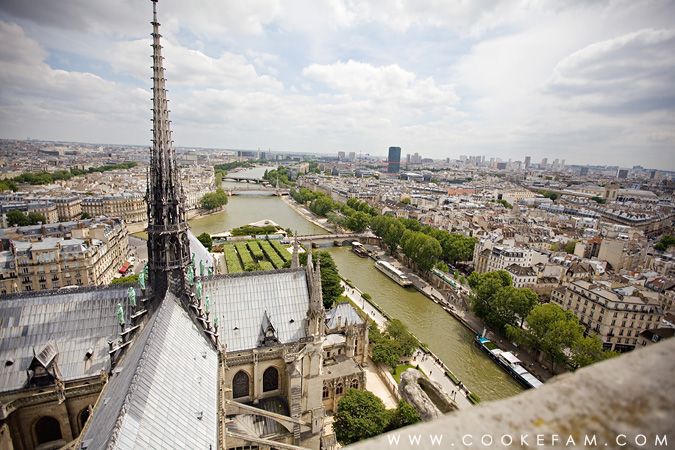 After going back down the stairs (almost harder than going up...at least for our knees), we headed a few streets over to Sainte Chapelle. And what do you know...we found our friends from the line at Notre Dame again. And they asked us to join their party. So we got to skip the long line waiting to go through security at Sainte Chapelle. When we got inside the small-ish chapel, this is what we saw on the first floor...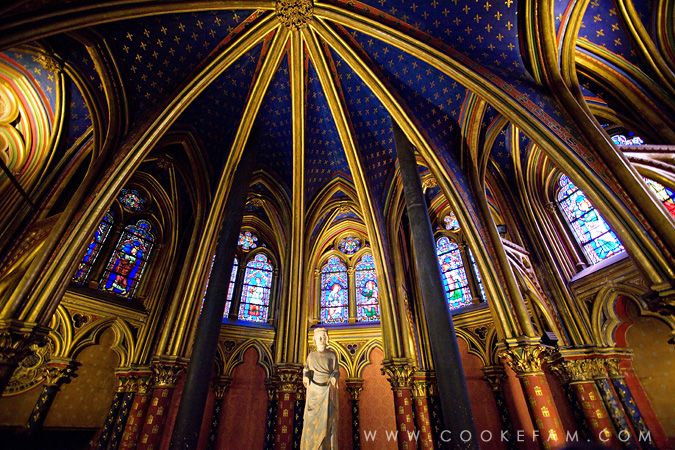 The color was beautiful and the gold impressive.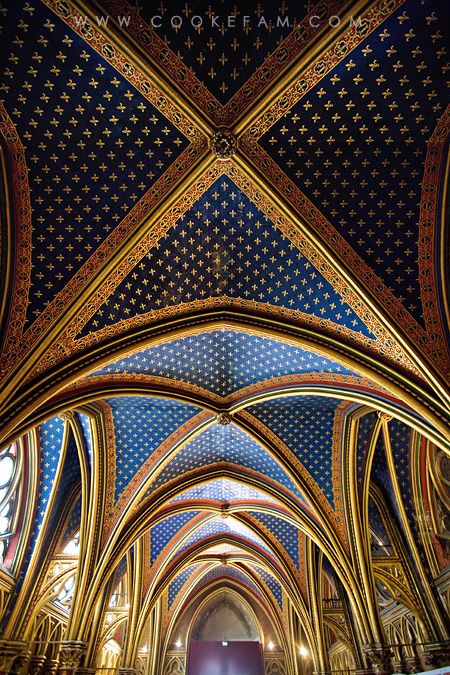 Then, you go upstairs and walk into this...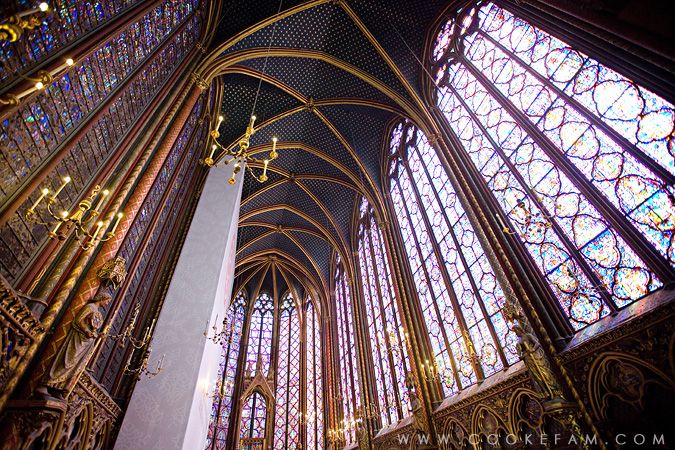 This was my first time to visit Sainte Chapelle and it was just as breathtaking as people said it was. The stained glass is just indescribable. It's so hard to capture in photos. They did have some of it covered up for restoration (beneath the grey wall in the photo above). But all of the "walls" of the chapel are huge stained glass windows. It really was spectacular. Especially as the afternoon light was streaming in through one side of the chapel.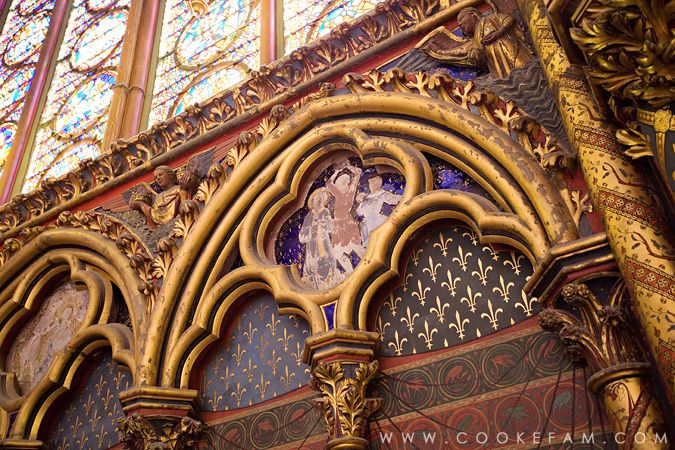 We spent so much time looking up at the windows and ceiling, but I also noticed the pattern and color on the floor...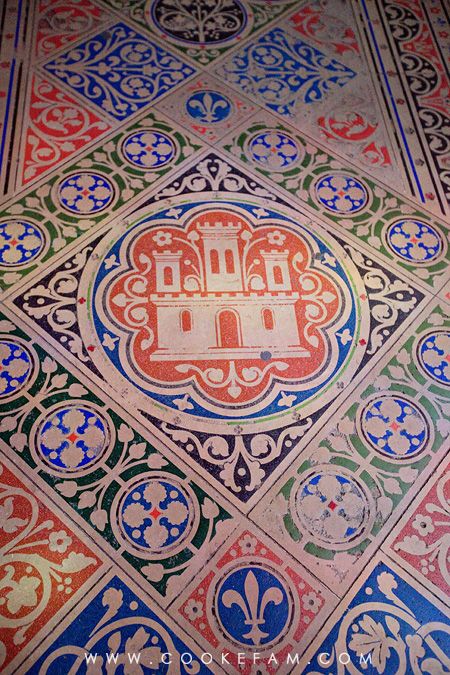 Just beautiful. I loved seeing something I had not seen before and this was a wonderful treat.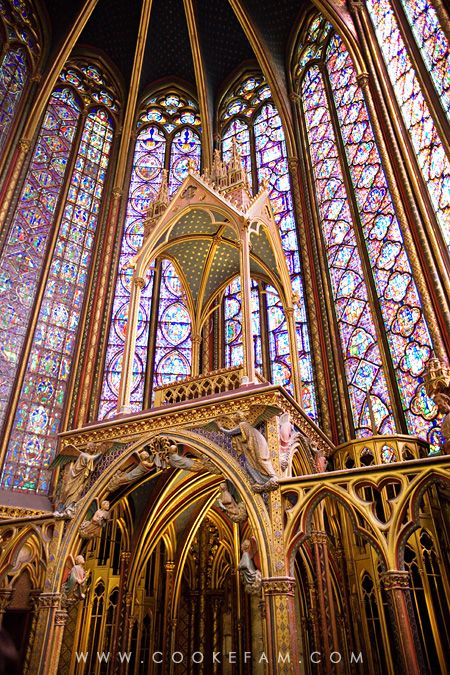 Right next door to Sainte Chapelle is La Conciergerie, which is a former French prison that featured prominently in the French Revolution. And it is perhaps most famously known as the place where Marie Antoinette was imprisoned before her execution. Here's a look at what her "cell" might have looked like.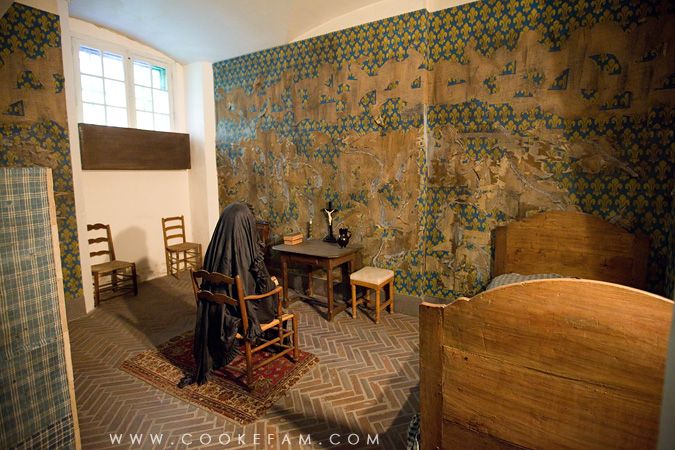 The rest of the prison is also staged to look as it might have looked during the Revolution for the guards and prisoners. We just paid a quick trip to La Conciergerie, but I'm glad we did. It was another place I had not seen before. Then we had to decide what to do with the couple of hours we had before our dinner reservations. We decided to go shopping.
To make the trip over to Galleries Lafayette, we took a taxi. Casey's knee thanked us and it got us there quickly. Galleries Lafayette is basically just a department store. But, it's really got a unique look...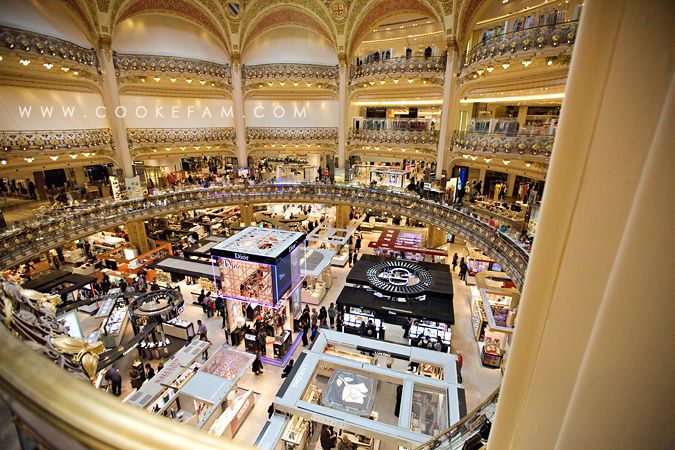 And a glass-domed ceiling...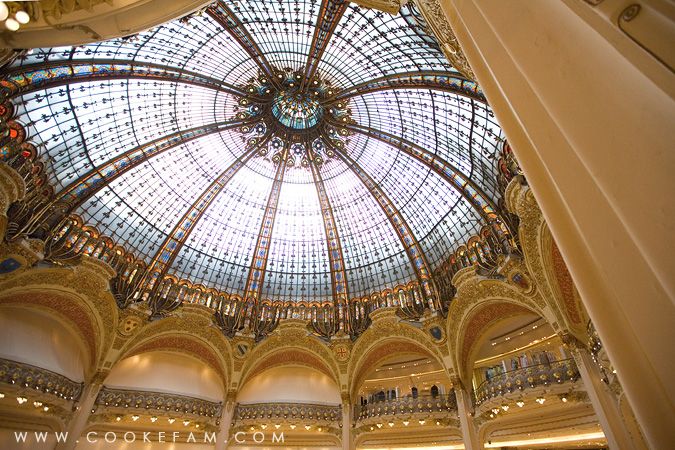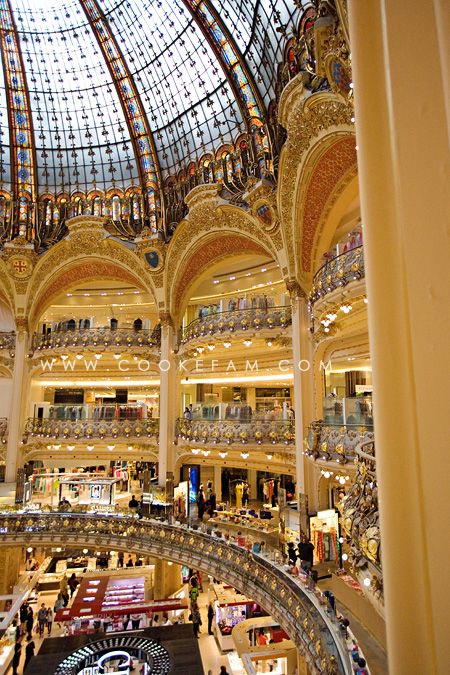 We browsed around several areas, one being the toy floor. We did find (and buy) two things for the boys here, but not the things we were originally looking for.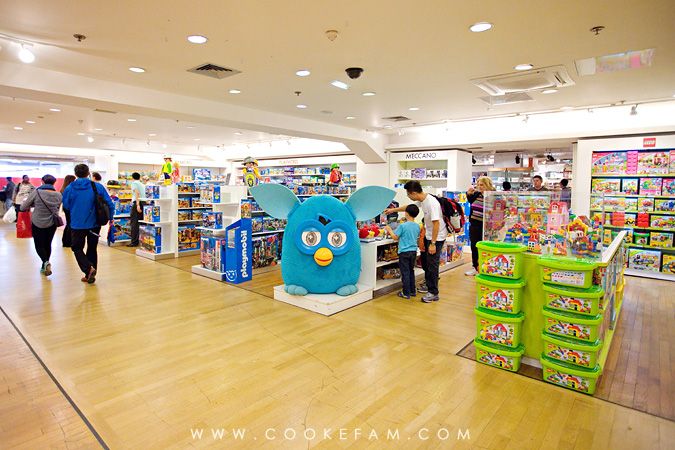 On the way out, however, we did find a happy surprise...a Pierre Herme stand. I had planned to pay a visit to Pierre Herme at some point to taste some of those macarons, so I was thrilled that they just appeared in front of us before we even left the store.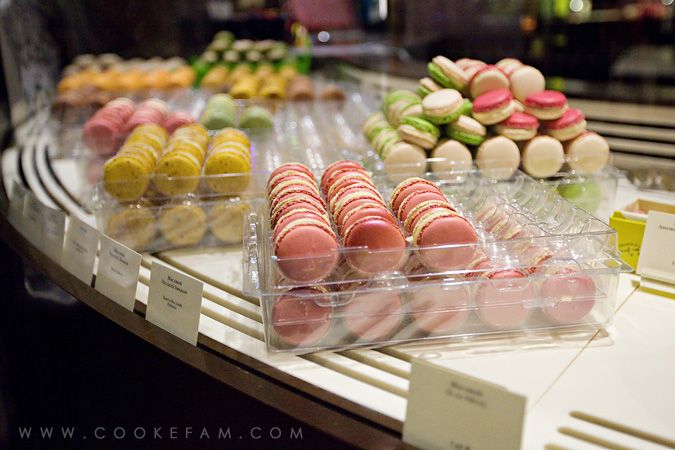 We got a box full of pretty macarons that were delicious. I can't remember what flavors we got exactly, but I do know we didn't mess around...there are definitely three chocolate ones in there. Besides those, I remember a caramel, a creme brulee (which was my favorite, actually), and maybe a banana one.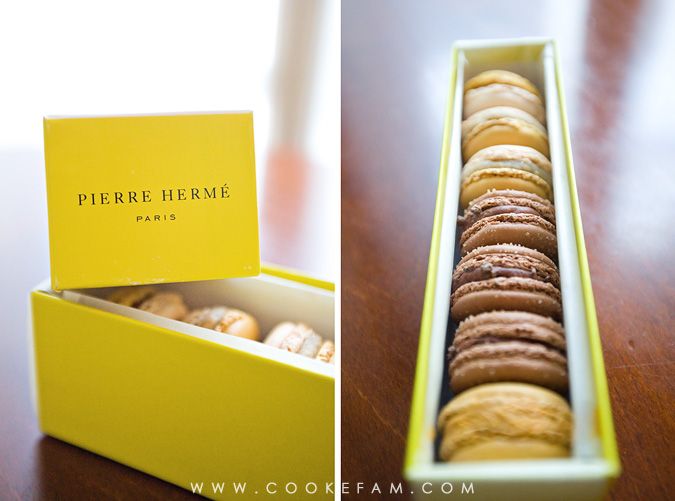 After we left the Galleries Lafayette, we went back to our hotel to change for dinner...at Le Coupe Chou. This was another recommendation from
Lauren at Aspiring Kennedy
...sounds like she deserves some kind of fee for sending us to all these lovely restaurants. This one is definitely off the beaten path, but just
look
at it...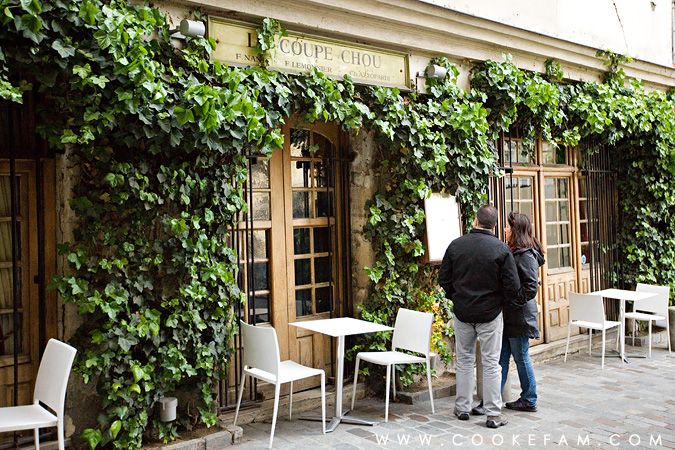 The way the outside of this restaurant looks is very much how the inside looked. I have no idea why, but I didn't take any interior photos. I must have been too busy devouring the best Beef Bourguignon I've ever had. And the salmon carpaccio I had for an entree (appetizer) was impressive too. The French comfort food that they serve at this little gem is echoed in the look of the restaurant. It seems as if you've stepped into someone's house. The restaurant is divided into little rooms and for the longest time, we were the only patrons there. We sat by the huge, stone fireplace surrounded by interesting photos on the walls, plants and books in every nook and cranny. Definitely a warm and wonderful place to eat.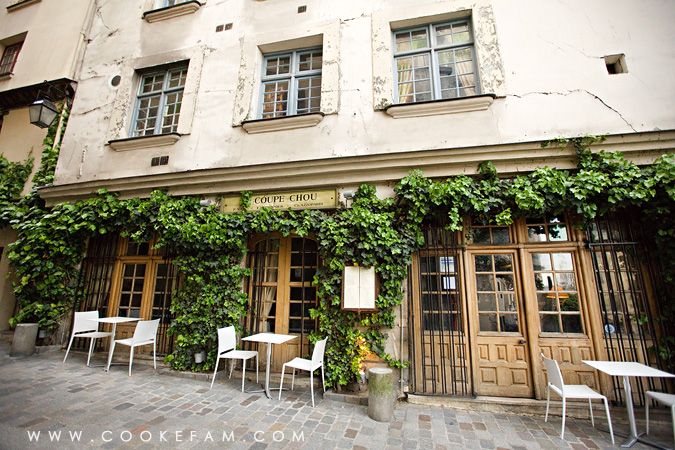 After walking back to our hotel in the brisk night air (wind), we ended another day in Paris.