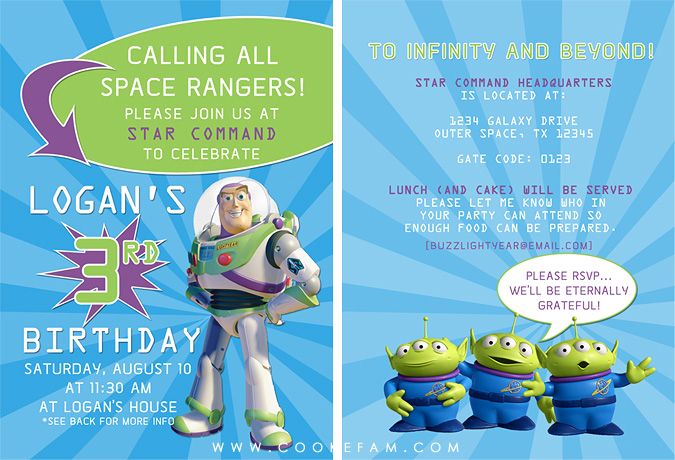 This year Buzz Lightyear was the theme for Logan's birthday party. He loves Buzz...he got a "real" Buzz toy
last year for his birthday
, in fact, and he's still his favorite Toy Story character. So imagine his surprise when balloon Buzz showed up with Mimi and Pop on the day of his party. So fun!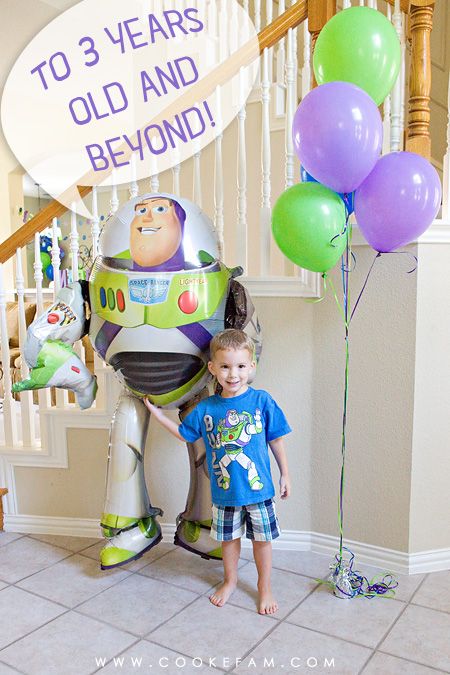 I reused a lot of the decorations I had at
Logan's party last year
. The green zig zag fabric and the paper mache letters (I repainted them) made a reappearance this year. The polka dot garland was super easy to make. I used my 2-inch circle punch and some cardstock for the dots. Then, I taped them to some white thread. I know people usually sew these types of garland and that's just darling, but I'm lazy. And the tape worked great!
We had another small family party this year and I decided to have the party slightly later and serve lunch. I made pulled pork sandwiches, dijon potato salad, and a fresh arugula salad with tomatoes. I also had hot dogs available (which I forgot about in the oven and definitely over-cooked), and of course, cupcakes and cookies for dessert.
The boys always go nuts over colored cupcakes so I made some green and blue vanilla cupcakes to go with our color scheme for the party.
As much as I always say I am not a big fan of "character" party themes, I do love the fact that I can just raid our toy bins for decorations. Plus, nothing beats doing exactly what the birthday boy wants...that's kind of the point.
I used "
the best chocolate cake
" recipe for the chocolate cupcakes...and I do believe they lived up to their name. (But I used my own buttercream frosting recipe because I like to use only butter in my buttercream).
I ran across a festive
chocolate thumbprint cookie recipe
while browsing Pinterest and immediately thought of Logan's party. These were
so
good...dark chocolate...and so easy to make.
I searched high and low for sprinkles in our party colors and finally I found some at Target.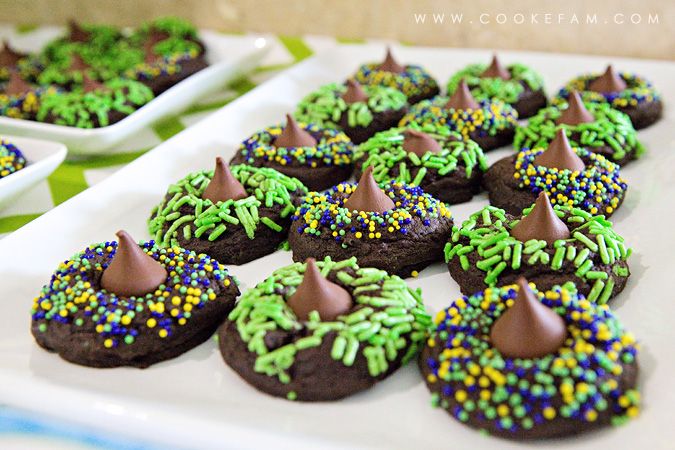 I resused the zig zag table runners from Logan's party last year and also the metal buckets, which I used at
Ethan's Woody birthday party
this year. These buckets are the type of thing I will hang on to...you never know when you can use them for something else. These centerpieces were the quickest, cheapest, and easiest things to make. I made the graphic in Photoshop and printed it on cardstock. And I found the colored tissue paper at Hobby Lobby along with a little foam for the bottom of the bucket to hold the stick upright.
We took some time for photos with Buzz before all of our guests arrived.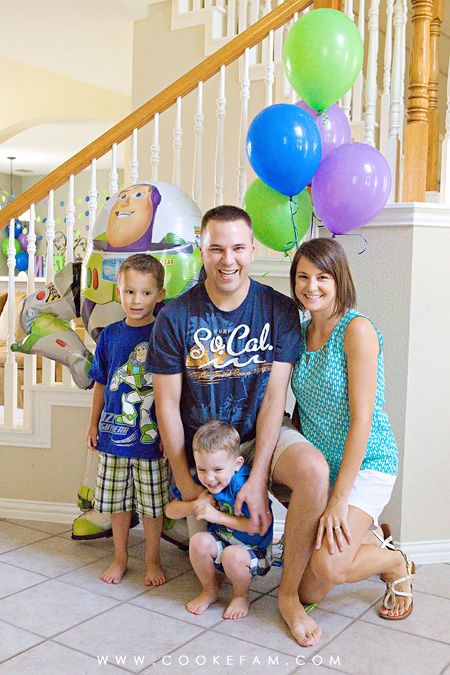 Giving a high-five to Aunt Jill...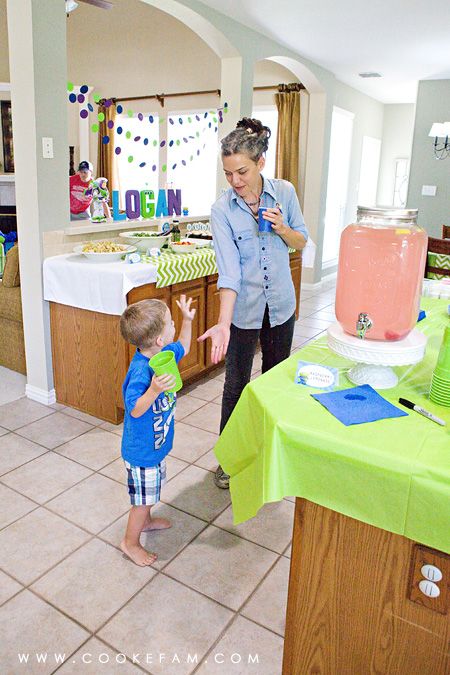 I burned the hot dogs because I left them in the oven too long (I got distracted when people started arriving). We wrapped them up in buns anyway and set them out, but I knew the boys wouldn't eat them like that (I'm pretty sure I wouldn't either). So, here I am making some peanut butter sandwiches for the birthday boy and his brother (thanks to my mom for the photo). (On an ordinary day, I might have made them eat the pulled pork, but on your birthday you get a pass on having to eat non-favorite foods.)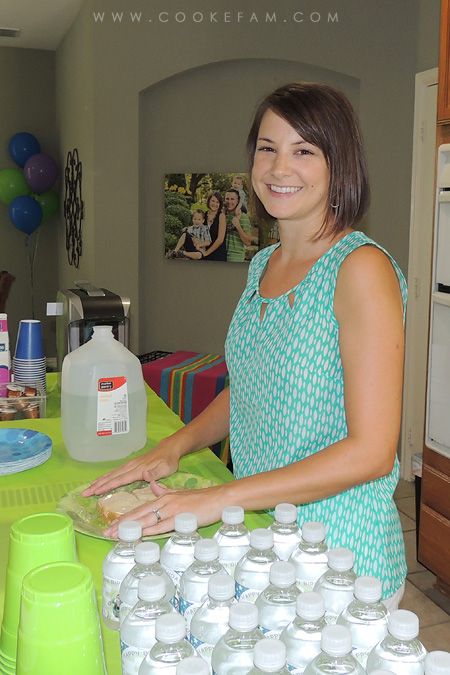 Everyone else enjoyed the pulled pork, though.
After lunch, we went straight into dessert...Logan was ready for his song and cupcake.
I love both of their cute little faces in these photos below.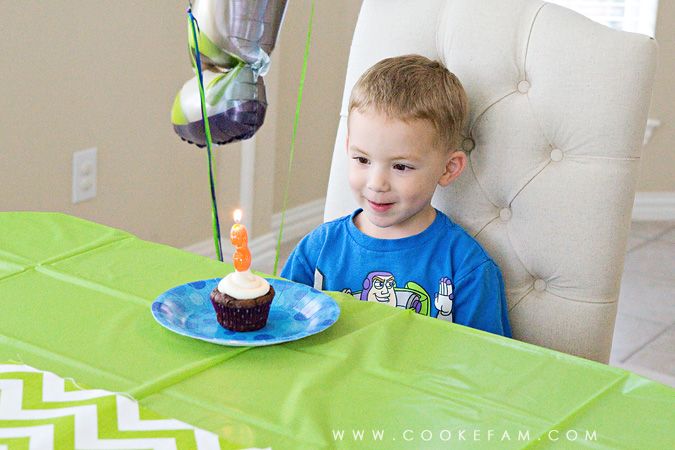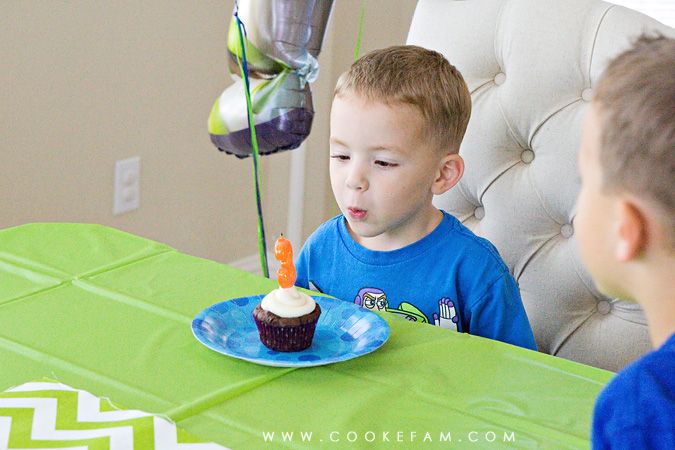 After we had our fill of cupcakes and cookies, it was time to open presents. Logan is inspecting the school bus we got him...something I knew he would love. He is really into school buses right now!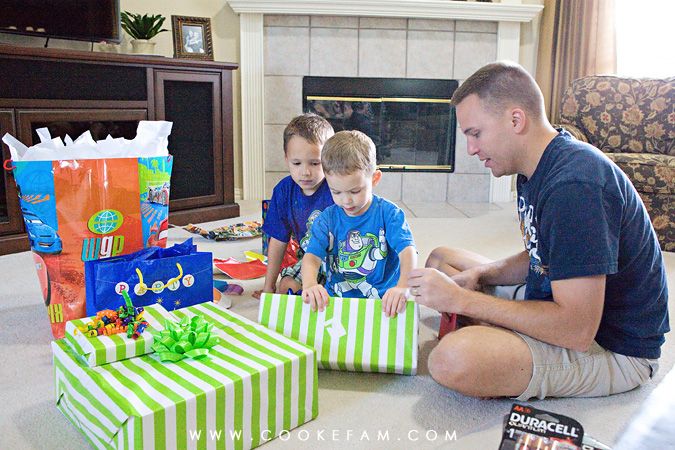 Tossing tissue paper aside as quickly as possible to get to his gift...
After all the toys were unwrapped and opened, they all got played with by all five of the boys and one little girl in attendance (Logan, Ethan, and their cousins).
This may be the last year that Logan gets out of signing his name on his thank you notes since he can't write it just yet, but we sent them out to our wonderful family who celebrate Logan all the time, but especially on his birthday. It was a great party!