After Christmas breakfast and a change of clothes (out of PJ's), we all settled in the living room to wait for the rest of the family to arrive so we could open presents. To kill some time, Casey showed the boys some videos of when they were younger (and babies). They loved it.
I love this photo of Logan lounging on daddy. He was laughing at himself as a baby. Sweet.
Pop was ready and waiting with his camera.
My sweet grandma has staked out her chair and is ready to go.
With everyone assembled, we started passing out presents.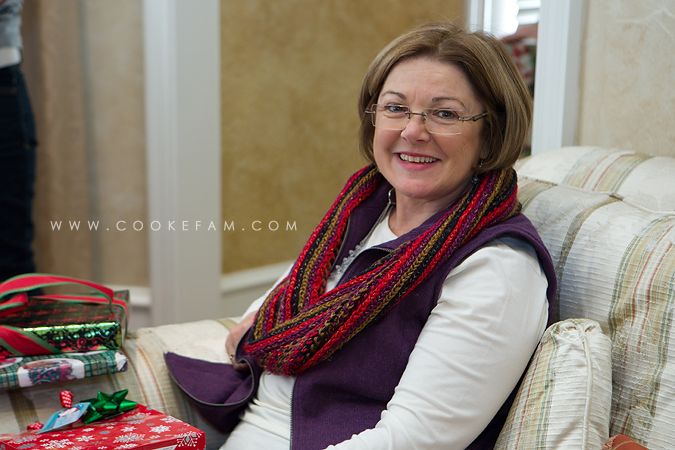 Casey had possession of my camera while I was helping deliver the gifts.
And my mom had possession of my dad's camera...so, this happened.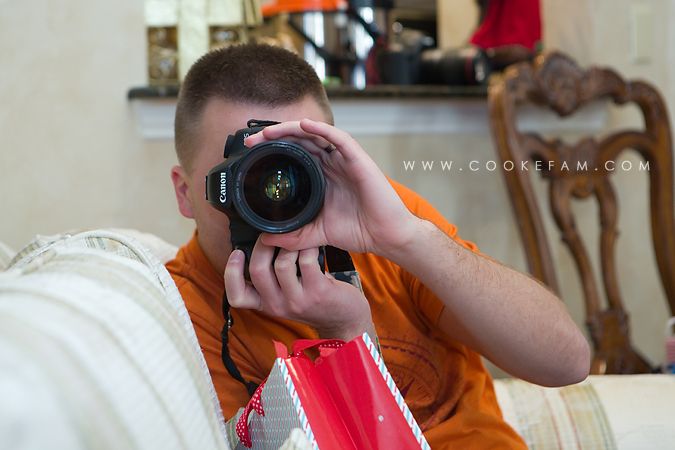 Logan James is ready for his gifts and ready with his photo smile. Cutie.
Since the boys are the only two kids, we let them open their gifts first while everyone watched. Here, Ethan is opening the gift that Logan picked out for him. They actually know each other pretty well.
It kind of looks like they are wrestling in the photo below, but no, it's a precious brother hug and kiss after exchanging gifts.
More presents...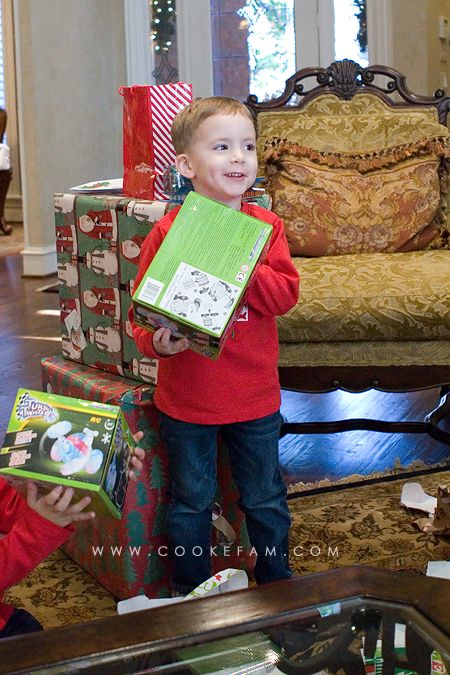 My aunt Pam (mom's sister), and uncle Steve always celebrate Christmas with us and we love having them. Wish the cousins could have been with us too this year, but they have married into families that also want to spend time with them around the holidays.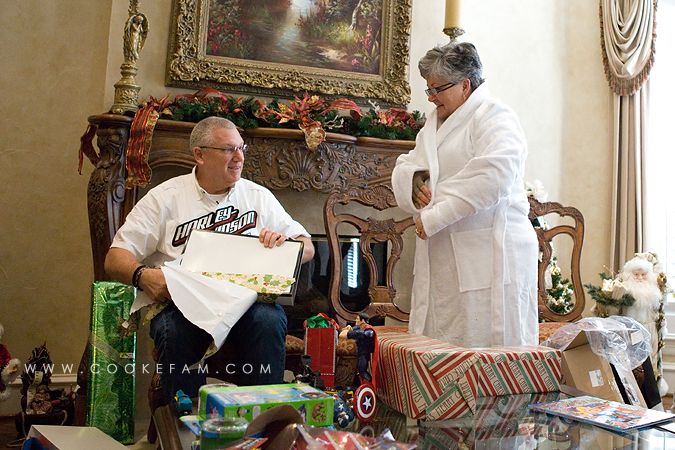 Uncle Steve is a Harley fan. (He's got a real one.)
Uncle Kevin and Aunt Jill were there, of course.
Here I am opening my gift from the boys. Note the princess gift bag. They love to pick out stuff like that for me.
And I have no idea what exactly is going on in this photo, but it appears to be funny to all of us.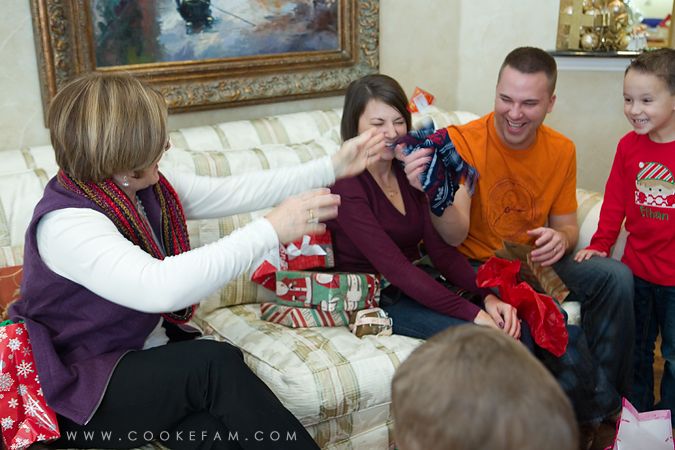 Ethan is a professional gift un-wrapper. He will unwrap your gifts for you at no charge. Isn't he helpful?
He helped Pop and Mimi open their gifts.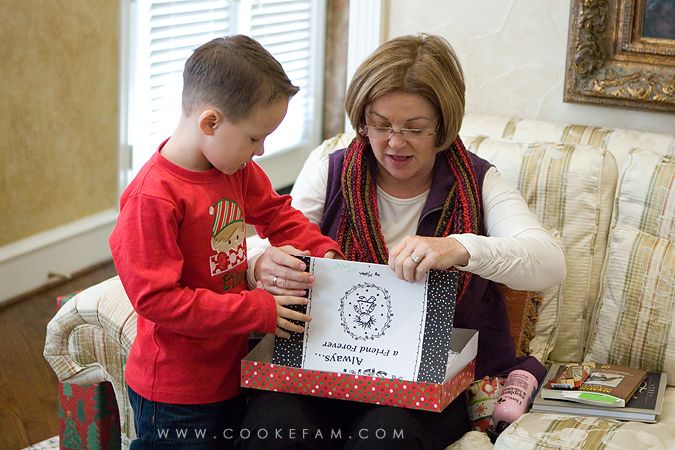 One special gift this year was from my Grandpa. He wrote a memoir of sorts, called Memories: Out of Africa. He gave a signed copy to all of us. It's about his childhood and early years, mostly in Africa. Some of the stories I have heard and others were completely new to me. I love that he wrote all of this down for us to have and for future generations to read.
Here, Grandpa is showing Ethan who the book is dedicated to, which includes Ethan and Logan. Ethan thought that was pretty special!
Opening presents must make us pretty hungry, because after clearing all the gift-debris, we were more than ready for our traditional lunch of curried meat pies that my grandmother makes.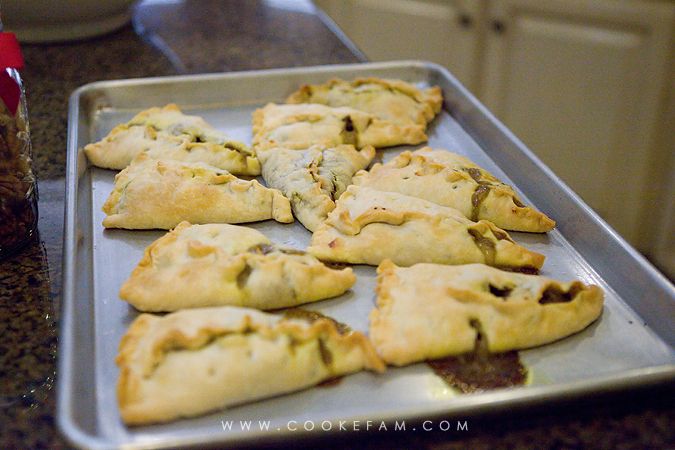 There were desserts too...Grandma made a traditional South African dessert, Milk Tert. They are pretty much like custard pies. Very yummy. And I was ambitious this year and tackled the spectacular
Red Velvet-White Chocolate Cheesecake
that I saw on the cover of Southern Living Magazine. Sounds delicious, right? Well, it was just ok, in my opinion. I couldn't put my finger on what could have been different, but it was just ok.
The last couple of years we have been incorporating another tradition of opening those crackers/poppers that have crowns and a small plastic trinket inside. The boys absolutely love them, and everyone gets in the spirit and wears the paper crowns for a while.
Pop's didn't quite fit.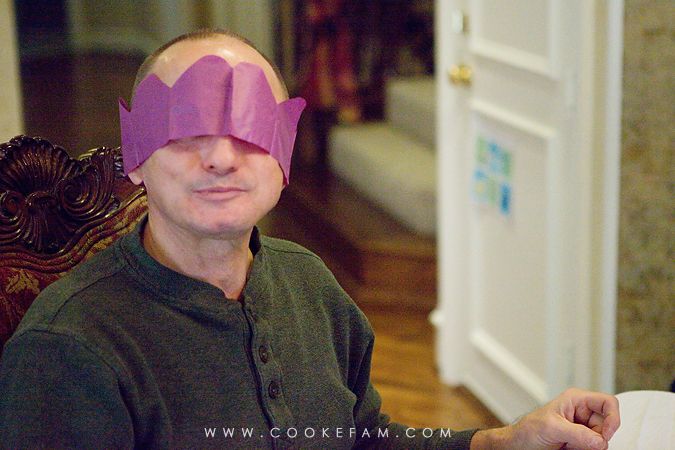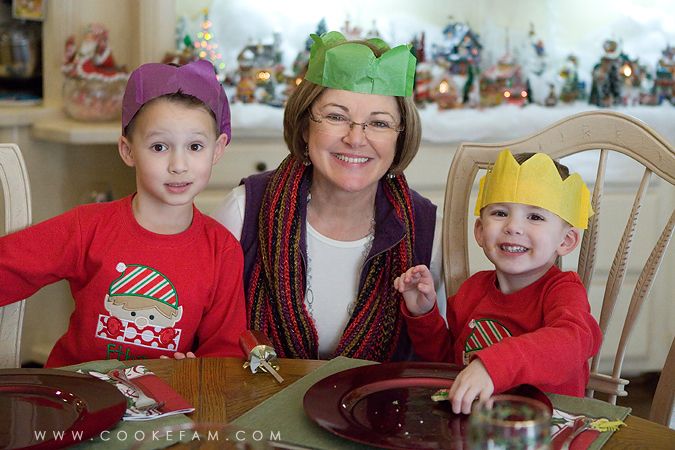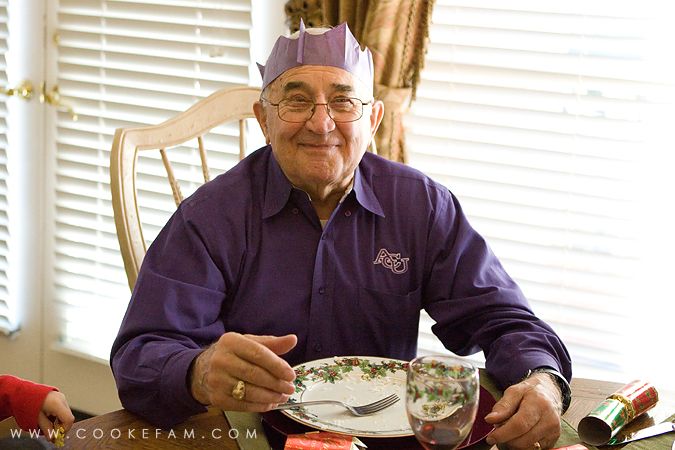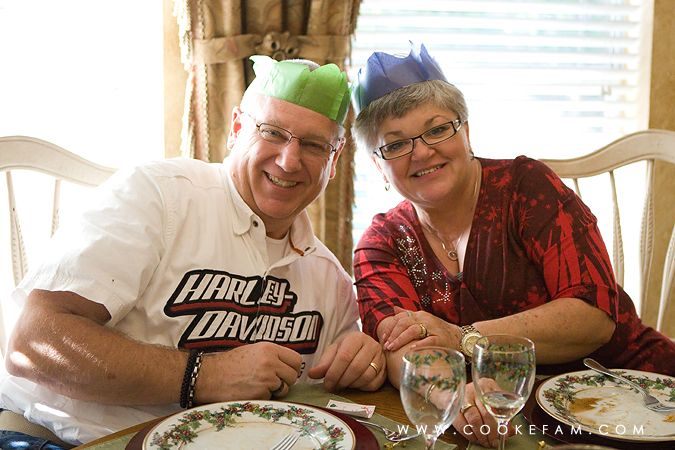 And this year, Mimi thought it would be a good idea to take some photos with Grandma and Grandpa. First up, a 4 generation photo. Not sure where Grandma is or why she's not in this photo.
And the boys with one set of their great-grandparents. I love that the boys get to know some of their great-grandparents.
Having just received their new bikes the day before, the boys would not let the day pass without riding them again. You can never have too much fun on Christmas Day!