If you're going to read this post, get ready for the long haul...there are approximately 5 million photos here to show what we did on our second day (a Friday) of the trip. Fair warning.
First, we ate breakfast at the a la carte lounge on the main lobby floor of the resort. As you can see, the lounge was not busy. We had coffee (mom), tea (me), and muffins (both of us). It was the perfect inexpensive and very quick breakfast that allowed us to get on our way early.
Since we were staying on property, we had early entry to Islands of Adventure, so we took the water taxi over to the parks again.
After only a few minutes of waiting, we were in! And walking back to Hogsmeade, the only section of the park that opens early.
Here we are! Even just looking at the photo reminds me of the feeling of walking up to the arch...you can already hear the familiar Harry Potter music and see the snowy tops of Hogsmeade. It's just so magical.
The Hogwarts Express engine sits idle just inside the arches.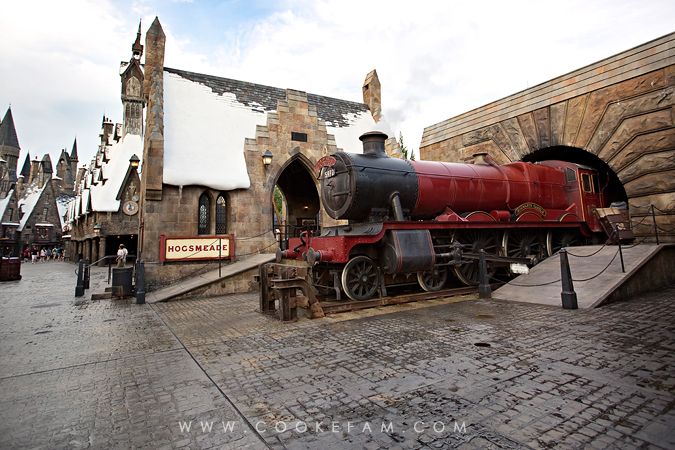 And at this point, the streets were virtually empty.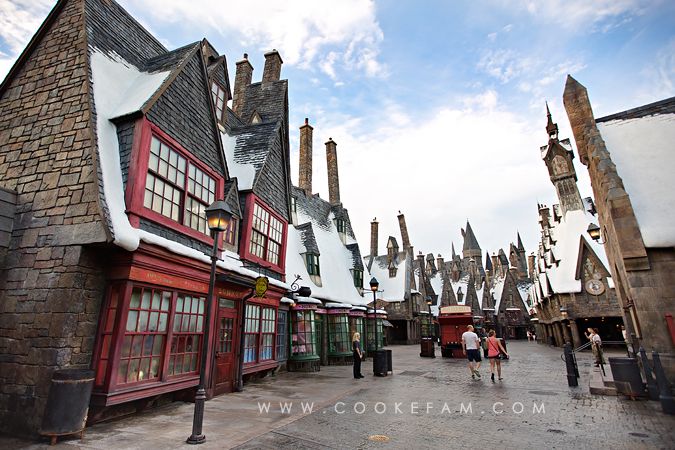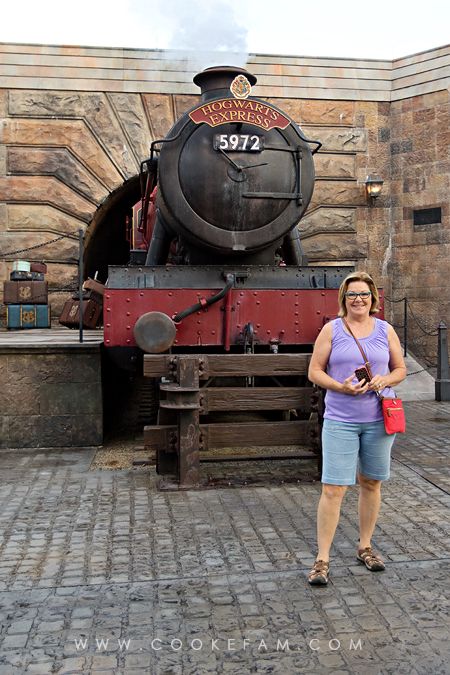 The Three Broomsticks wasn't quite open, but it still looked inviting with its crooked chimneys and dormers.
We stopped along the street to take a few photos. There was no danger of being left behind...even though all of us were headed the same way.
Not until the next morning would Hogsmeade look so empty again!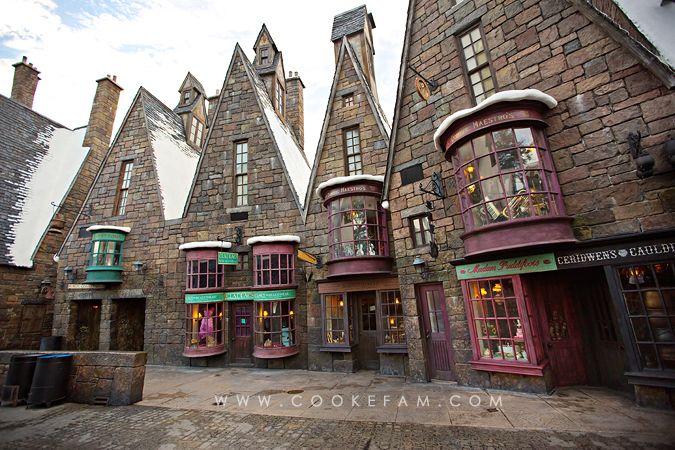 Rounding the corner, Hogwarts came into view.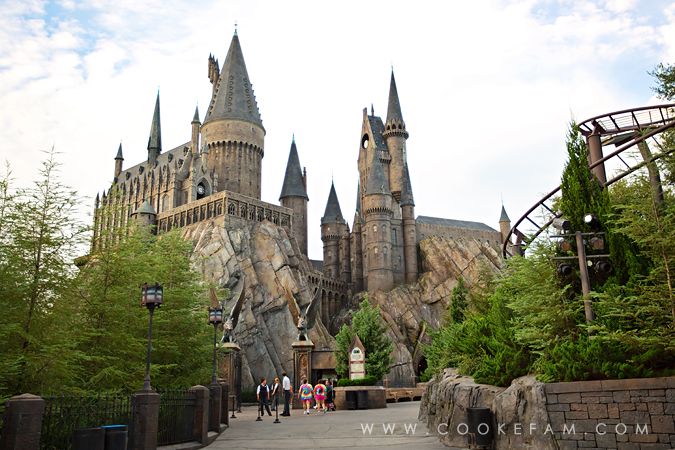 We did go ahead and get in line to ride, getting a locker for our small bags and camera.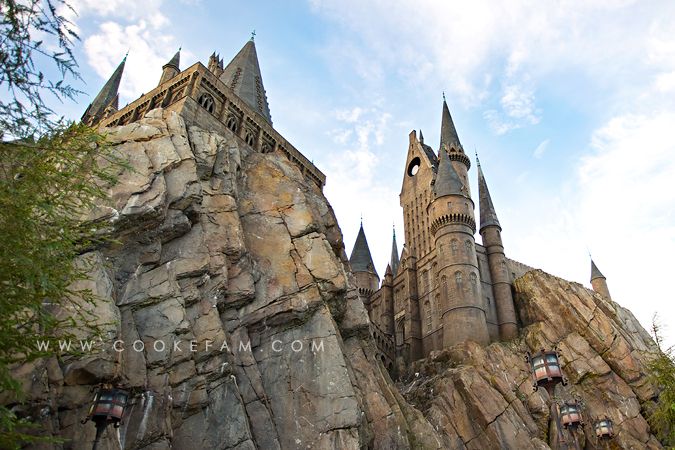 And after we rode, we collected our stuff and went back inside to do the self-guided "tour." We could have easily ridden again although the line was quite a bit longer than it was when we first went in. He portrait hall is still fascinating even though this was my fourth time to see it.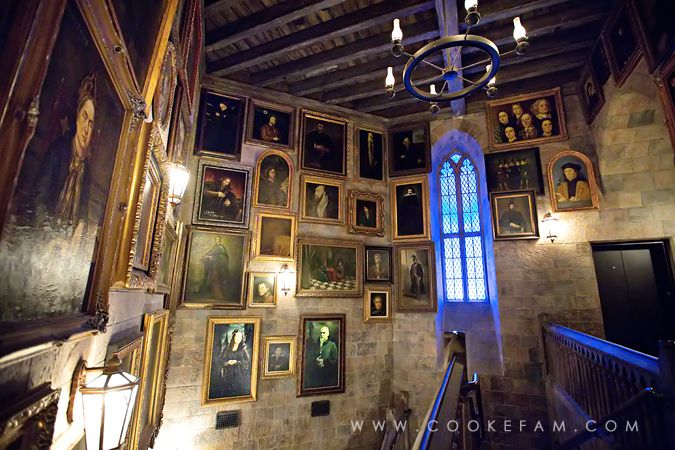 And there's something so enchanting about Dumbledore's office that keeps you looking around it. The tour line goes right up to the front of his office, unlike the ride line, which is kept to the back. This allowed us to really hear and see what Dumbledore was saying this time.
Of course, the Pensive is in there too...
I heard somewhere that they covered hundreds of phone books to create Dumbledore's library. It's mesmerizing in person.
After the ride/tour, the line drops you out at Filch's Emporium, where all sorts of items reside that Filch has confiscated, like a bottle of Skele-Gro.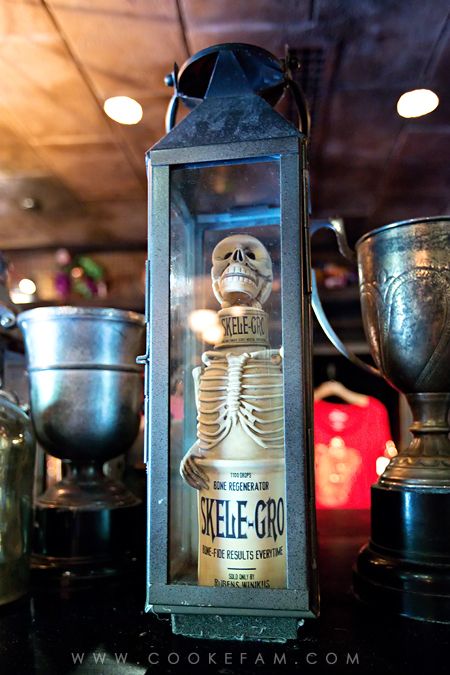 And the Marauder's Map, which actually works.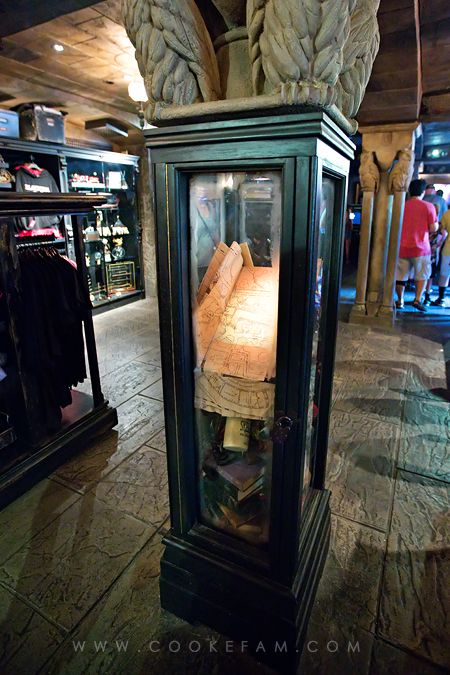 We did just a little bit of shopping in Filch's Emporium (translation: a lot). Luckily we were able to have it all sent to our room since we were staying at a Universal resort...a perk that is not to be dismissed lightly. It was really handy and this was hardly the only time we used it.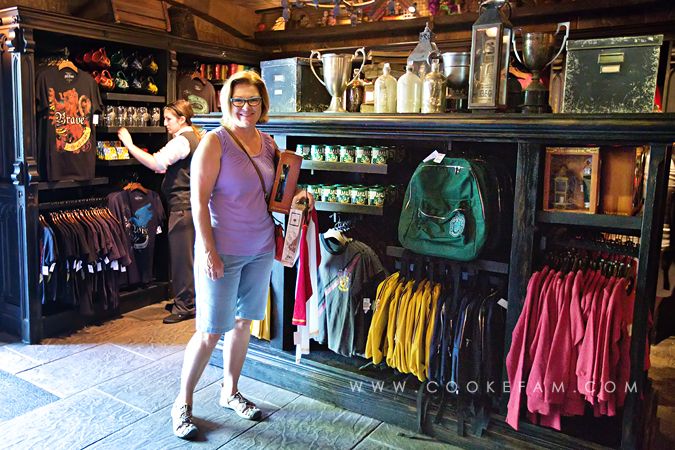 After we were done exploring Hogwarts and Filch's, we went over to the Flight of the Hippogriff ride where we were able to see Hagrid's hut.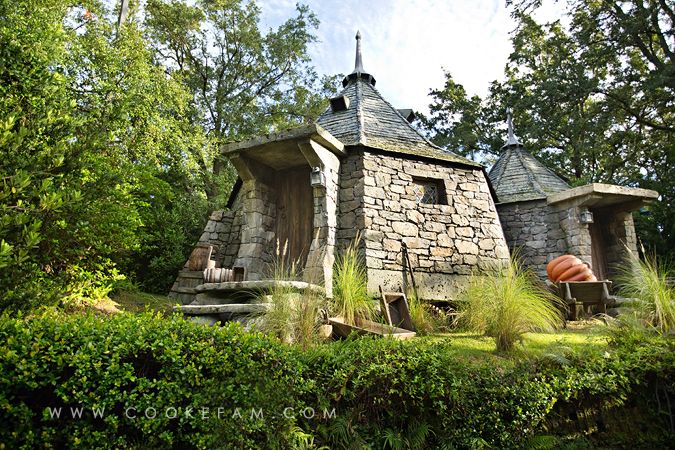 The Hippogriff bows to each coaster car as it passes his nest.
After that ride we went back by the castle and then into Hogsmeade to look around some more.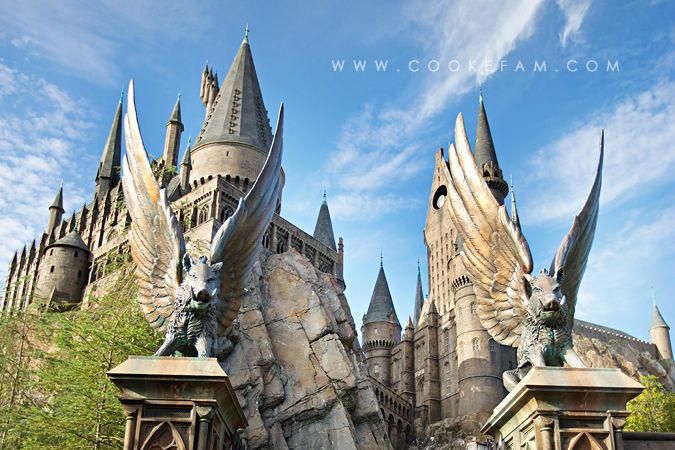 Still not too busy in here...and this was probably right about the time the park opened to regular guests.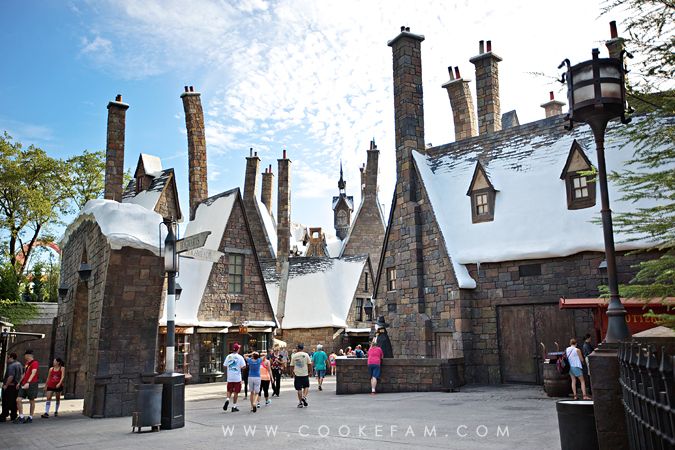 They've used some of the real props from the movies, such as Hermione's dress from the fourth film.
If I wasn't a Harry Potter fan, I'd wonder why in the world I'd take a photo of such an ugly creater/book. But it needs no explanation for those of us who are fans.
Nor does this car, which I was very glad to get to see this time around. We just had to tell the attendant at the front of the Dragon Challenge ride that we wanted to walk back to see the car. It's in the line for the ride, but there's an exit right at this point if you don't want to or can't ride. In our case, we had our cameras and bags with us so we couldn't. But it was fun to see the car! There's also a nice overlook on Hogwarts from the line (not pictured).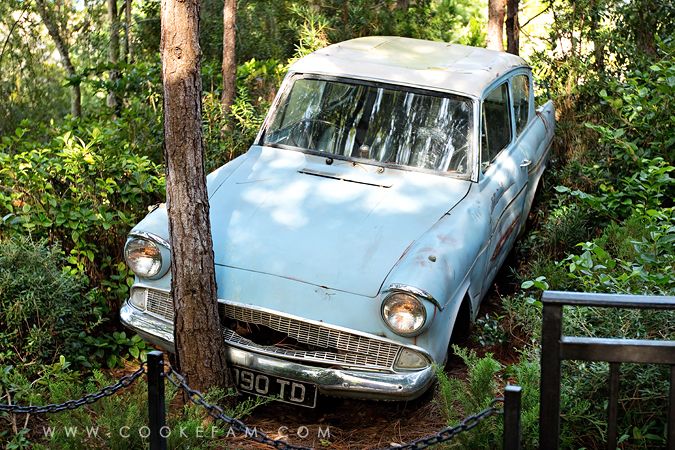 We walked by one of the refreshment carts and you can't miss the Pumpkin Juice bottles when you look. So, we decided to try one. It tastes exactly like what you'd expect...maybe a little bit like fall...cool, spicy, and pumpkin-y.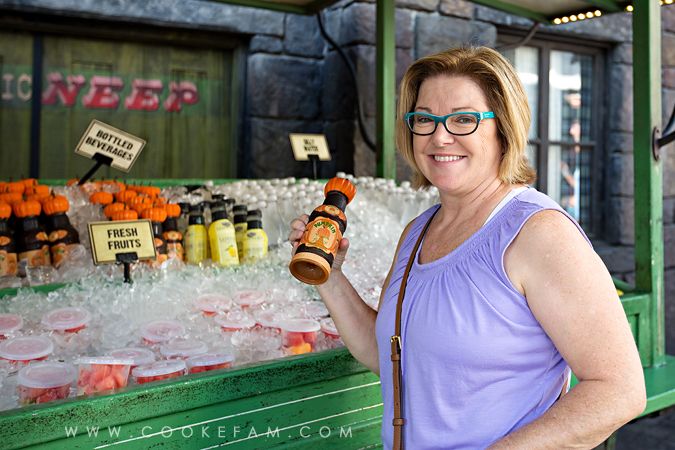 We poked our heads in the Hog's Head because I just wanted to see what it looked like on the inside. The last time we were here with the boys, Hogsmeade was so crowded that we didn't go in everywhere.
I thought it looked fantastic...and very realistic. Right down to the real hog's head behind the bar!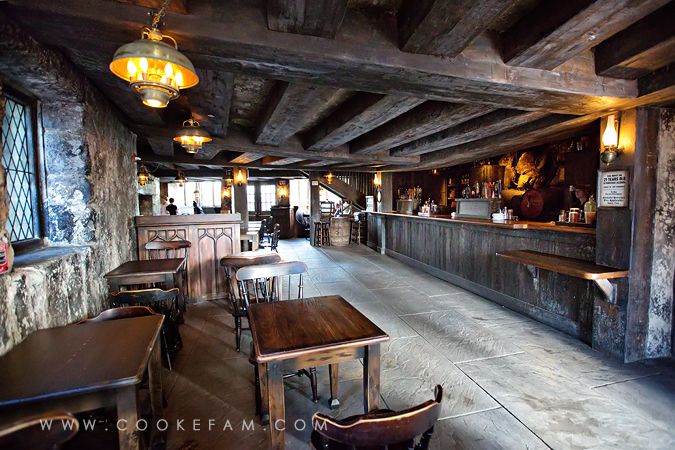 This would have been a great place to escape the heat with a cool drink if we'd felt so inclined and hadn't already bought our pumpkin juice. There was hardly anyone in here and it was nice and quiet.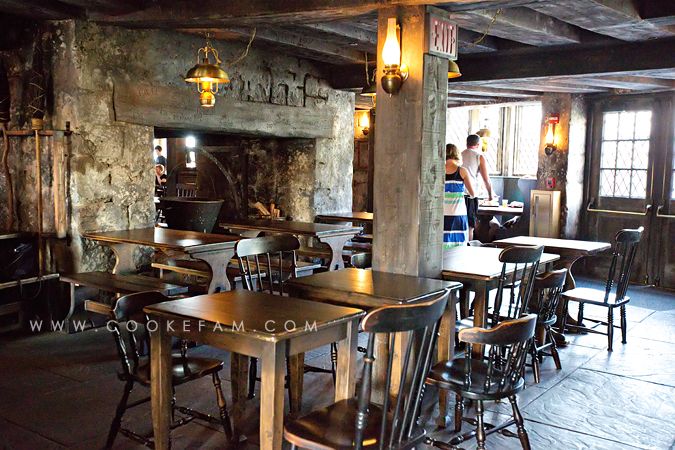 Right next to the Hog's Head and the Three Broomsticks is Honeyduke's Sweet Shop. It's practically a rule that you have to look in there.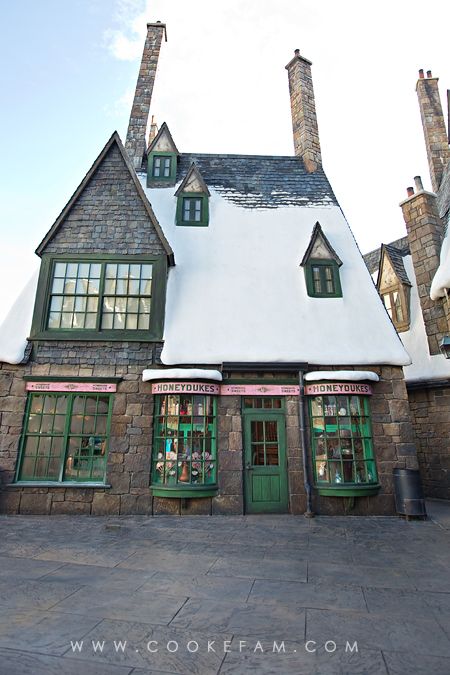 Just like I'd taken an million photos inside Weasley's Wizard Wheezes the day before, I chose Honeyduke's to photograph on this day.
It's hard to resist snapping away...everything is so colorful and picturesque. Candy is especially eye-catching, isn't it?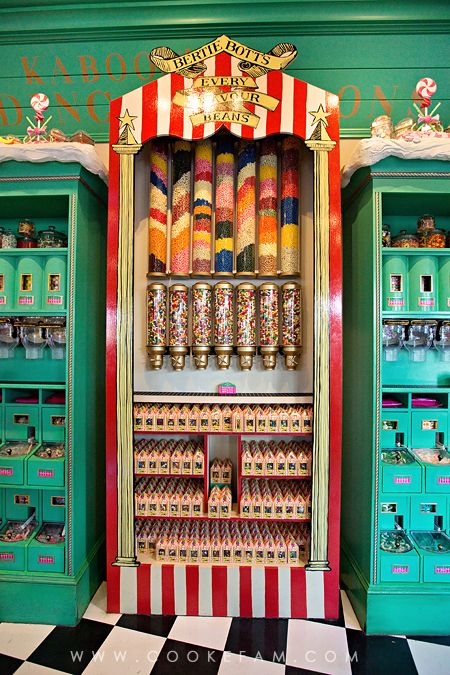 The check-out counter is almost too much. I love the green.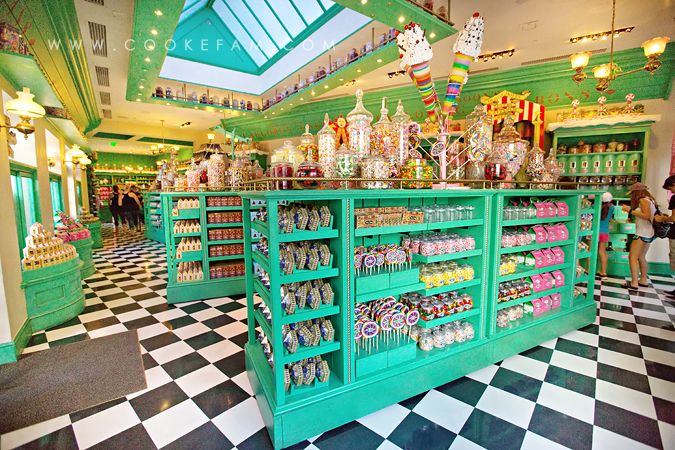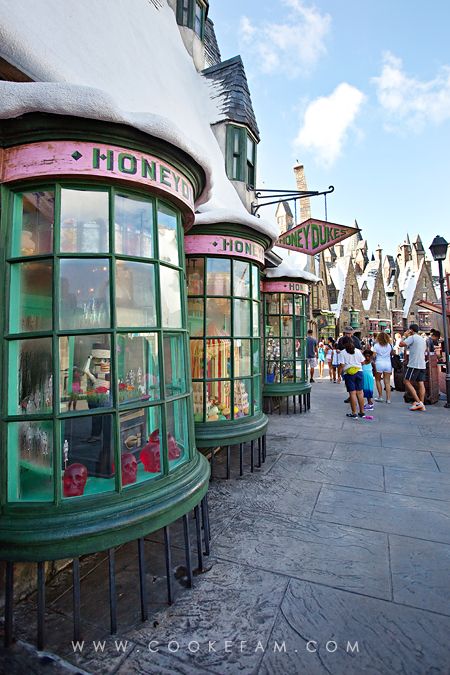 After we'd bought out all the candy and had it sent to our room too, we worked our way over to the Hogsmeade station to board the Hogwart's Express.
We didn't have to wait long before it came chugging into the station.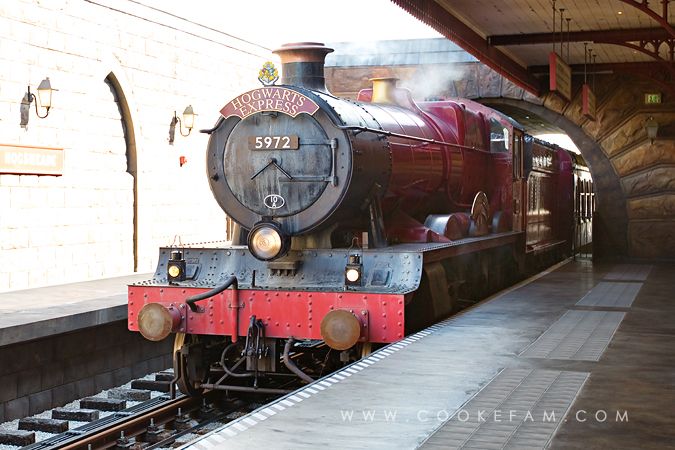 The inside of the compartments has thus far been my white whale as far as photographing it. There's not much time and the lighting is difficult without a flash, which would also ruin the mood. So, lacking time and a tripod - not to mention avoiding bothering other passengers with such things - I have to settle for fuzzy, grainy shots that only give a slight impression as to the awesomeness of these cars and their authenticity.
We rode the train over to Diagon Alley and just circled right back around and rode it back to Hogsmeade. The ride is different both ways and we wanted to experience that. Also, we had sort of looked at Diagon Alley the day before and wanted to look around some more at Islands of Adventure.
Hogsmeade station is great...and you feel like you're about to exit into a magical town. But I really, really love King's Cross station. One reason is that I love London and it feels distinctly like the real King's Cross station in London. Also...platform 9 3/4...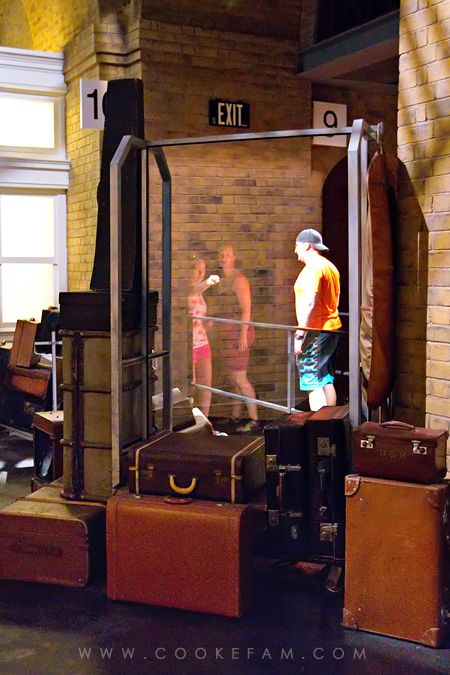 And Harry's trunks with Hedwig on top!
After riding back to Hogsmeade station, we went straight for Seuss Landing.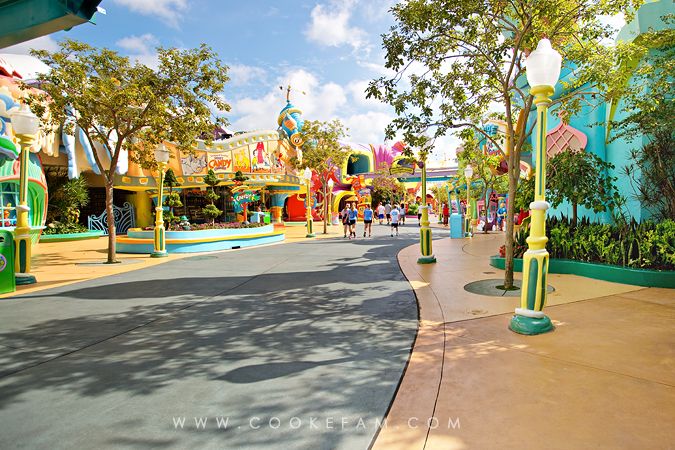 So much whimsy...
We did not ride much (only one ride, in fact) in Seuss Landing, but took some photos and looked in a few stores. I have a history with Truffula Trees, so a photo of them was a sure thing.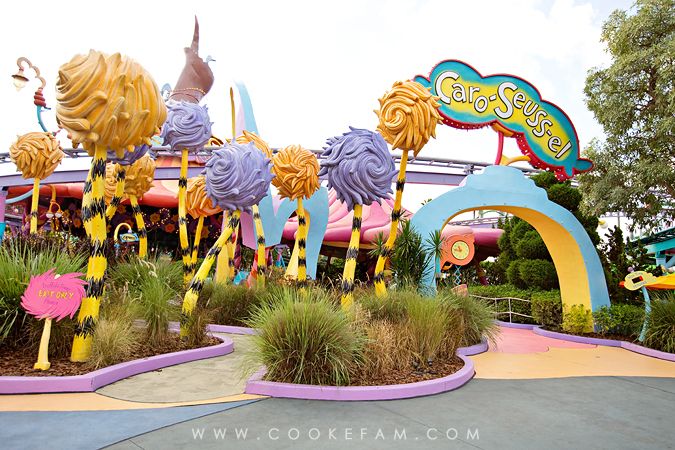 It was still virtually empty at almost mid-day. Crazy. So September is definitely a good time to visit Universal.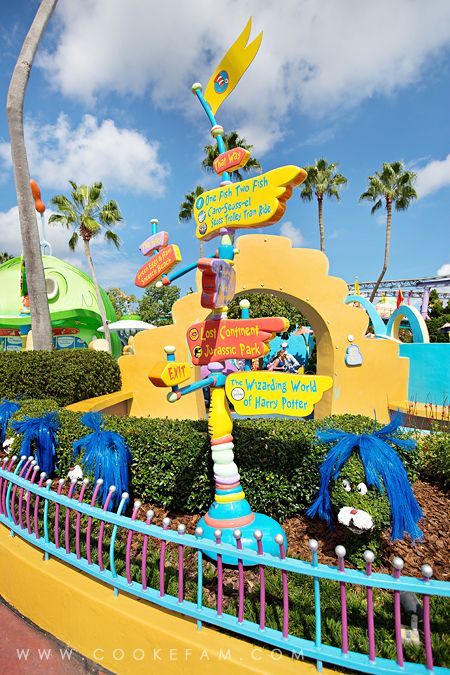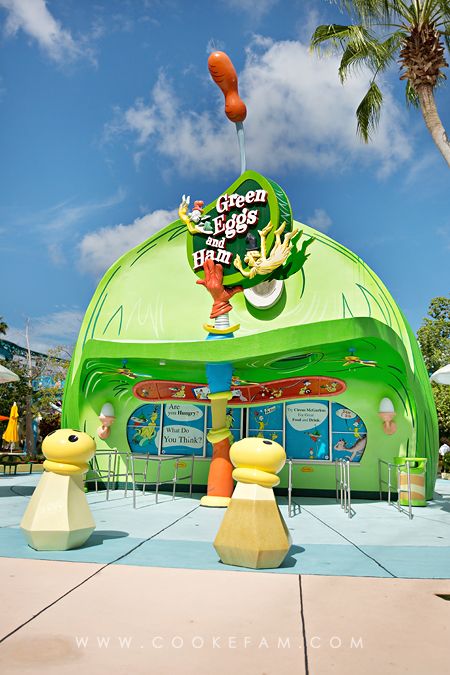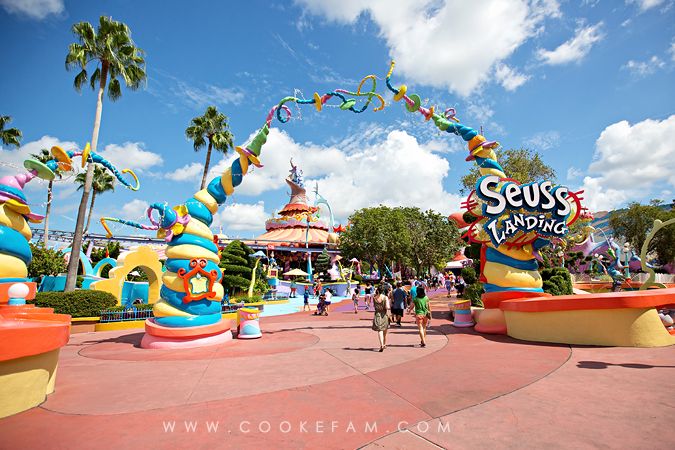 The one ride we rode was The Cat in the Hat.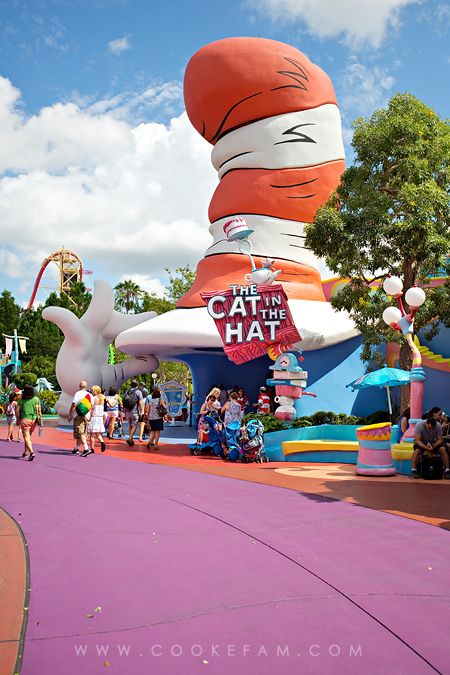 After milling around Seuss Landing for a bit, we went back to the Three Broomsticks for lunch. The boys and Casey and I had not eaten here on our last trip, so this was a first for me and I was excited to try it out.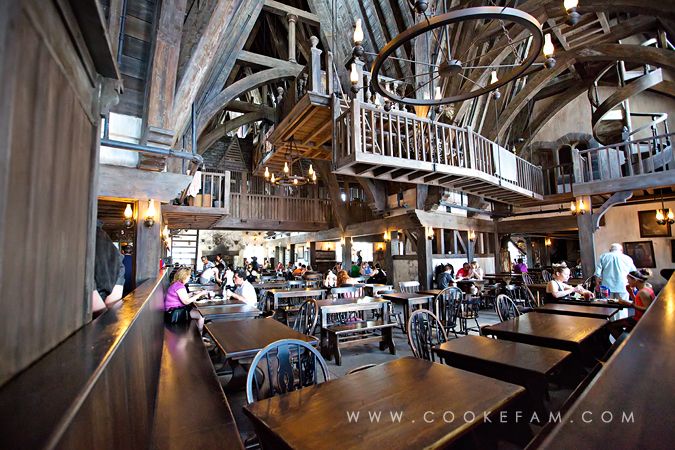 We both had the Cornish Pasties and some Butterbeer. It was very good. Great, in fact. We should have also ordered the roasted corn, but that was hindsight..we didn't know we'd be so hungry!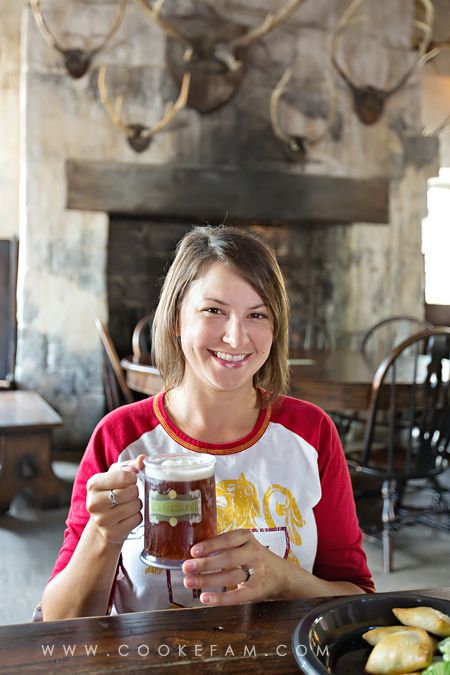 After lunch, we headed back to the resort for a few hours to rest, recharge, and float in the pool! It was really warm and that kind of heat is exhausting. Plus, we were on our own agenda, so why not?
After we'd rested and cooled off, we headed back, but this time to Universal Studios again. We went down Hollywood Blvd because we hadn't the day before.
We both really wanted to ride the ET Adventure. It's one of the few remaining rides at Universal that I remember from when I was a kid. I think they may have changed it a little, though. That or my childhood memory is faulty, which is entirely possible.
After ET, we walked over to Islands of Adventure again. We wanted to ride the train, but without knowing the wait times (which are often long at this time of day - late afternoon), we couldn't be sure we'd make our reservation time at Mythos. So we walked.
Even though I booked 30 days out, the best reservation time I could get for dinner was at 4:30pm. Luckily, we were really hungry by then! A light lunch plus swimming and a lot of walking had definitely worked up our appetites. That was a good thing because Mythos is supposedly the best theme park restaurant.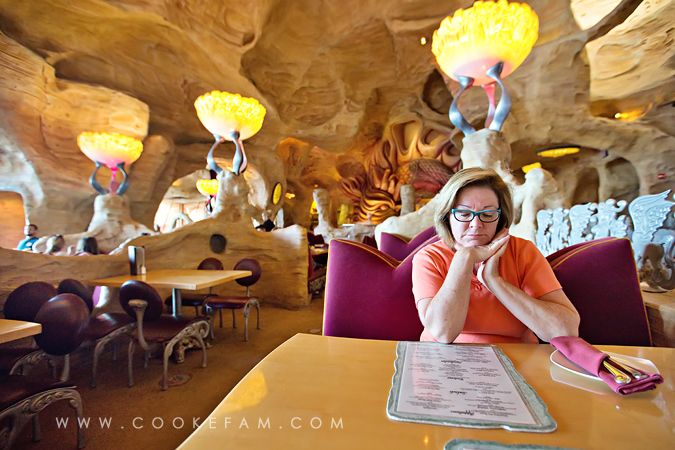 We ordered this Harissa Fried Shrimp appetizer...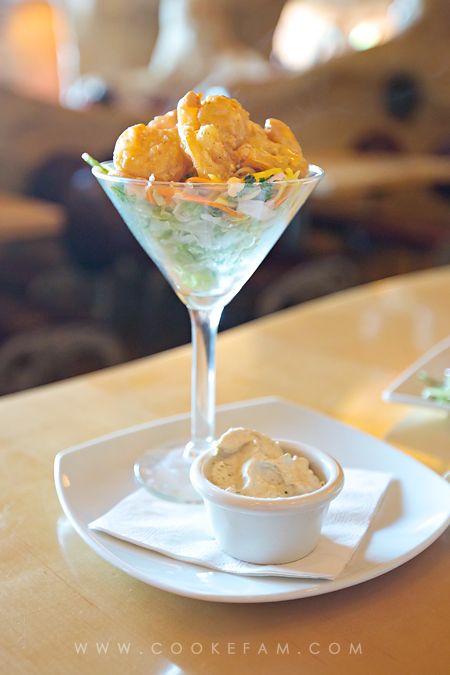 ...and also the Spanikopita appetizer. Both were excellent and we had a hard time choosing just these two from the appetizer menu. I always feel like I can make a meal out of just appetizers. They are always so good!
For my entree, I ordered the Brown Butter Gnocchi. It was just as good as the name suggests...can't go wrong with brown butter or gnocchi, really.
Mom ordered the shrimp Pad Thai, which was also delicious! We were pleasantly surprised at the flavors of our dishes.
The interior theming of the restaurant was very cool too...just like an ancient grotto.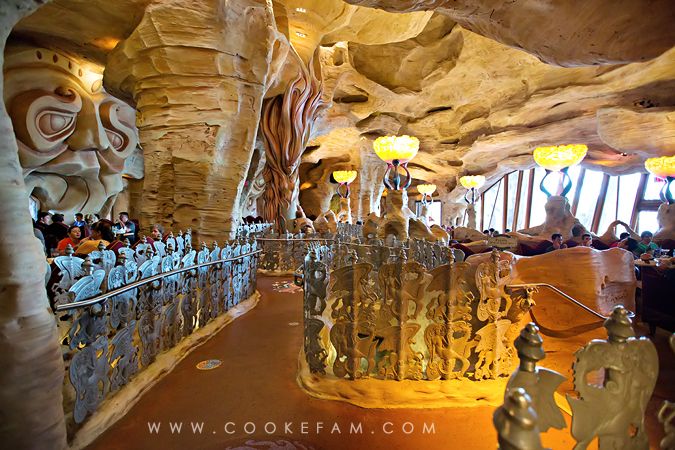 After dinner, we made our way briefly through Hogsmeade again and over the bridge that leads to the Jurassic Park area.
Beware of dinosaurs! They seem to pop out everywhere.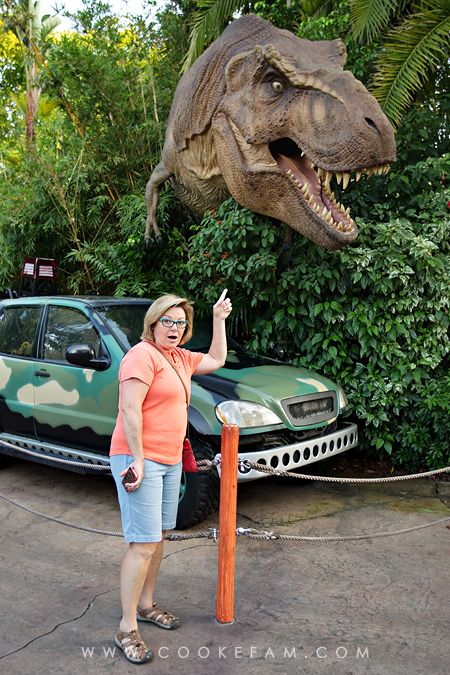 We didn't ride any rides, but continued to walk around the park and check out everything we hadn't seen so far. And also, we were on the look out for some ice cream. We purposely hadn't gotten dessert at Mythos so we could get some ice cream somewhere. But as it turned out, all the ice cream places we had come upon so far were inexplicably closed.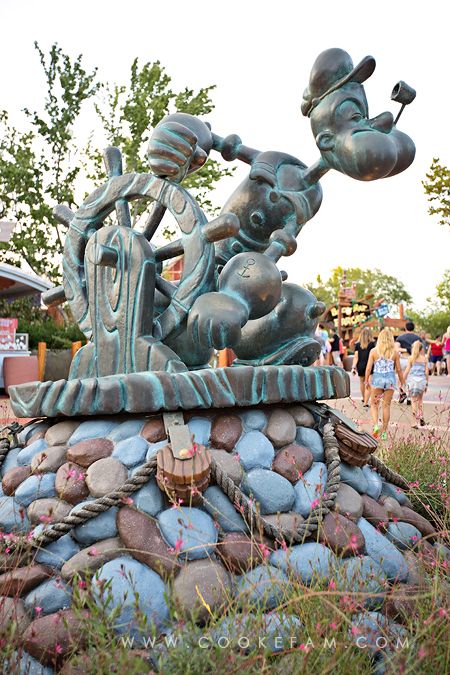 We made our way around to Toon Lagoon. It was really cool, but I had ice cream on the brain and didn't stop to look around too much.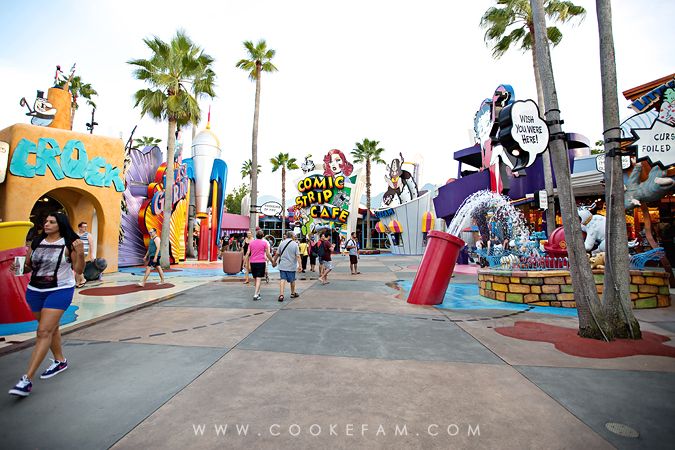 Continuing in our big circle around the park, we came to Super Hero Island.
We rode the Spiderman ride, which was actually a really great ride. I don't know what I expected, but it was better than my expectations. We left the park after that having struck out completely in finding an open ice cream place. We did find one (only because we were really determined) in City Walk outside the parks. What's with not having ice cream available, Universal?