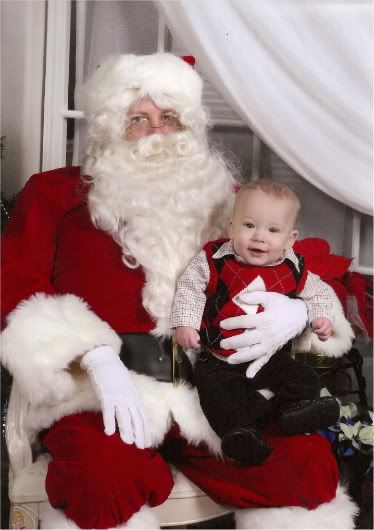 This is another hand-me-down tradition from my family...my brother and I always got our pictures taken with Santa. Well, not in high school or anything, but when we were smaller. We have some pretty great pictures of these times and even a video or two, I think.

Last Saturday we took Ethan to have his picture made with Santa. First, I'd like to make a note of what a good boy Ethan was...he waited until 20 mintues after his picture to scratch his face like I mentioned in my last post. Yessss! The photo experience was great...no lines, no mall, no waiting. We got lots of individual attention from the photographer and so many good shots that it was hard to choose one. My secret weapon is Lisa. She was the photographer I chose for my wedding. And this year, when I received her post card about her "Santa Day," I jumped at the chance to have a mini 10-minute session in her home studio with Santa instead of at the mall. On top of the convenience and stress-free factors, the photo (there's no sitting fee) was less than what I would have paid at my local mall. I'm doing this every year for sure.

And I've figured out what I'm going to do with each year's Santa photos. I purchased an 8.5 x 8.5 scrapbook album at Target and am going to use one page for each year. Then, I will pack it up with my Christmas decorations every year and set it out on my coffee table with all the Christmas books during Christmas. I think it will be fun in several years to look back at all of the photos with Santa.

PS - the above photo is scanned (which is why it looks a little fuzzy) for the purposes of sharing it on this blog only.