It's no secret that I love to purge my house of extra clutter and "stuff" that we don't need or want. So it shouldn't be a surprise that this behavior also extends to photography for me. I can't help it. It's just part of who I am. This means that I don't keep every single shot that I've taken. Far from it. I'm pretty selective about what I keep. I delete some duplicates and the bad shots...the ones that are dark, blown out, out of focus or otherwise unfixable, even in Photoshop.
I've
already shared
that I DO keep some "outtakes," especially when the subject is Ethan or people in general. These are the shots that are funny and priceless. I love them. But every once in a while, I will keep an imperfect shot too. One that I would ordinarily delete because of its flaws. Like this shot I took the other day when we were planting flowers.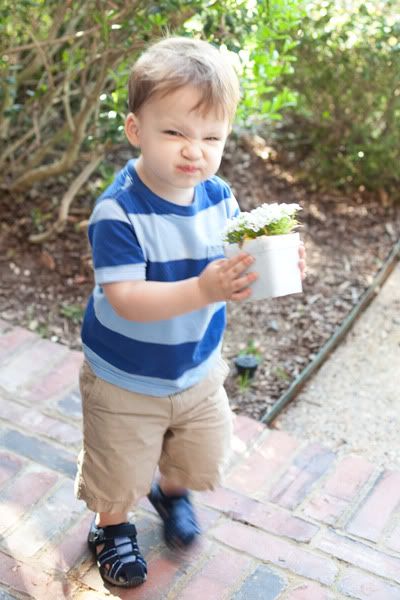 It's hard for me to keep it because when I first look at it, all I see are the things I did wrong when taking the shot. But, really, when I take a second look, I see something that I know I want to keep...a memory, an expression, a moment. My son's silly stinker face. Despite the fact that I wish I had done a better job of capturing that moment, I just can't delete it because I know that 10, 15, 20+ years from now, I will look back at that photo and just smile. I won't care that it's not in focus...I will just be so glad I captured and saved that memory.