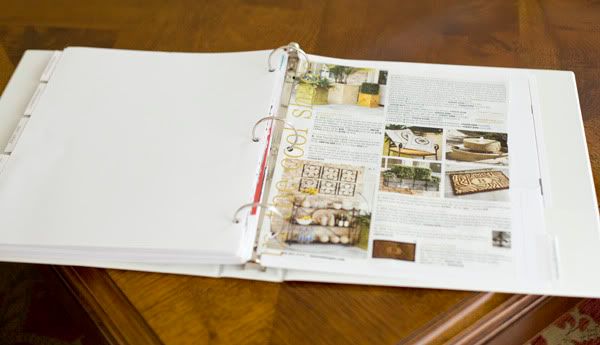 I am now the proud owner of another notebook...other than my incredibly useful
Household Notebook
, which I've written about before and still use almost daily. This new notebook is basically yet another one of those organizational tools that really just makes me giddy.
Contained in my notebook are all my ideas and inspirations for decorating and/or renovating our current home. I had something similar for our previous house, but it was really just an overstuffed folder...not very functional. This time, I just took a spare 3-ring binder that I was storing in our supply closet and added a divider for each room in our house. Who knows when we will get to any of these rooms, but that's part of the beauty of the notebook. I can store my ideas and get them out of my head until I'm ready to address each room individually.
So, when I get a catalog or see something in a store, I can tear out the page or print something from a website and file it away under the specific room. I can also add pertinent room and wall measurements to each section to make shopping easier. Each divider has a pocket so I can also add receipts or smaller items that I can't hole-punch.
For the rooms I'm currently working on (Ethan's and Logan's rooms), I also have a budget and list of things I am putting in those rooms. I also have a notation of the paint colors I've used in each room, which should always be kept on file somewhere, if not in a notebook.
I'm really loving this new tool right now how it makes me feel less scattered with all the ideas I have for even the most minor changes or improvements I want to make to our house. And because I had the notebook and dividers already, I didn't spent a dime making it. (I made the cover art in Photoshop and printed it on regular paper).