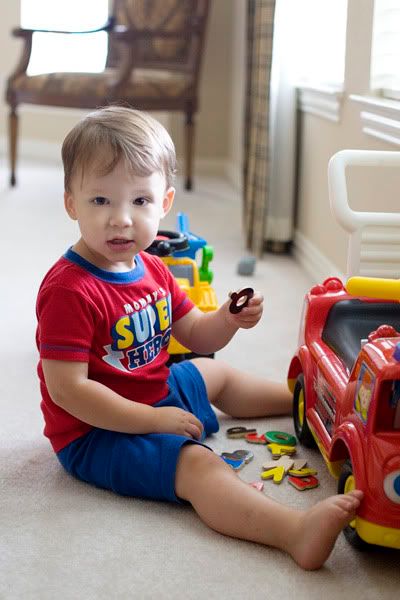 Ethan is obsessed with the alphabet and letters these days. He knows all of his uppercase letters and most of his lowercase letters. When he names a lowercase letter, he says, "small L," or whatever the letter may be.

He started out this obsession with a Melissa and Doug alphabet puzzle that says each letter to him as he puts it in place. Then, he found a box of magnetic letters in the playroom and now he combines all of these in his bucket and carries them all over the house. He dumps the letters out and then goes through all of them, naming them as he puts them back in the bucket. He also loves to sing the alphabet song. What's really cute is that he calls his letters his "AB's." He leaves off the "C" for some reason.

And he also knows his numbers...in English and in Spanish. He actually prefers to count in Spanish these days (thanks, Dora!).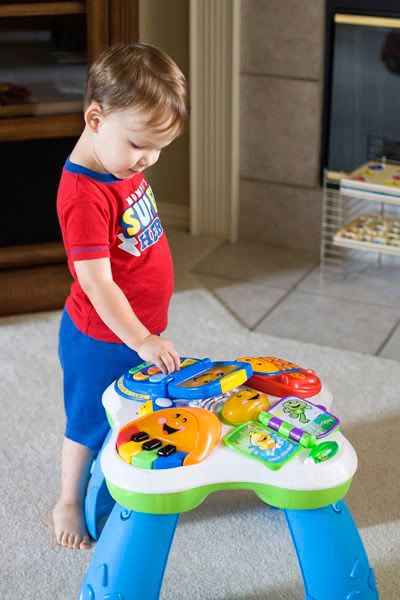 And then there's the rediscovery of the learn and play table that he absolutely loved about a year ago. He pulled it out from the playroom the other day and made me bring it downstairs with us. Only this time, he sings the songs along with the table and has an individual dance for each one. Thank goodness I caught some of that cuteness on video the other day. It's actually quite hilarious some of the moves he does!