I love pulling out my fall decorations (which I did about a month ago) because I love the season and everything about it. I also love that my decorations are simple, so it doesn't take me forever to put them up. I love Christmas decorations too (a lot, actually), but it is time consuming to put them up (and take them down a month later). But fall decorations go up in less than an hour and stay up from September to November in my house, which is quite worth the little time it takes me to put them out.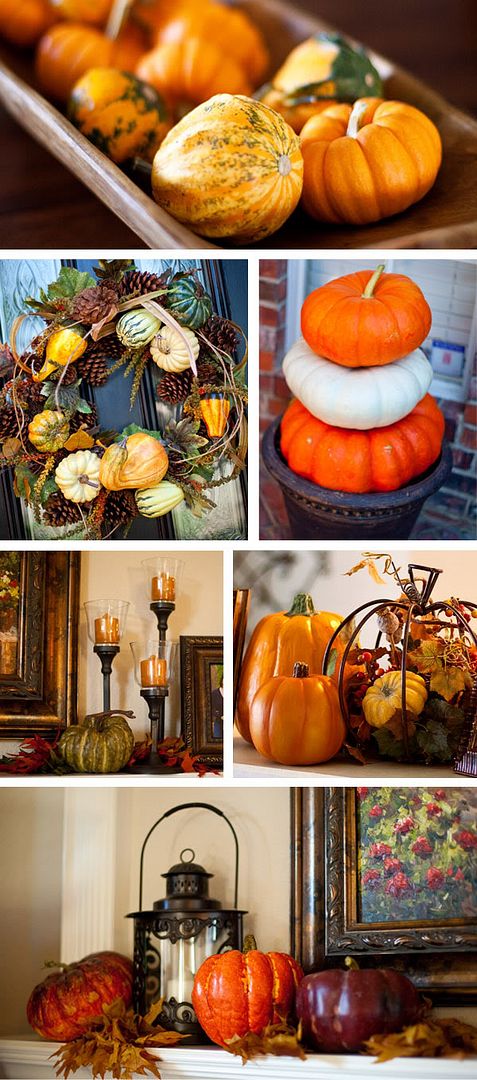 I bought a few things on sale at Hobby Lobby this year to add to what I had and to replace some other things. Then, I decided to "plant" pumpkins in my front porch pots instead of mums. I got this idea from
Centsational Girl
(see other links below). The pumpkins are real, Cinderella pumpkins...but they don't require watering, which is wonderful. I'm also trying to use as many fresh and real decorations indoors as well (the fall leaves on the mantel are real, as are the pumpkins and gourds in the top picture). But I have to balance what I can and want to spend each year on decorations that aren't permanent.
I love the inspiration these blogs give on fall decorating (and in general):
Centsational Girl:
Front Porch Fall Style
,
Pumpkins on Parade
,
Free Fallin
,
Fall Color Clippings
Thrify Decor Chick:
A Fall Mantel
,
Creating a Warm Fall Glow
,
A Dollar Store Fall Wreath
The Nester:
10 Easy Ways to Decorate for Fall
,
Pottery Barn Hacks for Fall
,
Fall in 5 Minutes