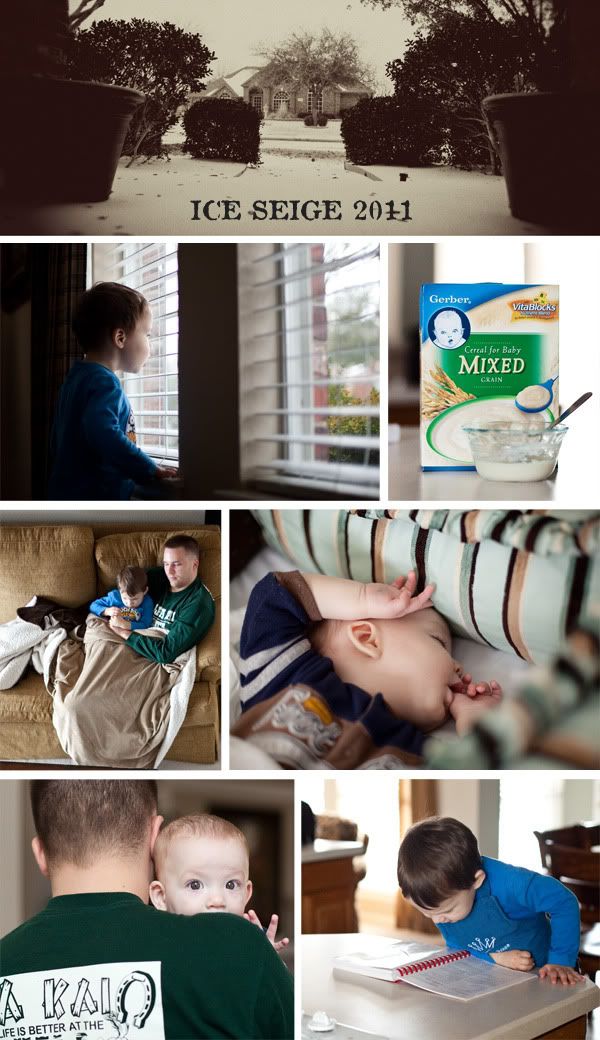 Our street and sidewalk are totally iced over. Preschool was cancelled. Casey has been home. Logan....well, he's pretty much always with me, so he was home too. Ice days are the perfect excuse to put aside the to-do list for a while and have some indoor fun.
The first day, we ate pancakes for breakfast and then Ethan and I baked some banana bread. Then Ethan and daddy watched Cars and Logan had his first taste of cereal (more on that later).
The second day started with a power outage...while I was in the shower. Thankfully it only lasted 30 minutes so I was able to dry my hair. Wet hair and freezing cold temperatures don't mix. I ventured out to the mailbox at some point...only to pick up the previous day's mail and to drop in a Netfilx movie...and almost broke my neck on our sidewalk. The day ended with all of us making, then eating, homemade pizza.
And now today, the third day of our ice-in, preschool has been cancelled again and so has my hair cut. The one that I've waited an extra two weeks for because of my hair dresser's maternity leave. She cuts Ethan's hair when she cuts mine, so he is getting pretty shaggy too.
Based on the fact that this is our third day to not even leave the house, I guess it was a good call for me to go to the grocery store on Monday after all. It's been fun, but I'm very much over the extreme cold. Too much of a good thing is still too much. And I'm definitely a homebody, but I am so ready to get out of this house. So tomorrow, if the roads are any better, I plan on doing the only reasonable thing...get dressed in real clothes, put on my make-up, and go to Target.