We got to Sea World right when it opened and headed straight to feed the dolphins for their first feeding of the day. This was so much fun. Ethan loved it and had the best time dropping the fish into the dolphin's mouth. I love how feeding them gets you so close. Close enough to touch them. So cool.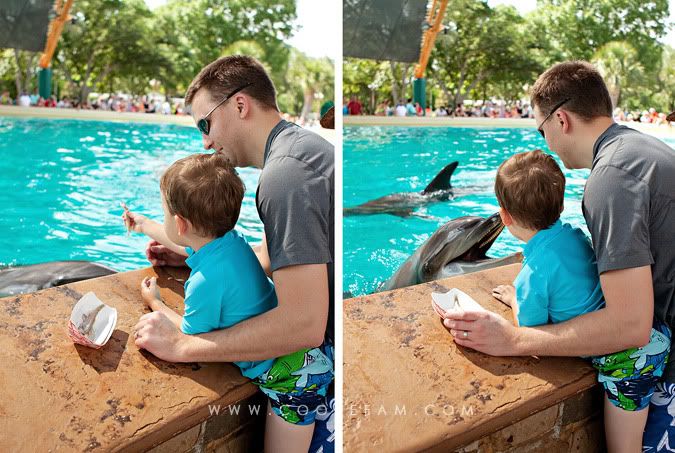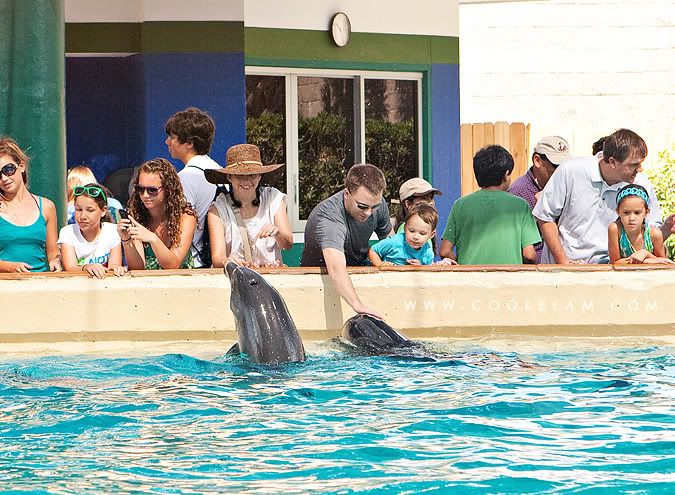 Then we went to the shark and other sea life aquarium. Another big hit with Ethan AND Logan. There was a diver in the tank while we were there feeding the fish so they were swarming around and we got a good look at them all. The sting rays were my favorite. Ethan loved getting right up next to the glass and pointing out all the colors of the fish.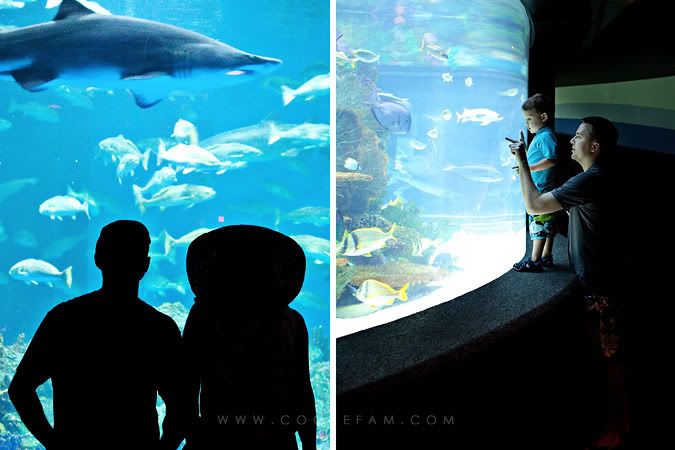 Then we headed to our first show, The Cannery Row Caper, which I highly recommend, especially for kids. It is a fun and funny show with sea lions, an otter, and a huge walrus. Very cute. Ethan squealed through the whole thing (much to the chagrin of the people in front of us.)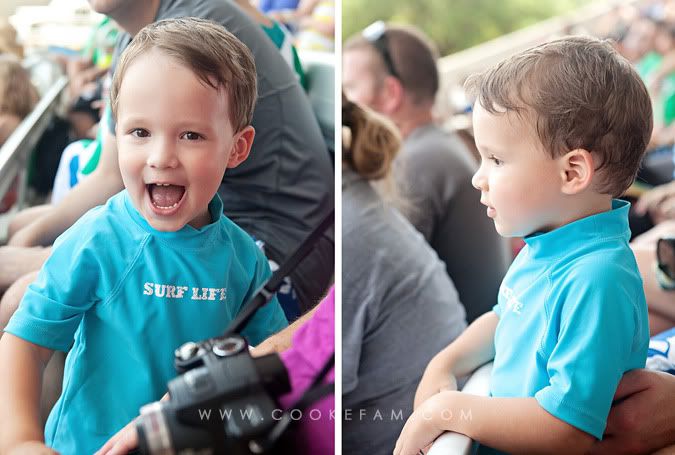 After a quick bite for lunch, we got Ethan on his very first roller coaster, the Shamu Express. It is a mild one, for sure, and he was
just
tall enough to ride it (38 inches). Casey rode with him and said that Ethan was a little scared, but ended up smiling about it afterwards. They rode in the last "car" on the coaster.
Next up was the Azul show, for which I had heard rave reviews, but it was sort of disappointing to me. It wasn't terrible by any means...just not as great as I had been led to expect. (More on the shows in another post).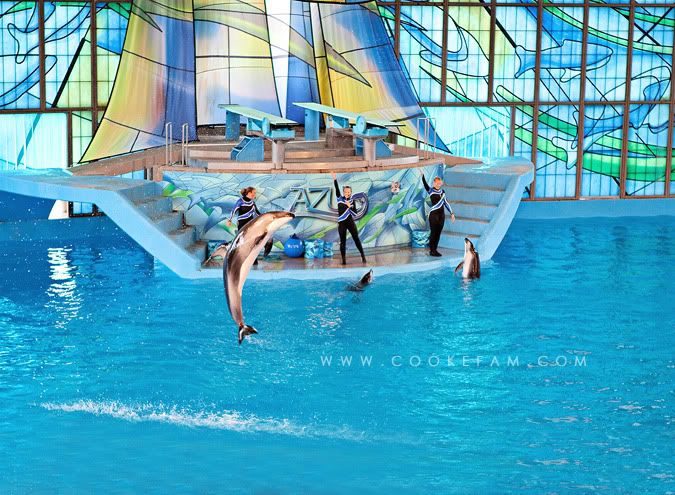 After Azul, we went straight to the new Shamu show, One Ocean. It was
awesome
! It was Ethan's favorite part of the day and mine too. There were four killer whales and one baby and the whole show was just music and the whales doing their thing...very fun and entertaining. Supposedly, this new show just debuted in June so were among the first to see it.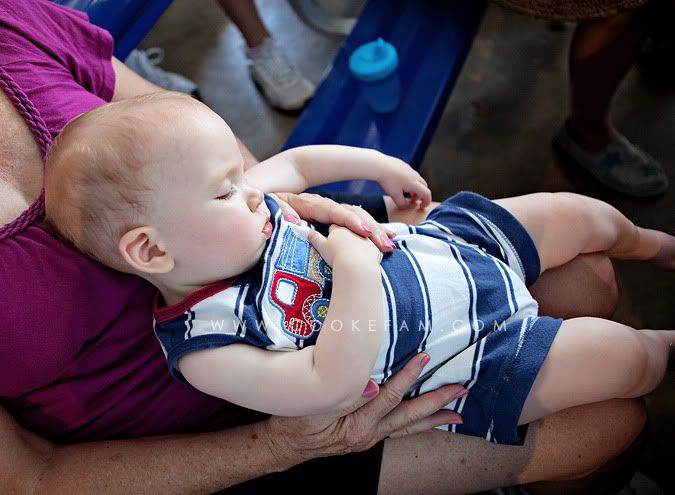 After the show we went to see the penguins...another favorite of Ethan's. He loved seeing them dive in the water and zip around really fast. Some were sleeping and he kept telling them it was not time to sleep yet.
After that, we were planning on going to the splash park in the new Sesame Street Bay of Play to cool off, but it was spontaneously closed right when we walked up. They were re-cholrinating the water or something like that and could not tell us when it would re-open, which was disappointing to me because I know Ethan would have loved it. And it was hot by that time! So, we headed over to the water park and encountered an hour wait just to get in. Way too long with two little ones who are already hot and tired.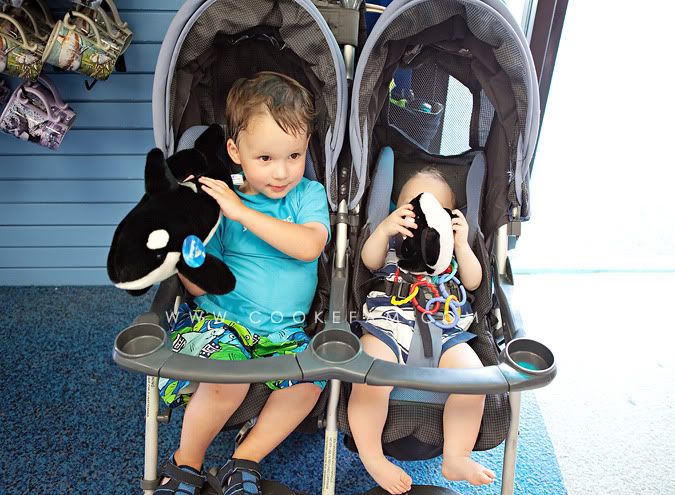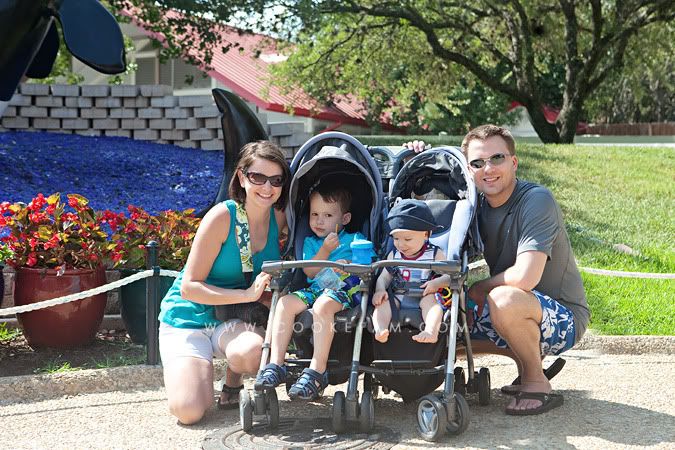 So after hitting the souvenir store to pick up a couple of Shamus, we made an executive decision to go back to the hotel...and back to the lazy river. My parents took Logan back to the room, bathed, fed, and got him in bed while we took Ethan to the pool. We floated around that lazy river probably a dozen times and it was so relaxing. Ethan was just sitting on Casey's lap and talking to us. It was actually a highlight of the trip for me and Casey.
And later that night, Casey and I got to eat dinner at the Antler's Lodge, the resort's steak house. It was an amazing meal. We split the quail appetizer and the crawfish bisque. We each had a filet and some sides. Everything was delicious. We ended the night on Aunt Mary's porch eating ice cream and watching the sun set again.
We had the best weekend and we are already talking about when we want to go again. Logan was the sweetest little trooper. He got hardly any naps this weekend and was such a happy baby anyway. I hate making my kids miss naps, but he made it a breeze for me. He also enjoyed the shows and sea life so much, but we want to go back when he is older so he can experience more!
Not even a fraction of the photos are shown in this post...the full gallery (a combination of all of our photos - mine, my mom's, and my dad's) can be found on our family
photo website
in the
Sea World Gallery
.