We went to Sea World this past weekend with my parents, my brother, and his new wife, Jill. This trip was all my mom's idea and we all had the best time. Casey and I have already talked about going back when Logan is older. And I've decided that vacations with grandparents are
awesome
. They helped us with the boys (a lot), watched them in the room while we went to eat by ourselves (three times!), and they are pretty good company too!
(The boys all strapped in and ready for the ride! None of us knew what would happen a mere 45 minutes down the road...)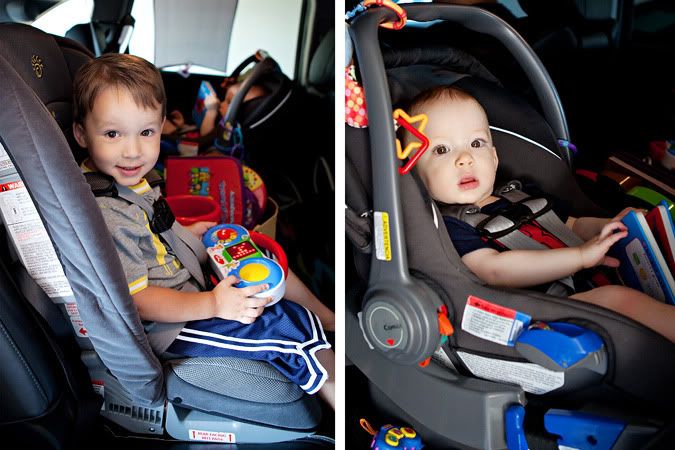 The trip down to San Antonio was eventful. We were stuck in traffic due to an accident on the Tollway (where there are few shoulders to pull off), when Ethan started complaining about his car seat straps and saying that they were bothering him. I knew something was up because he never complains about his seat or riding in the car (especially at the
beginning
of a trip). But even though I knew something was wrong, I was not prepared for him to lose his entire breakfast all over himself, Casey (who turned around to help), the car seat, and the car. What a
mess
(to say the least).
Because of the bumper to bumper traffic, it took me about 10 minutes to navigate off the road and get to a spot (Einstein's Bagels) to clean him up. (Quite possibly the
longest 10 minutes ever
.) Thank goodness I keep a roll of paper towels in my trunk. I think I used about half of the roll to clean everything up as well as a third of the wipes I had in the diaper bag. Ethan has never thrown up before (at all, much less in the car). We were worried that he had a stomach bug or something. Luckily, it was a one-time event.
Back on the road, we ran into random traffic in Austin and San Antonio too, putting us at the hotel much later than we anticipated. But road trips are never predictable and hardly ever
shorter
than expected. Especially if you have kids. We were so relieved to pull up at the hotel, where my parents had already arrived, checked in, and were waiting at the curb to help us with all of our stuff.
That's
curb-side service for you!
We stayed at the
Hyatt Regency Hill Country Resort & Spa
, which is about as close to Sea World as you can get (less than a 5 minute drive). I remember staying there as a kid...I could not forget the lazy river they have running through their grounds and numerous pools. It is such a fun place for kids and adults.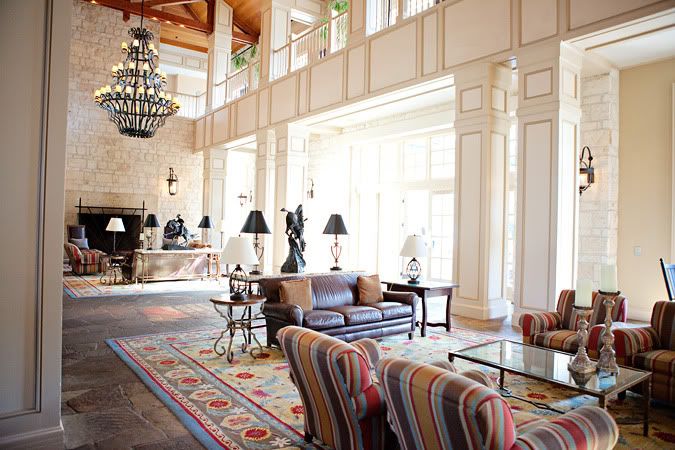 They have a huge porch on the back of the hotel, called Aunt Mary's porch. It has a great view of the grounds and some really comfortable rocking chairs. There's so much to do at the hotel, we pretty much could have stayed there all weekend.
(Aunt Mary's Porch...Casey and I enjoyed some ice cream out there one evening.)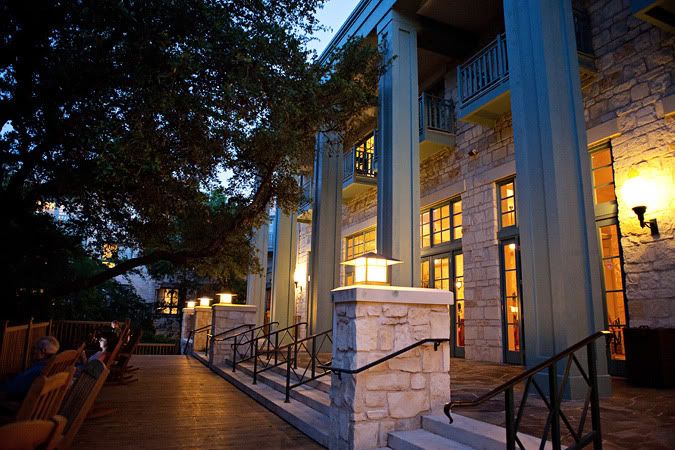 Well, it seems silly to split up a weekend trip into several posts, but I'm going to do it anyway. Too much happened it this one little weekend that I want to document and there are way too many pictures to go with the story. In fact, I don't even have all the photos yet because I have to get some from my parents, who accompanied me in being the boys' paparazzi this weekend.
Right now, I have to put Ethan's car seat back together if we're going to make it to the grocery store today. I had to take it all apart to wash it after the incident on the way there. Dismantling and reassembling a car seat may be on my list of most annoying tasks. Those of you who have done it know what I'm talking about.