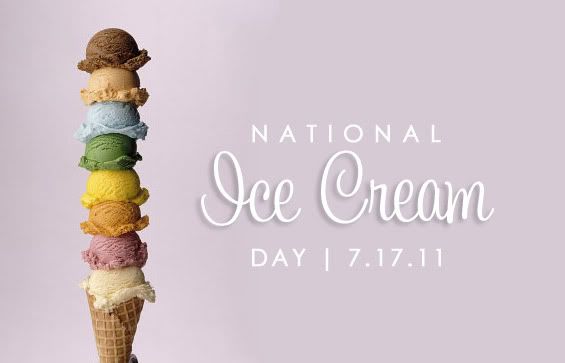 Today is National Ice Cream Day! Can you believe it? An occasion just to celebrate and eat ice cream. I love that.

I have been wanting to make some homemade ice cream in my ice cream maker...and here are a few flavors that have my mouth watering:
Key Lime Pie Ice Cream
(recipe from
Good Life Eats
)
Cinnamon Ice Cream
(recipe from
Dishing Up Delights
)
S'mores Ice Cream
(recipe from
Handle the Heat
)
Mexican Chocolate Ice Cream
(recipe from
Simply Recipes
)
Also, I saw a very intriguing ice cream flavor on Food Network's
The Best Thing I Ever Ate
. Have you seen that show? Don't watch it when you're hungry, that's all I have to say. Basically, chefs tell you the best thing they ever ate pertaining to whatever theme that particular show has. Some themes have been, "Totally Fried," "Sugar Rush," "Between Breads," and "With Bacon."
So, on the "Hot and Spicy" show, someone (can't remember who) mentioned
Queen City Cayenne Ice Cream
from
Jeni's Splendid Ice Creams
. Queen City Cayenne is a sweet, spicy (and cold, obviously) chocolate ice cream. It sounds great and I really want to try it. (And their
Salty Caramel
flavor too.) They actually sell it online and ship it to you using dry ice. I have half a mind to order a couple of pints and see for myself what it's like to taste cold and spicy at the same time. Sounds yummy.