Ethan and I had a day all to ourselves last week right before Thanksgiving. I had my mom keep Logan so Ethan and I could have a special day. Logan and I get our times together when Ethan is at school. And Ethan and I spend time together during Logan's morning naps, but it is rare that Ethan and I are able to go out alone together.
We got up and had a little bit of a lazy morning. Then, we headed out to buy a Christmas gift, which is actually really fun for Ethan at this age. He's really a great shopping partner. We only went to one place to get one thing, so it didn't take long. Then we took off to the library. Ethan got to pick out a few books and check out (almost) all by himself at the self-checkout. It was thrilling for him to touch the buttons on the screen. Then, just as we were about to leave, I noticed that story time for Ethan's age group was about to start in 10 minutes. So, we browsed a while longer and then went to story time, which was all about super heroes...perfect for Ethan.
I asked Ethan where he wanted to go for lunch and he emphatically said, "Chick-fil-A!" I assure you, it is all due to the playground and not the food, although he does like to food too. On our way there, Casey called us and on a whim, he decided to come join us for lunch. It was so fun and spontaneous for us to see him during our special day.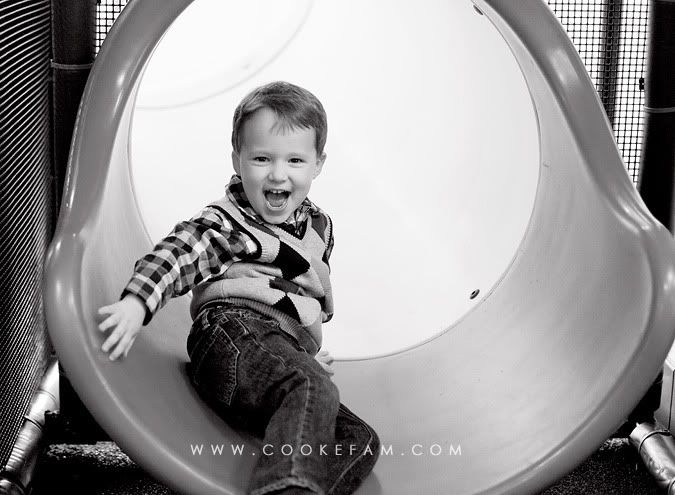 After wearing out the slide at Chick-fil-A, we went back home where Ethan crashed for his nap. And when he woke up, the sun had finally peeked out from behind the clouds (which I why he wore the dressy outfit all day...we are usually much more casual!), so we went to a nearby park to take those
3.5 year photos
I posted the other day.
Toward the end of the day Ethan said he wanted to go pick up Logan. He was ready to see his brother, which is funny because they fought in the car on the way home! But I had a fun and memorable day with my oldest boy. We will definitely have to do this again sometime.