In 2010, I turned Ethan's nursery into his
big boy room
. Until recently, the only thing that had changed in that room were the bed rails, which came off after a few weeks. But after a few changes, this is what the room looks like today:
Not an entirely new room by any means, but there are a few tweaks. The new
bedspread
is what started it all. I found it on sale at
West Elm
one day and knew it would be perfect.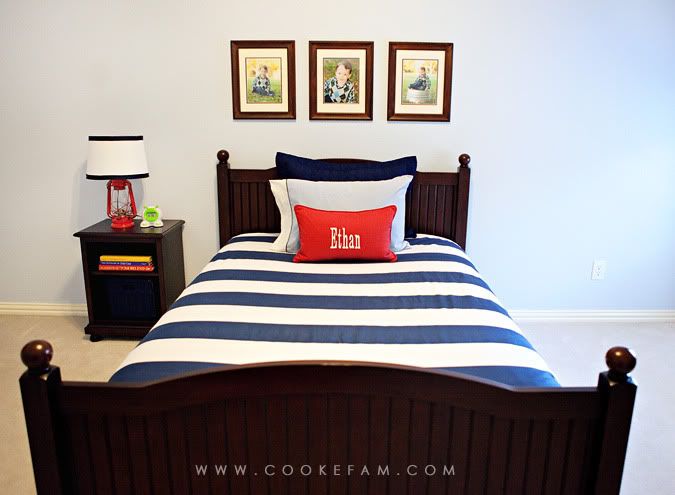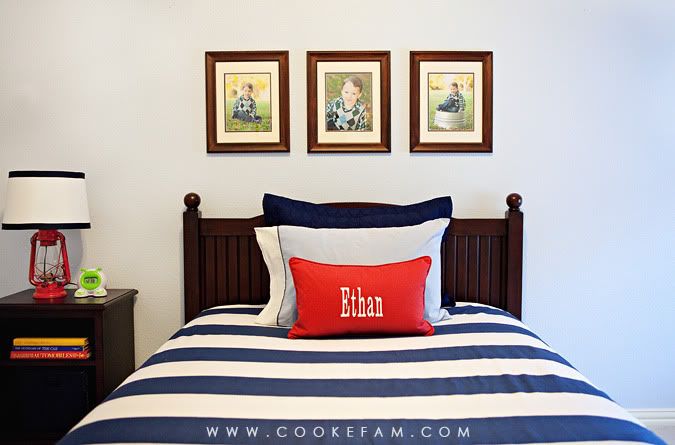 I have changed out those photos over the bed twice since first hanging them. I just update them whenever I take new photos of Ethan that I think would look good up there. That's one of the wonderful things about frames...easy to change out the photos.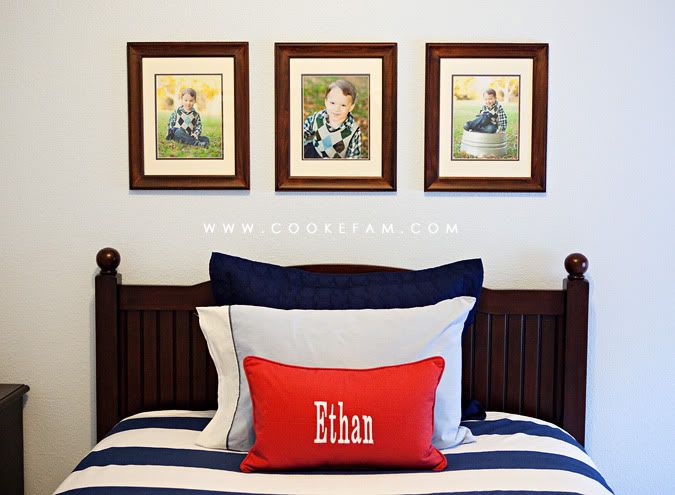 One of the main changes to the room is that I added things on the shelves and night stand. Previously, I left them empty because I didn't want 2-year-old Ethan to be distracted by toys or books when he should be sleeping. But now that he's older, I knew that wouldn't be a problem anymore and I was glad to fill in those empty spaces.
On the night stand, I added a new lamp shade (from Target) and added some navy ribbon trim. Don't look too closely...it's not a perfect job! The basket underneath was actually one of four that I used in
his nursery
(
and Logan's too
), but it used to be a teal blue color. So, I spray painted it navy and stuck it in there. It's from
Pottery Barn Kids
just like the
night stand
so it fits perfectly. The colorful books are all from Half Price Books.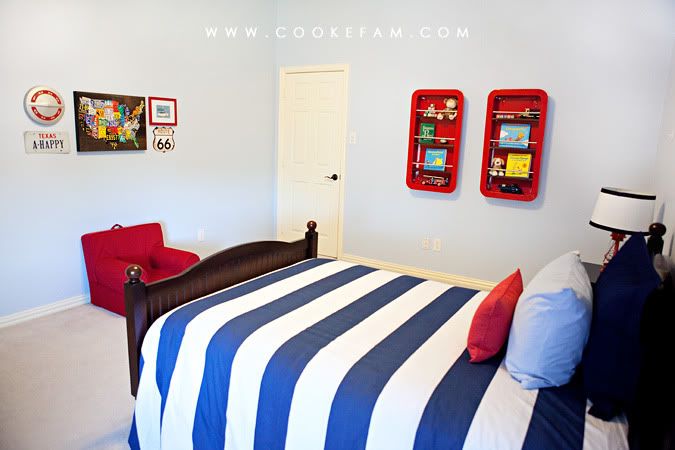 Another thing I did was remove about half of the stuff I had on these wagon shelves. Yes, half. I don't know what I was thinking, but these things were
packed
and it was making me claustrophobic just looking at them. I like them much better now. (The wagon shelves were from Pottery Barn Kids on clearance a couple of years ago.)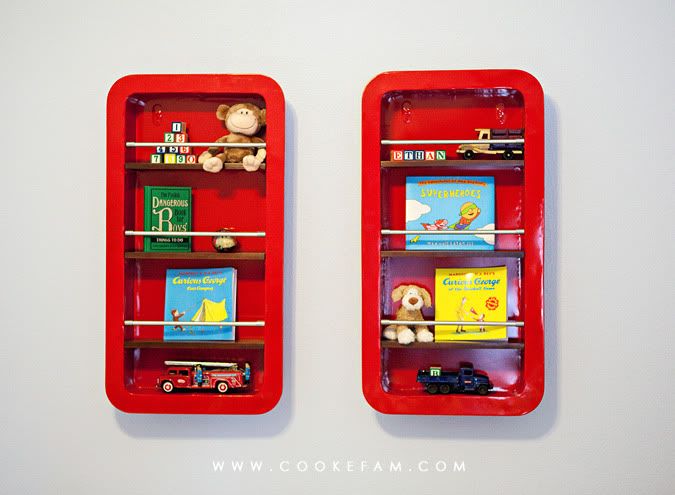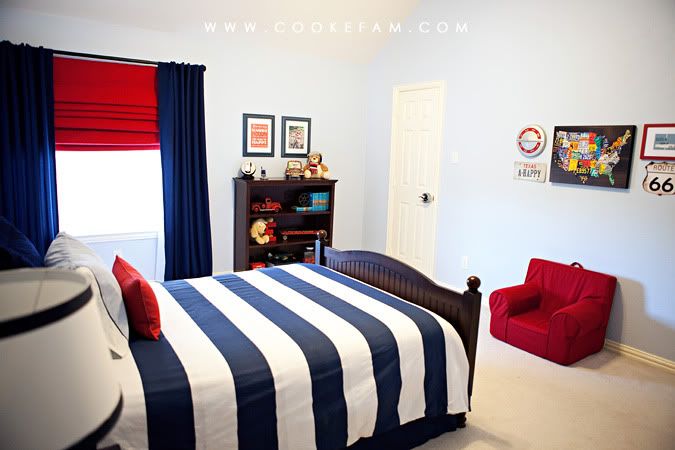 The shelves have just a few new things...the red truck is from Hobby Lobby, the blue books are hardback copies of The Hardy Boys books that I got for $1.50 a piece from Half Price Books. The "E" is a painted paper letter from JoAnn's Fabrics. The vintage skate board was an ebay find that I got back when we first re-did this room and I just didn't know where to put it. It's actually a really cool wooden board. The red change bank was my brother's when he was young and the metal plane is from Hobby Lobby. The big blue aircraft book is another find from Half Price Books, and the glass jar from Target is filled with cheap red skate board wheels I found on Amazon.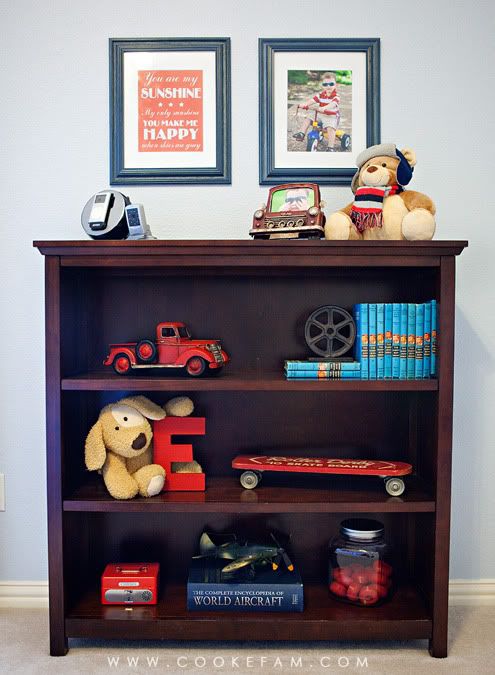 I didn't change anything about this wall collage. I still love it and so does Ethan.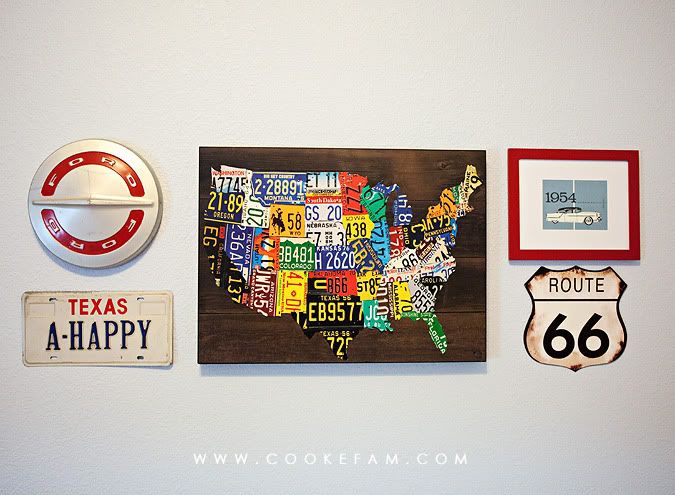 One last thing that I changed are the drapes. The navy panels are black-out panels and I had previously just kept them closed all the time, but that was bugging me. So, I had a red roman shade made by
Windows by Melissa
on Etsy, which is lined in blackout fabric. Now, I can lower the shade, but keep the panels back in place and I like the look of the window so much better.