This week Ethan celebrated his birthday with his preschool class and teachers. It's more than a month before his actual birthday, which is May 25. But over half his class has summer birthdays so they had to spread the celebrations out so that each child could have his/her special day.
He got a blessing and song just for him during chapel while he was up on stage. He got to wear a birthday crown, and I brought cupcakes and treats up for him and his friends right after lunch.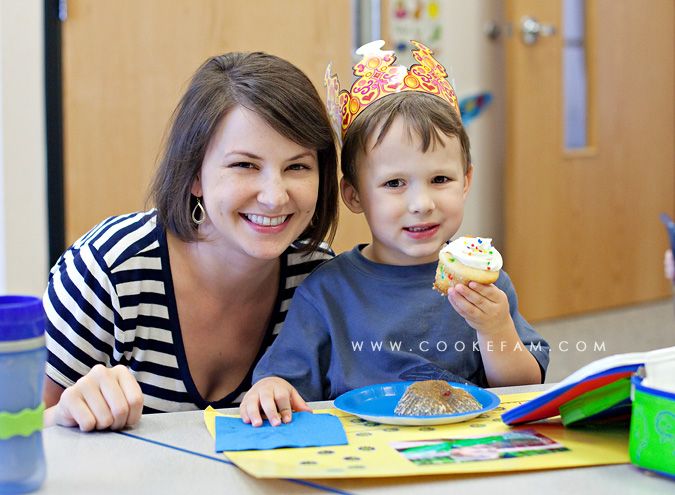 When I walked in the room, Ethan ran up to me and gave me a big hug. He was really excited to share the cupcakes we had made together the day before with his classmates.
Mimi came with me, which was super fun for Ethan.
And, of course, Logan was there too. I didn't let him have a cupcake this time (mean mommy, I know) but I did bring some vanilla wafers for him to munch on so that he wouldn't feel left out.
Ethan loved passing out his birthday treat bags to all his friends in class. They actually went straight into their backpacks to take home because rest/quiet time was happening right after we left. Candy, stickers and 3 (almost 4) year olds is not a good recipe for a successful rest time.

In the photo on the right, Ethan is picking out his treasure for the day because he followed all the rules and listened to his teachers. This happens at the end of every day of preschool...not just his birthday. Recently, he has been picking out treasures and giving them to me, Casey, and Logan, which I think is so sweet and thoughtful of him. But on this day, he picked out some plastic dog tags just for himself!
Even though it's really early and Ethan is now constantly asking when we're having his "other" birthday party, it was really fun for him to have his special day at school. And it makes me realize that he really will be turning 4 in a little over a month. Better get going with the party plans, I guess. And coming to terms with the fact that my first born will be 4. Wow.