The morning of day 4 started off with breakfast at The Red Flame diner (again). I finally remembered to take a shot of the inside of the diner this time. Casey had just enjoyed a breakfast burrito.
Then we took the subway to the Upper East Side. I've always been amazed at tile mosaics in the subway. There are so many of them and that is such a meticulous and time consuming project.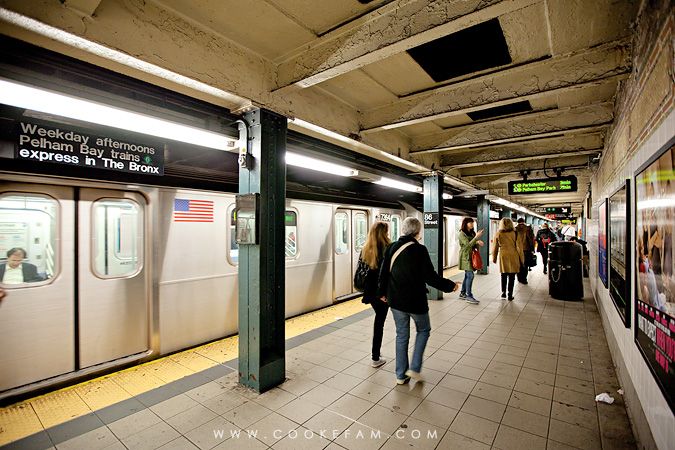 Walking through the upper east side was another taste of residential New York, which was fun to see. We were headed to the
Metropolitan Museum of Art.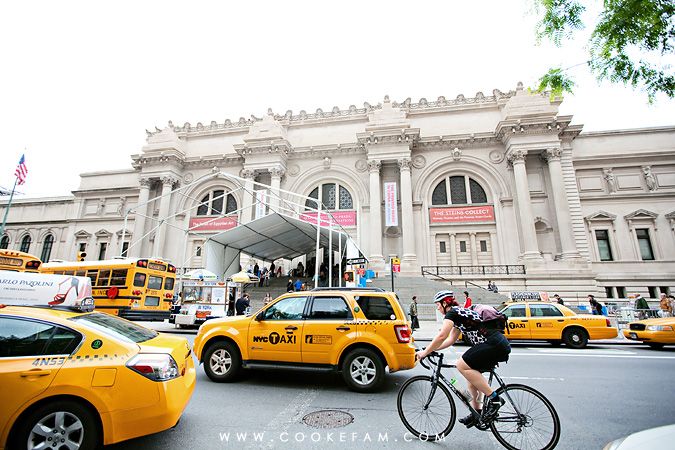 The architecture of the museum itself was beautiful. The photo below is the entrance foyer ceiling.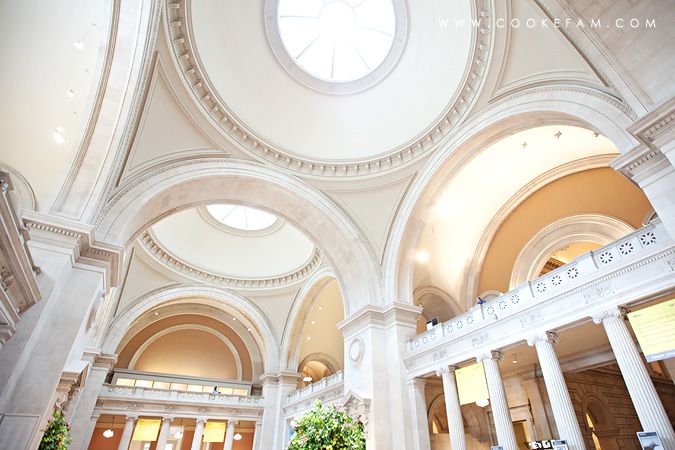 Bonjour, Monsieur Monet. I know that prints of Monet's most famous paintings are everywhere. But when you see the original work right in front of you, it becomes amazing again. I loved rediscovering his mastery.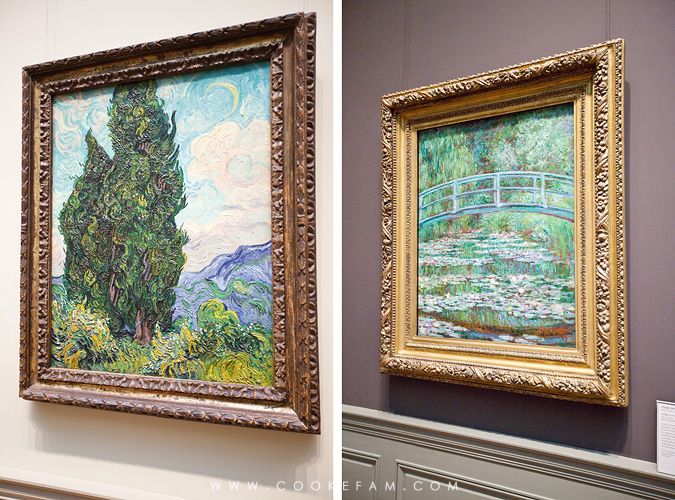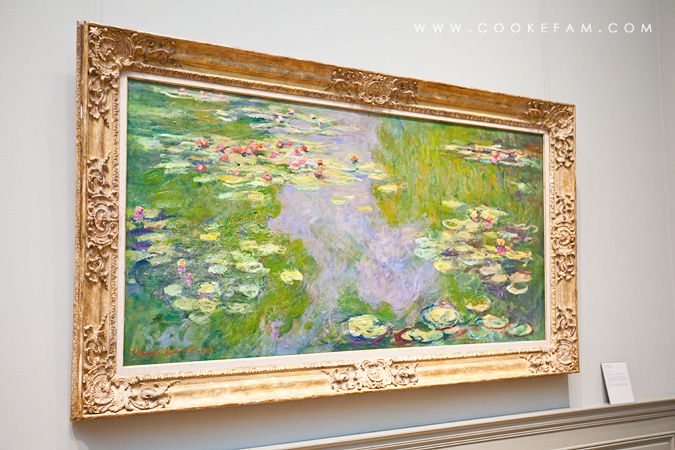 Check out the herringbone pattern of the wood floor. I love it!
Matisse...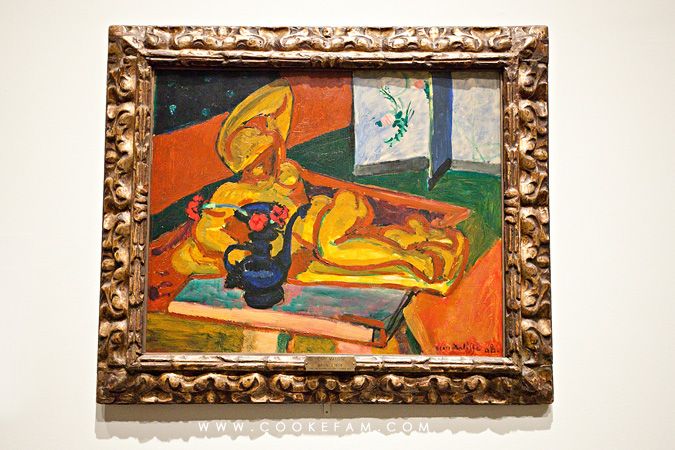 And Picasso. Actually, I think I may have taken these next two photos "illegally." They were part of a special exhibit, which prohibited any kind of photography (the rest of the museum permits flash-free photography). But I didn't know it was prohibited...Casey told me as we were walking out of that exhibit that he didn't think I was supposed to take photos. Oops!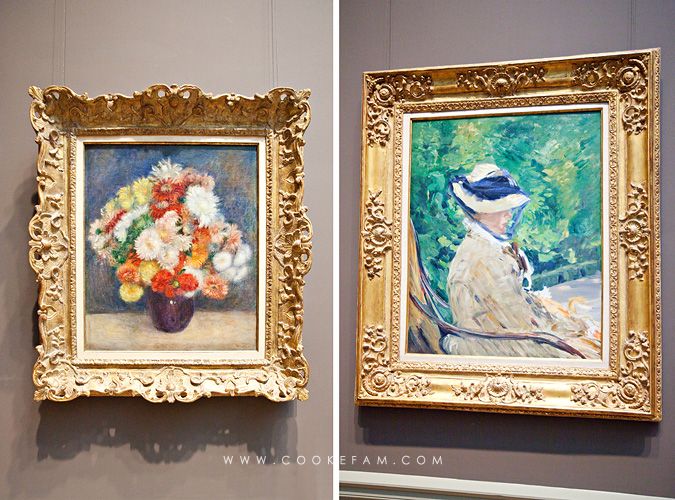 There was art from various periods of history and from all around the world. This is another place that you could literally spend days exploring. I would have loved to see the contemporary art wing, but it was closed that day (not sure why).
Several rooms were dedicated to Greek art and sculpture.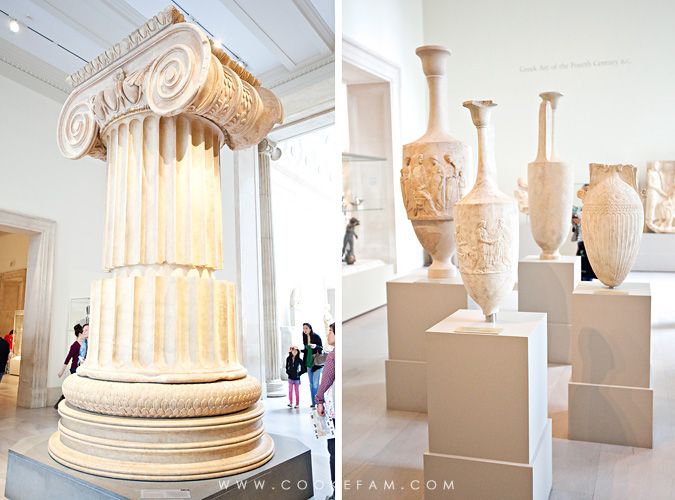 And a wing for Egyptian art too. This particular display (below) was an Egyptian tomb with original paintings. It is kind of mind-blowing to me that these pieces of art are as old as they are and that we get to see them.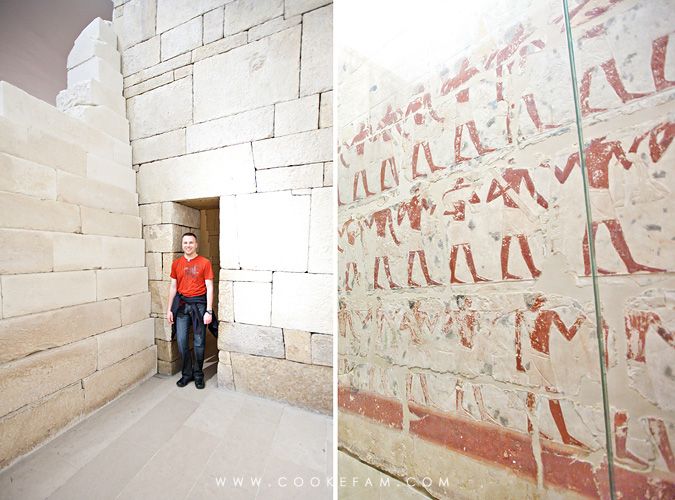 We only spent a couple of hours in the museum, but we saw a lot. We thought about heading up to
The Cloisters
since our tickets included that. I have heard that it's fantastic. But, at the time, we didn't think we had enough time to head even further north. Looking back, I think we did. Oh, well.
MOMA
would have been fun to see too, but this was a Tuesday and it was closed.
We hopped into one of the taxis you see in the photo up there that were lined up in front of the museum. The nearest subway station was a half a mile away and we decided not to walk. We also wanted to see some of the parts of New York (from the cab) that we hadn't seen yet. So, we rode all the way from 86th on the east side of the city down to
Chelsea Market
on 15th between 9th and 10th in the Meatpacking District.
I
loved
Chelsea Market. It's a collection of food, flower, and other shops and restaurants. There's an
Anthropologie
in there too. The industrial feel of the market gives it such character. The dark, rustic wood floors contrast beautifully with the brick walls and metal lofted ceilings. There is quite a
history
to the market as well...going all the way back to the 1890's, when it was a bakery complex.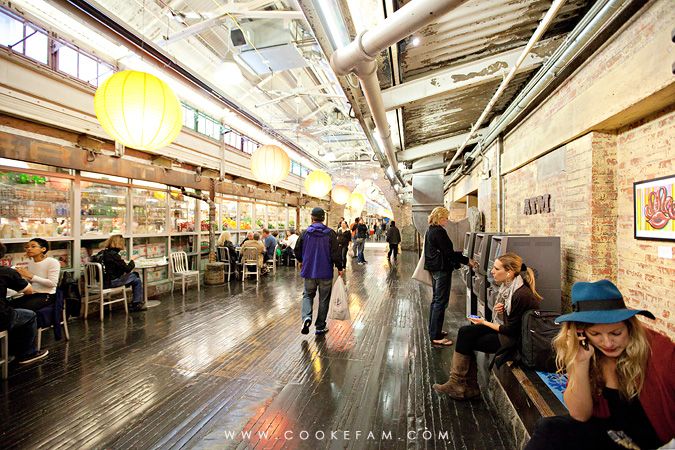 We were at Chelsea Market to check it out, of course. But I also wanted to stop in
The Lobster Place
to get something special for lunch.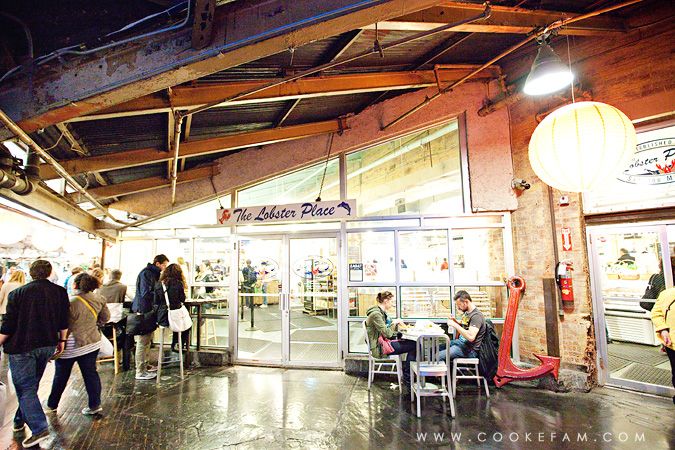 The Lobster Place is mainly a market that sells fresh seafood. Like live lobsters from Maine...
...or fresh Oysters of every kind.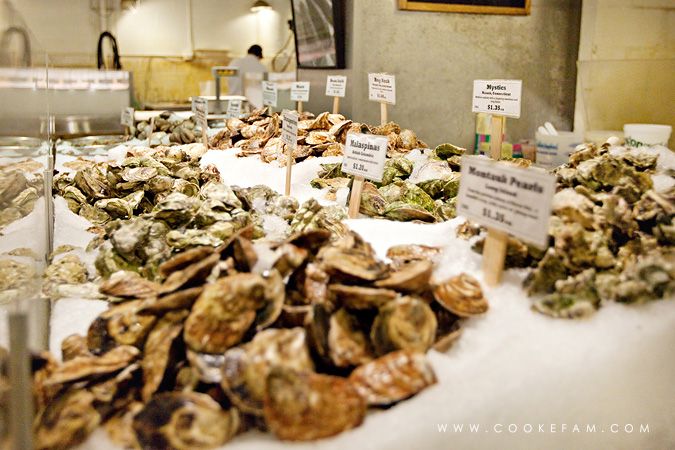 But they also have a "Shack in the Back" that serves several prepared food items. We were there for their lobster rolls. The roll was stuffed with Maine Lobster mixed with celery, scallions, lemon pepper, and a little mayo. It was perfect.
Casey thoroughly enjoyed his lobster roll too. Seating is at a premium in Chelsea Market so we ate our lunch on some huge rocks near the water feature in front of The Lobster Place. I love the "directory" (right photo) of all the stores/restaurants. Chelsea Market runs between 9th and 10th street so that's what those numbers on the top represent.
There are several bakeries in Chelsea Market, but the one I wanted to visit was
Eleni's
because I had heard about their cupcakes.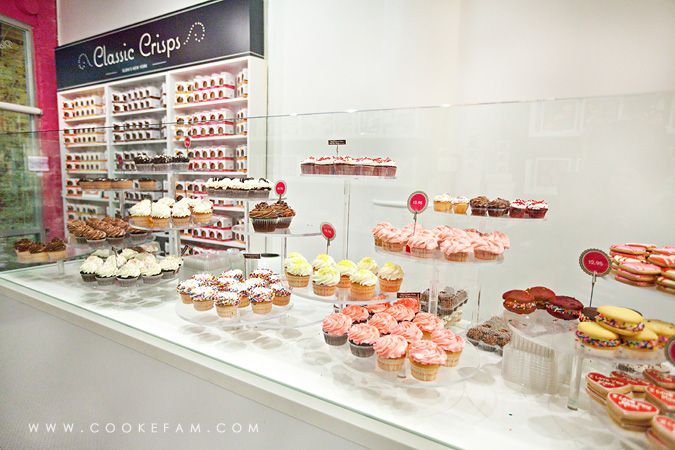 They sell cookies too...all shapes, sizes, and themes. And they are beautiful.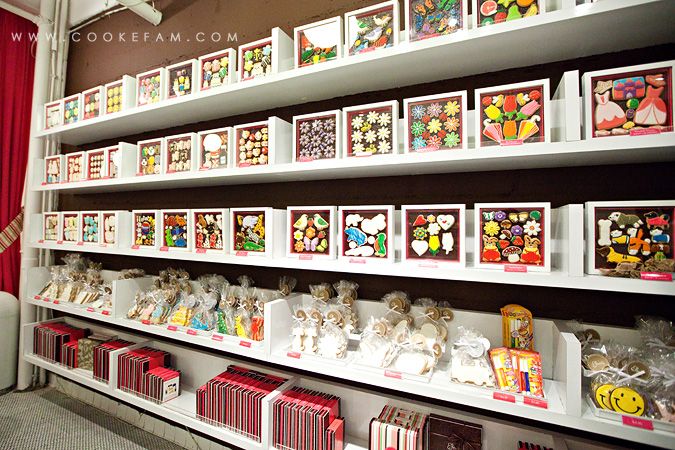 We got three cupcakes and split them. Let's just start with my favorite...the Chocolate Ganache cupcake. This is a chocolate cupcake with a vanilla buttercream filling, topped with a rich, chocolate ganache icing. As usual, the icing was my favorite part.
Then, there was the classic
Red Velvet Cupcake
. I had to get this one...I love red velvet cake. The frosting is vanilla buttercream instead of the traditional cream cheese icing. Although I love cream cheese frosting with red velvet, I thought their buttercream was excellent.
Casey's pick was the Oreo Madness cupcake. He loves all things Oreo. It was a chocolate cupcake with an Oreo baked inside, vanilla buttercream frosting, little toasted marshmallows (under the buttercream...see one peeking out on the left side?), and topped with half an Oreo cookie. All of the cupcakes were good. They were not the best I've ever had, but they were very good.
After leaving Chelsea Market, we rode the subway to the
9/11 Memorial
in the Financial District of Lower Manhattan. You have to have a pass to enter the memorial that you reserve online. It gives you a time that you can enter. It does not cost anything to visit the memorial, but they try to keep control of the crowds this way. There is heavy security to enter the memorial and quite a few police officers inside the memorial too.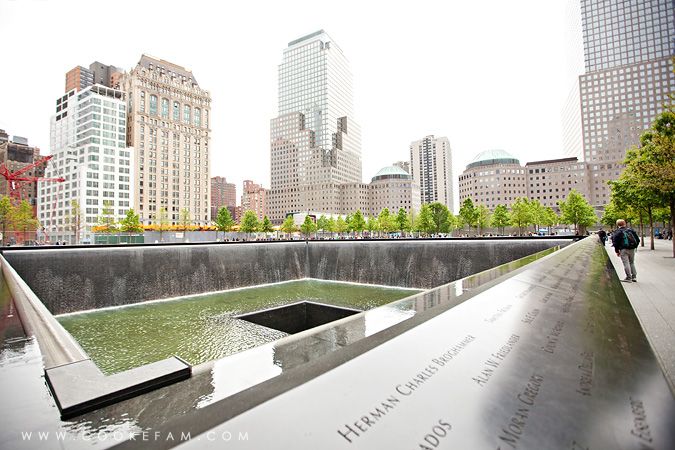 Currently, the memorial consists of two huge square fountain/pools at the sites of the original World Trade Center towers. Around the pools are the names of each person who died on 9/11 inscribed into black stone. Just like every memorial I've visited, it is sobering to physically see the names of each person who perished that day. You really get a sense of the magnitude of the loss. Both the number of names, and also that there is a family behind each one of those names who lost someone they loved that day.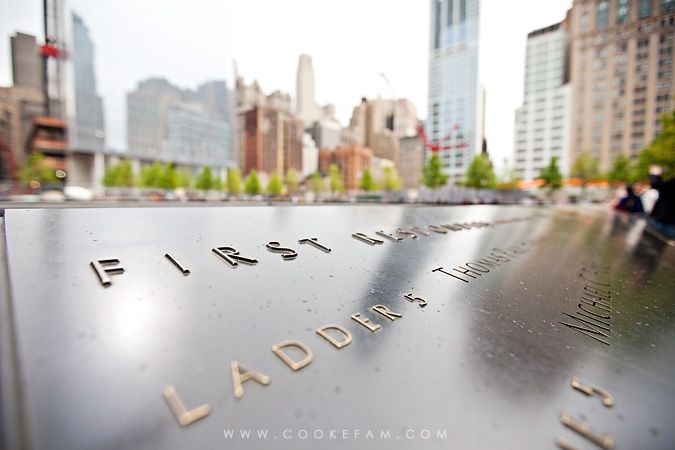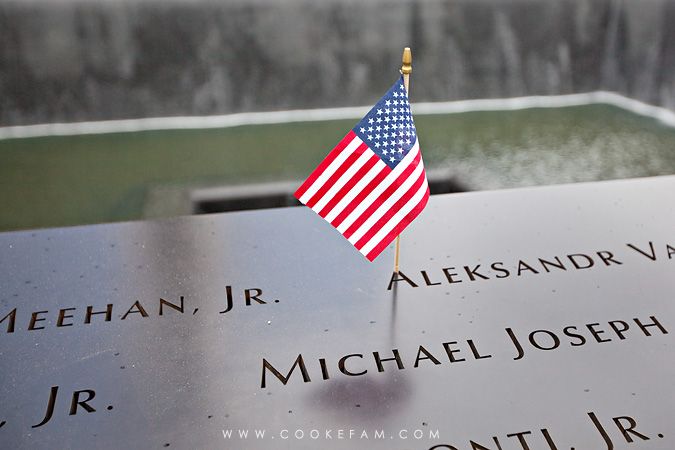 You can see in the background of this next photo that there is quite a bit of construction going on around the memorial pools. They are building a
museum
between the two pools. I wish it had been completed when we were there. There are also two towers that they are building on the far sides of the memorial, as you've probably heard.
One of the towers (left photo below) is well along in its construction. The other one is still in the groundwork stage. It's a huge pit of construction as they build what will be the underground part of the building.
The area around the memorial pools is dotted with trees that will grow to be a beautiful compliment to the site.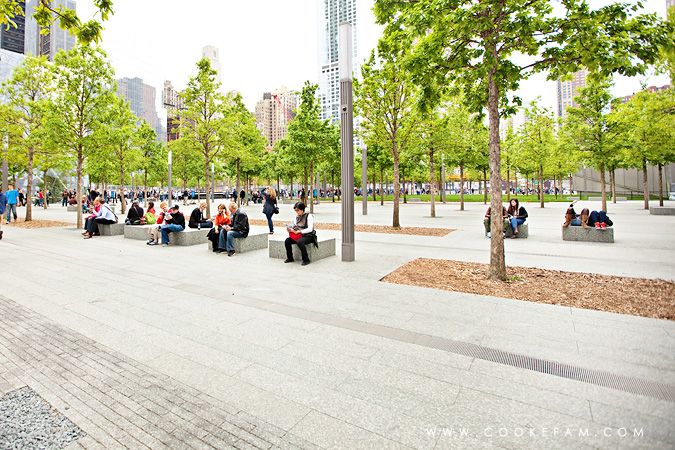 We got back on the subway after viewing the memorial and headed back to our hotel. We rested a bit before dinner, which was at
Ceci Italian Restaurant
two blocks north of our hotel. It is a wonderful, little restaurant that you might not notice just walking by on the street. But the food, service, and atmosphere were perfect for our last night in NYC.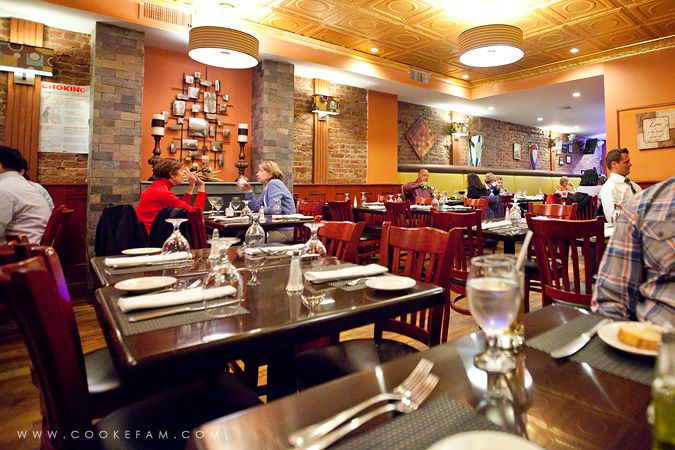 For an appetizer (left), we had some spicy fried calamari (yum). For our entrees, Casey had grilled shrimp with linguine (center). I had gnocchi bolognese (right), which was awesome. Somehow, I did not get a photo of our dessert...a wonderful chocolate torte.
After dinner we went over a few blocks to Times Square again. We wanted to see it one last time, but we also had a plan.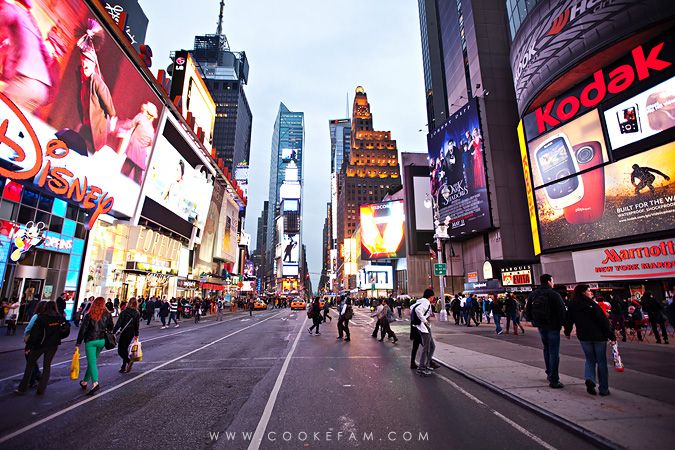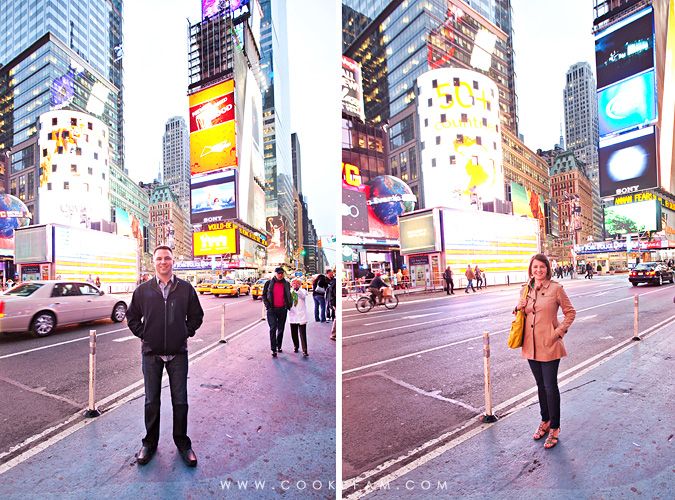 We found the AMC movie theater near Times Square and got tickets to see
The Avengers
. We were in NY during opening weekend for this movie and tickets were sold out during the weekend a couple of nights before. But, since this was a Tuesday, we got lucky and were able to get tickets to the 3D IMAX showing. It was really fun to see this movie, much of which is set in NY, while we were in NY.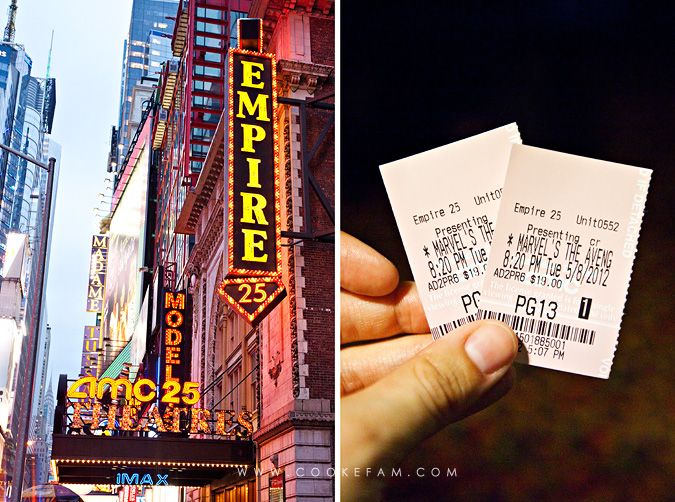 And that concludes our trip to NYC. We left the next morning, but all we did was get up and go to the airport to catch our flight home. We had such a great time, saw so much of the city, and really enjoyed just being with each other (alone) again. Definitely a successful trip. And we will be back again some day because Ethan is already asking to go!