In the past several years, we have come across some fabulous music for kids. And by fabulous, I mean musically sound with outstanding lyrics...and not annoying! At least in our opinion. Let me share these artists and their albums with you so that you might partake in witty, quality, and fun music with your kids. I do not make a habit of listening to these CDs while the kids are not with me (because that would be crazy), but if I wanted to, I could. Because I really do enjoy the music and the lyrics.
This first one I purchased and listened to before Ethan was even born. That's because the artist is my college roommate's husband,
TJ McCloud
. He also has some non-kid albums that are some of our favorites (they're seriously good) and the boys love them too.
But, since we're talking kid music here, let's talk about
Playground
,
All God's Animals
, and
Sailing in the Ocean
. Some of the songs are Christian-based songs, and some are just silly, fun songs. We really, really love these albums and so do our boys.
The next one is fairly new to us. I think I purchased these CDs near the beginning of this year. They have quickly become favorites.
Randall Goodgame and Andrew Peterson
are the artists behind these wonderful albums.
Slugs & Bugs Under Where?
and
Slugs & Bugs & Lullabies
are hilarious for adults and fun for kids. The music is varied in style and
really
well done. Just like TJs music, some of the songs are Christian based and some are just silly.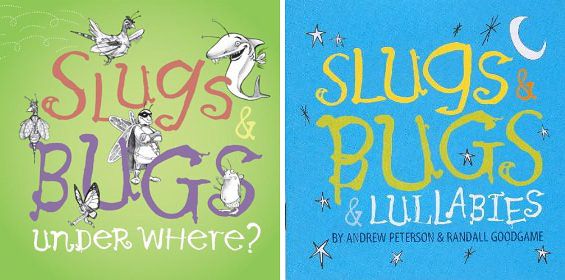 I cannot recommend all of these albums enough. They really are amazing. Check them out if you need some quality music aimed at children, but enjoyable for adults.