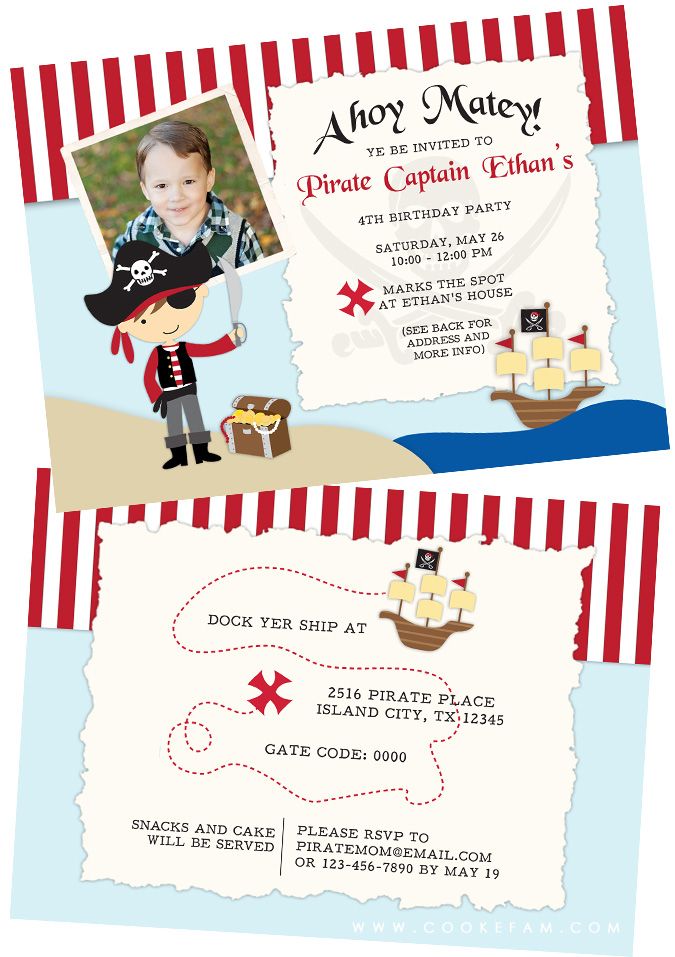 Ethan's 4th birthday party was a pirate party. He's been into pirates for almost a year now. It all started with the Veggie Tales movie,
The Pirates Who Don't Do Anything
. Cute movie, by the way. I figured since it's almost been a month since this party, that I probably should post something about it.
I designed the invitations using digital elements from
Cocoa Mint
on Etsy. I had a pretty simple menu and party table this year. I made the banner in Photoshop and printed it on cardstock. I got the fabric for the buffet from Hobby Lobby.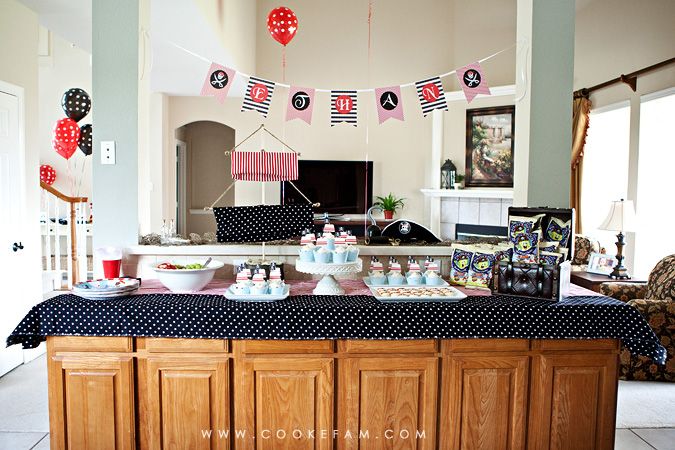 I made the pirate "ship" down there on the left. My inspiration for it came from a
pirate party
featured on Amy Atlas's blog. And I made the cupcakes...half of them were chocolate and half were vanilla. All of them were topped with a vanilla bean buttercream. And the wrappers and pirate sail toppers were a free download from the
Cottage Industrialist
. I just loved the way they turned out and Ethan thought they were
so
cool.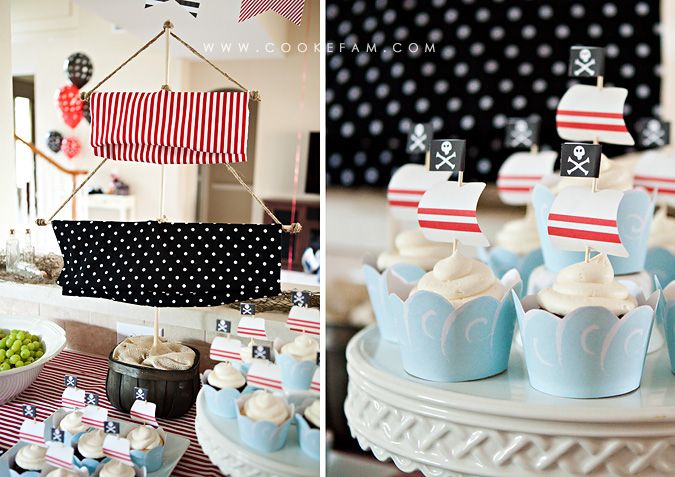 I also ordered these adorable mini pirate cookies from
Sweet Art Sweets
on Etsy. Not only did they look beautiful, they were so tasty. And of course, we had to have some
Pirate's Booty
. I wish that Sponge Bob was not plastered all over the packaging, but obviously I could not avoid that. I got that "treasure chest" at Hobby Lobby years ago.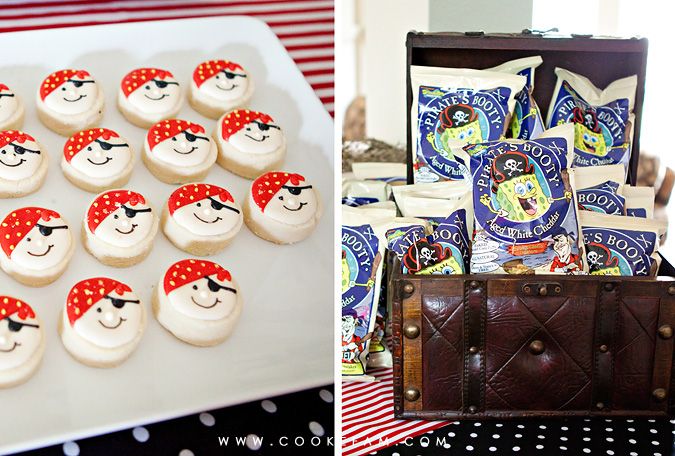 My sweet, big 4 year old was so excited about his party. He had been talking about it for a month before the actual day arrived. His pirate ship shirt is from
Banana Bear Boutique
on Etsy. The kids table had treasure map place mats that I found at Hobby Lobby.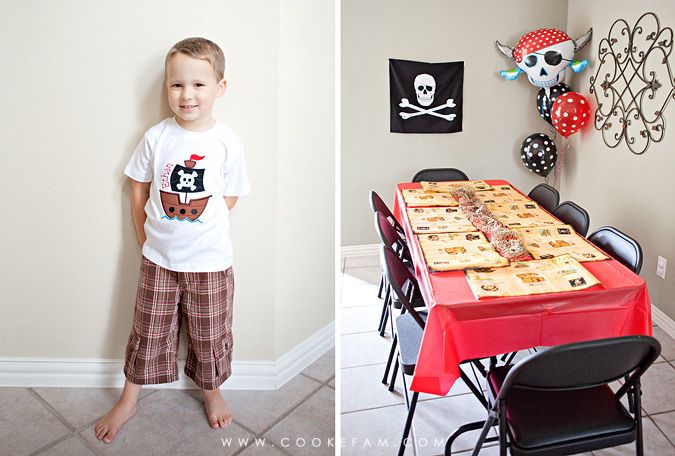 I try to always take a family photo at our parties. Someone always has a funny face, but I still love them. It's hard to see Logan's pirate whale shirt, but I got it from
Lucky Bug Designs
on Etsy (click on the link to get a better view of the shirt).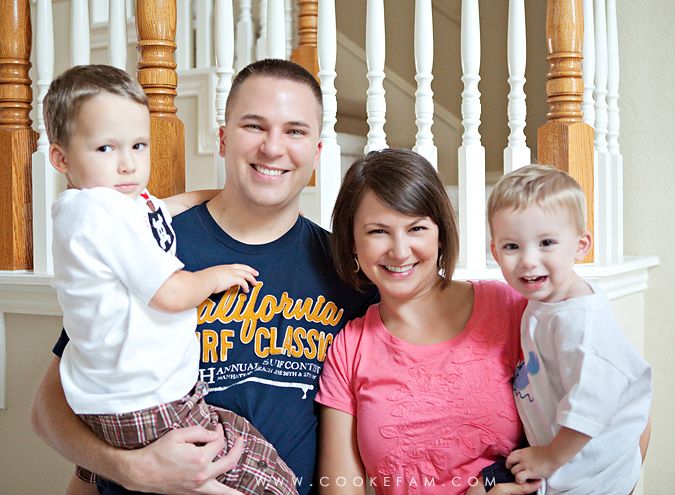 As the guests started arriving, they got to find their treasure chest (I had labeled them with names) and start decorating. I had gem stickers, puffy pirate stickers, and self-stick plastic jewels so that there was no glue involved. I wondered how a group of 4 year old boys would take to decorating treasure chests, but they all loved it and really got into it. There were several elaborate creations.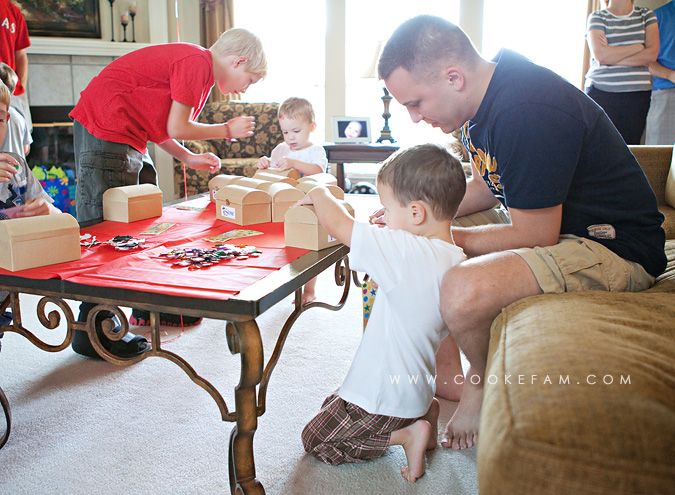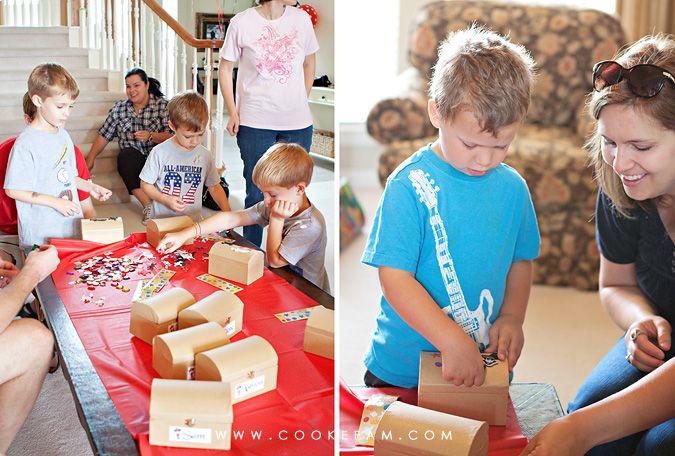 Kyle is one of our older cousins and he helped Logan decorate his chest. Logan would point to the sticker he wanted and Kyle would peel it off for him. Sometimes Logan would point to where he wanted the sticker on his chest and Kyle would stick it on for him. What a sweet cousin.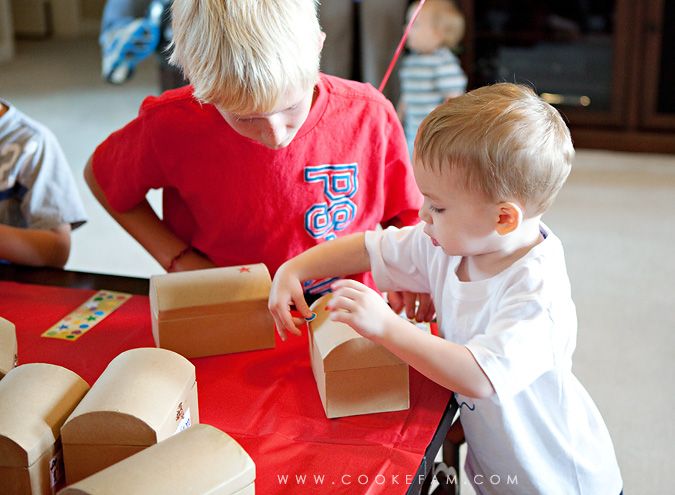 Here are all of the kids at the party with their treasure chests. All boys. We did not leave out the girls on purpose. We just have a lot of boy friends right now. And no girl cousins (yet). And of course Ethan did not want to wear a pirate hat at his own party. Even though he will wear one half the day when he's playing pirates with Logan. Oh, well.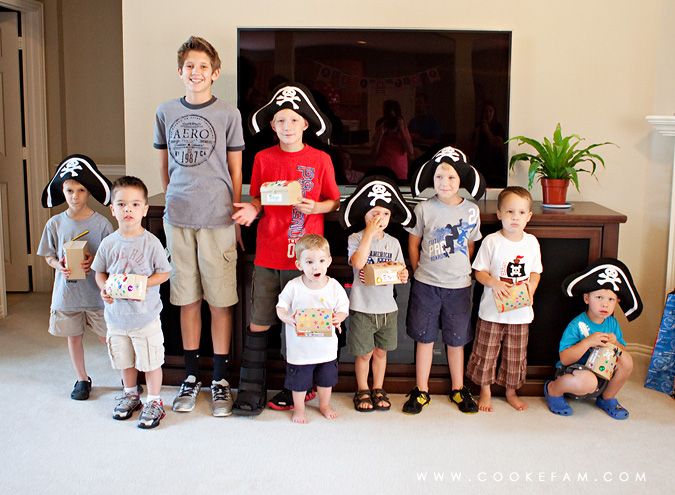 After decorating their treasure chests, we had to fill them up with treasure. So, naturally, we went on a treasure hunt. I had prepared 4 clues and 4 "treasures" to be discovered at each spot. I probably should have done 6 clues because the boys loved this activity so much. I made up rhymes for each clue and then also included a photo of the next place just in case.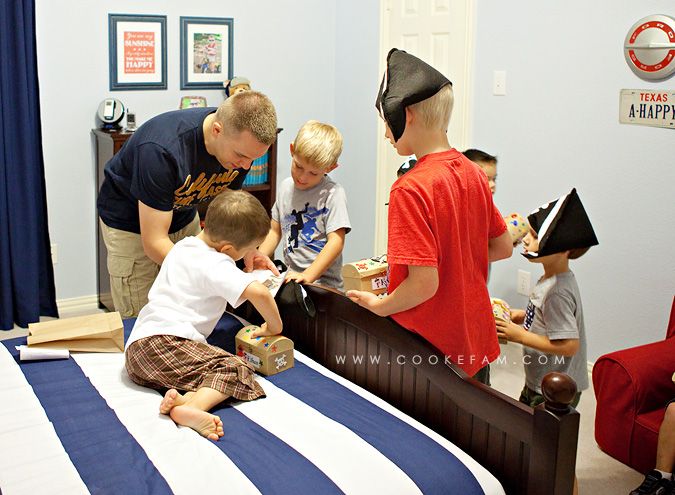 They picked up stickers and tattoos, mini bubble bottles, candy, and a pirate beach ball as their treasures along the way.
I had the pirate beach balls hidden outside where the last clue led so that they could play with them immediately. And play they did. It was great that they all had so much fun just playing together in the back yard because that was the sum total of my planned activities for the party. It turned out to be just right, I think.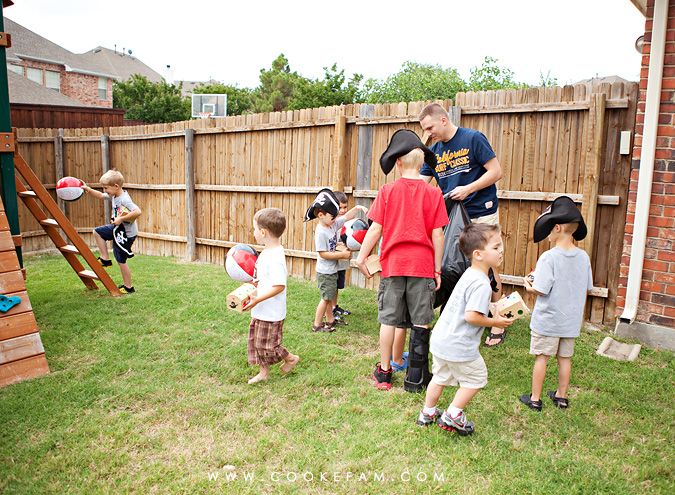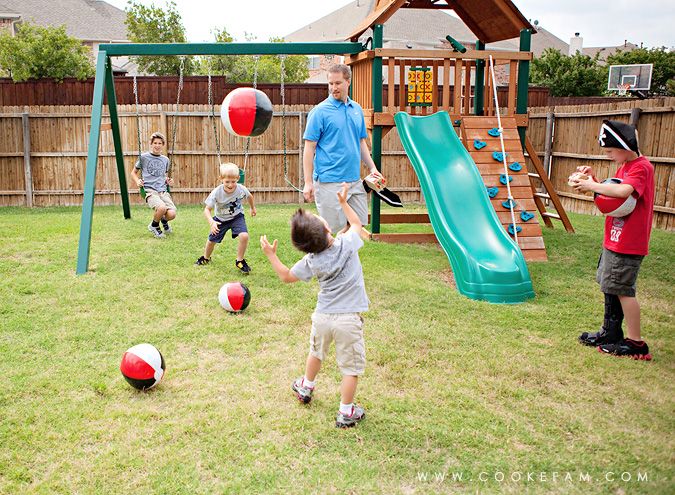 Could these two be any cuter? Charlie sure has the pirate snarl down!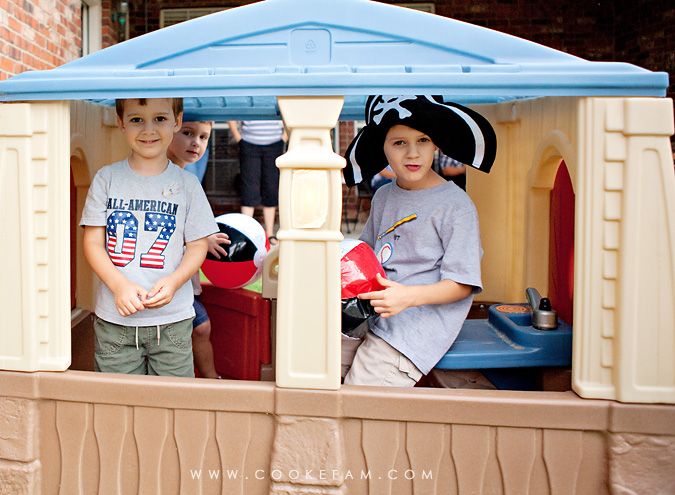 The fort became a pirate ship, of course. And I love that Ashton is still wearing his hat. He wore it for almost the entire party!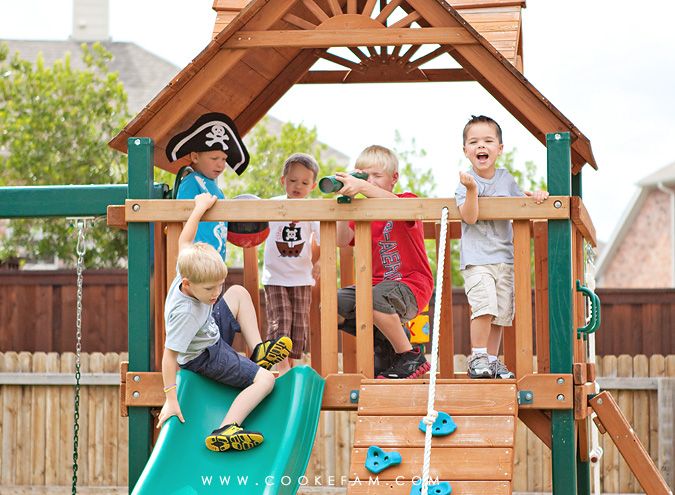 Ethan with two of his friends from preschool, Stone and Koen. They have been in the same class at preschool for 2 years now. He talks about these boys all the time and was so thrilled to have them at his party.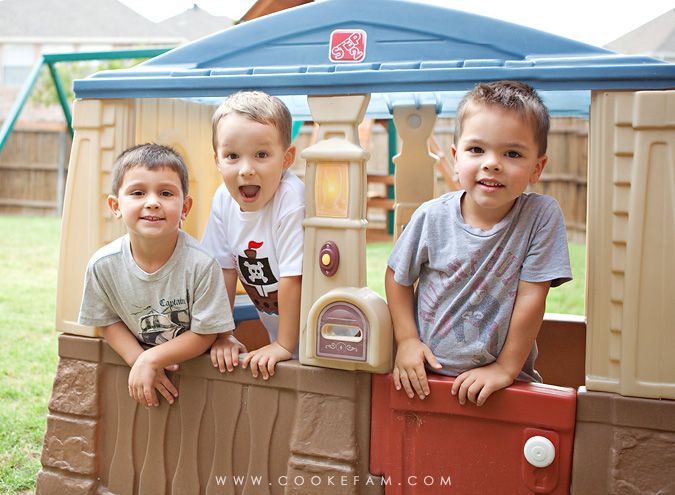 Time to light the candles on Ethan's chocolate cupcake. If given the choice between vanilla and chocolate, he always chooses chocolate. Like mother, like son.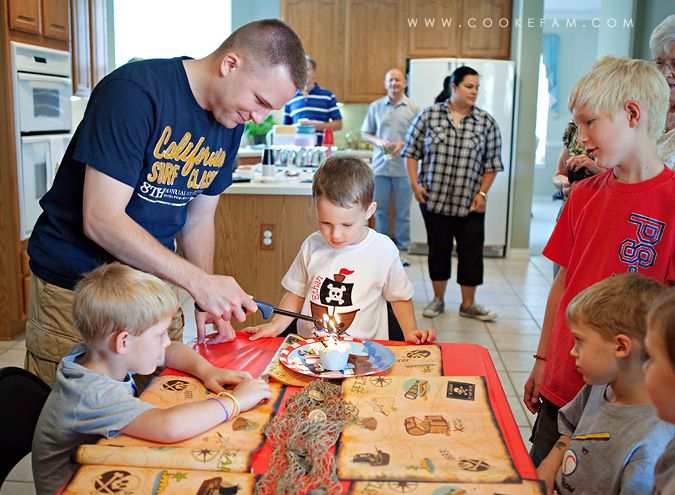 Ethan loves to sing "happy birthday" to anyone and everyone. He declares certain days as his stuffed animal's birthday and will sing to them with a pretend piece of cake from his
Melissa and Doug play set
. But when it comes to the song being sung to him...he is really shy. But, I can relate!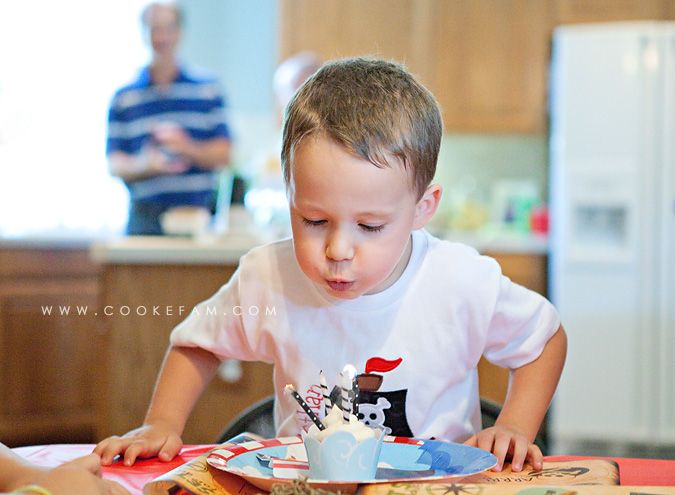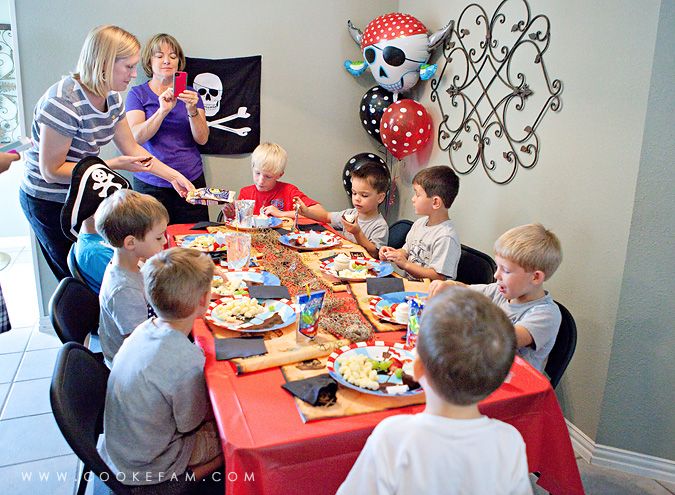 Ethan got some really great gifts this year. Seriously. They were awesome. Board games, new books, sports equipment, Cars, and more. All of which have already been used/played with a lot.
All the boys were so cute to sit still and watch Ethan open his gifts. They were so excited right along with him to discover what he got. That present in the photo below is a soccer goal from Nonnie and Papaw. So cool!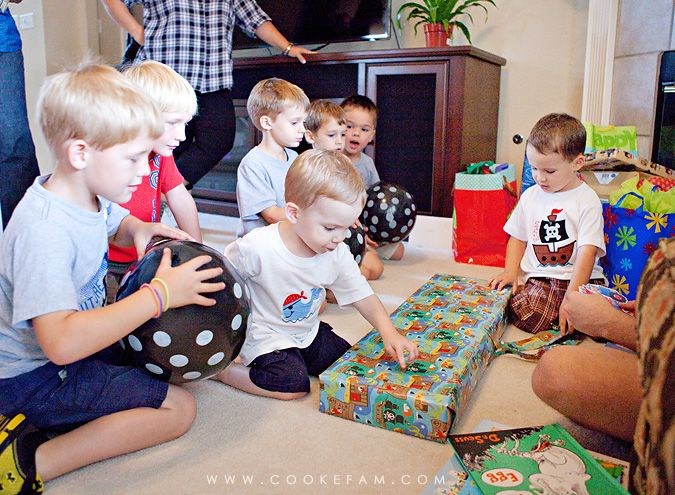 Ethan got Candy Land, Chutes and Ladders, and Hi Ho Cherry-O. He loves them all and we play board games all the time now. If only Logan would grasp the concept of leaving the pieces on the game board. (Sometimes we play a quick game right after he goes to bed!)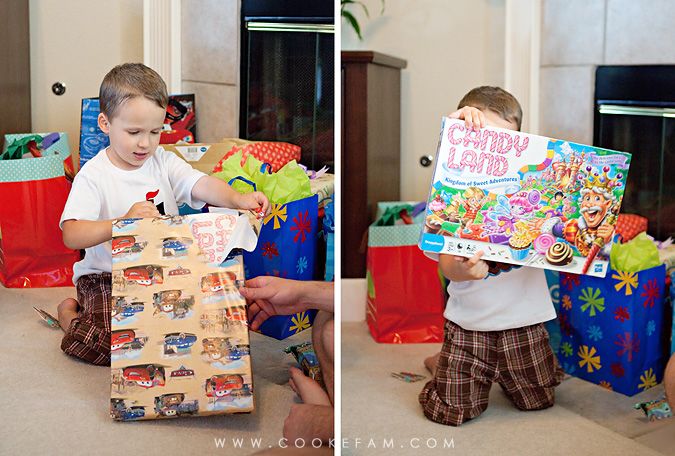 Casey and I got Ethan some Cars sheets. Casey has been telling me for a year now that character sheets are so fun for a little boy. Character stuff is not really my preference. But, I saw them one day at Target and went ahead and got them. Well, I'm going to put this in writing...Casey was so right. Ethan totally loves his sheets.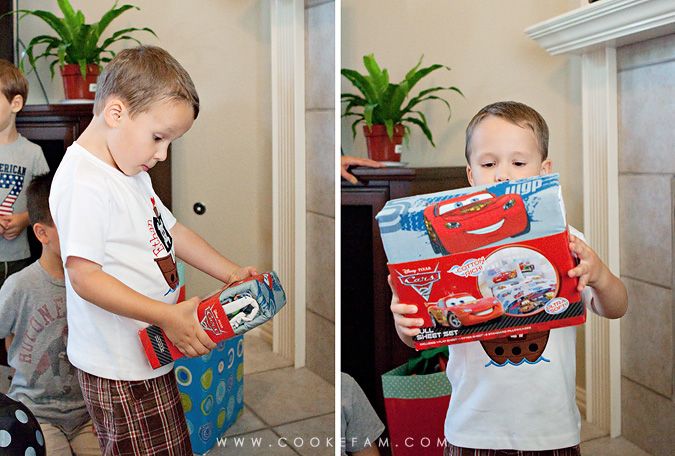 Look how close the boys are all gathered around. We had to ask them to scoot back a couple of times to give Ethan some breathing room, but they were all so cute and interested in his gifts.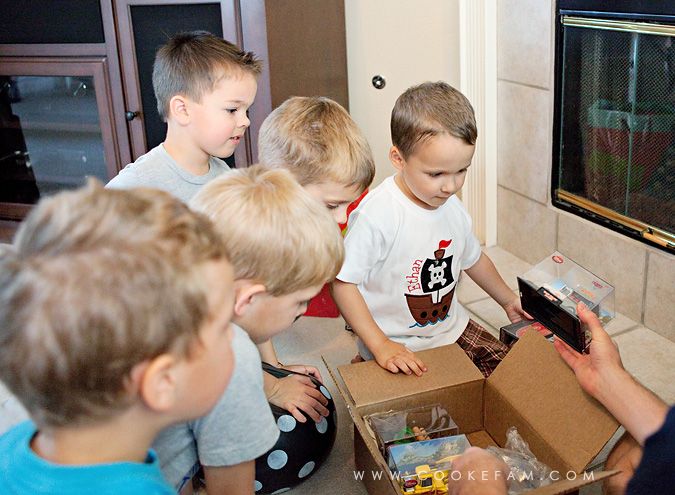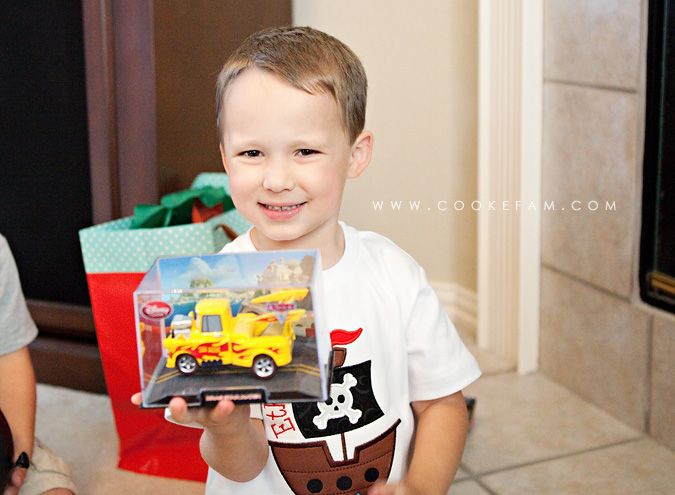 I think Ethan had a great time at his party because he talked about it for days. I love making him feel special and having him surrounded with friends and family for a couple of hours. Speaking of family, they were a huge part of the party and we were so honored that they came to celebrate Ethan. I even got a shot of Ethan with each family group. And there are even more photos of our families at the party in the
online gallery
on our photo website.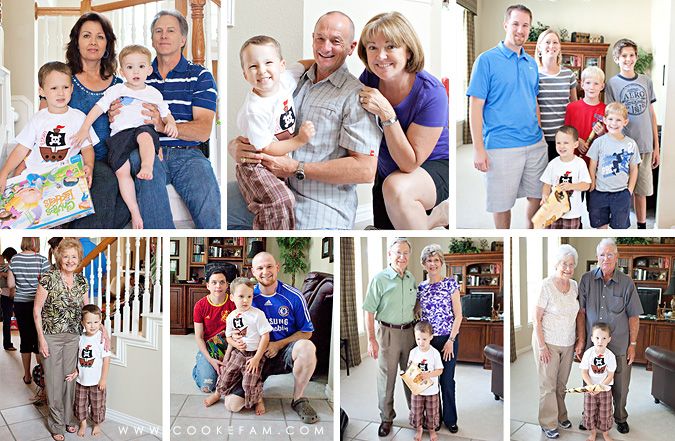 This year I decided to do something a little different for Ethan's thank you notes since he can write his name now. I designed these cards with blanks that I filled in at the top and then a space for Ethan to write his name. We only did a few at a time over a couple of days because he got tired of writing his name after a few times, but he was really proud that he could sign each one. And hopefully, this will help him with the idea that thank you notes (and gratitude) are important!