After a busy day of not being home much, Logan an I scurried out the door in the evening to take these photos. I'm only one month late. Considering he's two for an entire year, I call that a victory.
And lately, this little boy has had his sweet side shining brightly. And it was out again when we took these photos. He was so cute and fun. We had a great time. No tears, except when he fell flat on his face once (I would have cried too...he was spitting out grass. It was one of those moments I was comforting him and trying to stifle my laugh at the same time.)
Anyway, here he is in all his two-year-old wonderfulness: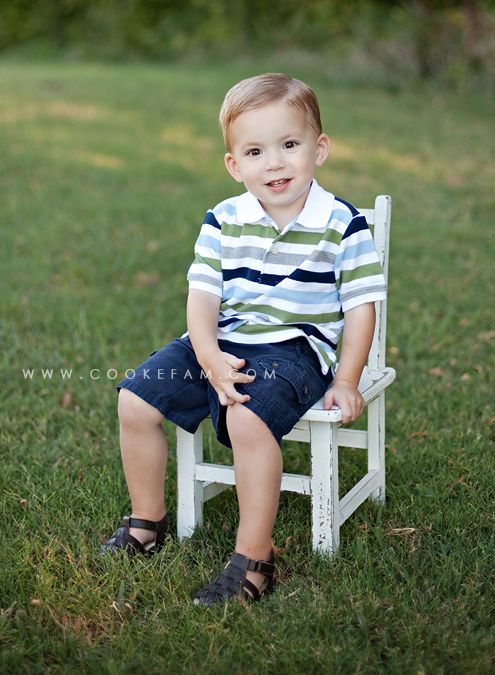 Every once in a while a photo just speaks to me as a mom. This next one does that. Because it just captures Logan as I see him. His sweet, toothy smile. The glints of red in his hair. And the sparkle in his big brown eyes (not just the catchlights!).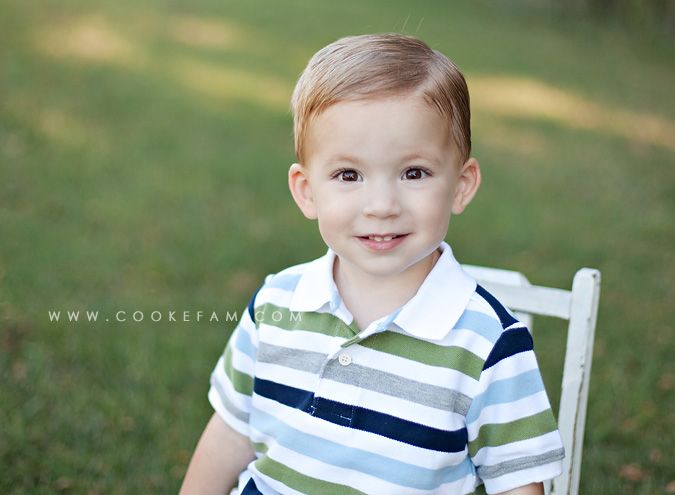 Logan is so loving right now. He freely gives out hugs and kisses multiple times a day. And when he wants me to hold him, he says, "hug" while lifting his arms up. He must know that I could never refuse that! And he still loves to be held. He's independent and wants "down" too, but he likes to sit on the counter when I make breakfast or lunch. He will do the same when I'm brushing my teeth (or daddy.) And while on the subject, he loves to brush his teeth. He'll come running saying, "teeth, teeth!" when I say it's time to brush his teeth.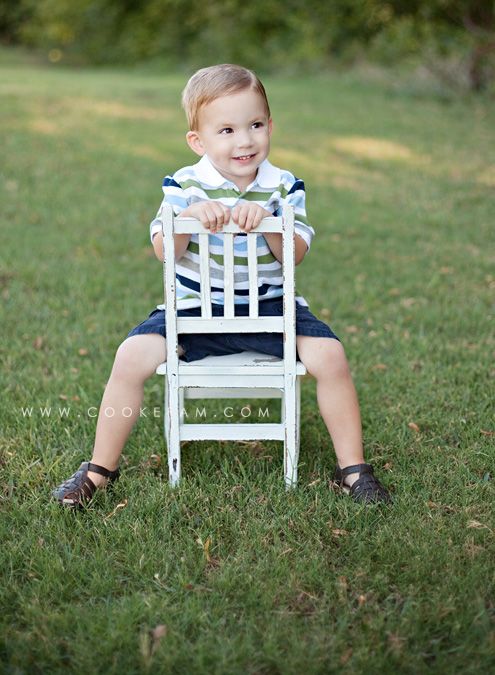 And he is saying new things every day and putting words together. In the car Ethan will teach him words. It is one of the cutest things to listen to because Ethan gets so excited when Logan says something and then Logan gets so excited because Ethan's excited. I love listening in on their conversations. And while they still do their share of toy-stealing, and fighting...they hug and kiss each other a lot too. Every time they leave each other they will do it. The cuteness of that pretty much kills me every time.
Logan is in love with trains, cars, trucks...and Buzz Lightyear. The train in the photo below was a gift from Nonnie and I brought it along because it is a vintage-style train engine. I initially brought it because it is a sweet toy that I don't mind being in photos and I know that sometimes holding a toy will help Logan stay on track (no pun intended) during our mini-session. But, actually, I love that it's in these photos because it is really indicative of his interests right now.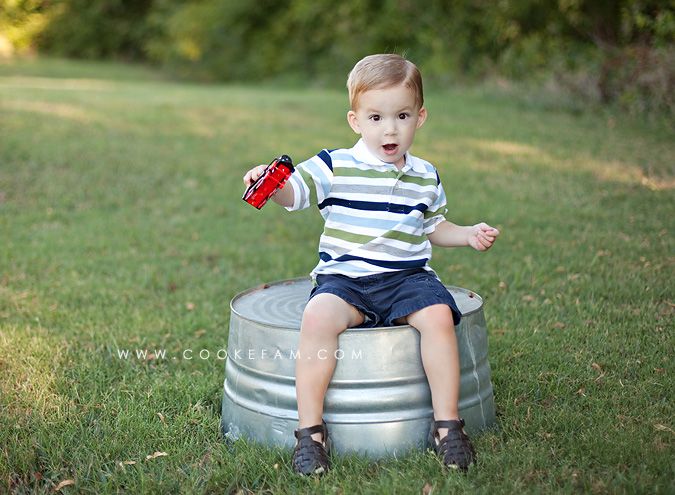 This little child loves songs and dancing. He has been a dancer since he was a little baby...he just naturally moves to music! He is beginning to memorize and sing some songs now too.
Logan is still a pretty picky eater. He just won't try new foods. I think he might like some of them, but getting him to try them is near impossible. Such a stinker. His favorite food right now? Cookies. Which is what he calls anything sweet...he hardly ever gets an actual cookie. However, he does like greek yogurt, so he eats that with fruit in it quite a bit. His lunches at school look a bit more boring than Ethan's (who still eats almost anything).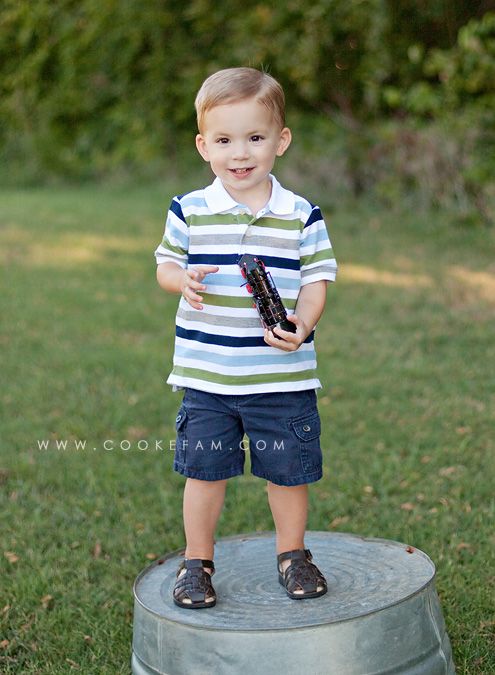 Logan went to the doctor on his birthday, but didn't get his shot until a couple weeks later when he had recovered from his cold. He was such a trooper because he got his flu shot at the same time. One in each leg. But the pain from shots vanishes instantly when a lollipop appears. Seriously, this works with both of my kids...have a lollipop on hand and ready in the exam room (I bring my own because our office hands them out at the exit) and give it to your kid immediately after getting the shot. It works wonders to help them forget that little 2 second prick of pain they just experienced.
Here's Logan's 2-year-old stats:
Weight: 27 lb, 5 oz (40-50%)
Height: 35 inches (75%)
PS - Here's another little photo tip for little ones (especially at this age): Take something for them to sit or stand on/in. It helps keep them in one place so that you are not chasing them all over the place. Those props are not just for looks...they are way more practical than that!