Logan is still really into trains. More than Ethan ever has been. On the days that Ethan sleeps during nap time, Logan will often wake up before him. On this day, I got him up and he went to the playroom to get out the "choo choos." If uninterrupted (ahem, Ethan), Logan has no trouble playing by himself for a long time. Especially with the trains.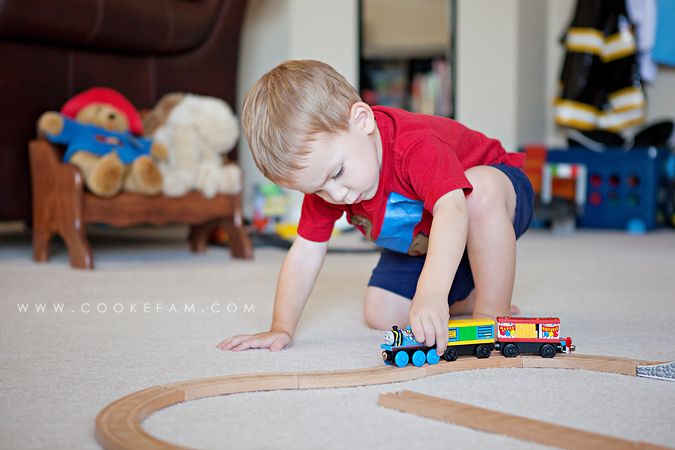 The painter's tape on his shirt...he got that from the floor of my office. I was taping off the sizes of chairs I'm considering for the room. (Helps visualize the size.)
In the background of the photo, you'll notice we are hanging up our costumes now. The bin that we had previously was just such a pain to dig through to find costumes. And the boys dress up almost every single day. So, although I find this look a little more cluttered, it definitely functions better for us. There's still a smaller bin with the costume accessories on the floor next to all the boots.
Logan loves to watch the trains speed down the hill after crossing over the bridge.
It's worth noting that he put this entire track together by himself except for the bridge, which I helped him space correctly in order to fit.