At the beginning of November, my mom and I took a trip to Asheville, NC to visit the
Biltmore Estate
. It's a place I've always wanted to go since I love history and historic homes. My parents went to the Biltmore in October last year and my mom knew it was something I'd like. Casey and I almost went there earlier this year for our trip, but ended up going to New York instead. But I'm so glad my mom and I went on this trip. It's the first mother/daughter trip we've taken in almost 13 years...the last one being our trip to London and Paris just after I graduated from high school. I really loved this little 5-day getaway. We had so much fun.
Our first day of travel started out early with our flight from DFW. My dad snapped this photo of us with one of our phones when he dropped us off.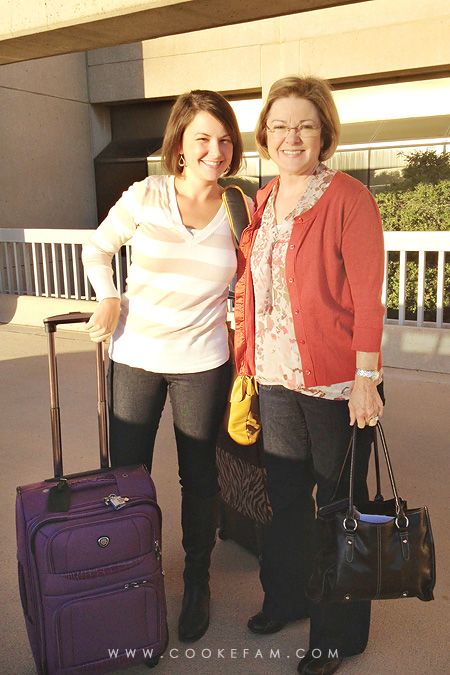 Just a little over two hours later (and a time change) and we had landed in Greenville, SC. We got a rent car (and I can't believe I didn't document that...not one photo of the car!) and set off on the hour drive to Asheville. We made a stop at a Cracker Barrel just outside of town and both had some tasty beef stew. This photo is courtesy of the self-timer and an empty table across from us.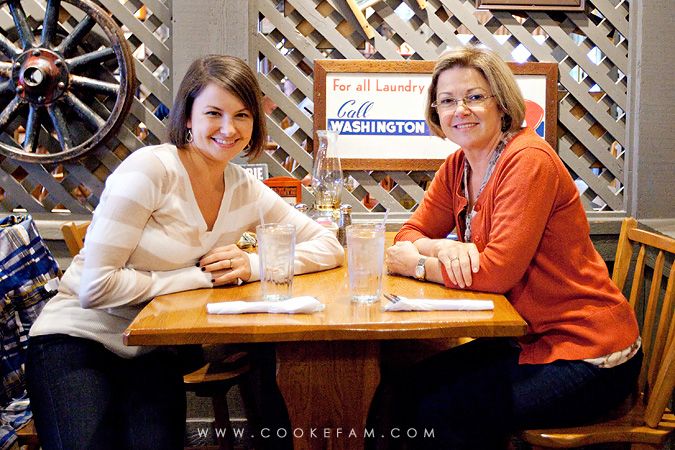 When we pulled into Asheville, we immediately went to our bed and breakfast to check in. We stayed at the incredibly charming
Biltmore Village Inn
, which is situated on the hill above the Biltmore Village (minutes from the estate) in an 1892 Queen Anne Victorian house that was owned by Mr. Reed, the Vanderbilts' attorney.
I could gush about this bed and breakfast for several paragraphs...and I probably will (along with a photo overload of the interior). We were staying in the Penthouse Suite, which was actually the attic converted into a guest room. Or room
s
. There were 5 rooms total in this suite! Aside from being spacious (to say the least), it was so inviting and comfortable. We loved our room. Here's the view right when you walk in...the living room with one of the
three
televisions in the suite.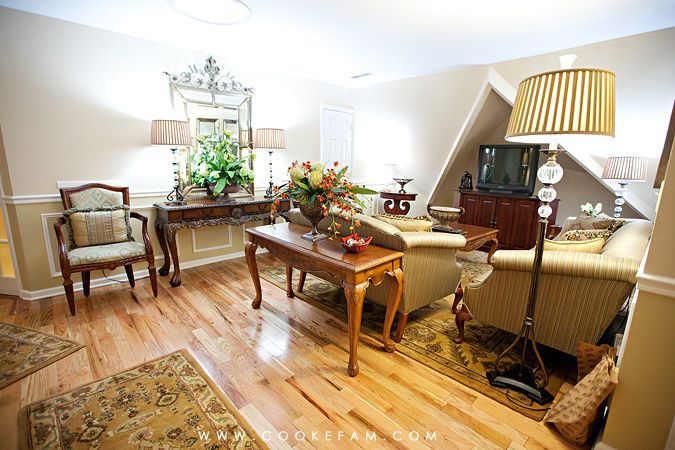 The view from the living room toward the bathroom and turret room...
Another view of the living room looking toward the (walk-in) closet and bedroom...
Yet another view of the living room...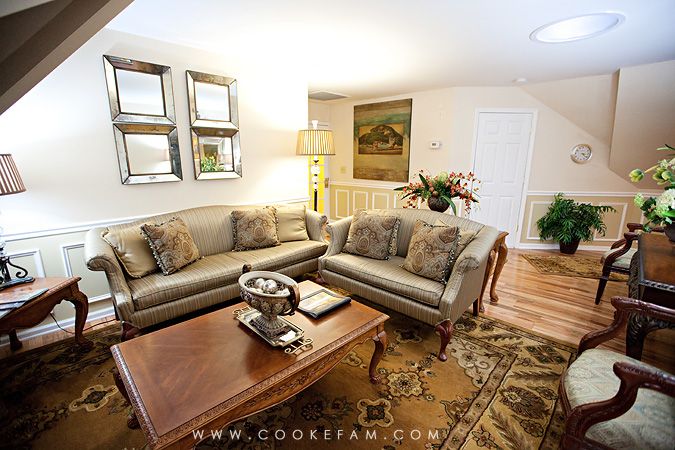 And here's the turret room. It's the room that sits in the turret of the house. You can see that it's round-shaped and has the most wonderful window seat that wraps around the room. And I love those two blue chairs. I want them for my bedroom. And there's the second TV in the suite on the right wall.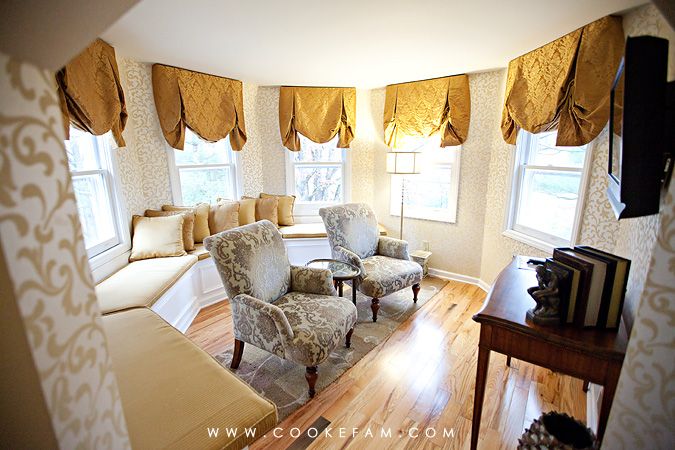 The bedroom was very cozy and had no windows so it was actually perfect for sleeping. That and the bed was so comfortable. Not pictured...the third and final TV in the suite on the wall opposite the bed. Also not pictured is the 5th room, which was a small coffee bar stocked with coffee and tea things as well as wine glasses and the mini fridge.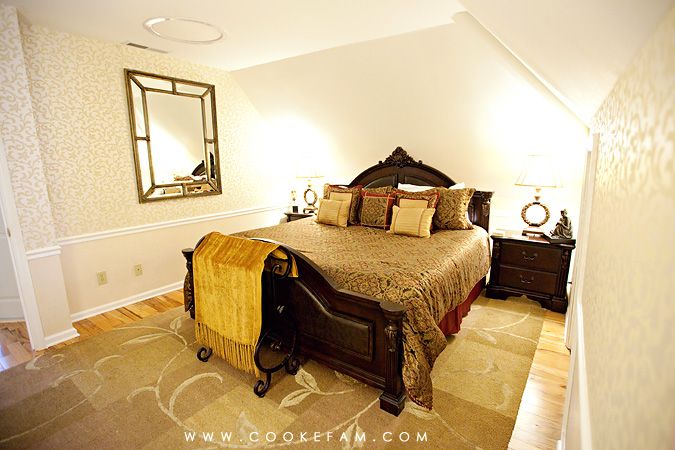 The bathroom had a wonderful, large shower with a rain shower head and plenty of storage.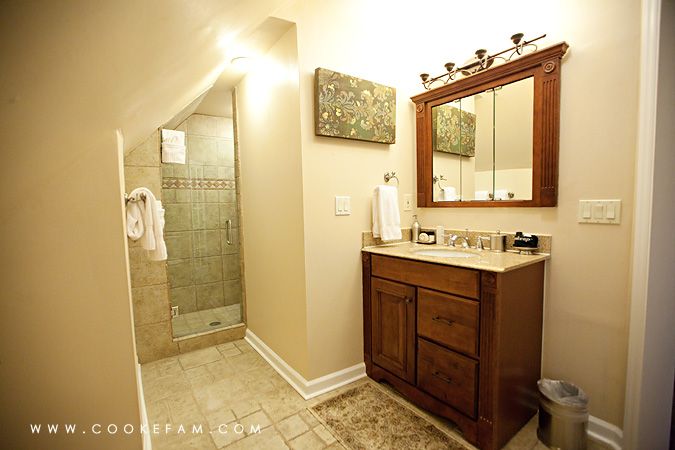 After we got settled in our room, we made our way through the rest of the house to explore. This is the second floor at the top of the stairs. As you can see, the house was decorated with traditional style and many, many antiques. I loved it! It really spoke to the character and history of the house. But as traditional as it was, my mom and I both thought that it wasn't stuffy, cluttered or old-feeling at all. It just felt like it had a lot of character.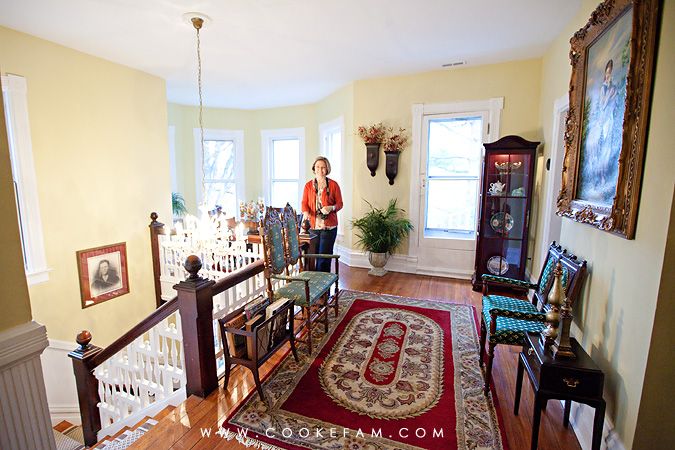 The house was the perfect place for us girls to stay since we really appreciated all the details. But, I also think it would be a really fun and romantic place to stay as a couple. It was incredibly quiet despite the fact that the house is well over 100 years old.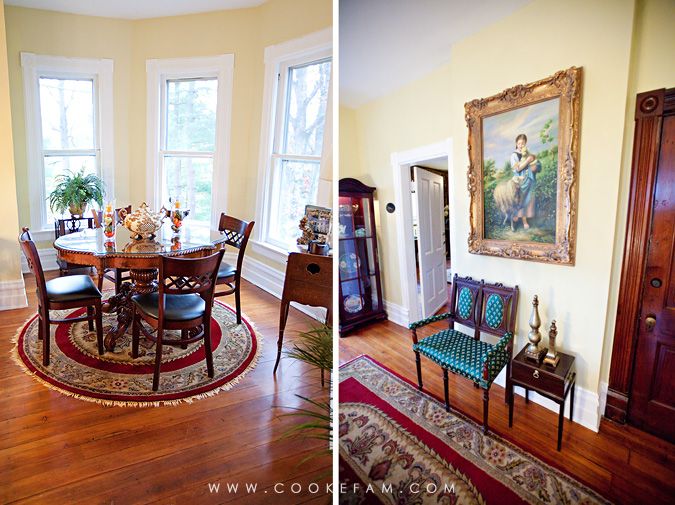 Here's a cool view down the stairs at the front door and entry.
How cool is it that there's a fire place in the entry? And that tile on the fire place is original to the house. In fact, a lot of the house is original...the floors, woodwork (which kind of made me drool), hinges and door hardware, etc.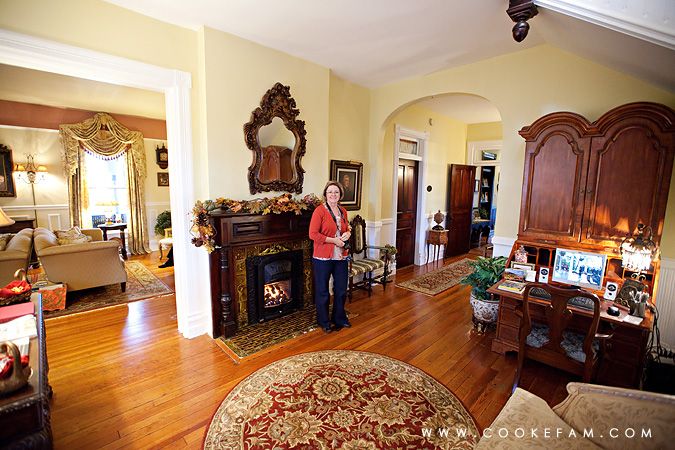 The front door itself is original too as well as the door knob and door bell. The house was decorated for fall when we got there on a Wednesday, but by the time we left on Sunday, it was all decked out for Christmas! But that's getting ahead of things...
Here is the beautiful and spacious dining room where we ate our three course breakfasts every morning. Yes, three delicious courses every morning. That was seriously one of the best parts of this bed and breakfast and I think I've already conveyed how much I like the house so that's saying something.
Another fire place (love) with original tile and two gorgeous (but totally functional) antique buffets on either side of the room.
When I passed the "tea" table I couldn't help checking out their tea, which I drank at least once a day while we were there. Thanks to my mom for bringing her camera and taking photos on this trip too! Because of that, I am in some of these photos. In fact, if you see a photo of me, just assume that she took it.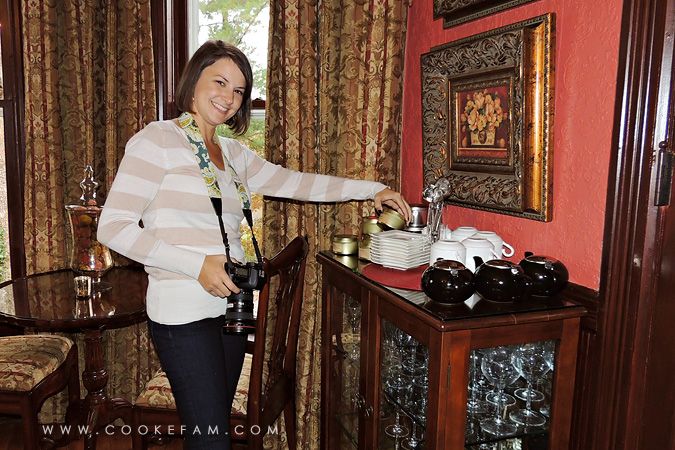 More of the dining room...on the right below is one of the tables for two that were right by the huge windows in the dining room. We sat at one of these tables every morning and had the best view during breakfast.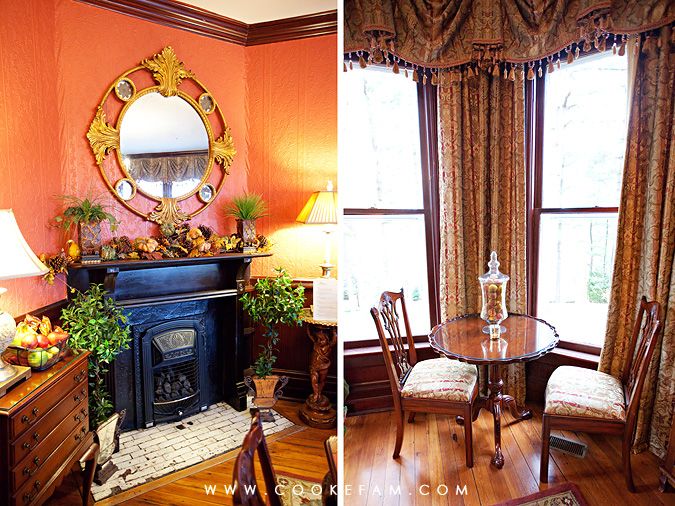 And the parlor...a huge room with tons of seating. I loved this room too. It was such a great gathering room and we could almost picture the Reed's guests being entertained in here.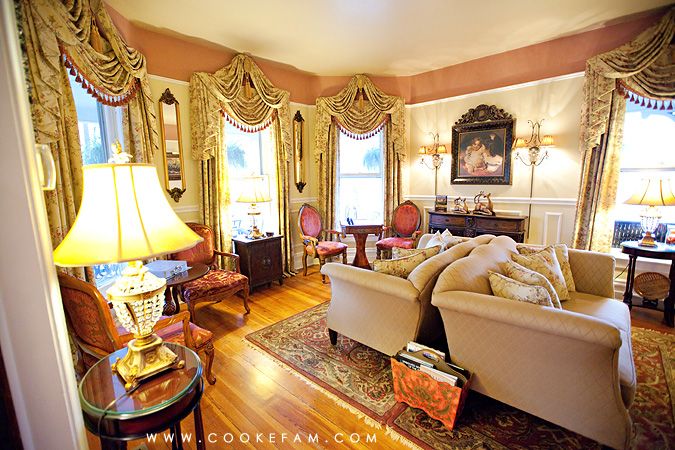 Here's the other side of the room with the fire place and a random guest on her laptop.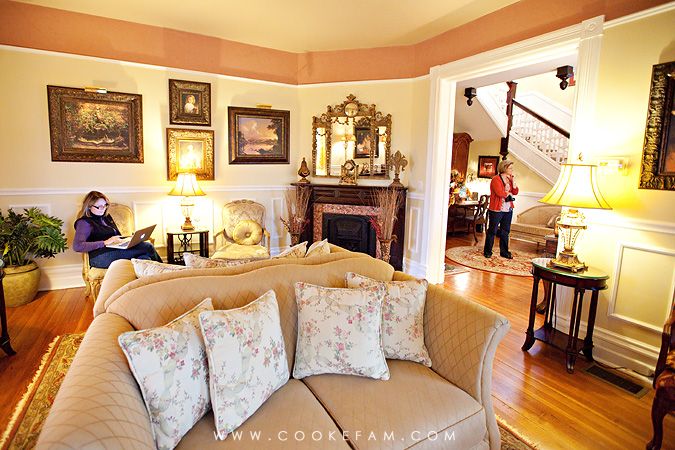 An up-close look at the stair case shows only some of the gorgeous original woodwork in the house.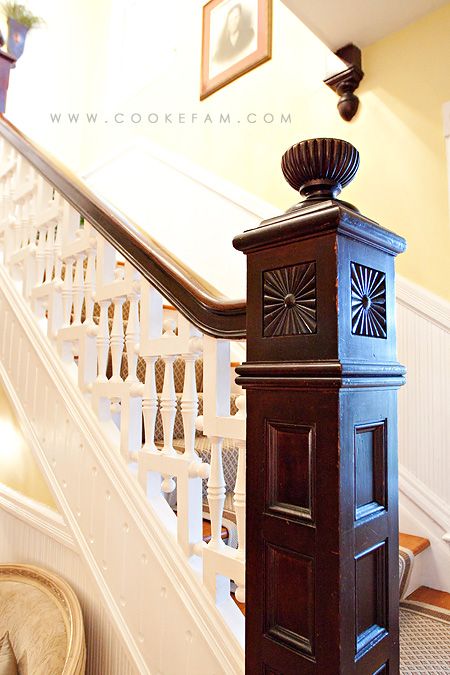 The day we arrived was actually a fairly cold day (in the 30s-40s) in Asheville. The fire felt really good! And one of the innkeepers took our photo in front of it for us before we set out again.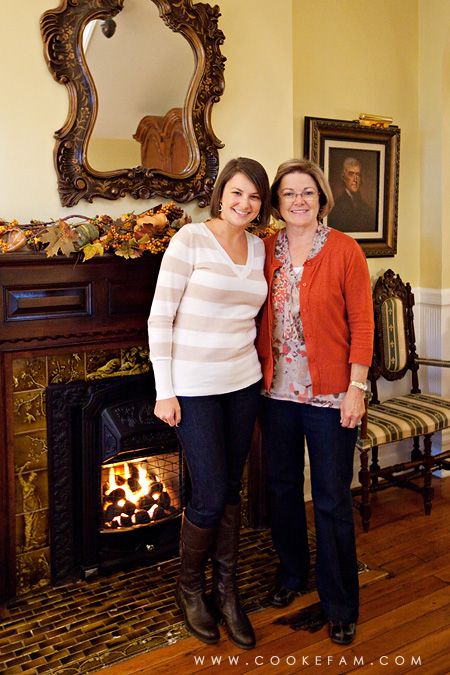 My mom took this photo of the fall colors in Asheville just outside the house. This was the end of their color (early November) and many of the leaves had already fallen, but it was still beautiful.
We hopped in the car and headed to downtown Asheville to look around, shop, and eat dinner. We both thought their downtown area was so charming and fun. There were so many unique shops and the dining was superb. Three of the places we ate dinner during the trip were in downtown.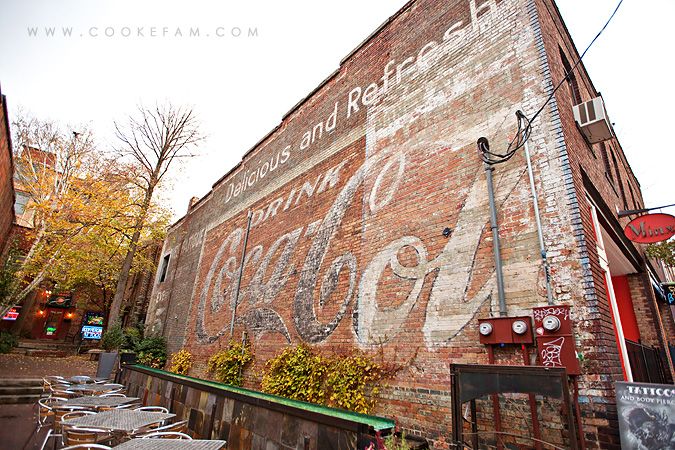 We happened upon the
French Broad Chocolate Lounge
early in our exploring. And because my mother-in-law, Donna, had suggested that we check it out...we did! She and my sister-in-law went on this same trip this summer after I suggested that they go to the Biltmore on their mother/daughter trip this year. And after they went and had such a great time, my mom and I decided to go too! So we traded tips...my mom from her trip last year, and Donna and Chelsea from their trip this year.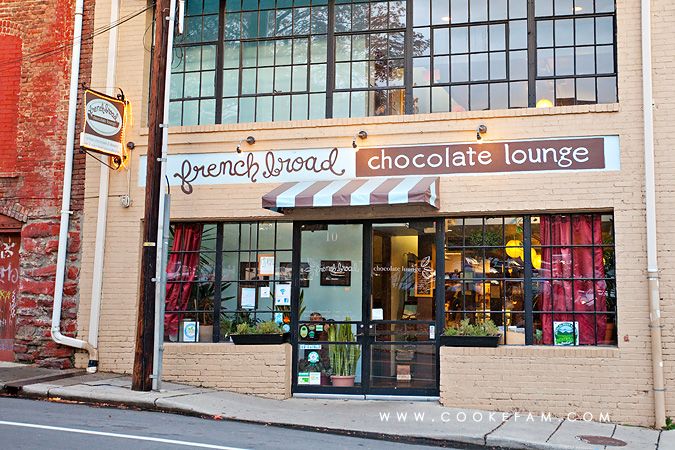 The French Broad has a plethora of chocolate things in many different forms...truffles, cakes, cookies, brownies, drinks. In other words...my kind of place. We got two small boxes of truffles to go and after a glance at the menu, decided to return after dinner for dessert!
Here is just a portion of the imported and unique chocolate that they sell. If you like dark chocolate, you'll find it in several varieties and flavors here. I'm kicking myself for not taking a photo of the pastries. The cakes and other baked goods looked phenomenal.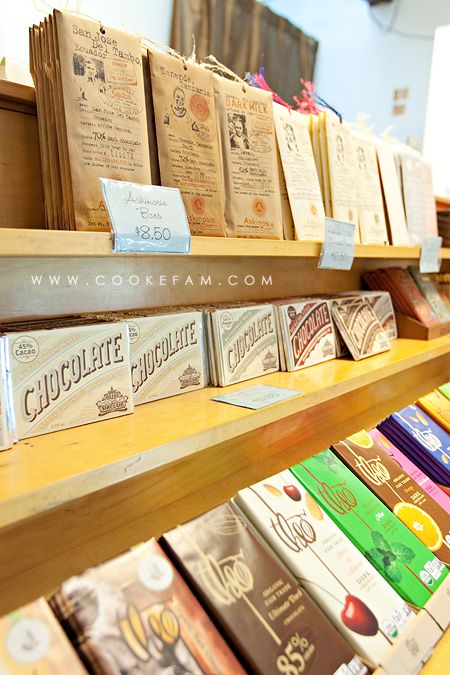 After tucking away our truffles for later, we went in some of the stores. This particular place was a collection of booths by local artists and vendors. It was really a treat to browse through here. We bought a couple of things here too...including two stuffed animals for the boys. The first of several purchases on this trip!
Look how inviting this street is at dusk...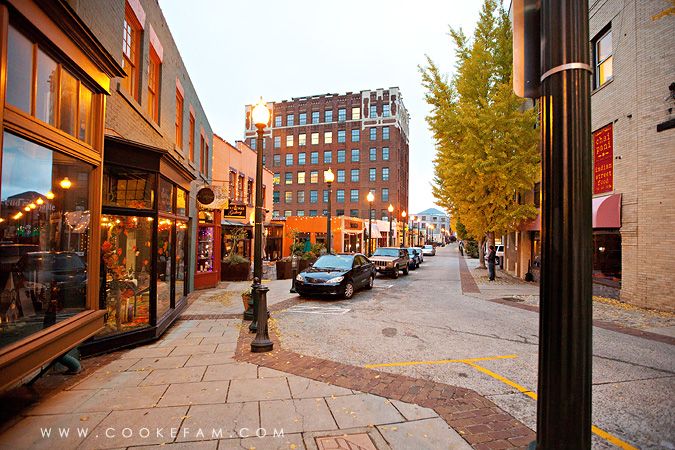 This is another photo from my mom. She captured the silhouette of this church right as the sun was setting. It was such an overcast day that there's no color in the sky, but I still love this photo. The cool colors really bring back the memory of how cold and windy it got that night while we were still outside walking around.
Eventually it came time for our reservations at
Bouchon
, which (as the sign says) serves French comfort food. And indeed, they do. How I loved this restaurant!
We asked the waitress for a wine recommendation and I'm so glad we did. This was the best wine of the trip, by far. Wonderful. I just wish I had written down what it was (oops). I do know it was French.
I think I may have already overused the word "charming" but I really can't think of another word to describe this little restaurant with it's wood tables, cane chairs, string lights and exposed brick walls. Here's mom enjoying her beet salad, which she said was perfect.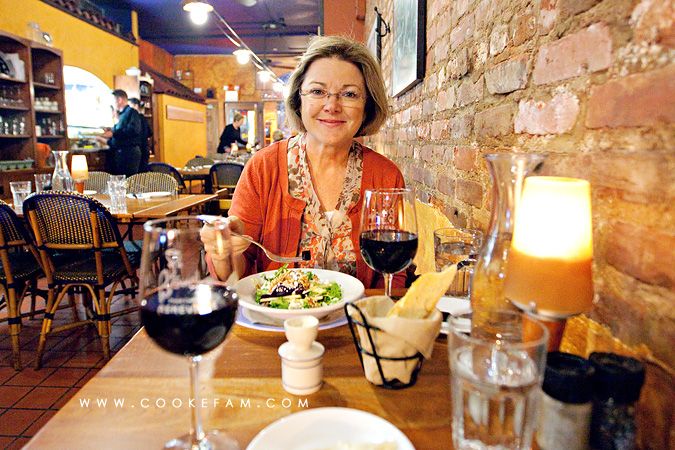 Mom also had the thyme-dusted roast chicken with veggies and homemade french fries (not pictured). Yum. I had the special that night...lamb with herbs de Provence, veggies and whipped potatoes. How do I describe how this tasted? I don't know...it was absolutely delicious. I loved every single bite. There were Brussels sprouts back there among the veggies too, which totally made my night.
After trying not to stuff ourselves at Bouchon (a feat, for sure), we went back to the French Broad Chocolate Lounge. Donna and Chelsea said we had to get a liquid truffle, which is basically melted chocolate much like European sipping chocolate. Let's just say that "liquid truffle" is a very fitting name. What a treat. You can get your liquid truffle in many different flavors, but I went for the pure chocolate. It's a small cup because it's very rich.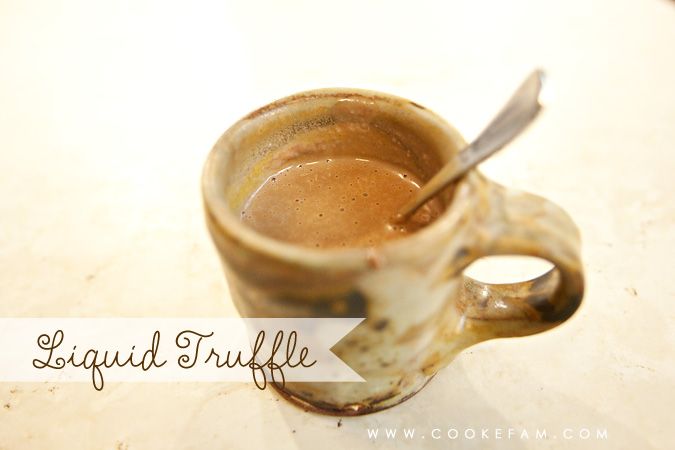 The hot chocolate helped warm me up too. Judging by my red cheeks and nose, I needed that.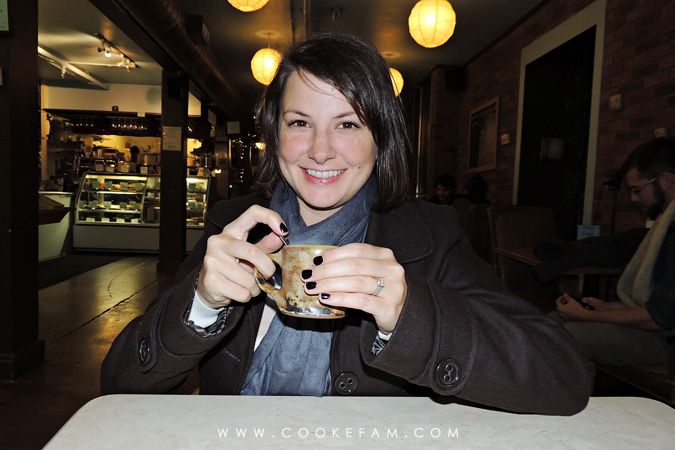 After dessert, we headed back to the house since we'd had a pretty long day. I snapped this photo of the house as we were pulling around to park. When Ethan saw me pull up this photo, he called it a haunted house. I guess it does resemble a haunted house...especially with our brake lights making half of it red! I got some daytime photos of the house I'll share later. That top-most room in the turret "tower" there is part of our suite of rooms.