Our final celebration of Christmas was at my parents' house on Christmas Day. The very first thing we did is dig into our stockings...because Santa stops at Mimi and Pop's house too. Ethan and Logan each got a classic Disney movie that they hadn't yet seen...The Little Mermaid and 101 Dalmatians. They have loved watching them both.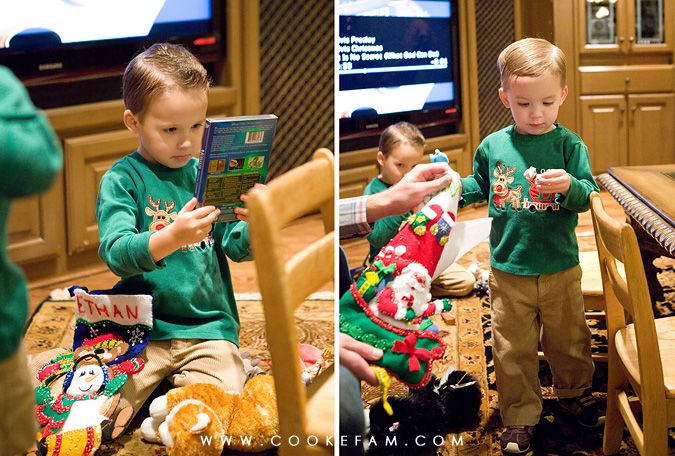 Then, we moved to the living room and started passing out presents for everyone to open.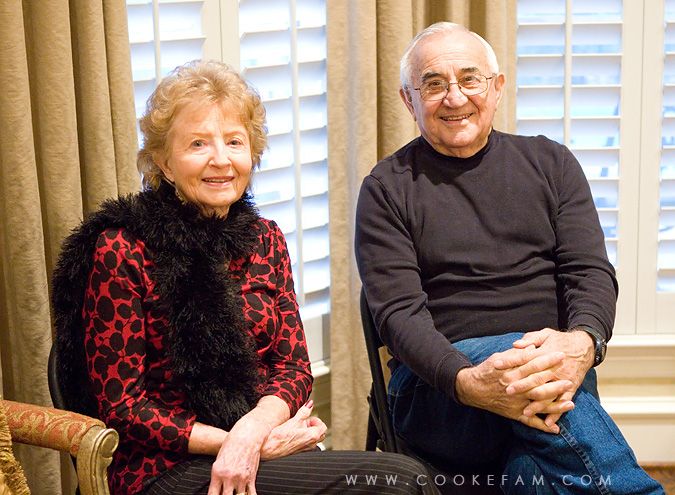 In my family, everyone has a camera and uses them. I'm not the odd one. Actually, I guess this partially explains my penchant for taking photos.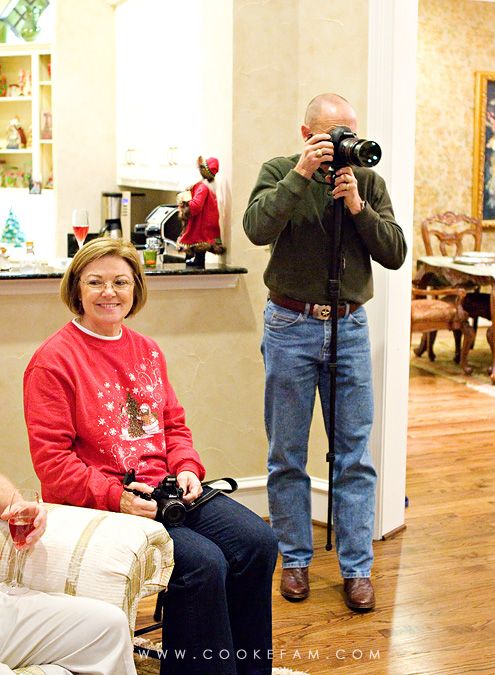 Before the opening began...Ethan and Logan surrounded by their gifts.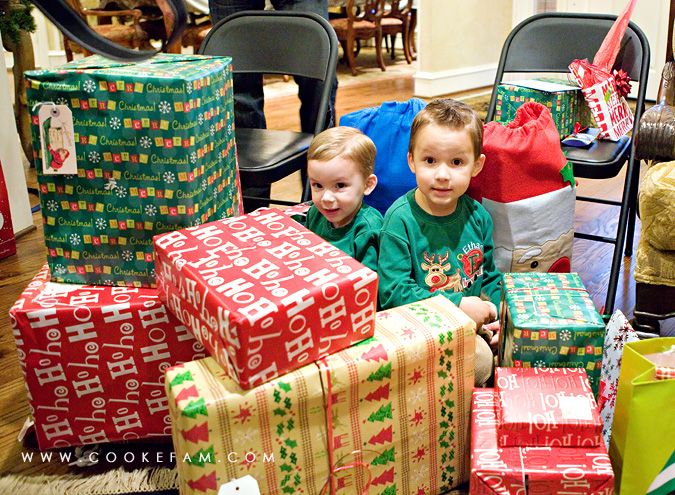 Ethan was thrilled about more stuffed animals...specifically, the Finding Nemo characters. Logan got some expansion train sets to add on to his basic set and they have been a big hit. He still loves playing with trains.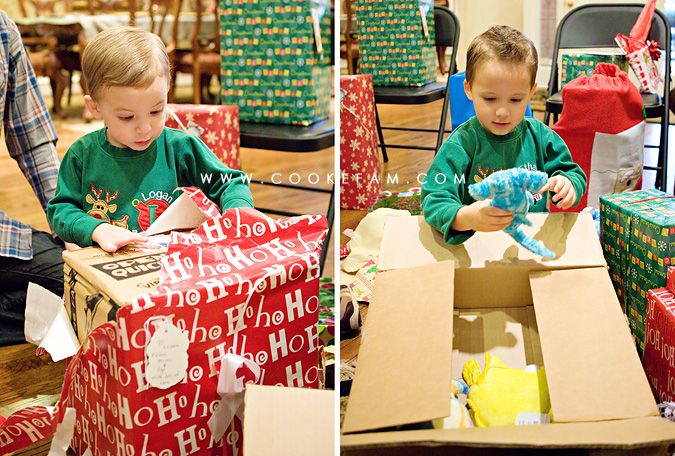 My parents gave Ethan one of these cash boxes to keep his coins in a few years ago, and this year, Logan got his very own too.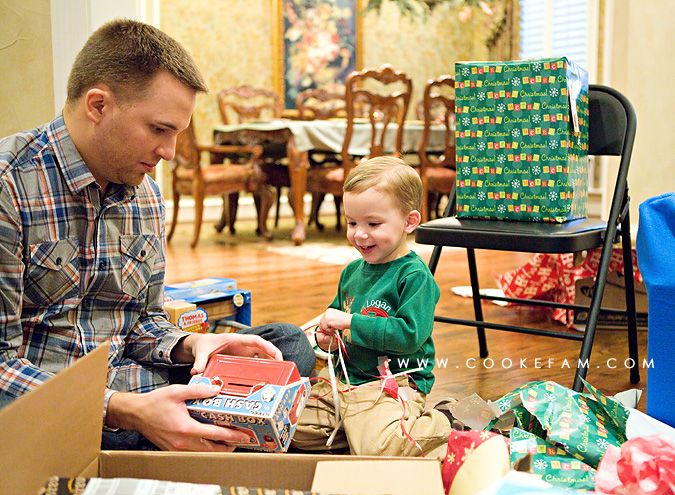 Uncle Kevin and Aunt Jill opening some of their gifts...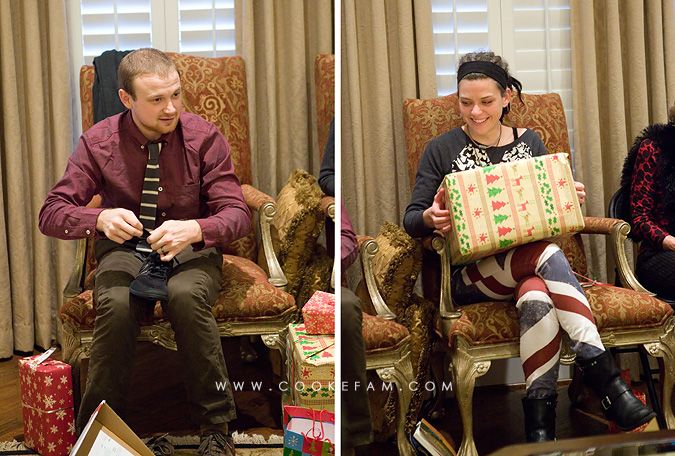 And my uncle Nigel got a very fitting t-shirt for him...especially since he is the only man in his house.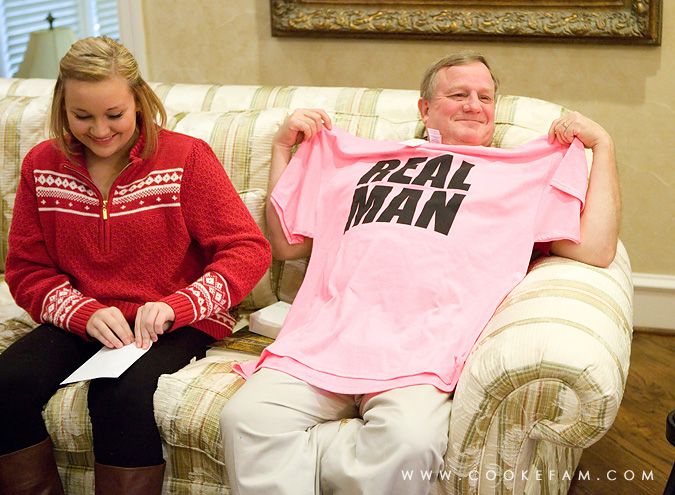 Logan had a ball playing in the wrapping paper. He tossed it around and in the air, squealing. Maybe we should just get him used wrapping paper next year.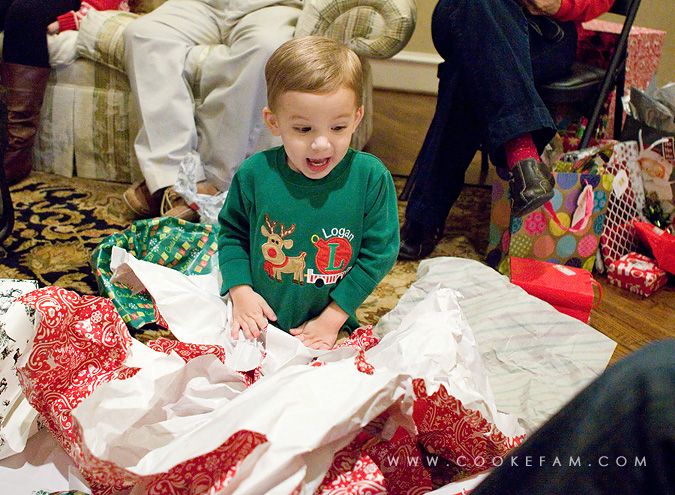 Mimi and Pop opened their gifts last. Logan is helping Mimi open her Asheville photo book that I made for her gift of our trip this November. And Pop carries on a tradition of someone wearing a bow on his/her head...I think it started with my grandparents' cat many years ago.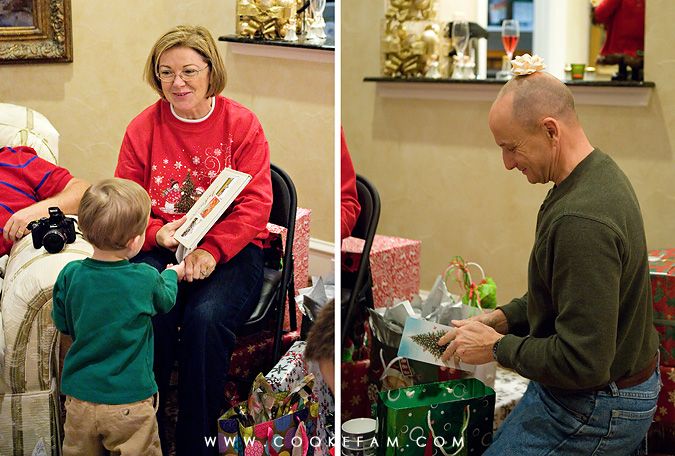 Oh, yes...and in addition to his fascination with the wrapping paper, Logan also had a grand time with all the bubble wrap.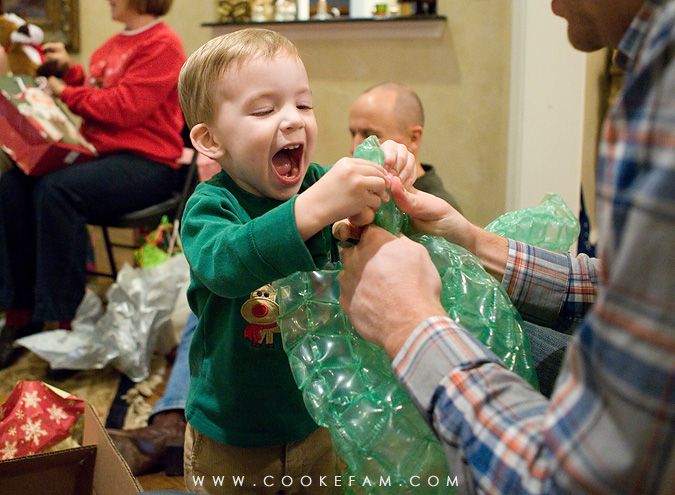 After gifts and lunch (curried meat pies!), Logan went down for a nap and Ethan played with his toys and colored in a new coloring book. Then, during our game of Mexican Train, it started snowing. A white Christmas! And guess what movie was playing in the background for me to watch (since I hadn't seen it yet this year)? Of course...White Christmas. Ethan begged to go outside, so I put him in one of Pop's coats and hats. He was thrilled.
But it was cold. The wind just made it that much colder. Ethan did not care. He immediately started talking about making a snow man.
When Logan woke up, we packed up all of our stuff and headed home before the roads got too bad. Good thing too, because up near our house there was twice as much snow and the roads were not looking great. We saw no less than 6 cars that had skidded off the road. But we made it and then had our own little snow exploring to do at home!