We rode the
North Pole Express
on the Grapevine Vintage Railroad
last year
and thought we'd wait a couple of years before doing it again. But, between then and now, we saw Logan develop a love of trains so we decided to go again this year. It was a good choice because both boys loved it so much and it was one of my favorite activities this Christmas season because they enjoyed it.
Sitting on the rail road cart before boarding the train. The train was right in front of them and they were so excited to go for a ride.
Of course, there is a pre-ride show in a big tent first. The boys were very proud to be carrying their very own train tickets. I never knew they could be so excited about a piece of paper.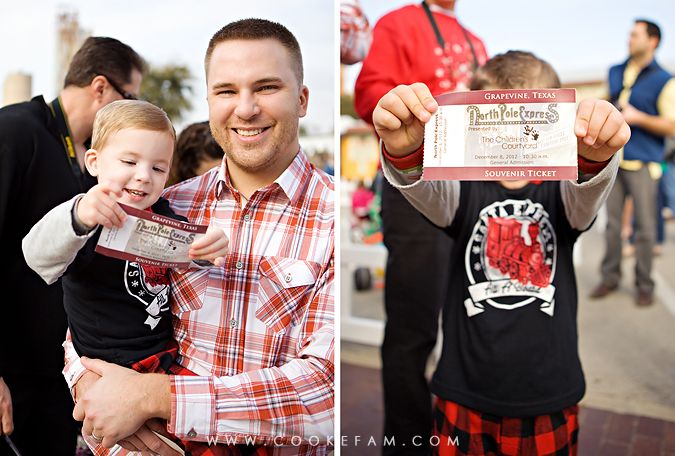 After the show, on our way to board, we wound through a maze of real evergreen trees while being showered with foam snow. Logan thought it was very cool, but it felt funny on his face! Ethan loved it too, but the line was moving so fast I didn't get a good photo of him.
Finally, we got to the train itself...and Ethan was ready to board. He didn't want to wait for me to take a photo...he just went right past Pop and Logan to get on.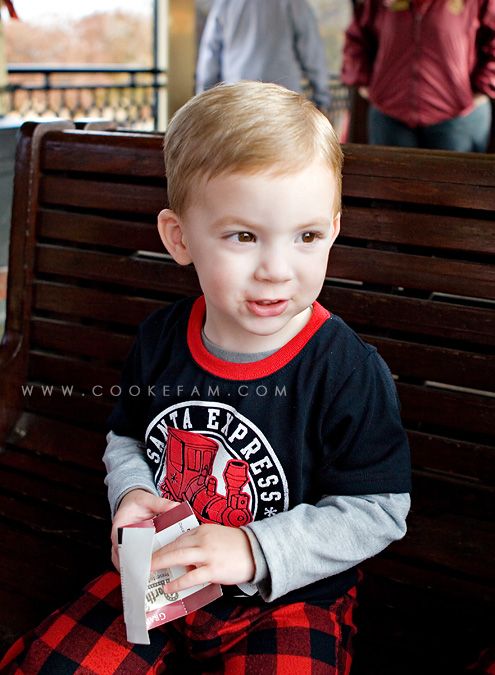 Both boys were so thrilled to be on the train and were ready to get rolling! We sat in one of the cars with the huge windows and wooden bench seating. Although it is not as plush as the other cars (like the one we were in last year), it was actually more comfortable for us because we had more room.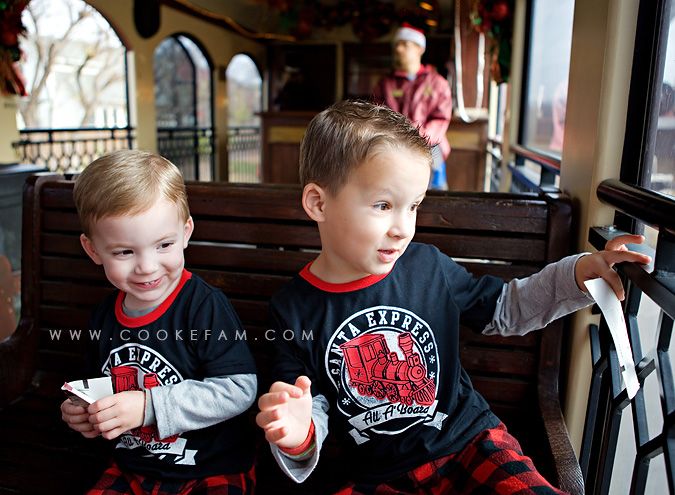 A highlight of the ride was the conductor coming by to punch the boys' tickets. They loved this part since they remembered it from the Polar Express movie.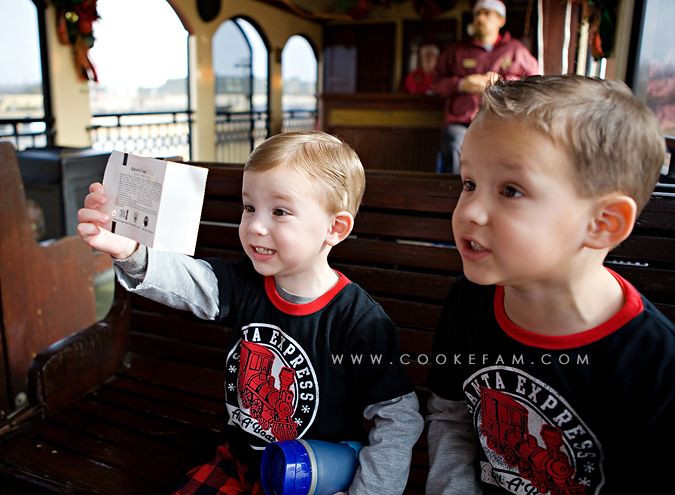 One happy, train-loving boy...
The carolers made a stop in our car to sing Christmas carols. The boys listened very closely. They were very festive, but I would have loved for them to sing more child-centered Christmas songs. They did sing Jingle Bells once, but that was it.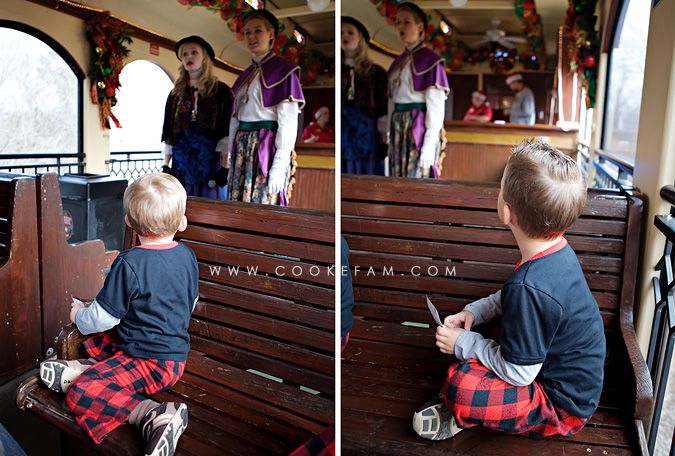 We finally made it to the "North Pole" so the train stopped for a minute...and then headed back to the station.
But not before Santa made his appearance and gave each child a bell.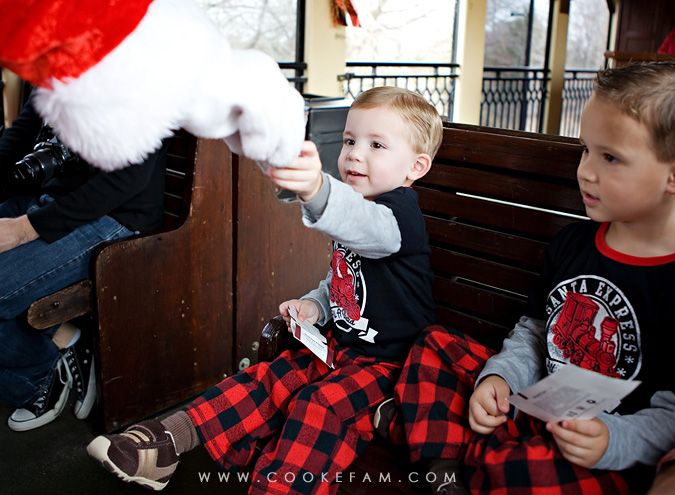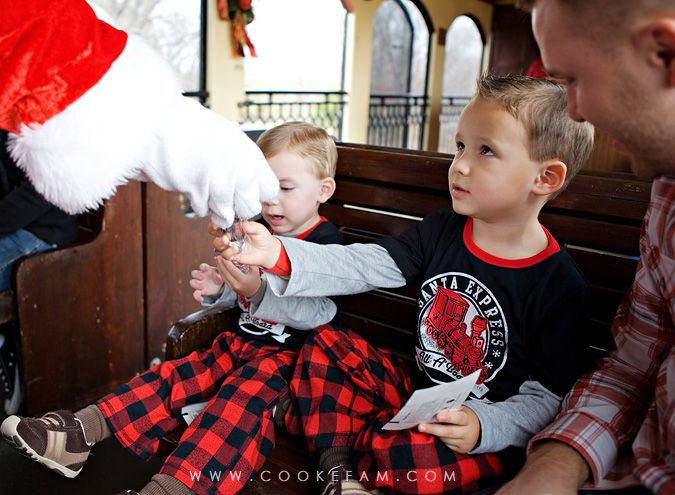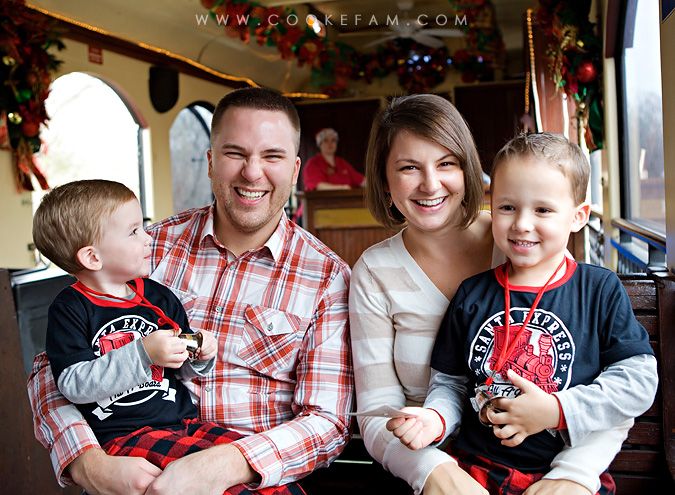 Looks like Logan is confusing his bell with a stethoscope.
The conductor stopped back by and quizzed Ethan with some trivia questions. I can't remember what he had just said when I took this photo, but I remember it really tickled Ethan.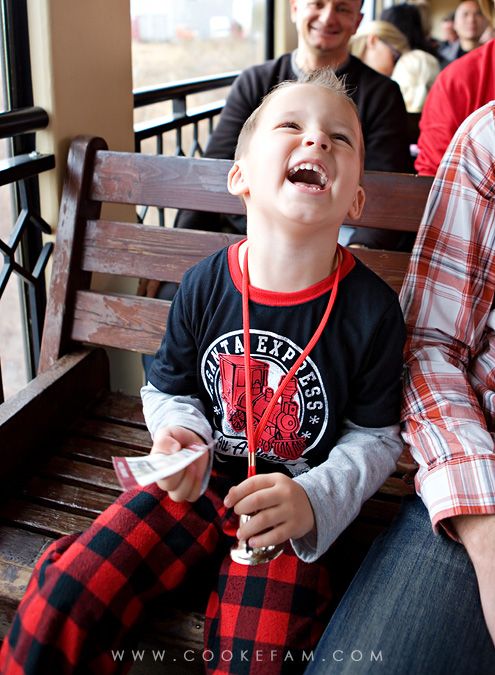 The ride really was a pretty good length, but for the boys, it ended too soon...here they are getting off at the station.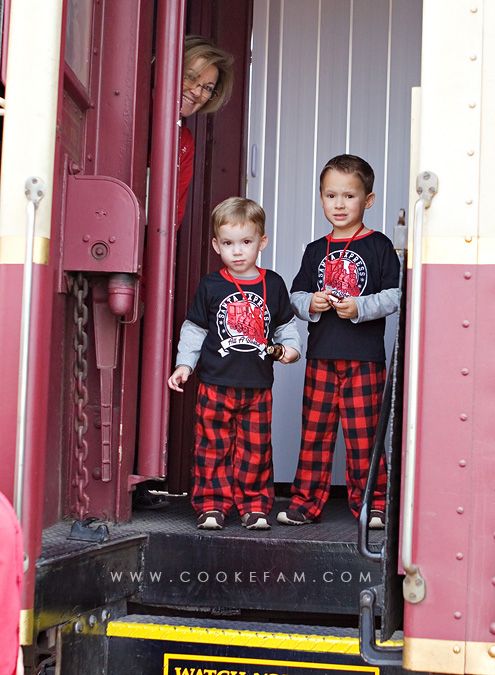 Thanks, Mimi and Pop...for treating us to the fun ride and coming with us to experience it!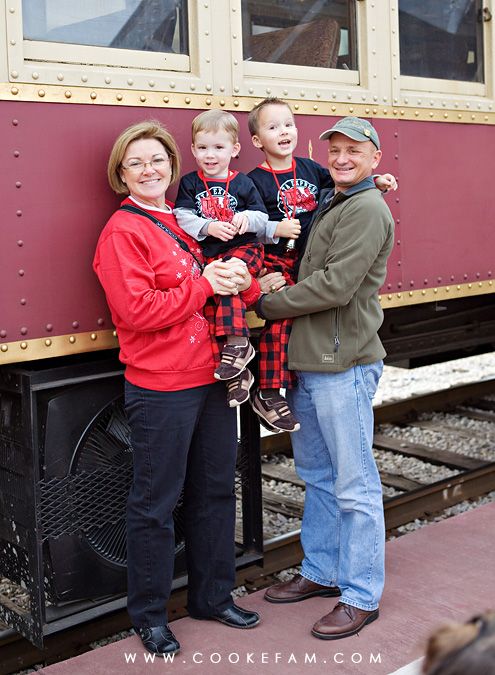 On our way back to the car, my mom had spotted a pony ride, which (of course) the boys wanted to try. I was so surprised when they both sat on top of their ponies without any hesitation. And they loved the ride...they wanted to do it again immediately. Such a fun surprise ending to our morning!