This year, we separated our Easter celebration (on Sunday) with the whole egg-hunt thing. It worked great and we will be doing it this way from now on. For one thing, it allowed us to make the egg hunt more of a spring celebration and kept Easter day all about Jesus and the resurrection. Secondly, it made Easter Sunday far less rushed and packed with activity.
So this particular egg hunt at home happened a week before Easter. That morning, a huge rain storm passed through and the day stayed grey and chilly. But outdoor egg hunts are so much more fun than inside ones, so we toughed out the cold and damp for the 10 minutes it took the boys to find all the eggs.

First, daddy and Pop hid all the eggs (and there were many).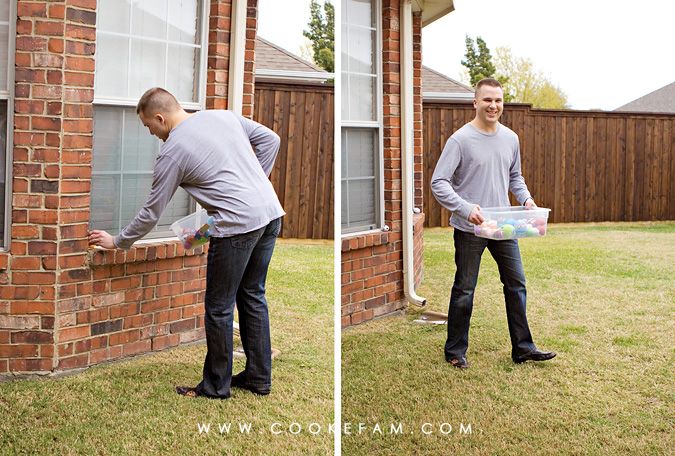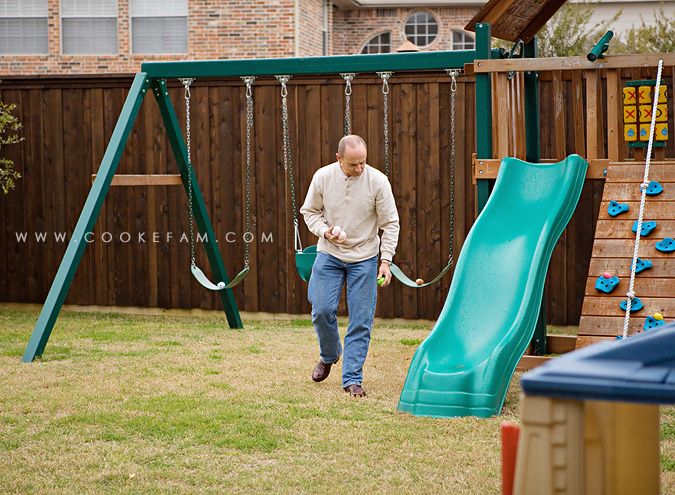 Then, the boys were let loose in the back yard. Not in their Easter finest. Just in play clothes...and jackets.
Ethan ran around and bounced from one corner of the yard to the next finding eggs. He did a great job, but in his rush, he went right past some very obvious ones!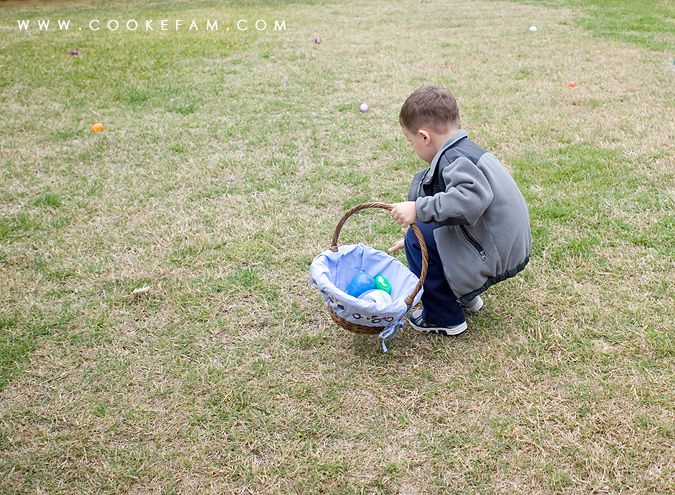 Logan took his time and marveled at some of his finds along the way. He ended up with almost as many eggs as Ethan, but definitely did not rush about it.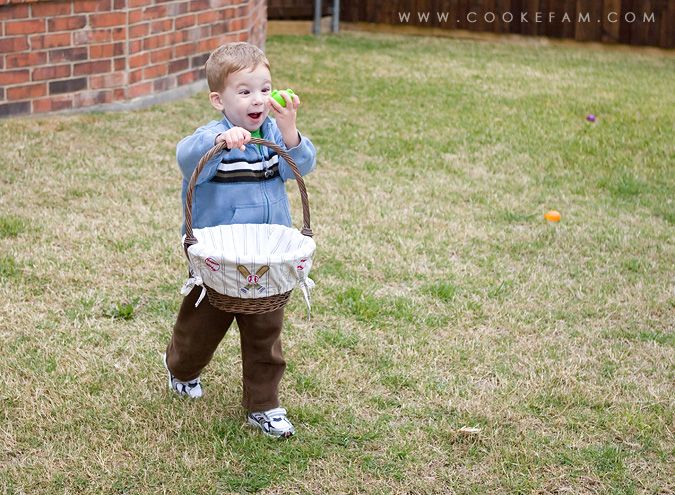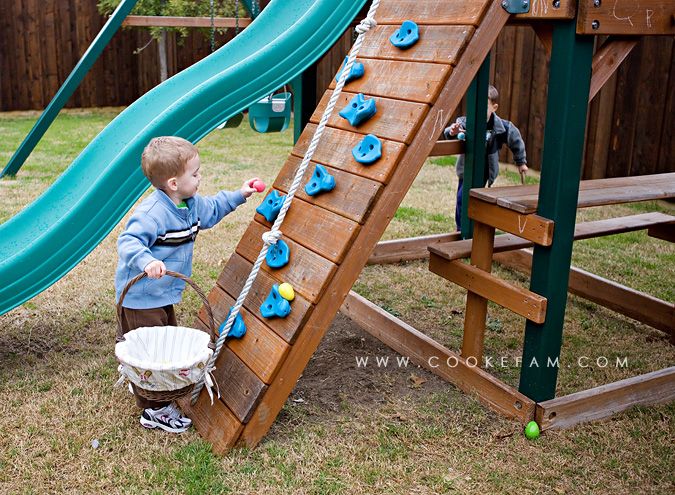 Logan found one of the golden eggs...he looks impressed! In the two golden eggs, there was a (Cars character) car that we didn't already have...hard to believe there are any of those, so vast is their collection.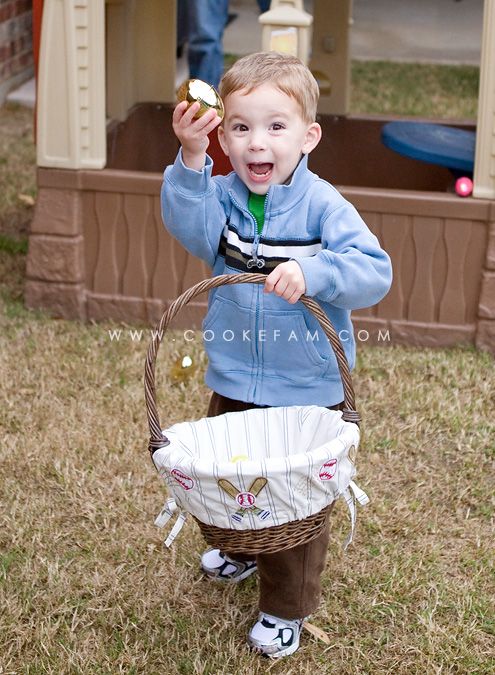 Ah, the window ledges...I remember my dad hiding eggs here when I was a kid.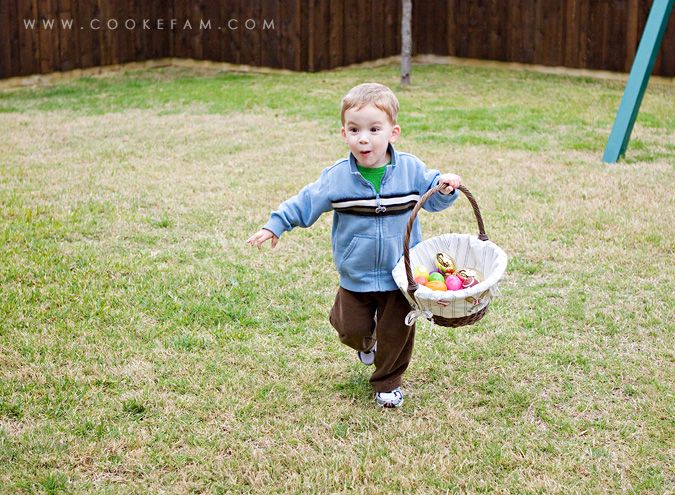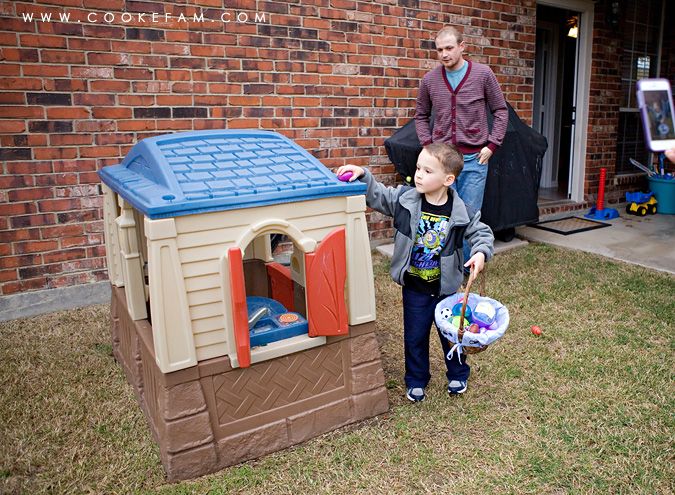 Logan found one of the two large eggs. Growing up, we always had two large eggs like this that would be filled with special things. Maybe a large piece of chocolate or a small toy. So, I have carried on the tradition with my boys. This year, there was a Disney t-shirt in each one of them from Mimi and Pop.
At the end of the hunt, Ethan shows off his loot...
Then time to go inside and see what the eggs contained. We have successfully held the Easter presents in check. Other than the t-shirts and cars, my mom got each of the boys a Toy Story beach towel. And of course, there was some candy...