Yay! Hooray! I've finally been able to start looking at and editing my photos from our trip to Paris at the beginning of June. So, lots of posts about Paris will be forthcoming. And it goes without saying...lots of photos too.

The first day of our trip was mostly spent traveling. We got to the airport in Dallas around 7:30pm after a delicious dinner at Gloria's with my parents. Our flight was scheduled to leave at 9:45pm, except that it was delayed (I can't really remember why) and we didn't end up taking off until after 10:30pm.

The fun thing about this flight (yes, fun) is that we had First Class tickets this time. This was our first time to fly First Class on an International flight and boy, was it awesome. We saved up the air miles for years for this one and it was totally worth it!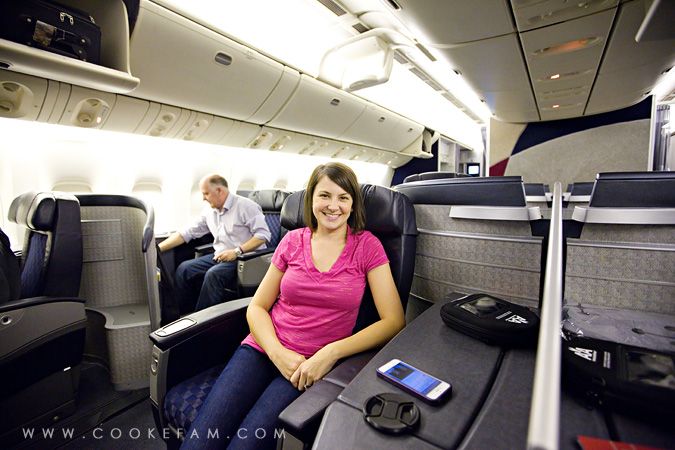 We had tons of room and our chairs really did lay all the way down. We had two pillows and two blankets each. They even offered us pajamas to change into...and slippers. That divider that you see in the photo below can go down and we kept it down for the entire flight since we know each other and all.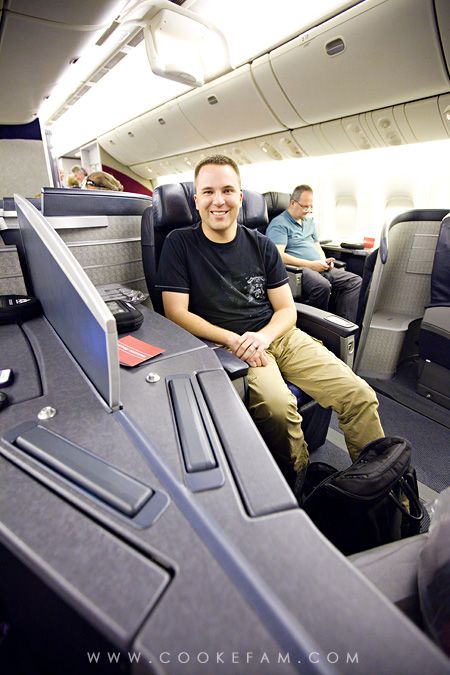 About an hour and a half after we took off, they began the dinner service. The 5 course dinner service. Unbelievable. And let me tell you...you would hardly know you were eating "airplane" food. It was really good. We didn't eat as much as we normally would have because it was so late and we had already eaten dinner.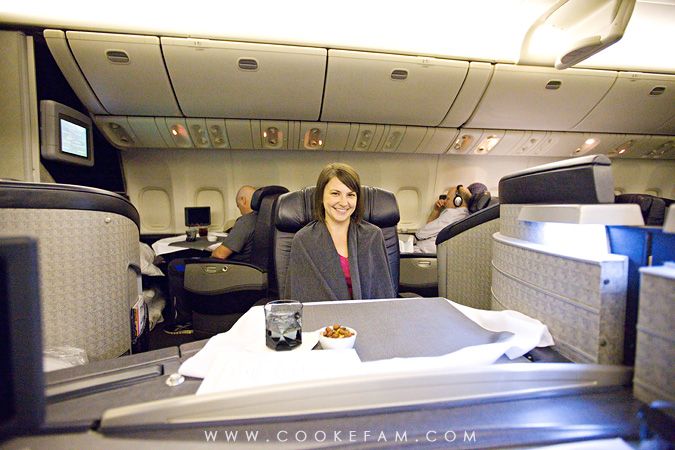 There were two different trays that we could pull out for dinner and we chose to sit facing each other.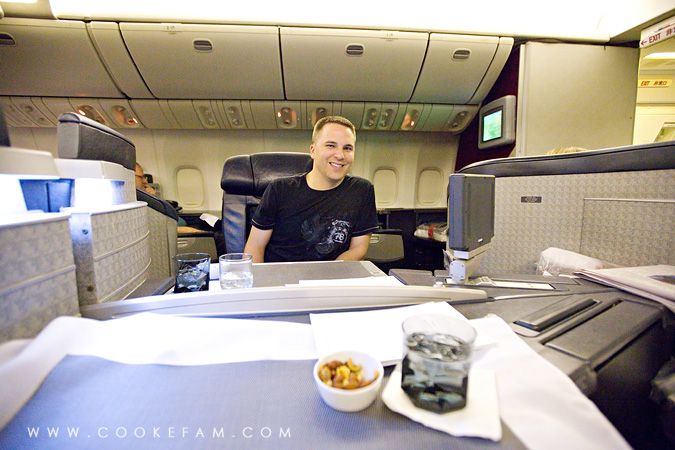 By the end of dinner I was fighting to stay awake, but you better believe I stayed awake long enough to get my custom made ice cream sundae (they put whatever toppings on there that you wanted...within reason, of course). Then, we transformed our seats into beds and fell asleep for almost the entire rest of the flight. About an hour before landing we had breakfast.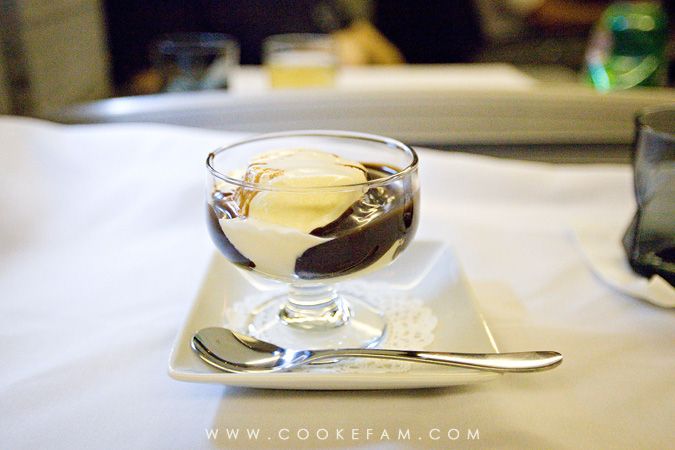 When we arrived in London, we were actually somewhat rested. We hopped into a taxi and headed for St. Pancreas station where we would catch our (Eurostar) train to Paris. And the entire way, while we watched London pass by as we looked out the windows of the taxi, we lamented the fact that we didn't schedule a day (or 5) to spend there. I love London. Maybe next time.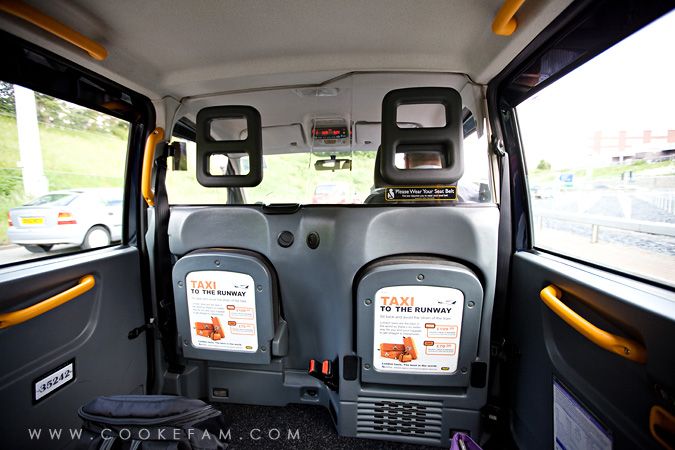 At St. Pancreas we checked in for our train and waited for boarding time.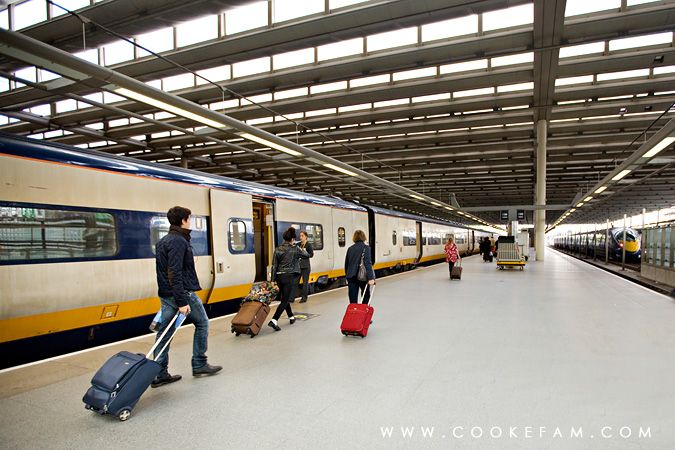 On board the train we were seated across the aisle from a young couple from Iceland. They were traveling to Paris to perform their music in a couple of shows. We spoke about previous trips to Paris and various things about the States and Iceland. One of the coolest parts of our trip was the interesting people we met along the way.
Two and a half hours later we pulled into Gare du Nord train station in Paris. I think one of the best things about train stations is the flip board with all of the train information. This one was huge.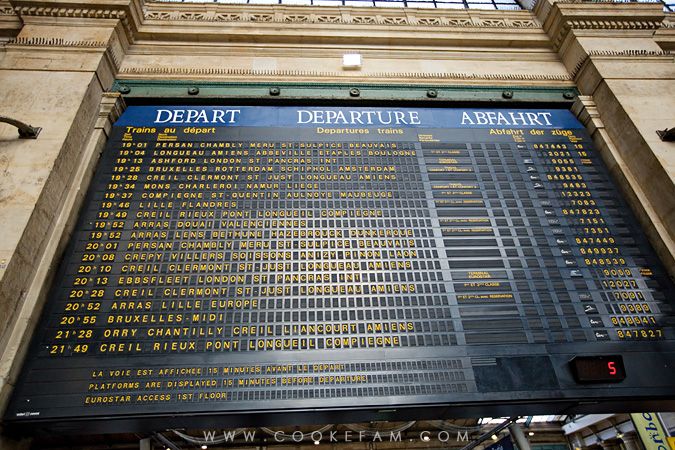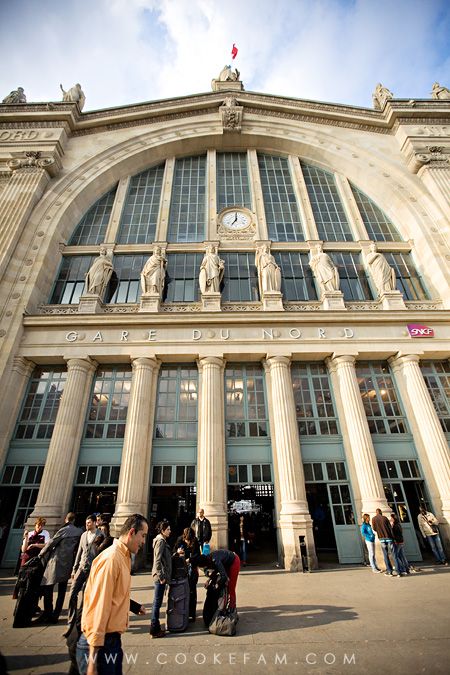 Just outside the train station we jumped inside another taxi to take us (and our luggage) to our hotel. I would like to pause a moment and brag on us just a little bit. We each packed one carry-on sized rolling bag...and that's it (besides our purse and backpack).
We arrived at our hotel and got our first look at what would be our home for the next 8 nights. We stayed at the
Hotel d'Aubusson
in the St. Germain neighborhood of Paris. That is on the left bank between Notre Dame and the Louvre. So, pretty much a perfect location. Our hotel was located on the same street that runs off the Pont Neuf bridge. Here we are in the elevator heading up to our room.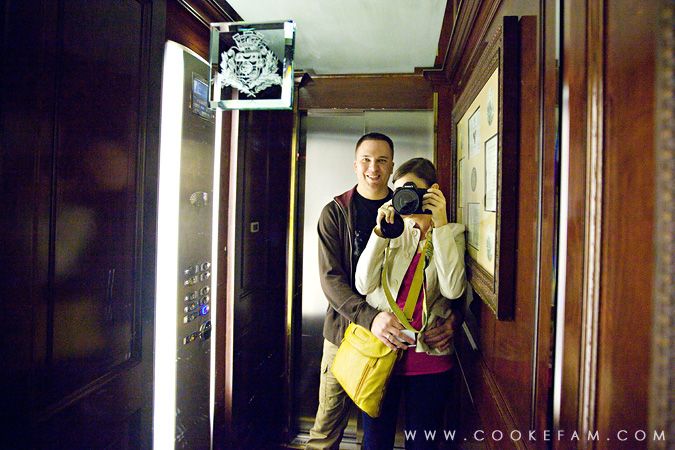 What can I say about this hotel? It really was a gem. I had done some research to find a hotel that we could afford but that also had some character to it. You can stay in a very sleek and modern hotel in Paris for sure (and that is sometimes what you want), but I really wanted something different. So, I called the travel agency that my parents often use and they immediately suggested Hotel d'Aubusson.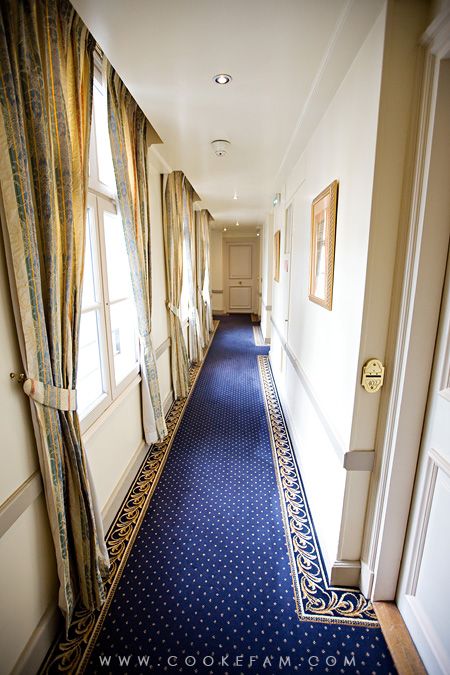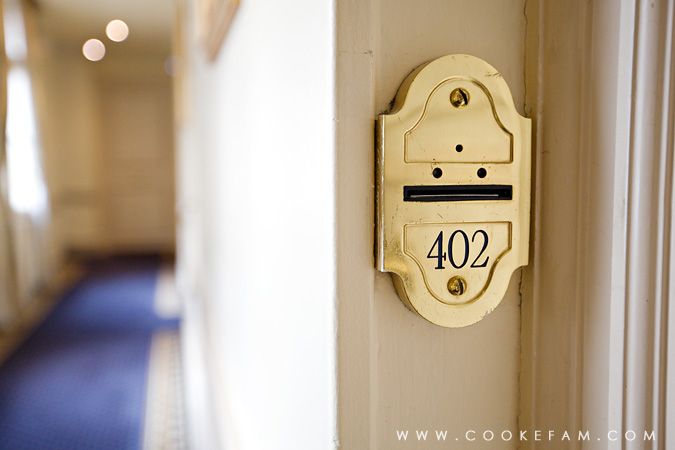 We stayed in their most basic room and although the decor is pretty basic, the room was very comfortable and really well appointed. That bed was so comfortable. We both slept so well...and that's not always a given. We never once turned on the TV, but it was nice to have a flat screen anyway!
One of the things that makes this hotel fabulous is the service. Every other night, there was a complementary gift waiting for us in our room. A chilled bottle of champagne, a box of fresh macarons, a leather key chain. The concierge also arranged almost all of our dinner reservations for us and gave us a written confirmation with an address for each in our room.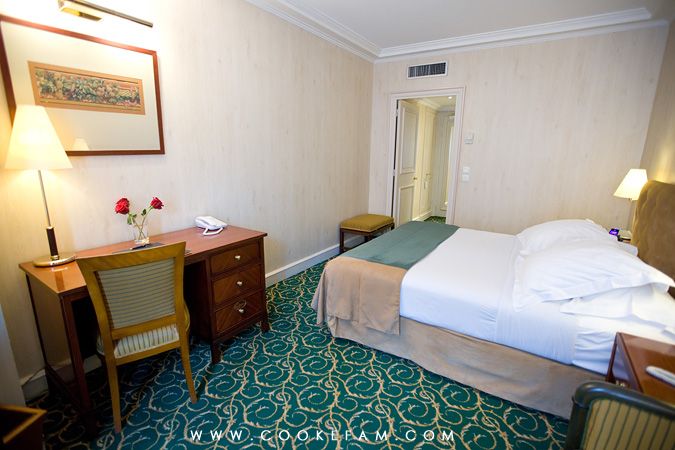 We were lucky enough to have one of the rooms that faced the street, so here was our view. Of course, if you were to look out the window and down, you would see the street. We were on the 4th floor.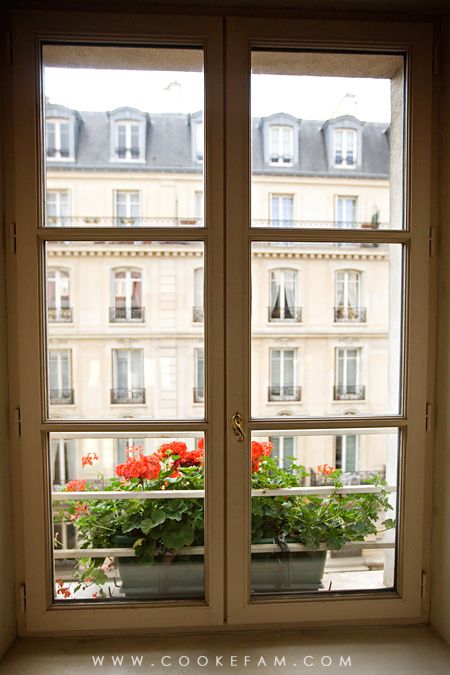 This bathroom was lovely and the shower had the best rain shower head ever....I wanted to take that home as my souvenir.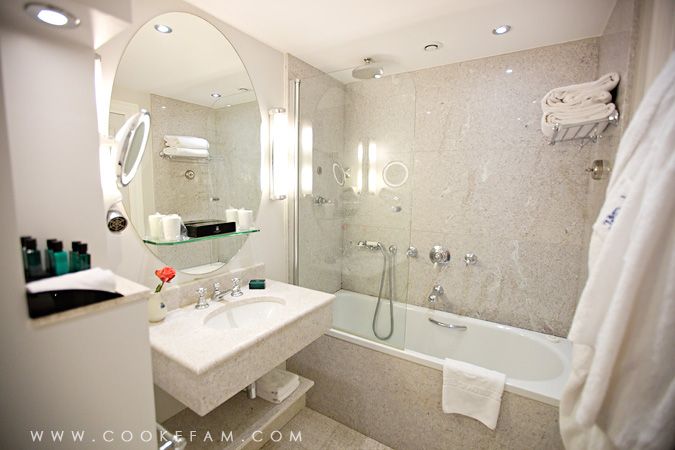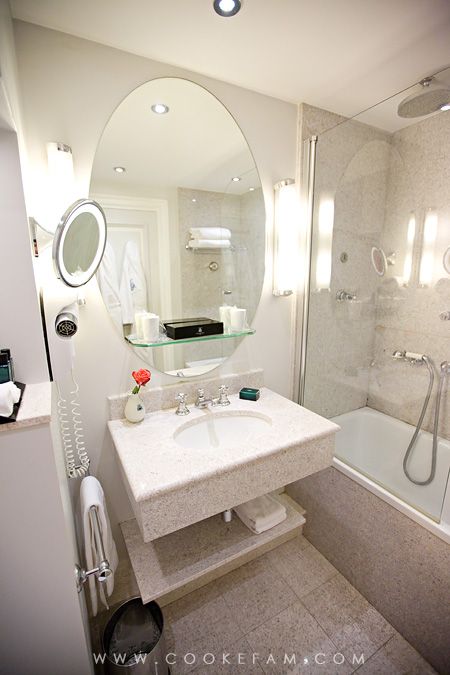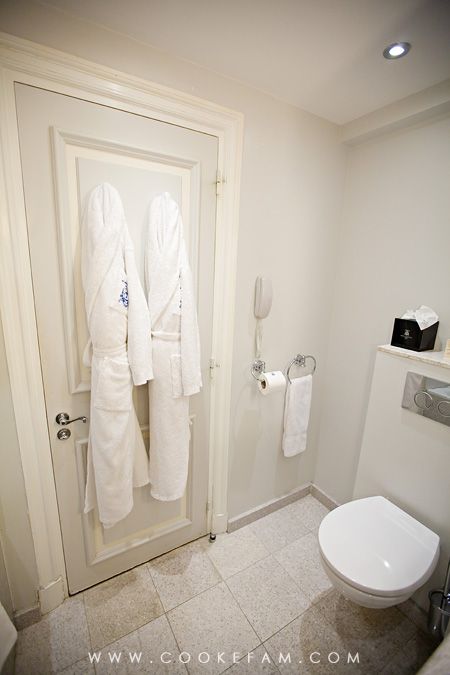 When we'd gotten settled in our room, we walked around the rest of the hotel to have a look. I should mention that the hotel was quiet and refined, but not stuffy. Here's the lobby.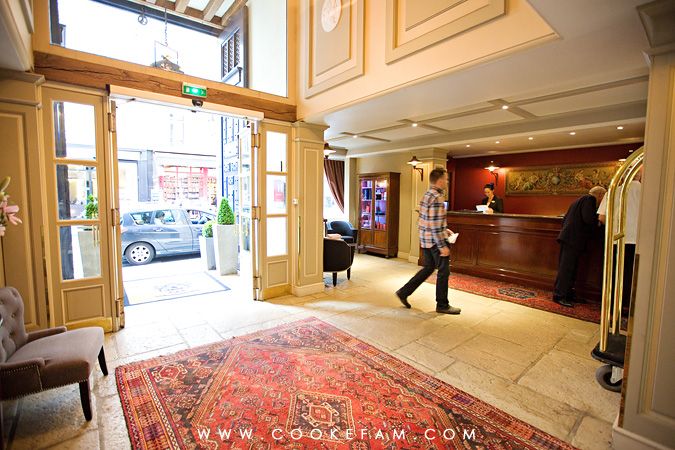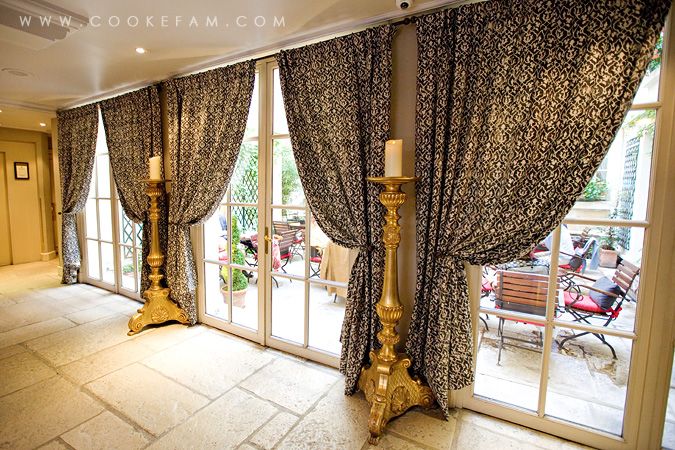 The Cafe Laurent was packed every night with live music and people having cocktails.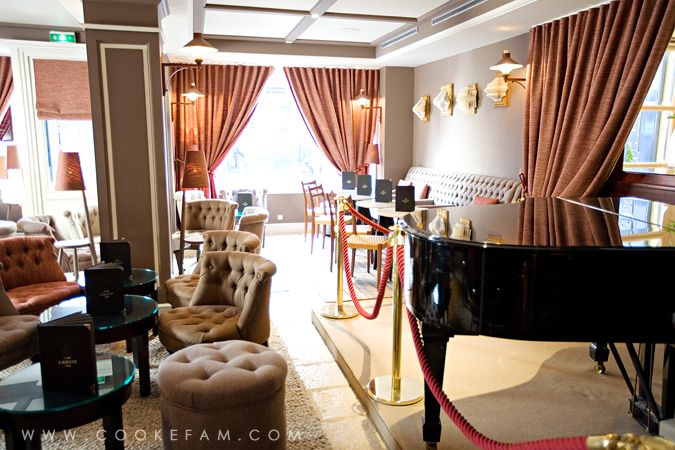 Right in the middle of the hotel is a lovely and quiet courtyard with very wide umbrellas in case of rain (or lots of sun, I guess).
My favorite part of the hotel was the grand salon, which just demonstrates the character of the hotel with it's exposed wood beams, stone fireplace and other little details.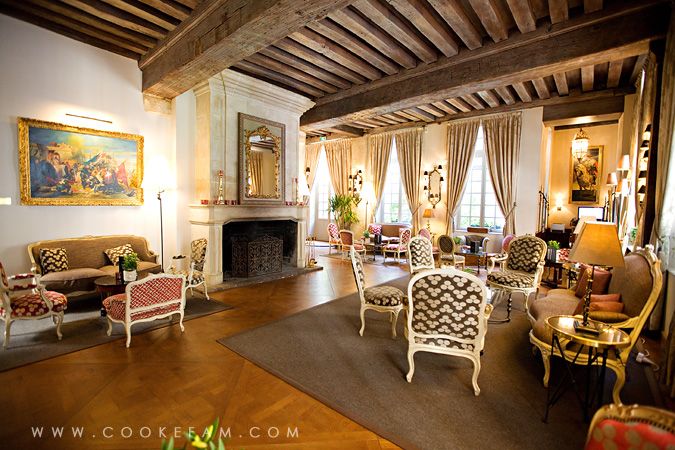 I love the layered frame and mirror above the fireplace. And the fabrics on all of the chairs were stunning. I'm pretty sure those are things that Casey didn't necessarily notice, but I definitely did!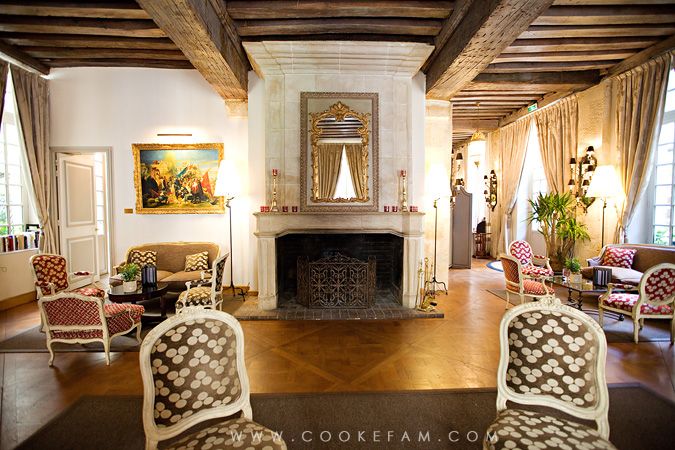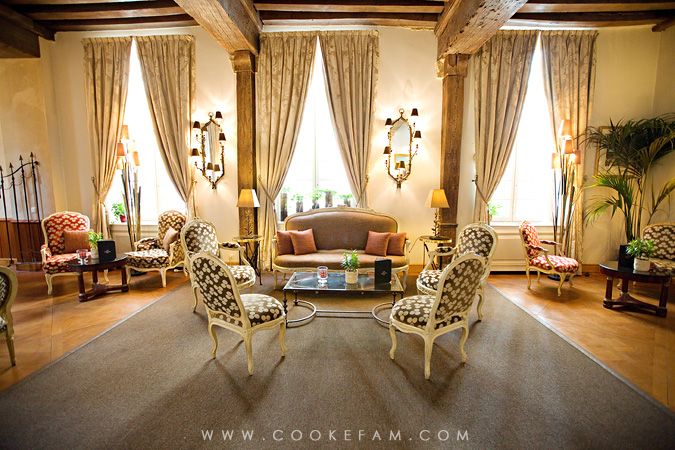 Two examples of details I loved in this room are the mirrored sconces and the row of books on the windowsill.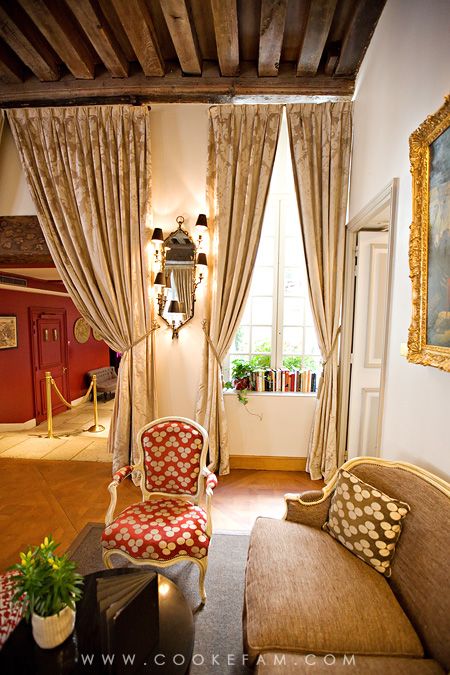 We arrived in Paris in the early evening, so by the time we'd gotten settled and oriented, it was time to eat! Most restaurants in Paris (the good ones anyway) require reservations for dinner. But lucklily, I had heard of a restaurant that didn't take reservations that we could visit on our first night (since I didn't know when we'd be eating). Lauren over at
Aspiring Kennedy wrote about Le Relais de l' Entrecote on her blog
and that's how I discovered the place. And it couldn't have been more perfect for us because it was only a few blocks from our hotel. There was a bit of a line when we got there at 8pm, but it moved quickly. I think we waited maybe 15 minutes, and then we were seated outside at a table for two.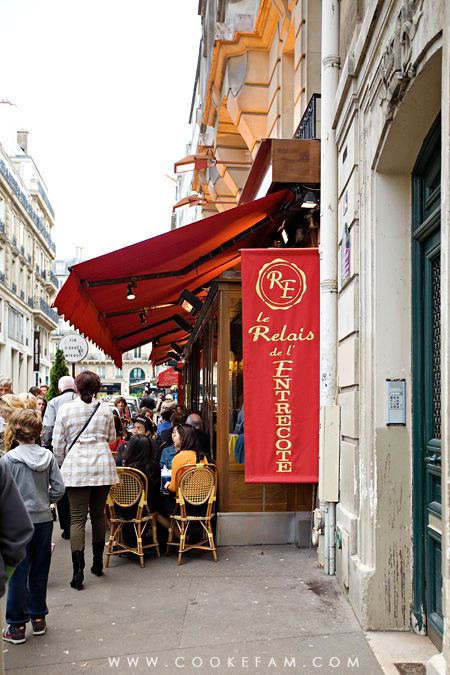 This place only serves one dish - steak frites - so the only thing you have to order are your drinks and specify how you like your steak cooked. Then, they start you out with bread and salad. The French really love their mustard so, of course, the dressing on the salad was a tangy mustard dressing. Quite good actually.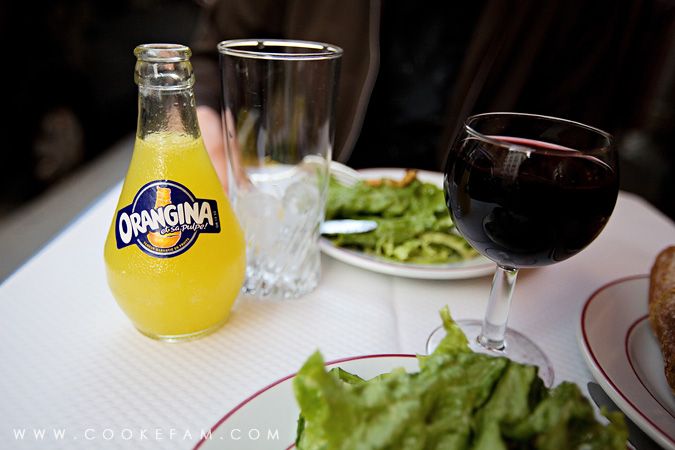 This is steak frites. A dish you will find all over Paris, but I would be willing to bet that this is one of the top places to get it. That sauce. Well, let's just say if I could duplicate that sauce, we'd be having a lot of steak frites for dinner around here. Yum. And the best part is that they bring you seconds automatically. So just when you think you've run out of house made fries and that amazing sauce (and even steak), here comes your waitress with a tray of fresh fries, sauce, and steak.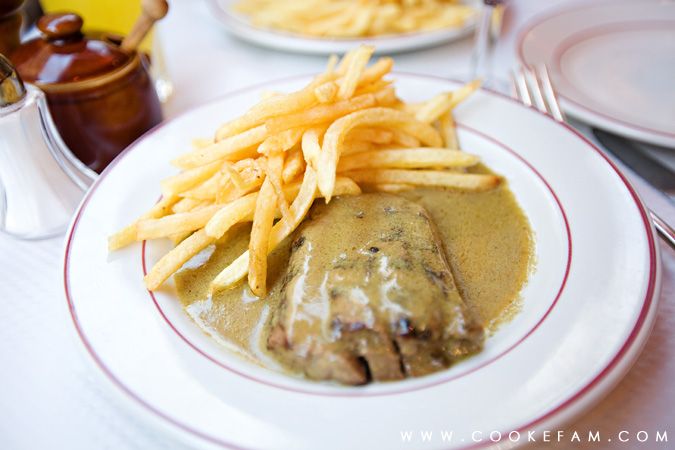 Even after seconds, we had to get dessert. This tower of chocolate and ice cream also has meringue cookies holding it together, and it's obviously drenched in chocolate sauce. Perfection.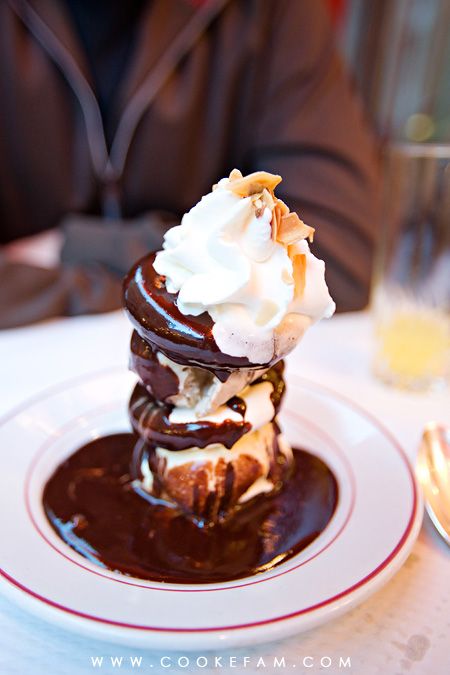 We walked back along the Seine to our hotel and caught a glimpse of one of the "lock" bridges. If you've not heard of this (fairly recent) tradition, a couple in love is supposed to attach their lock to the bridge and throw the key into the Seine to symbolize the permanence of their love. In case you might forget to bring a lock and key with you, you'll have no trouble finding any size and shape from the vendors in the green stalls lining the river. (PS - the sun didn't set in Paris until almost 9:30 or 10pm). Crazy.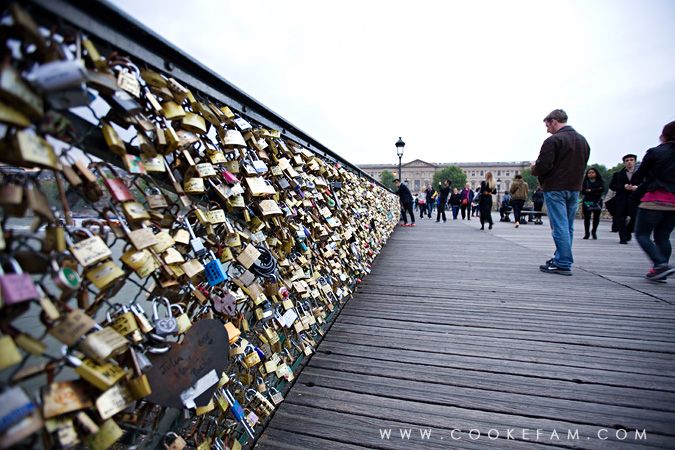 Our hotel at night.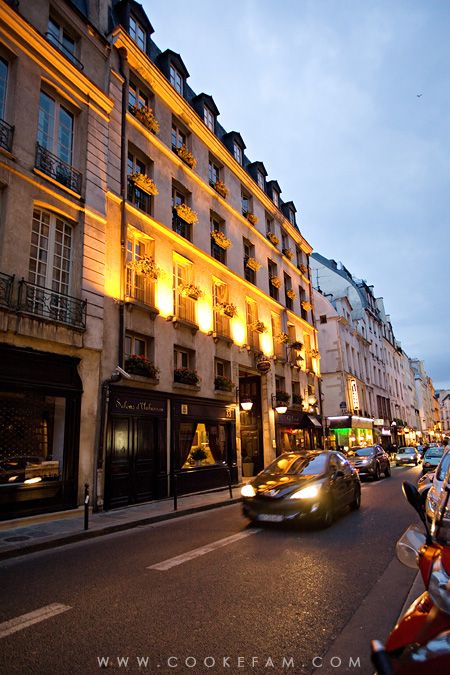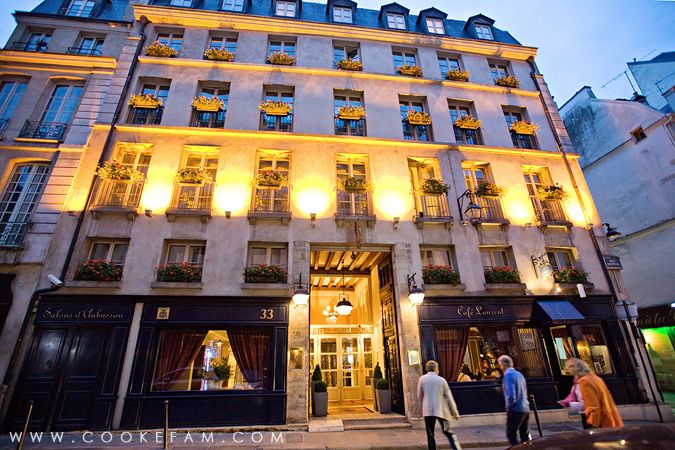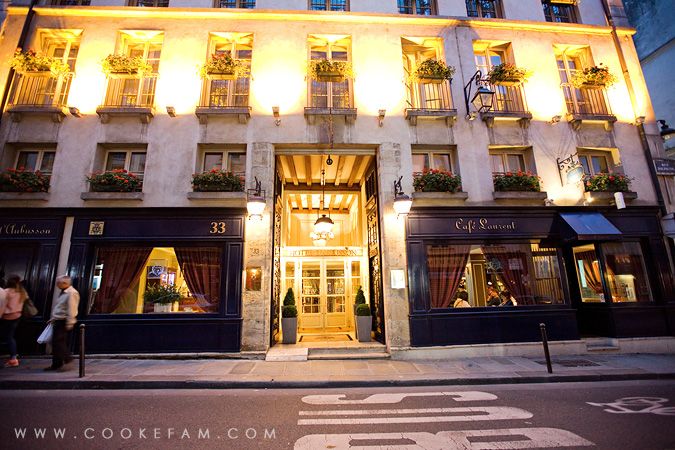 The front doors to the hotel opened automatically whether you were going out or in. I don't know why, but I totally loved that. And because we'd had such a full day, we slept all night with no problems and even slept in the next morning. After a long day (really a day and a half because of the time change) we were finally in Paris!