Here I am posting two days before it will have been a full month since my last post. What happened to October? It's one of my favorite months. And we had a good, albeit super busy, one. Well, one major thing has derailed my blogging...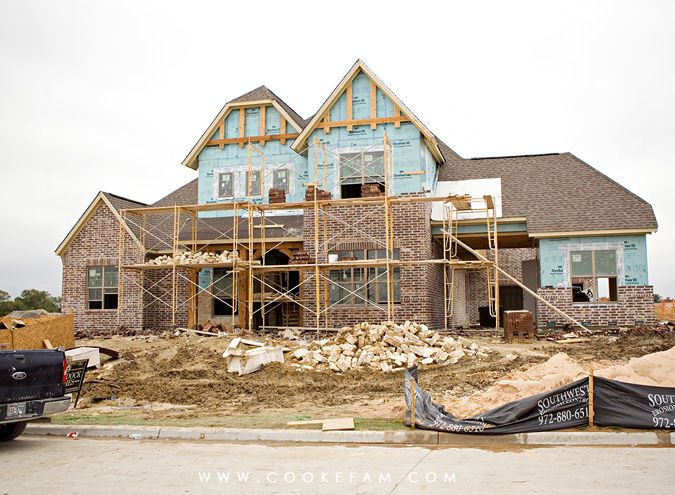 That is our new house. And as of today, we are under contract on our current house. No one is more surprised by this turn of events than us. When we bought our current house almost 5 years ago, we envisioned updating/renovating it to our style and staying here for a very, very long time. For various reasons, we very recently decided that there might be a better course of action that made more financial sense.
So within the last three weeks we have searched for and found a spec home that is currently being built, signed a contract on it, prepared our home for listing, and put it on the market. That may not sound like a lot when listed like that, but it has turned my world upside down and completely erased my sanity.
Occasionally times in my life turn out to be really stressful and busy, but thank goodness they are usually short times or seasons. I cannot live in survival mode forever. And that's where we've been for three weeks. I can't remember the last hot meal I cooked. We have been in the car and in meetings a lot. I have had to say no to previous obligations to get things done that became priority. I am tired and ready to move beyond these harried three weeks. There is an end in sight now and it is getting closer every day.
And right now, as things have slowed down just a little bit, I am back to editing the piles of photos that have added up these past few weeks: our visit to the Rory Meyers Childrens Garden at the Dallas Arboretum, my 10 year college reunion at ACU, a trip to the Arboretm's pumpkin displays, a day at Grandaddy's farm, a Halloween photo shoot, and Trick or Treating. So, I may be posting about Halloween at the beginning of December, but I'll get it done eventually. Exciting times ahead for our family, but there's definitely some work getting there.