We got together with Casey's immediate family this year on Christmas Eve. We were the first to arrive so I was able to snap a quick shot of the boys before the cousins came. Once they arrive, my boys are all about playing with them.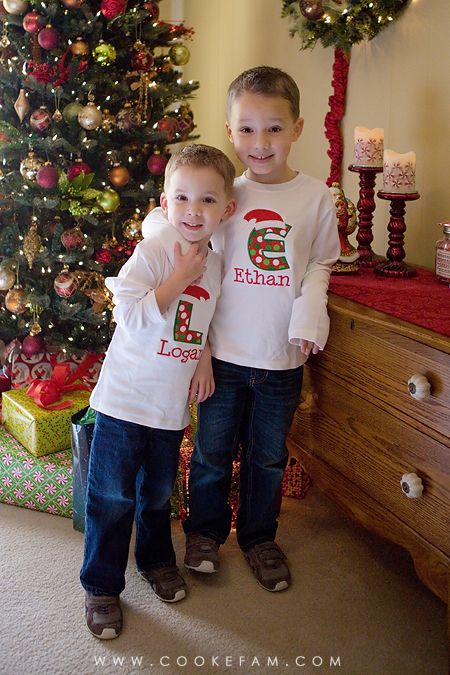 Logan started playing with Nonnie's Christmas decorations, which were awesome.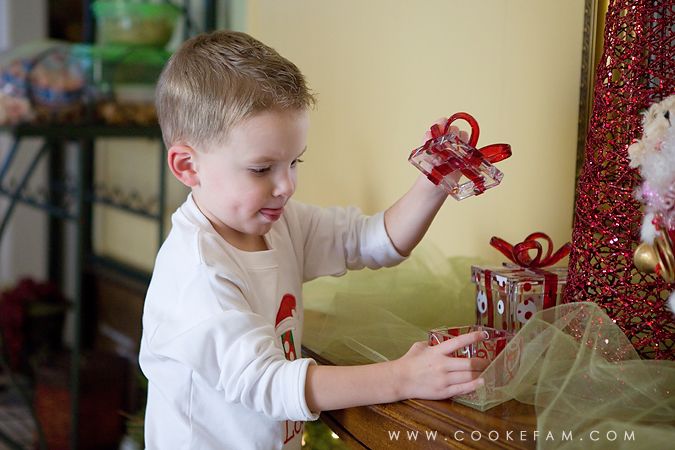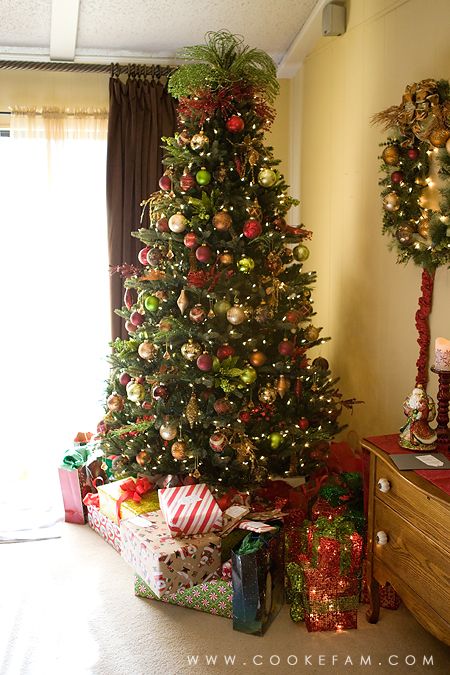 Then Nonnie pulled out a couple of game pads. I can't remember the exact name, but they were super fun. In trying to figure out how they worked to show the boys, I became addicted!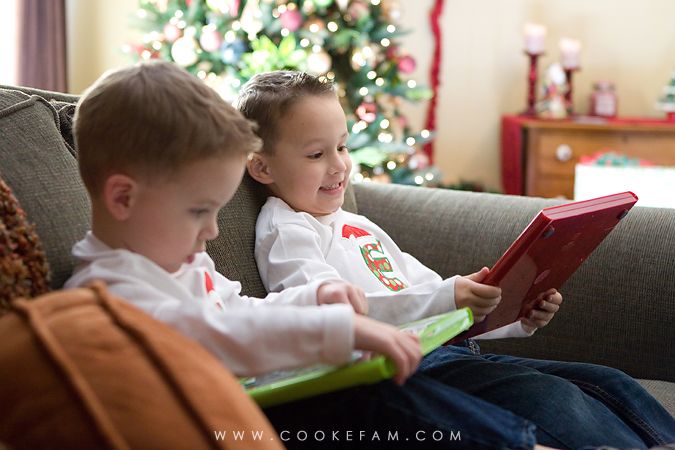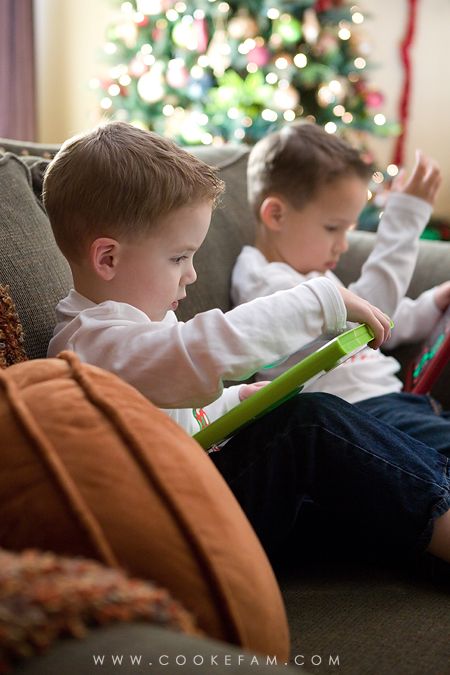 When everyone arrived, it was time for lunch. Just look at the cute kids' table.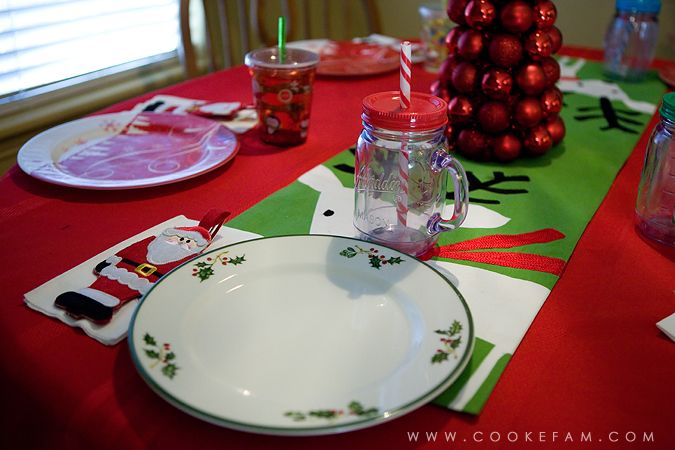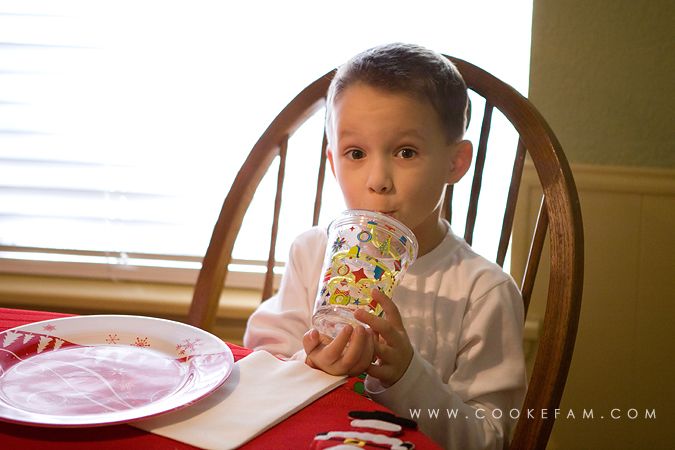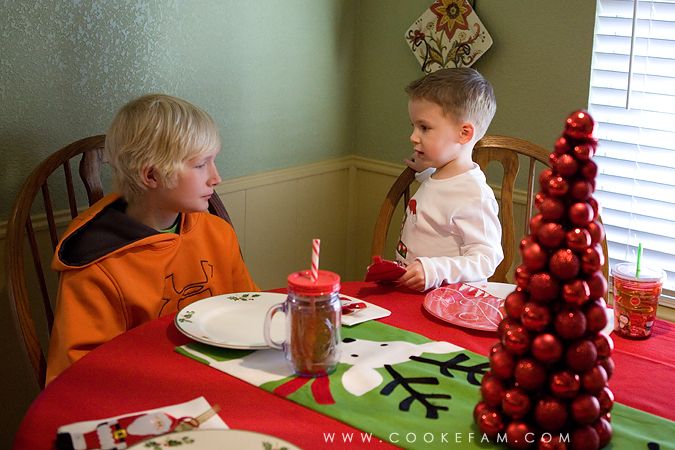 This year, Nonnie had a big, long table set up in the living room for ALL the adults. It was fun with all of us at the same table. And I just love her Christmas plates.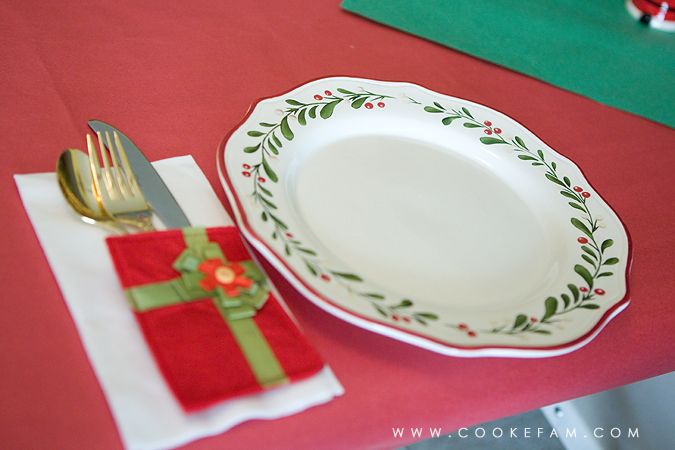 After lunch, the table was folded and cleared away so that the entire living room could be dedicated to presents. With 6 grandchildren, there are a lot of presents.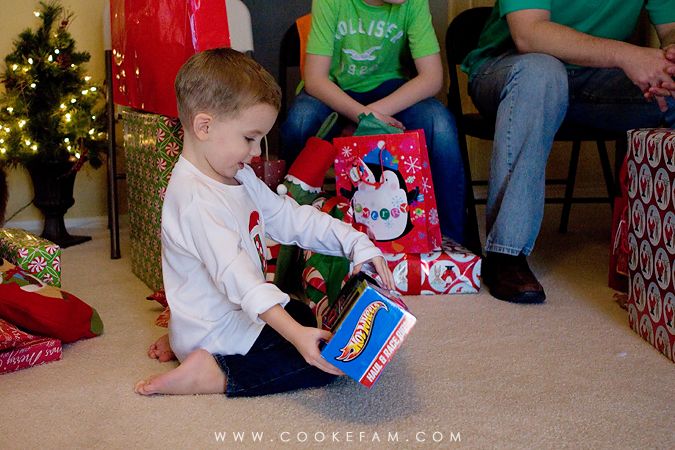 Ethan was thrilled to see Sully and Terry/Terri from Aunt Chelsea and Uncle Chad. Thrilled.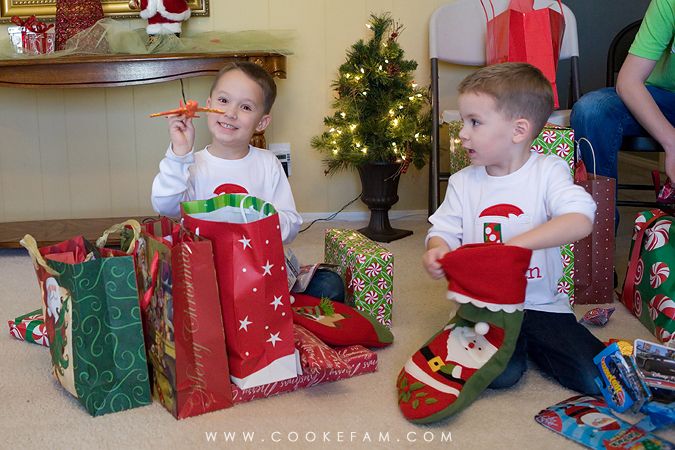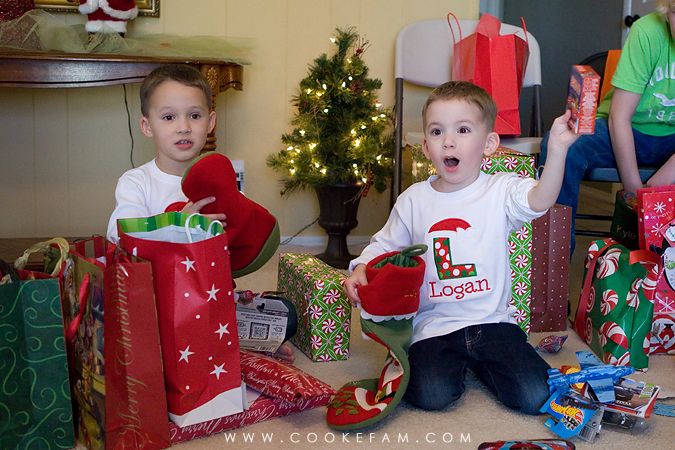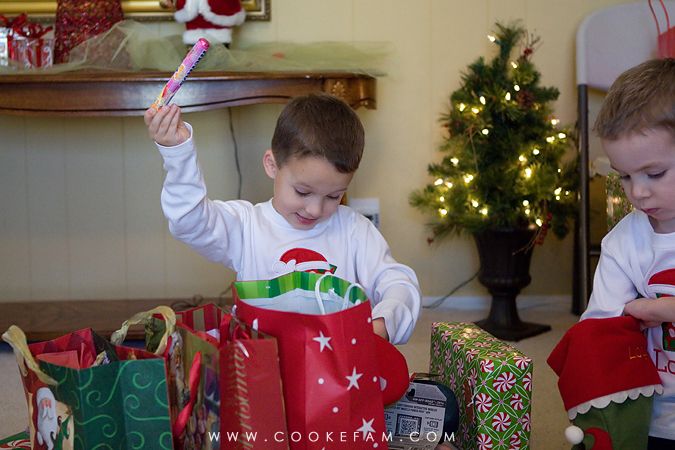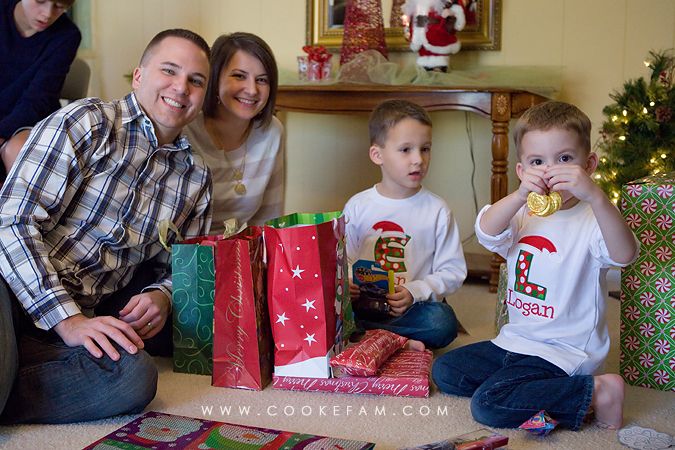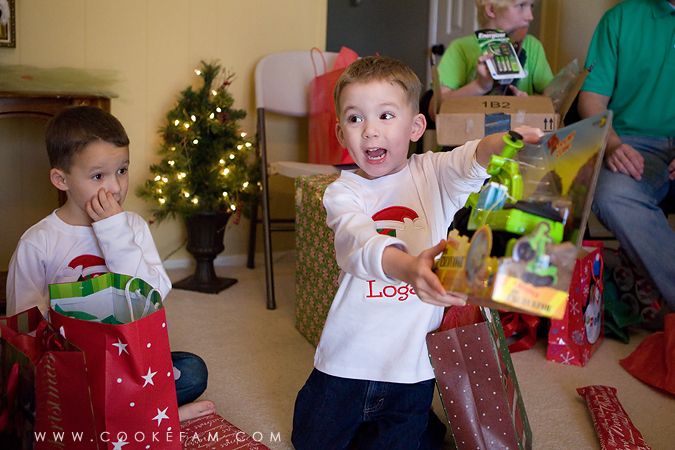 Super fun hats from Aunt Linda and Uncle Jeff were big hits. We will wear them for the rest of the winter.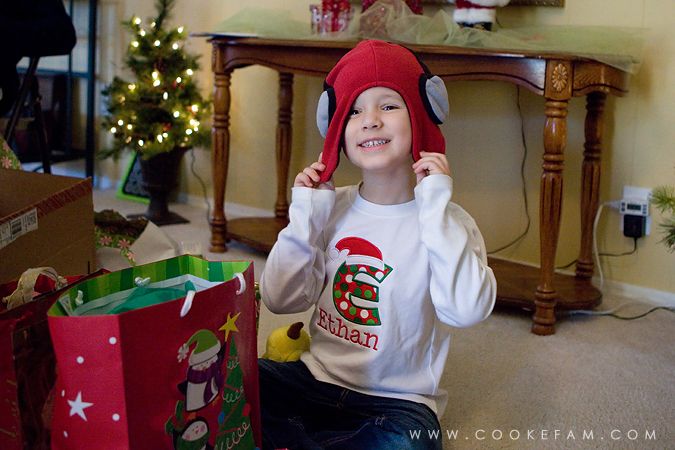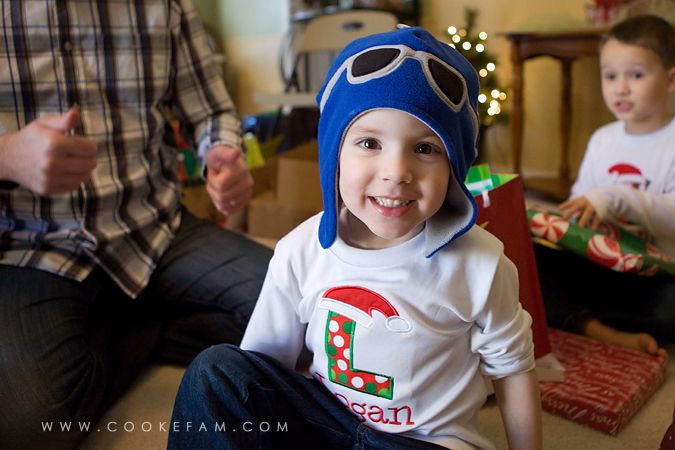 The boys' last presents were from Nonnie and Papaw....big boxes.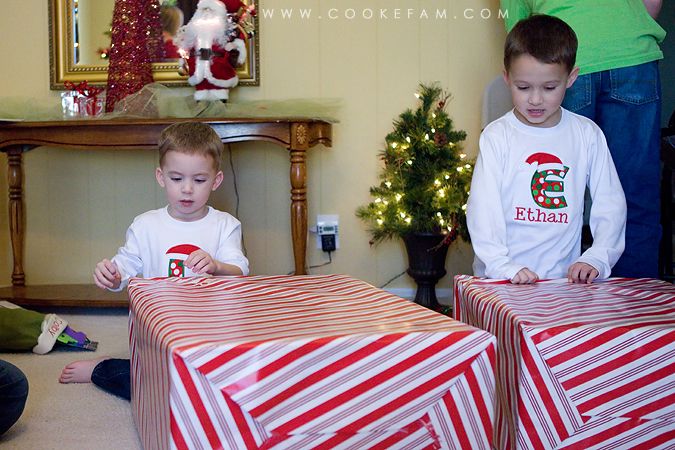 With bikes inside! Ethan got a razor 360 bike and Logan got a Harley Davidson trike.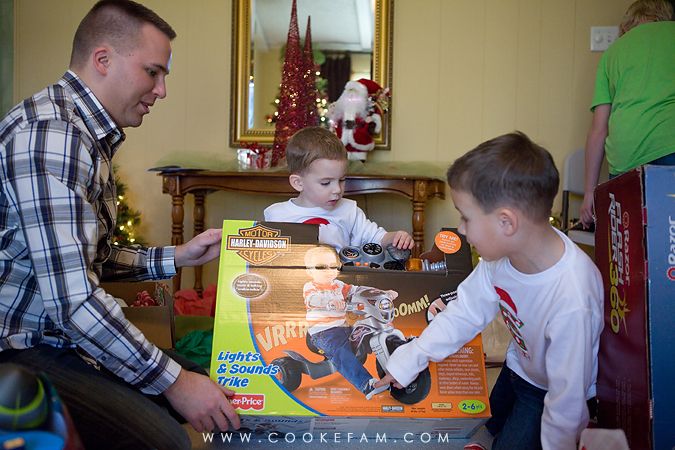 Of course, daddy and Papaw had to get to work putting them together so the boys could try them out.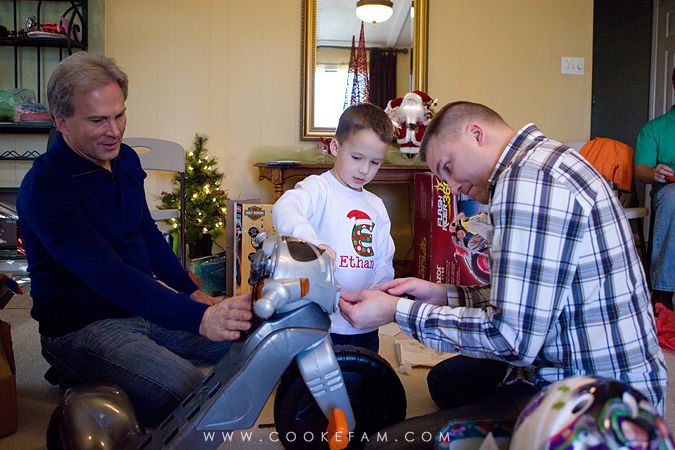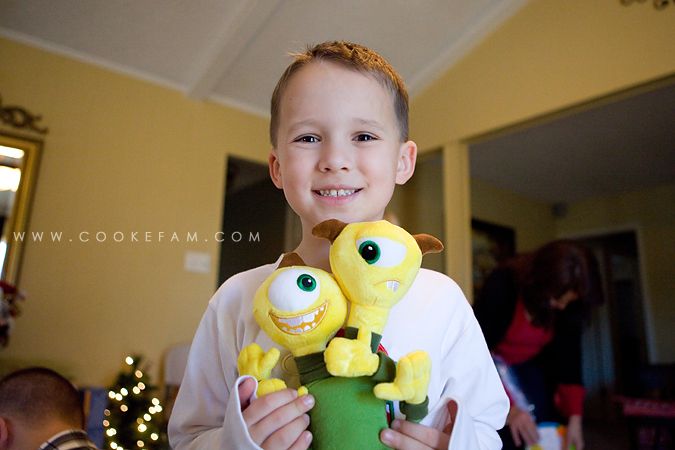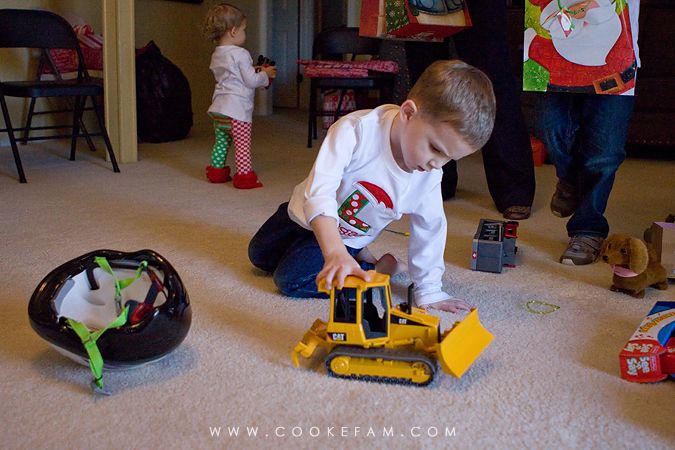 Both boys loved Avery's toys...especially this vacuum cleaner. It's their favorite chore at home too. Although this one is really cute, I do love it when they use the real thing!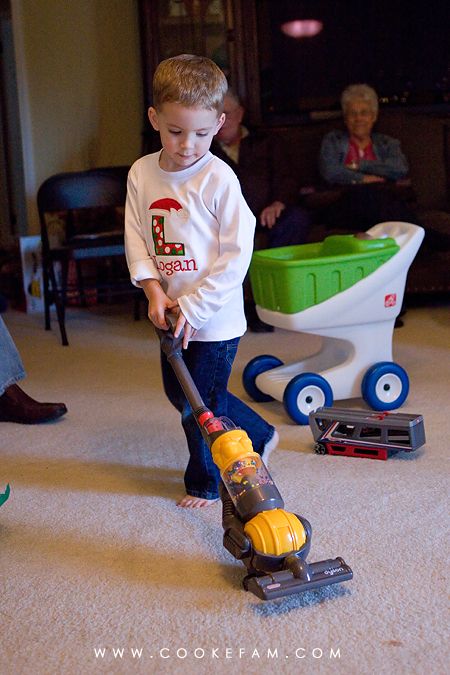 Logan's "motorcycle" is now assembled and operational. He even got a Toy Story helmet.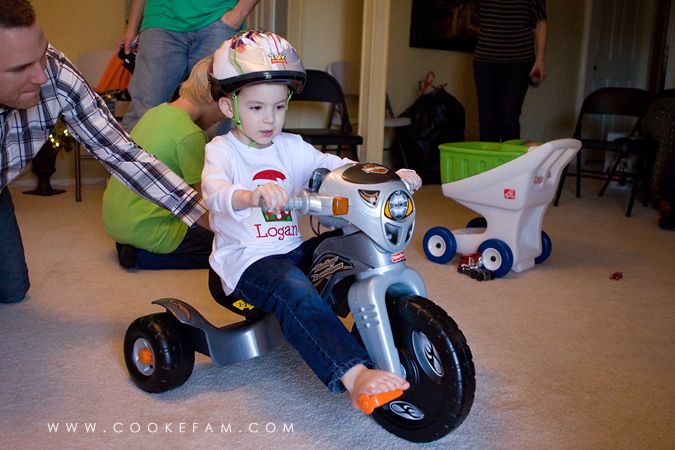 Next up was Ethan's bike.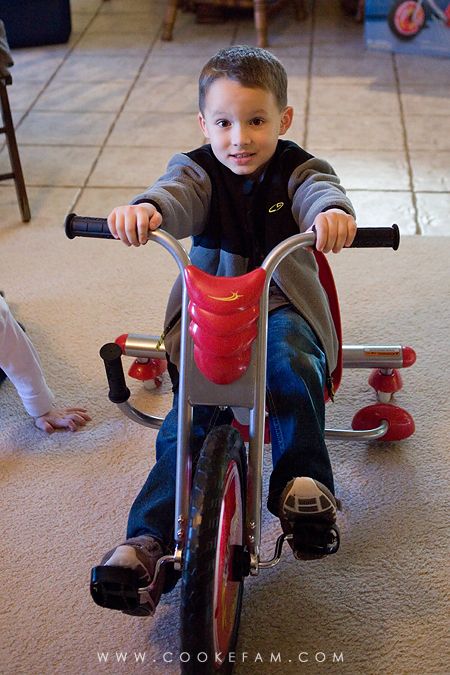 Thank goodness it was a nice day so the boys could test out their bikes in the driveway.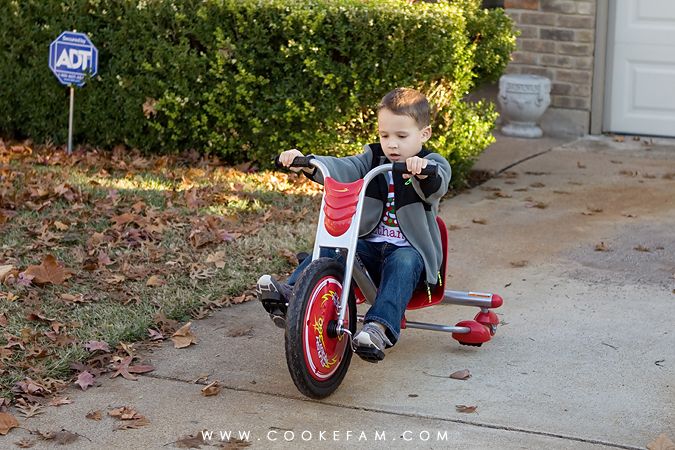 Ethan's back two wheels turn 360 degrees, which makes for some fun spinning. And the lever he's pulling in the photo below lowers an arm that scrapes the ground creating sparks.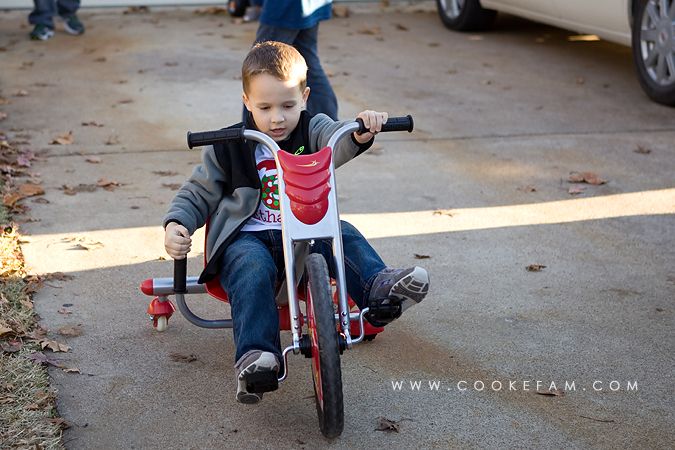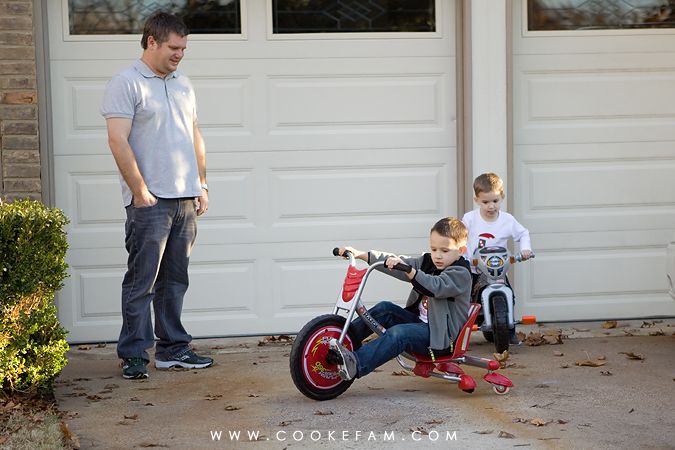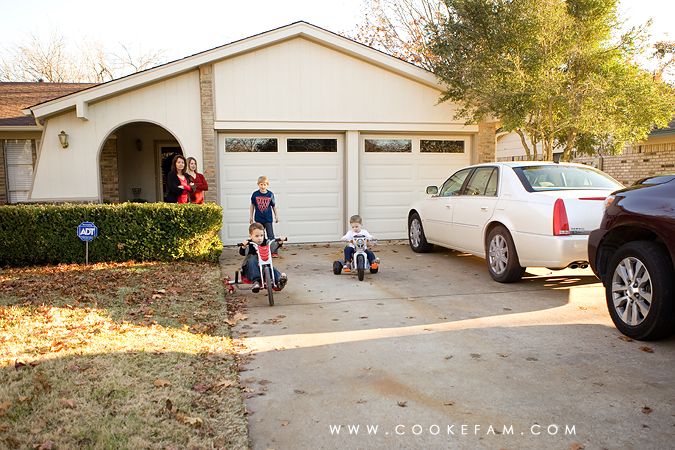 Daddy just had to try out the razor bike because it looked so fun to spin around and around. Never mind that he's really too tall for it.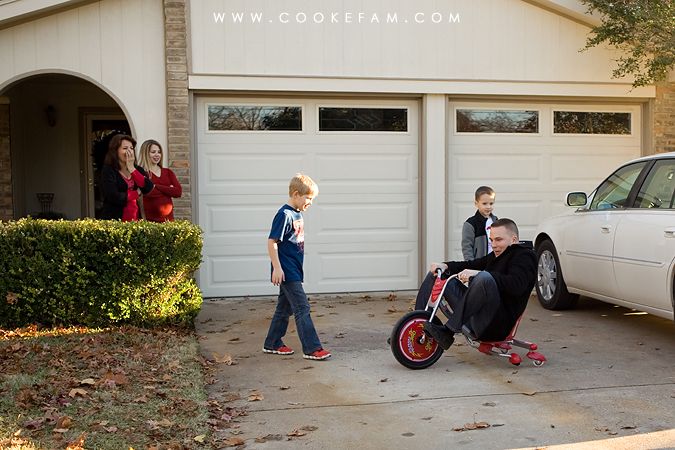 Logan's trike came with several motorcycle sounds and also a CB radio, which he loved.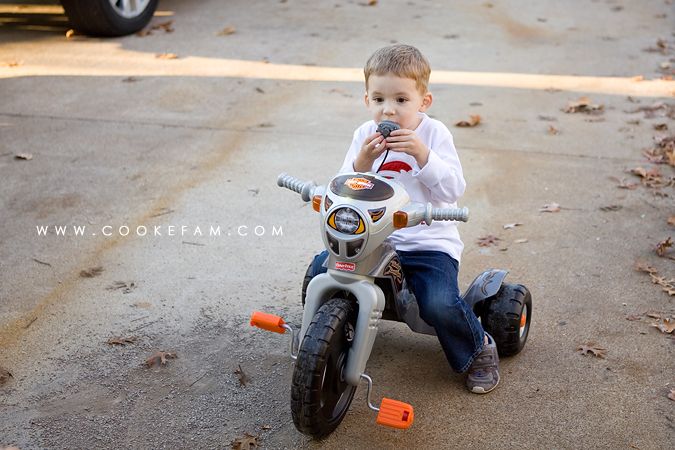 After riding bikes, the fun switched to the back yard and the trampoline. We are fortunate to have had such great weather at Christmas time so that the boys can play outside. Considering the very cold winter we have had so far, it's especially great.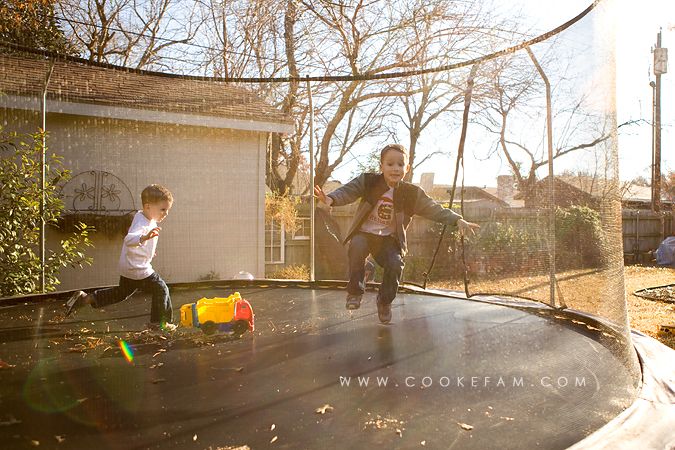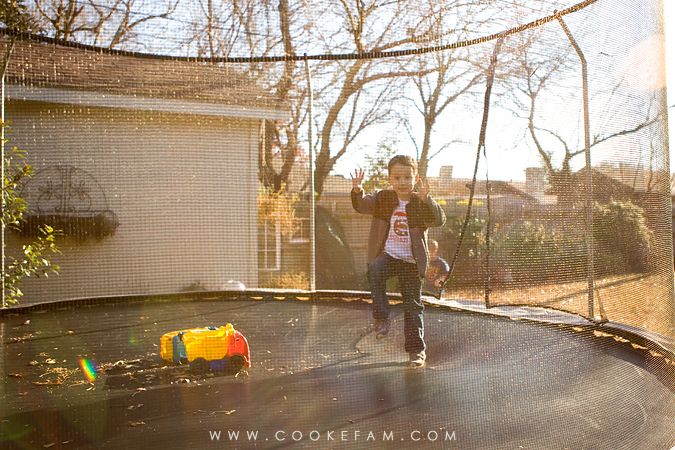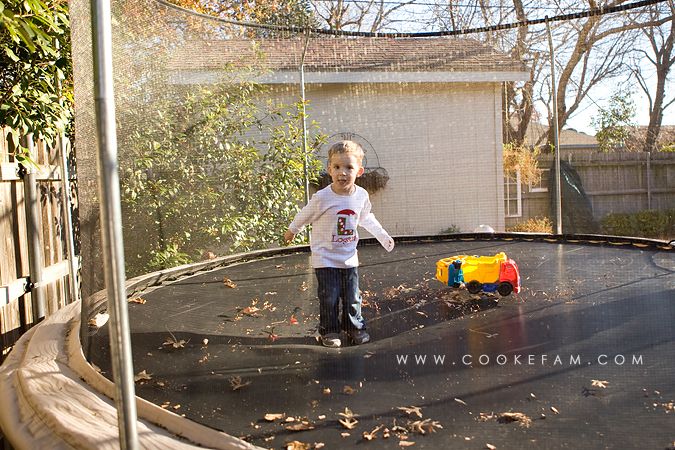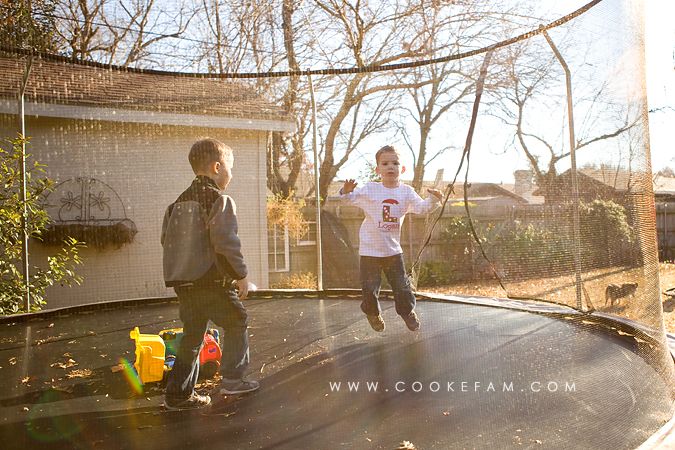 I don't know how we got all the cousins to participate in this all at once, but we did. Nonnie got all of them these cute/funny lip whistles with paper beards attached. The kids did get a kick out of them.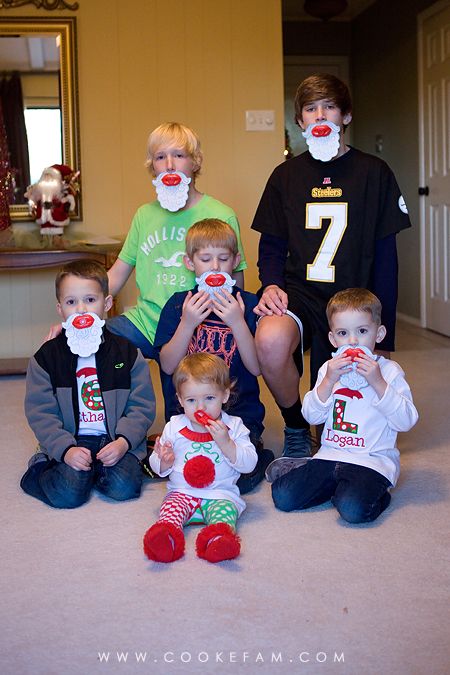 We also took the opportunity to take a few family group photos. Here is Nonnie and Papaw with all their grandkids.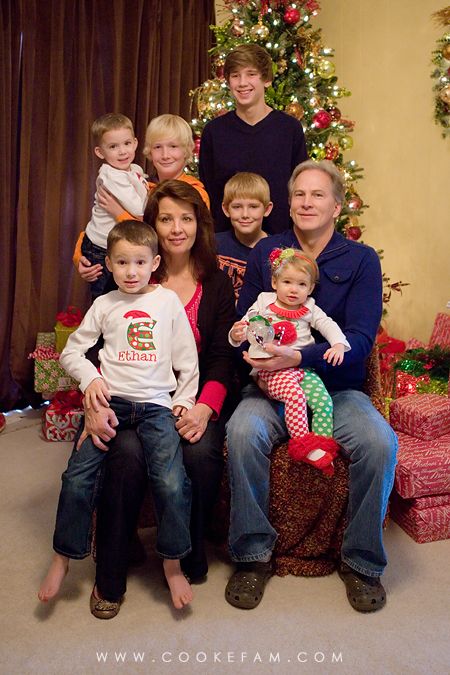 And our little family. (Thanks to Chelsea for taking the two photos that I am in from this day.) What a fun Christmas Eve day we had!