I do not know what possessed me, but I spent the evening of December 31, 2013 putting together a book of all my Instagram photos from 2013. I guess I just realized I'd like a hard copy of those photos. They are certainly not the best quality, but I really do love them.
I used
Blurb
to make by book. They offer an option to put together an "instant"
Instagram book
using their online book software. It's really cool, actually...it automatically pulls all your photos from Instagram and puts them in the book for you. Very quick and easy. For me, there was only one (ok, two) problems. 1) That kind of book only allows you to have 240 pages and I wanted one page for every photo - I had more than 240 photos for the year. And 2) there are not a lot of customization options with this type of "insta-book."
So, I opted to use the tried and true
Book Smart
software that Blurb offers. You download it onto your computer and put your book together and then upload it to Blurb to purchase. Lots of customization options for control freaks like me.
I chose the 7x7 square because I just wanted something small. It's really a perfect size for Instagram photos since it's small and square. There's also a 12x12 square available.
I also used a nifty program online called
Instaport
to download all of my Instagram photos to a zipped folder on my computer. It's a great way to backup your Instagram photos too. You can select which photos to include in the download by selecting a date range, hashtag, or a couple of other options.
Once the folder of photos was on my computer (and unzipped), I just uploaded them to the Book Smart software and had it "autofill" my book with one photo per page. I made a template for my book that I used for every single page. That's it below, and it's super easy to make.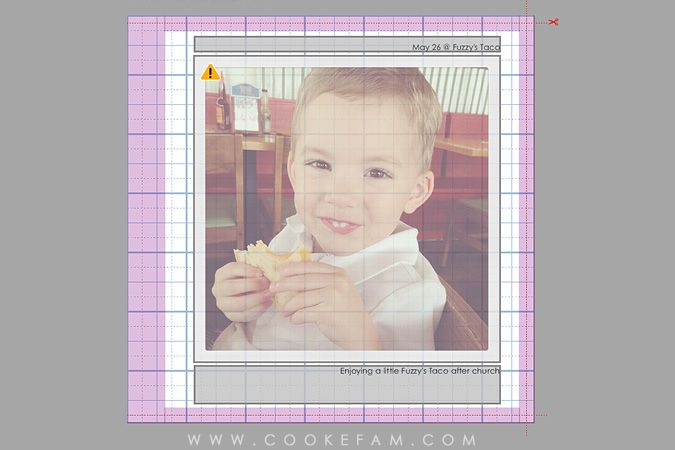 Just take one of the one-photo layouts and tweak it a little bit to be formatted how you would like. I made mine with a square photo taking up the majority of each page. I made a right and left version of this template to account for the binding that takes up part of each page.
On the top of the page, I made a text box for the date and location (if applicable) of the photo. On the bottom of the page, I made another text box for the caption I originally posted on Instagram along with my photo. Including those two text fields were important to me since they provide a timeline and reference point for each photo (and they were a big reason why I chose to use Book Smart for this book).
So in a matter of minutes, I had my book populated with all of my photos. But adding the dates, locations and captions/hashtags took a little bit more time. There is no way to pull that from Instagram into Book Smart automatically. But, I just brought up my Instagram profile online and used it to put in all that info. I was able to copy and paste my comment at the bottom, which made it go much faster.
Even though adding the text took some time, I really love how my pages turned out. Now there's context for the photos, yet the layout is still really clean and simple.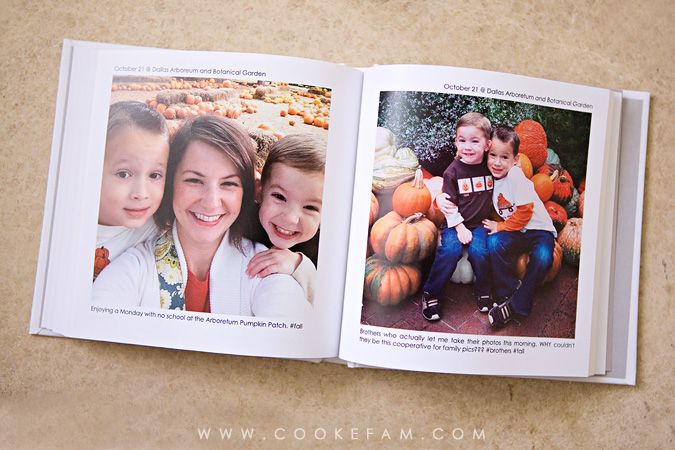 For the cover, I just made a simple template in Photoshop and included some of my favorite Instagrams from the year. All it took was a few hours and my book was ready to order. Hooray for (almost) instant gratification...just like Instagram! I'm excited to have this little book along with our big family year books (that I will one day get caught up on).