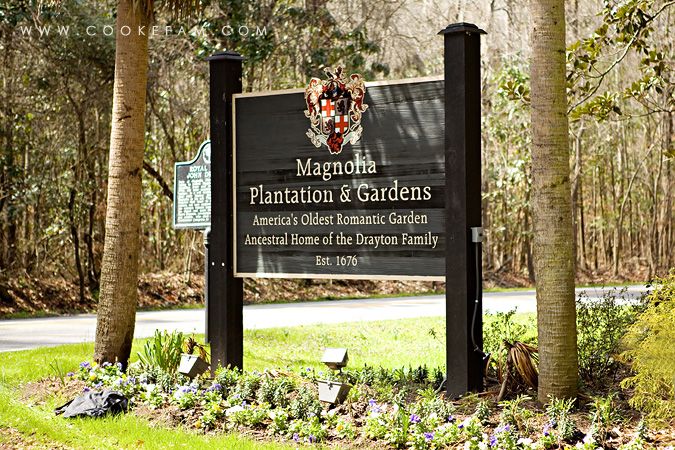 What a welcoming gate...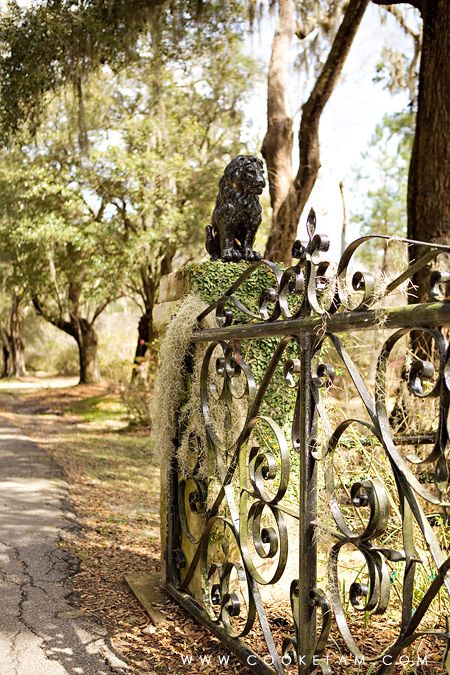 The first thing we saw was in the parking lot...a peacock roaming in and around the cars. I caught sight of it out of the corner of my eye and we followed it around for a couple of minutes. It never did spread its tail, but it did peck on the cars!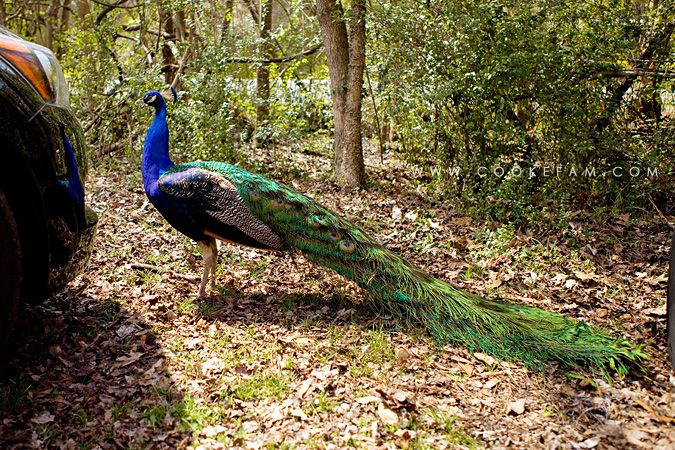 We entered the plantation grounds and bought tickets for the nature train and the house tour. We had plans to skip lunch on this day and just eat some hors d'oeuvres at the hotel before dinner. But, we passed the small food building and could not resist a snack while we waited for our nature train tour to start.
The nature train was several open-air "cars" pulled together by our driver and tour guide. He was serious about his nature and wildlife...you'll see his photo later on. As we started out, we saw tons of little (and big) turtles sunning themselves in the afternoon sunlight.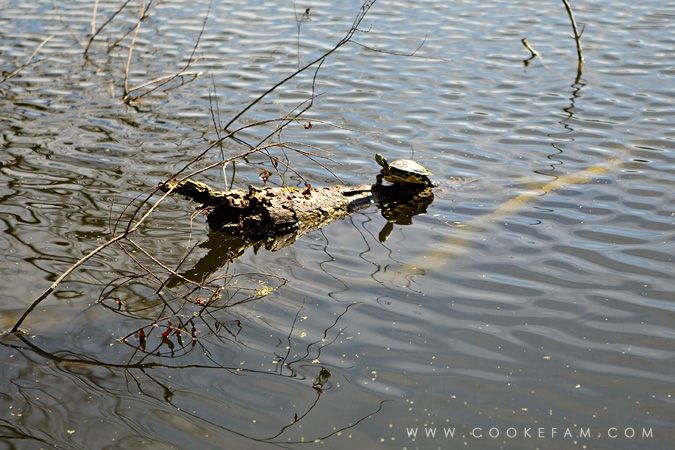 We happened to pass by the slave cabins, which date back to the 1850s. They are preserved much as they would have been during slavery and are staged on the inside to show what they might have looked like.
Further along down the tour, we saw the swamp garden, with trees sprouting up in the water.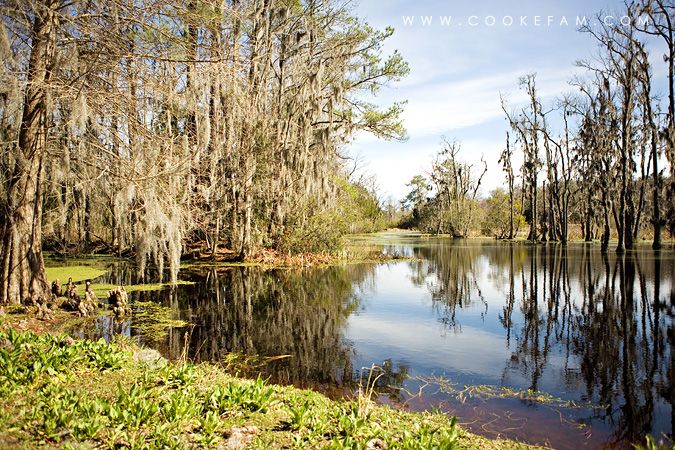 And lots of green hovering on the top of the water. Our guide told us that the movie,
Swamp Thing
, was filmed here.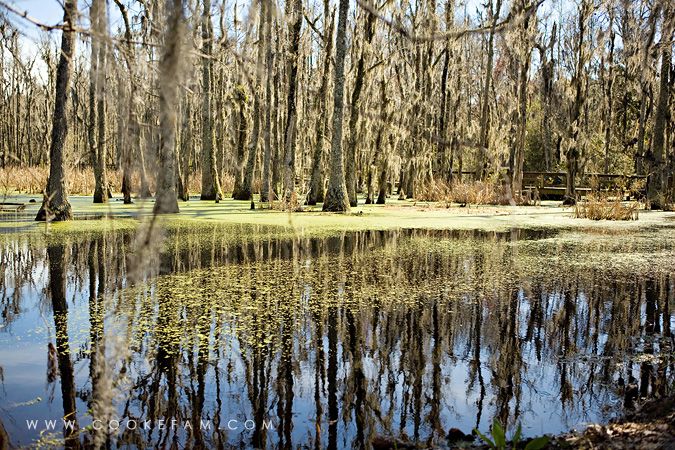 At one point, he hopped off the train and gave us a little education about snakes. You can kind of tell by his clothing that he was serious about his job. Just look at his shoes!
Here is a lovely spot where we saw more turtles, cranes, ducks, and alligators.
In fact, we saw one alligator fairly close to our vehicle. He stayed put while we inched past, but he started sliding into the water when we got up to him (we were in the back), so I just got his tail in my photo.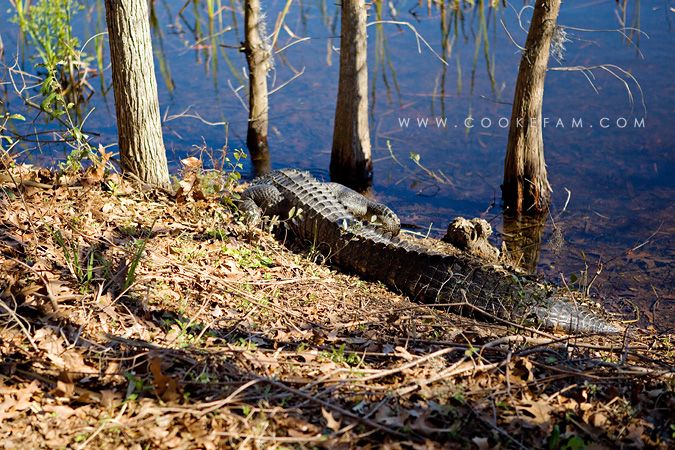 Charleston plantations made most of their money through rice production. This is part of what used to be a rice field that they would intentionally flood to grow the rice. The slaves from west Africa were knowledgeable about growing rice, which is why they were so sought after in Charleston. The rice from the Carolinas was (and is) called Carolina Gold Rice.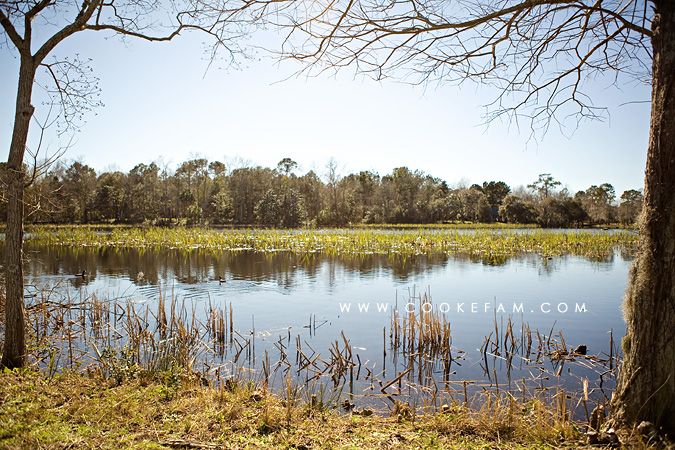 At the end of our nature tour, we were dropped right in front of the plantation house for our next tour. This was the Drayton family home and is not the original house on the plantation, but it does date back to the mid-1800's.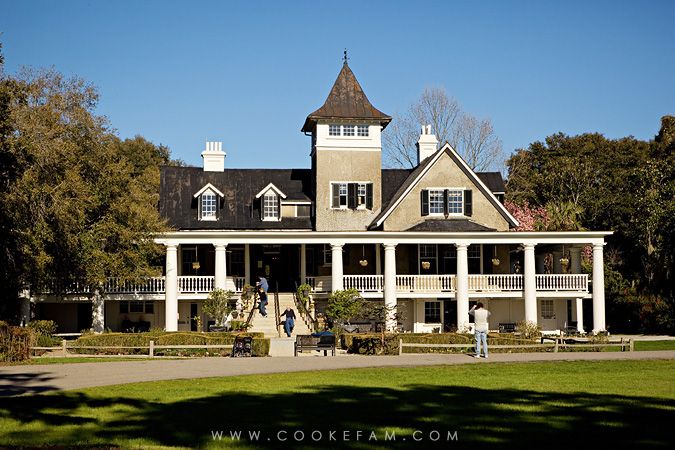 One of the coolest features of the house was the enormous wrap-around porch. It was huge. We took some photos out there while we were waiting for the tour to start.
Again, no photos allowed inside, but I especially liked the addition of the 1930's-40's staged room at the front of the house to show some of the more "recent" history. That was unique to this house since most of the historical homes stuck to their earliest dates.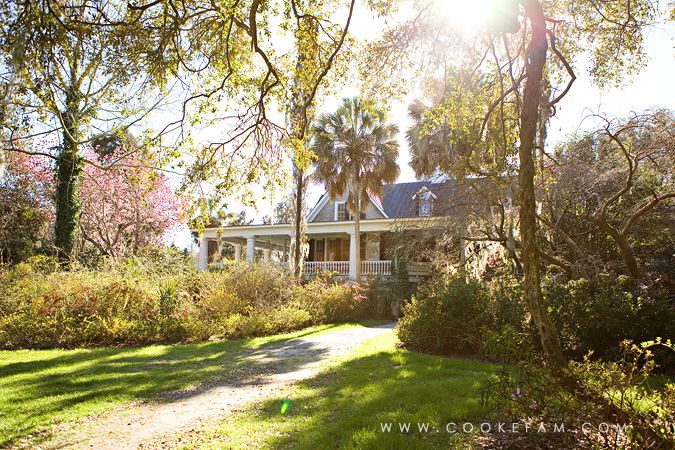 The azaleas were just starting to blossom while we were there. We could only imagine what these gardens would look like in full bloom.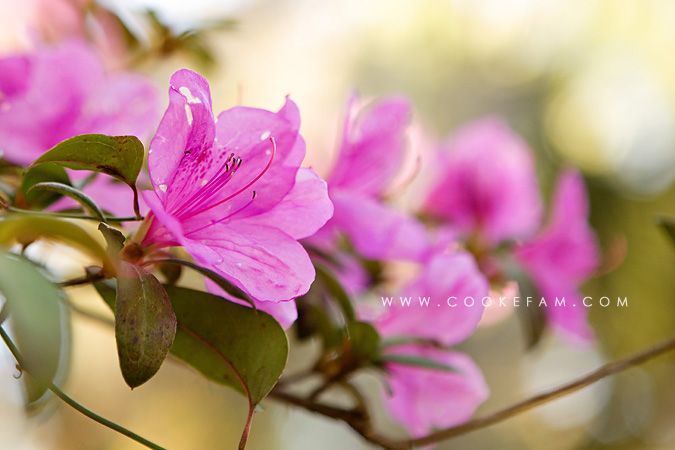 We took the next hour or so to roam around the gardens.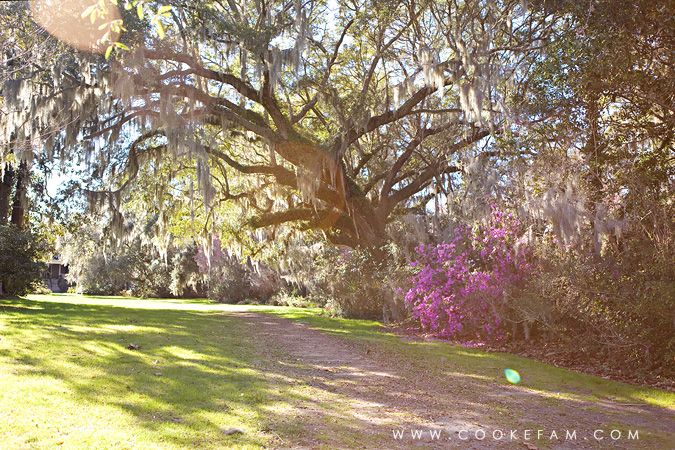 We had a map, but mostly we just followed the paths wherever they went.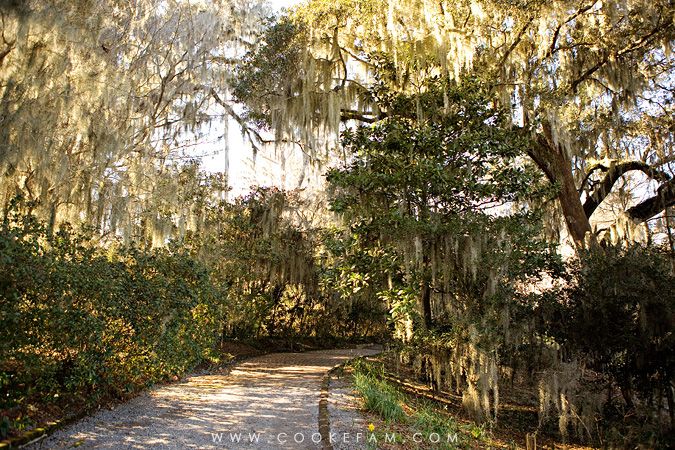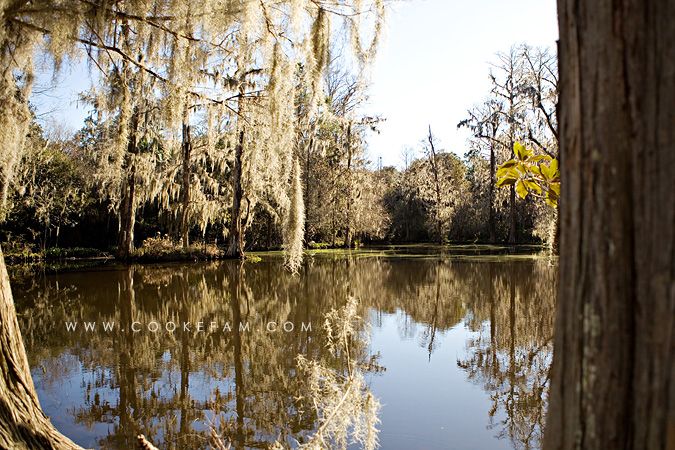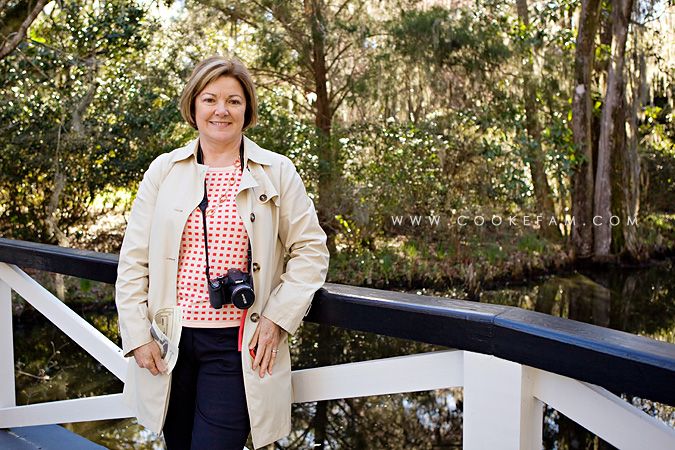 I loved these tiny blooms. They looked like upside-down tea cups to me.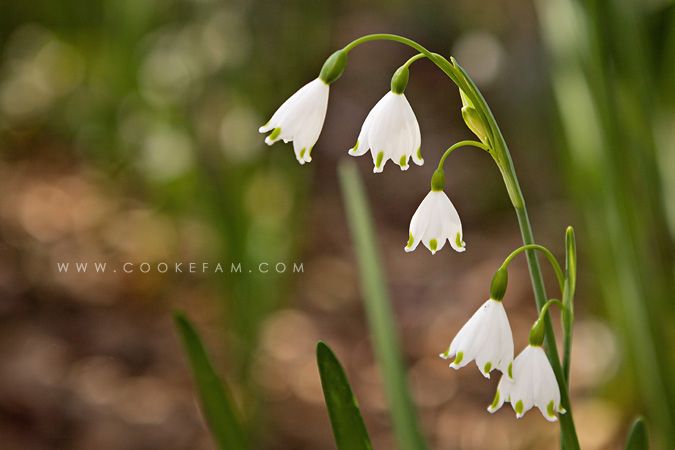 And these pink blooms were everywhere...and just gorgeous. I am not sure what they are, honestly, but they are on a tree, which is why I could not get closer for a more detailed shot. They were fairly high off the ground.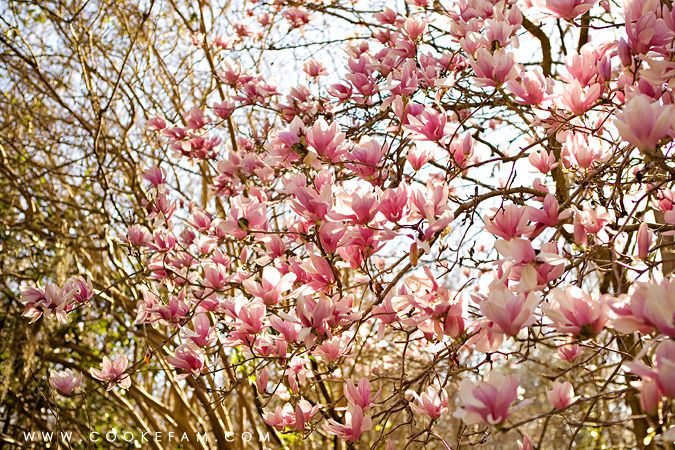 These trees are what characterize plantations in my mind. I love the canopy they create. My mom pointed out that they were not this big when the plantation was in it's hey-day. But, they are certainly gorgeous now and have survived hurricanes, fires, and earthquakes.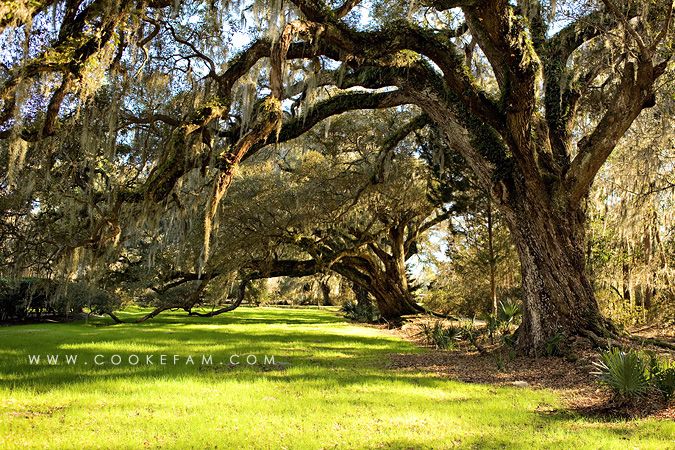 More of that lovely moss drooping down...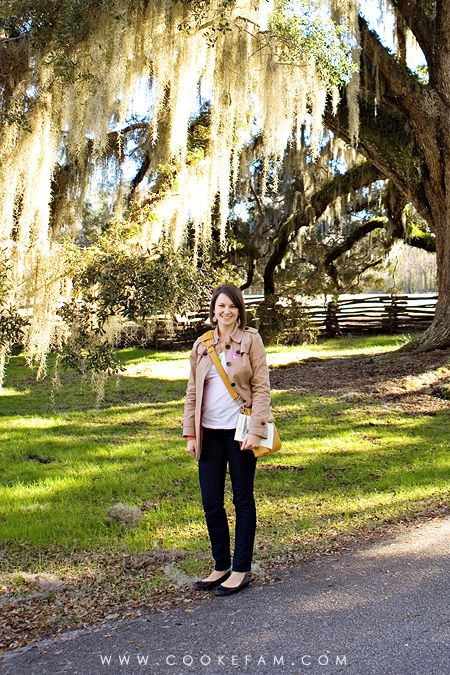 Love the afternoon light on this landscape. We ended up back at the plantation house after our circle around the gardens. After that, we drove back into town. We didn't quite have time to visit the one other plantation we were interested in (
Drayton Hall
), but we had a fabulous day at Middleton and Magnolia nevertheless.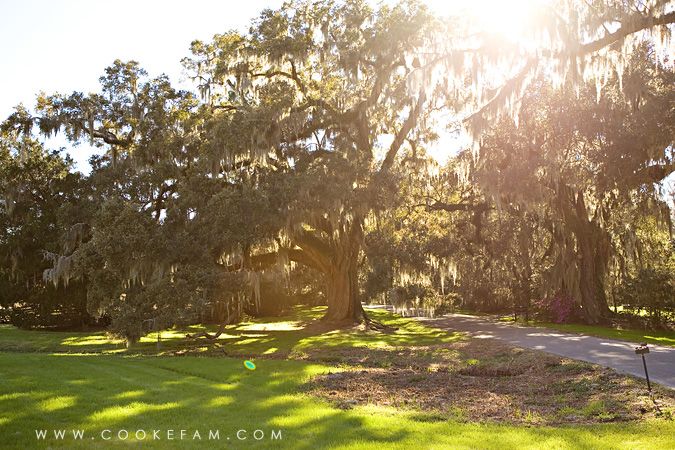 Back in town, it was only late afternoon and well before our dinner reservations. But everything closes around 5-5:30 in Charleston, so we decided to just go down to The Battery (which is right on the harbor) and have a look around.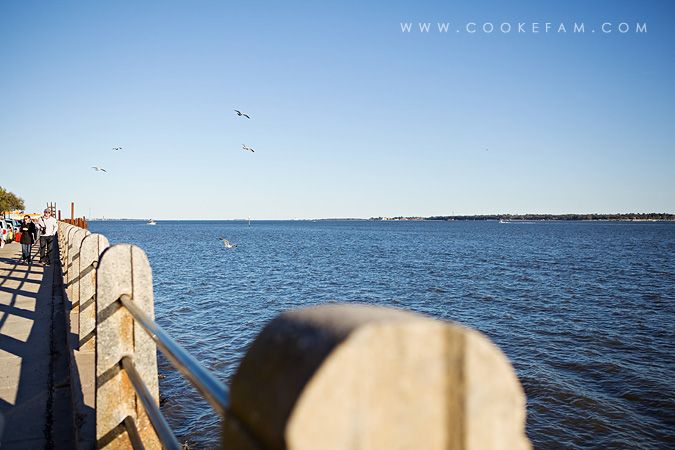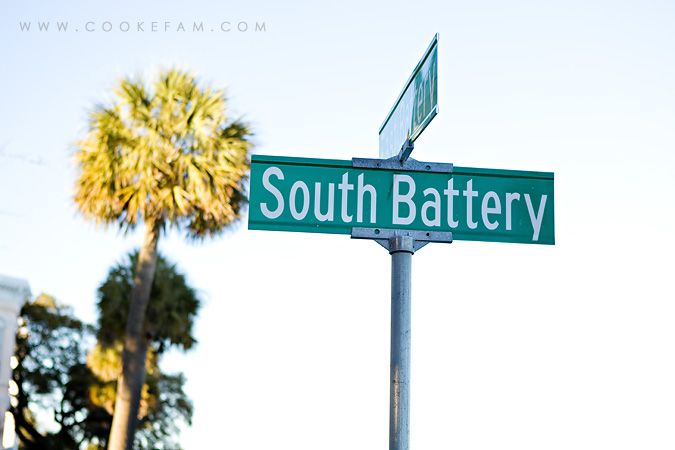 First, we walked along the water and had a nice, elevated view of the stately and historic homes on East Battery. These homes have a killer view of the water, Fort Sumter and Castle Pinckney.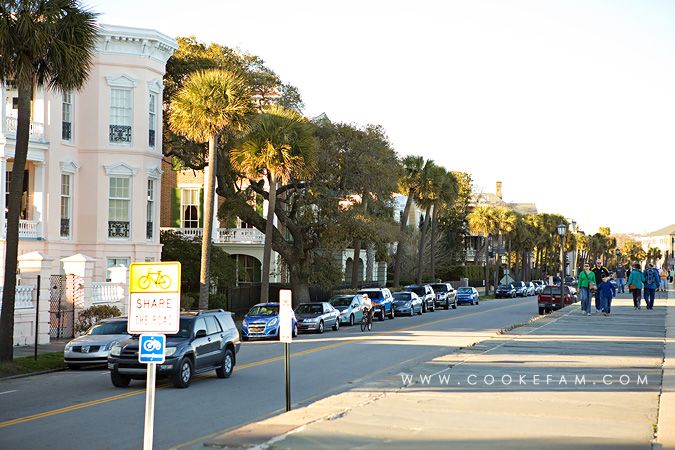 This house's "piazzas" are amazing, aren't they? Charleston homes have piazzas, not porches. As we learned, piazzas were designed to be on the side of homes to catch the cool cross breezes from the water. Because (almost) all of the houses have them, they are synonymous with Charleston architecture.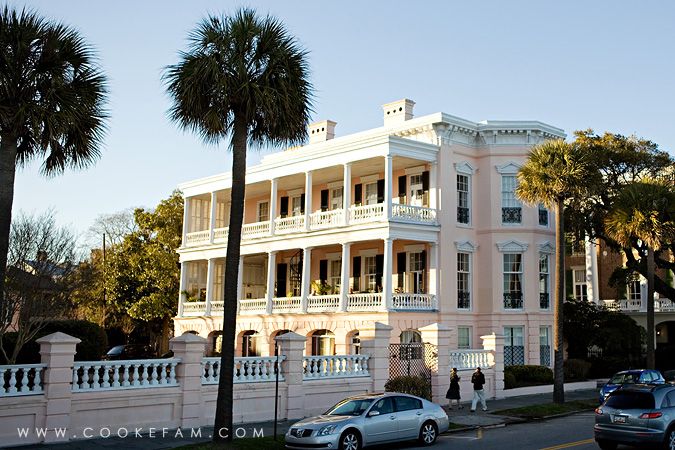 There are plenty of historic homes in this area. And lots of fun architecture to see.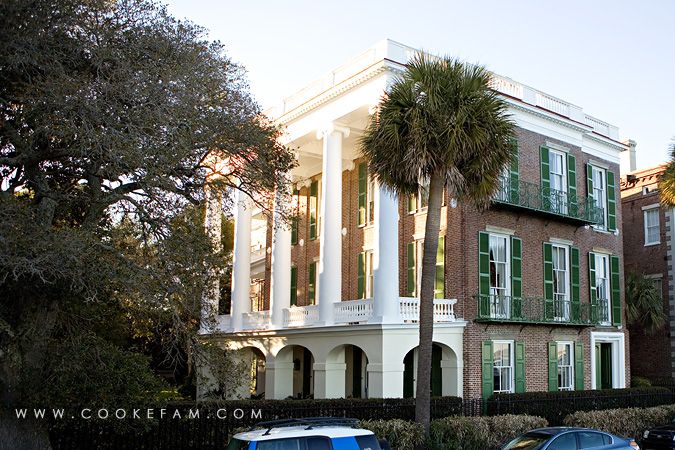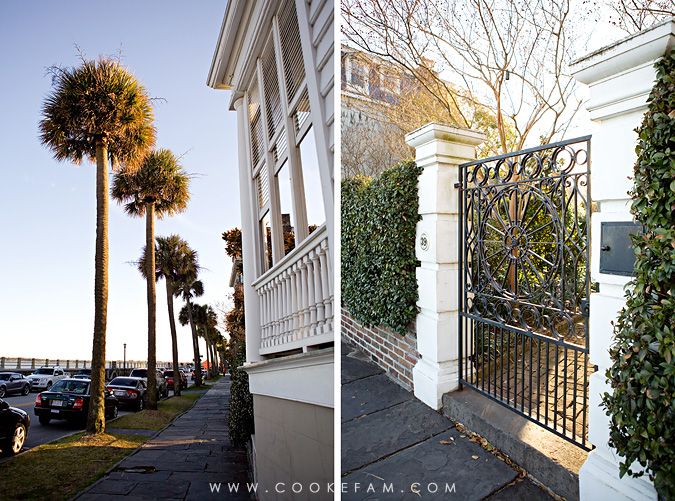 On our way back to the car, we went around White Point Garden down by The Battery. It has several war memorials and also old cannons and relics.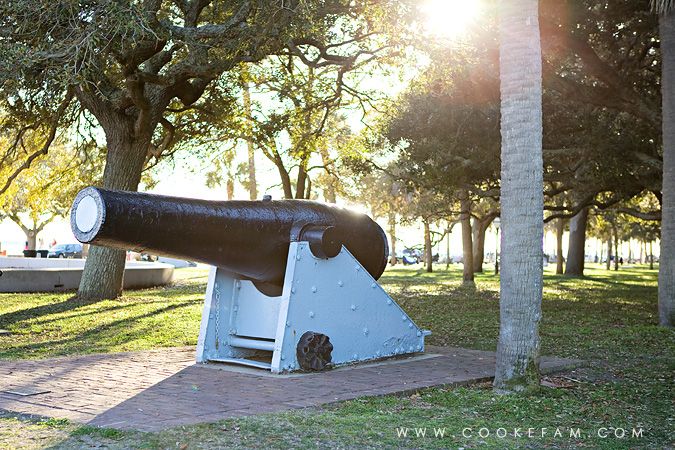 On this particular afternoon (a Saturday late-afternoon), a couple was getting married under that gazebo behind the tree. It was a fairly small wedding, but a wedding dress attracts attention.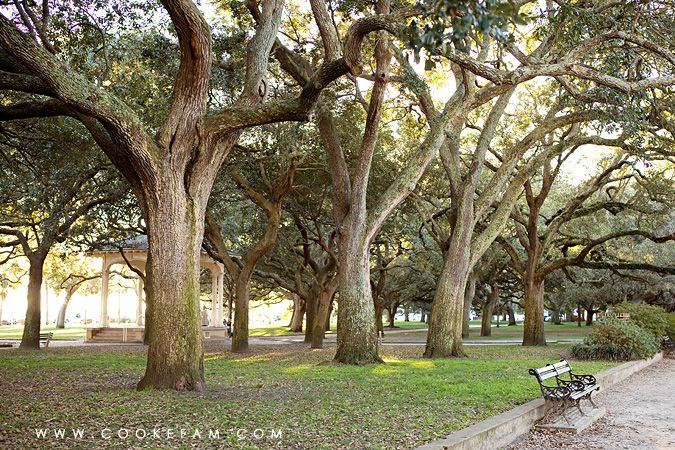 Across from the gardens is the home that I claim as my favorite. At least from the outside. It's not a typical Charleston single, but isn't it perfect? Lots of southern charm.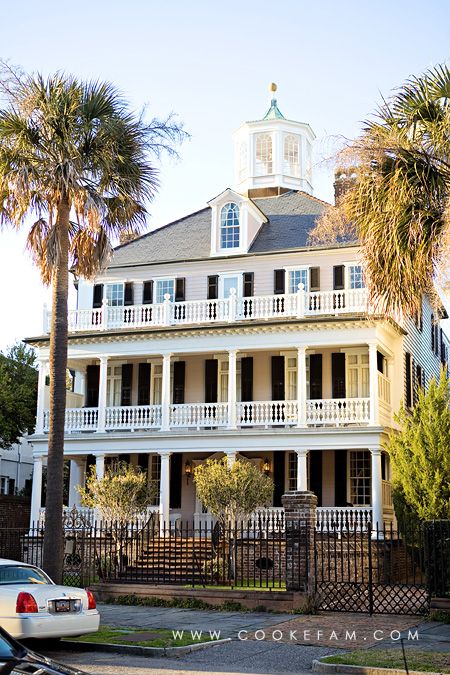 We saw lots of sailboats out on the water that afternoon too. It was definitely windy enough for sailing!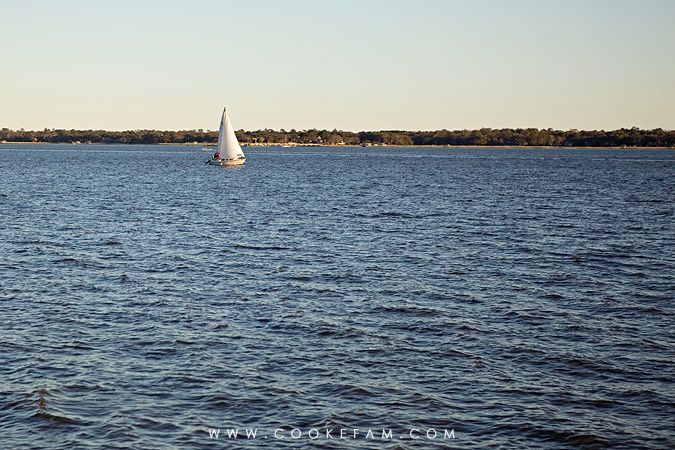 The wind is evident by my hair, which cannot control itself. We took this photo with my phone right before getting back in the car.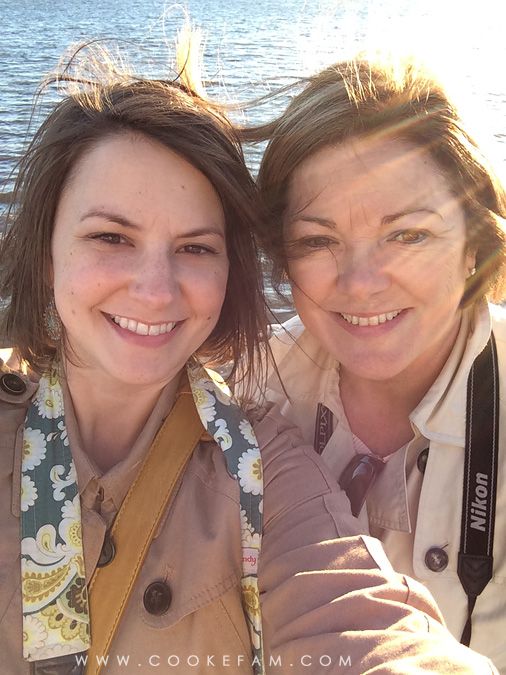 We headed back to the hotel to freshen up for dinner. I would randomly take more photos of our "little" mansion since the lighting was always different when we'd be coming or going. Here's another shot of the back with that huge magnolia tree covering up a good part of the hotel.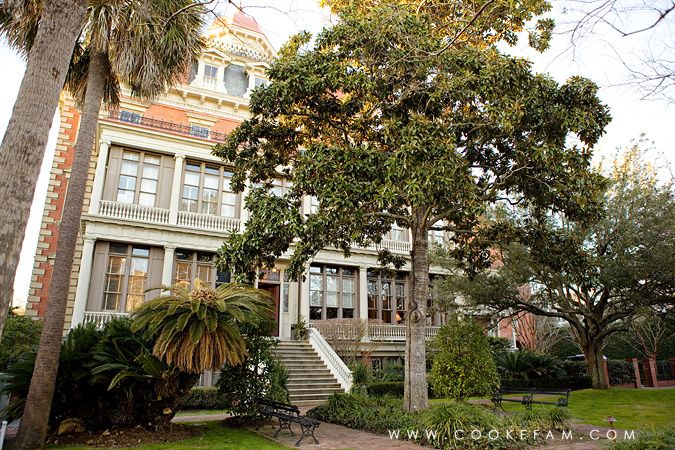 That night, we went to
Poogan's Porch
for dinner. The funny name comes from a dog, who stayed behind when the home's previous owners left. He claimed the porch, and the new owners, who started the restaurant, named it after the little dog. The restaurant, housed in an 1888 Victorian house, is right next to
Husk
, where we had eaten the night before.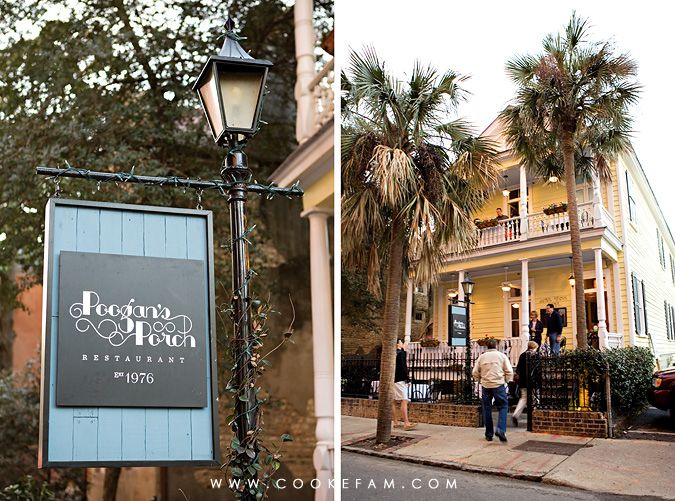 This restaurant is visited occasionally by celebrities (as well as locals and tourists) because it is well-known for it's Lowcountry cuisine.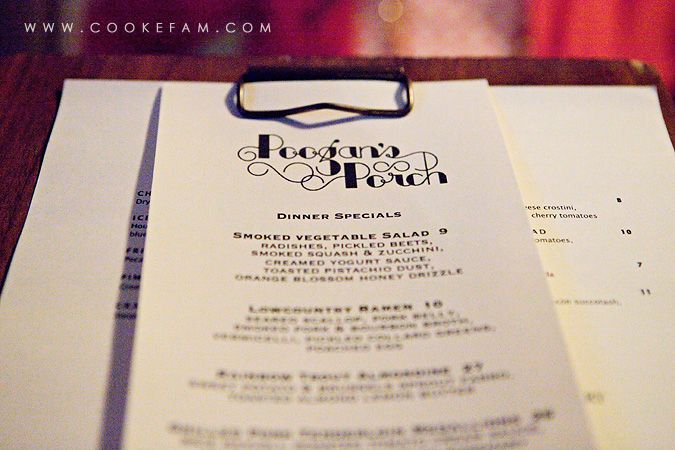 The first thing we had, while making our selections for our meal, were some warm, homemade, buttermilk biscuits and (soft) butter. They were so good that I contemplated just going with that and not ordering anything else, but the rest of the menu looked good too. (It was daaark in the dining room. These photos are dark and grainy because I'm not a fan of flash photography in a dark, intimate dining space. And because I usually don't travel with my flash anyway).
Well, we did order more than just the biscuits. First up was this ah-mazing country ham and smoked gouda mac and cheese. They had me at smoked gouda. This was a worthy splurge for sure.
For our second starter, we ordered the she-crab soup. This is a Charleston signature dish, so we had to try it. It was just as creamy, comforting and delicious as I expected it to be.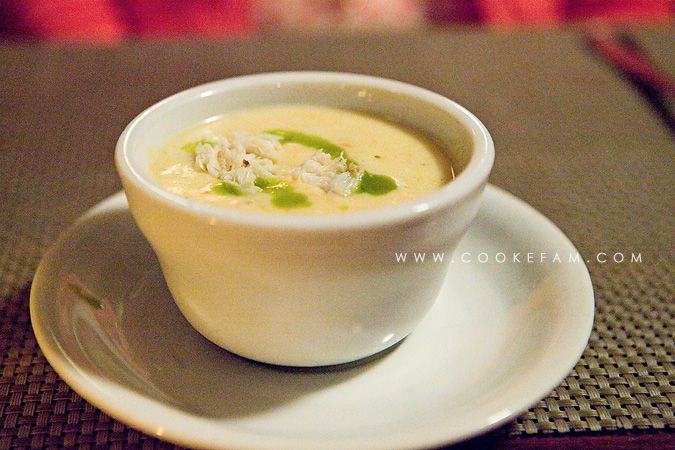 Then, for my entree, I went and ordered something completely out of character for me...the Calabash Style Seafood combination platter. That would be fried oysters, shrimp, flounder, and a crab cake served with house-made potato chips and pimento cheese slaw. As I said, I am normally not a fan of fried seafood (except fish and chips), but I felt like I had to give this a go. It seemed like the thing to do. It was all delicious...my only regret is that my mom and I did not split this dish. It was entirely too much for me to eat even with her tasting everything. You can see in the photo that I fixed my focus on the potato chips. That was accidental, but those might have been my favorite part of the whole fried-fest.
Mom got the stuffed fried chicken. She said it was nicely done, but nothing to write home about. Again, we should have split my platter like we did the appetizers. Live and learn.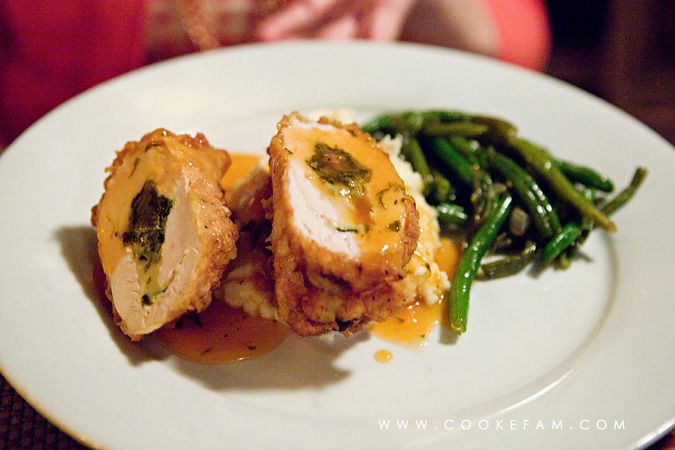 The dessert was worth writing home about, though. It was a peanut butter pie. The crust was a tad too crunchy (hard), but the rest of it was perfect.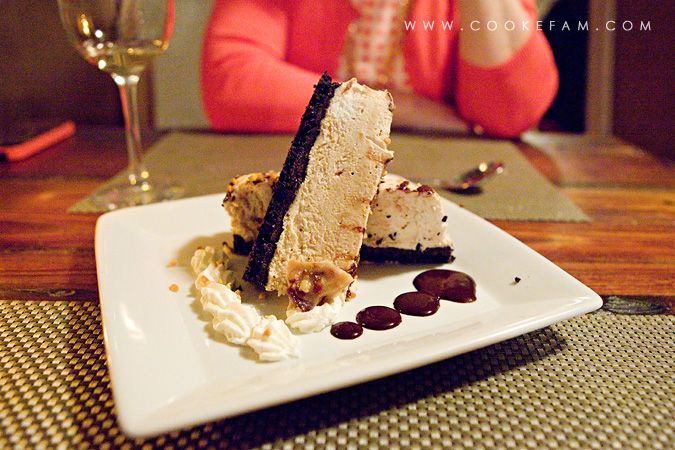 And that concludes Day 2 of our trip. Day 3, coming up!