On our third day in Charleston, we had breakfast at our hotel restaurant (Circa 1886) again. The first two courses were the same as the day before (fruit and breakfast breads), but here's the tray of tea from which I could make my choice.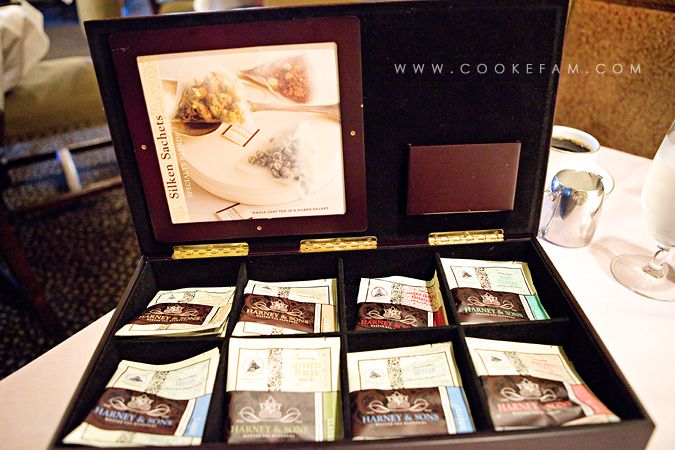 And because this was a Sunday, the special was a nod to the southern tradition of brunch...a hot, crisp waffle with carmelized bananas, applewood smoked bacon, caramel and chocolate sauce and raspberry drizzle with pecans (or walnuts...I can't remember). I mean...hello! Isn't that the most perfect breakfast dish you've ever seen?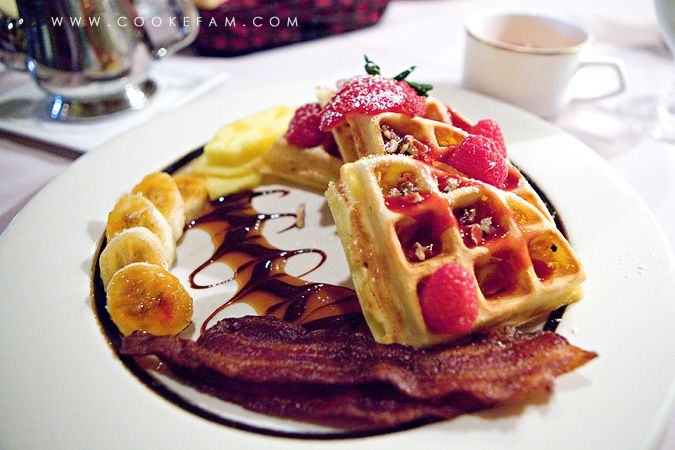 Our first stop after breakfast was a carriage ride. So we sought out the Palmetto Carriage's big red barn. We actually spotted a Palmetto employee who had gone on a coffee run and he showed us back to the barn.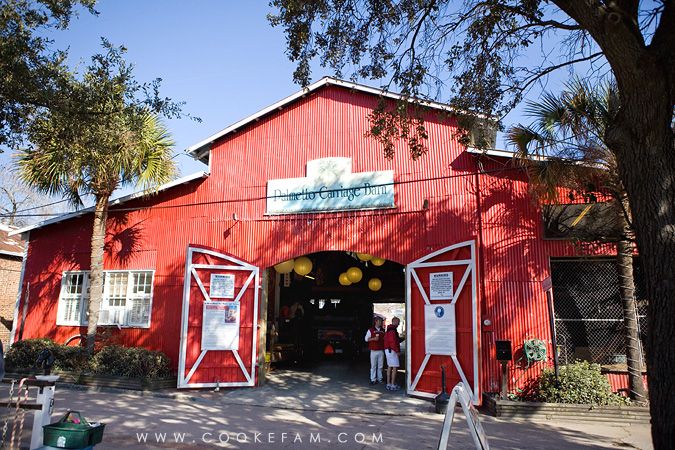 Hello, there fella. The horses really were beautiful and so well kept.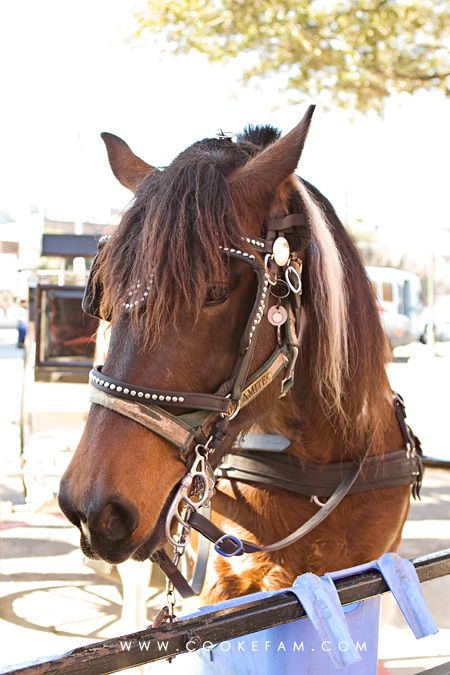 Friendly and photogenic too...
Running around the parked carriages were a few chickens. Chickens? In the middle of downtown Charleston. I'm not sure what they were doing there, but there they were.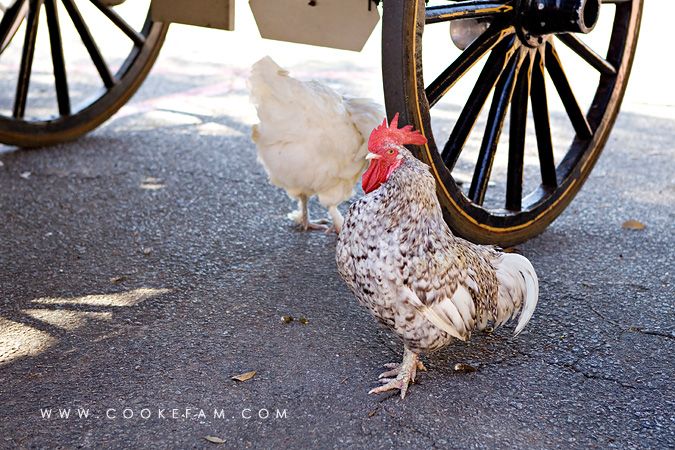 These two are actually mules and were co-pulling a carriage that was easy work for only one of them. Palmetto says they usually pull their carriages with teams of mules that always work together.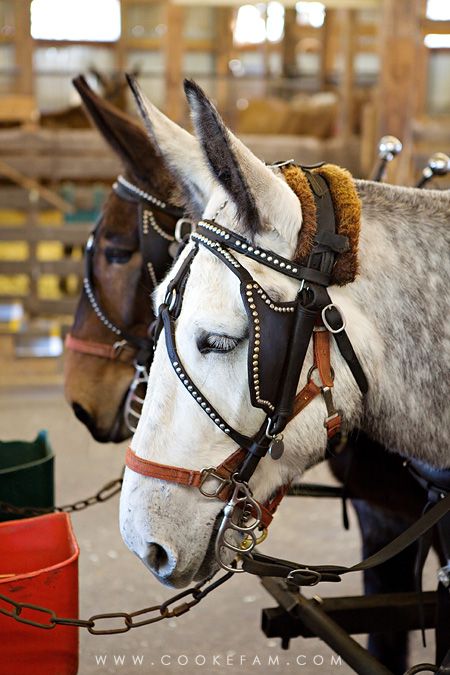 The loading dock was busy that day, but we didn't have to wait long for our ride. And the driver of our carriage ended up being the guy who was getting coffee earlier and showed us where to go. He recognized us when we sat down and he was a great tour guide/carriage driver. Humorous and fun without going over to cheesy.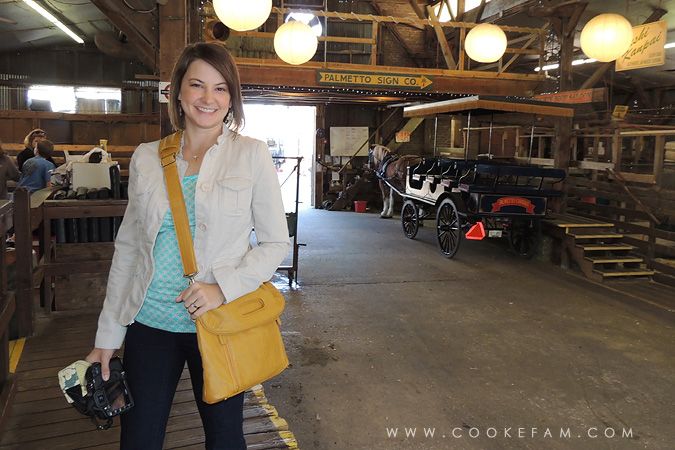 This is (obviously) a different carriage than ours, but it shows what they looked like. Except ours had the two mules pulling it.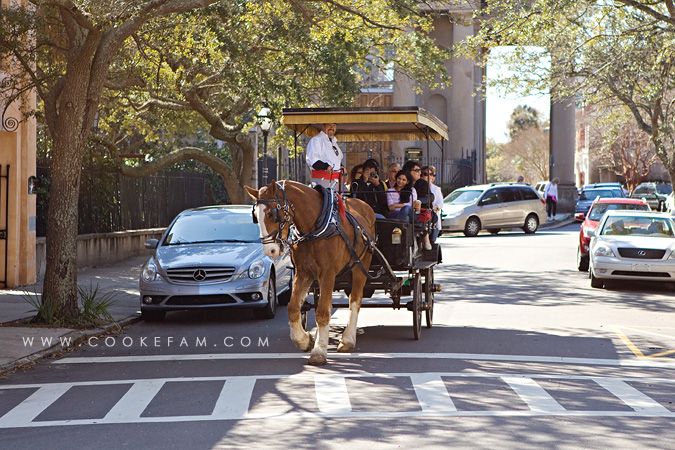 There was so much we learned on our peaceful, little carriage ride. We learned about the "Charleston single" which is what these homes are called because they are one room wide and have their piazzas off to the side (to catch/create breeze between the houses as I mentioned before. I would say most of the homes in downtown are singles.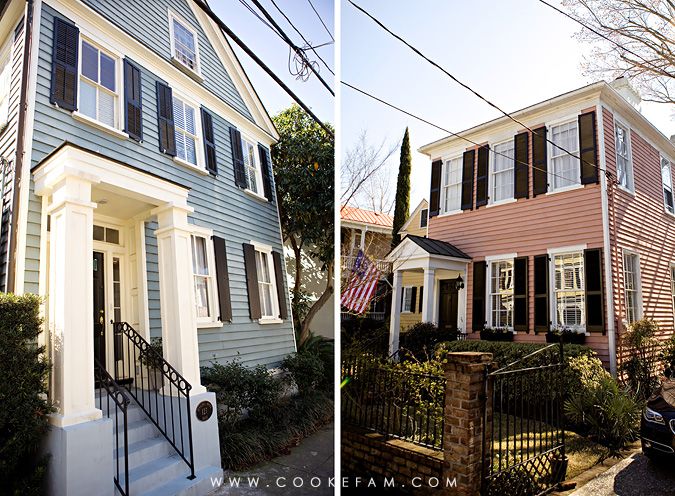 The pineapple is a sign of welcome and is seen everywhere in Charleston (and other places too, actually). We also learned that because English Ivy will eat into the brick mortar, Charlestonians planted an alternative creeper called Creeping Fig. It is just as charming as the Ivy and not nearly as destructive.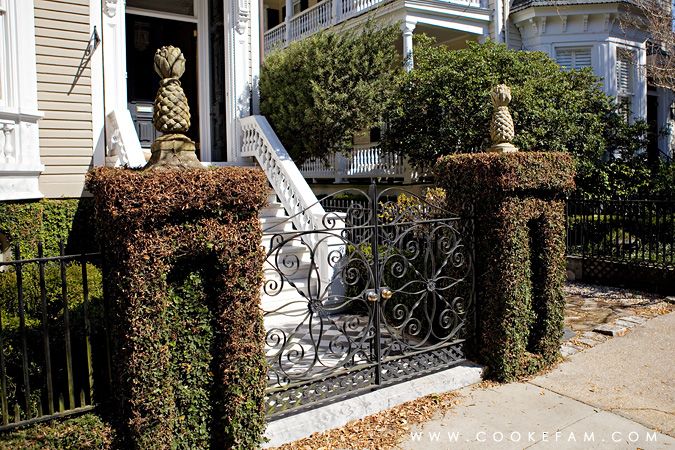 We learned why Charleston is called The Holy City....because it provided religious tolerance from the city's earliest days. And as a result, churches of every kind were established there.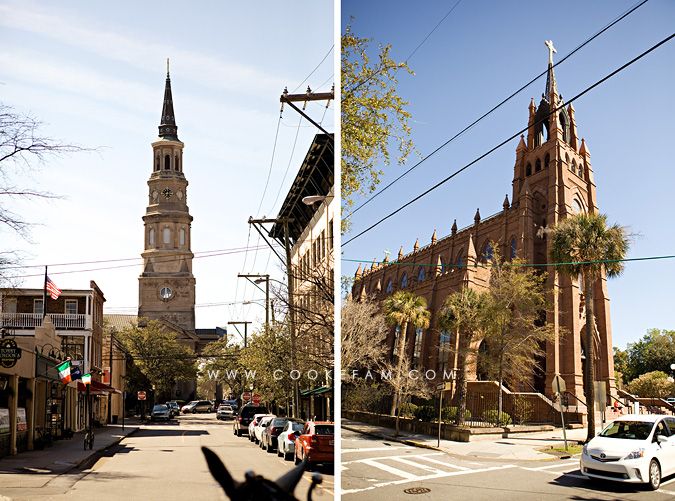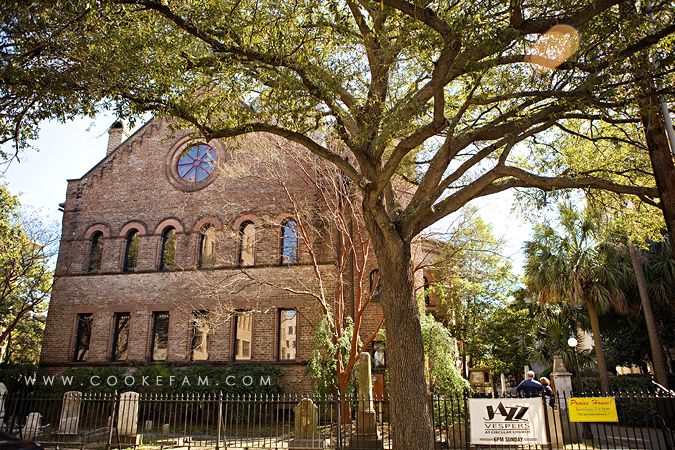 We also learned about the gas lanterns that are seen everywhere around the downtown area. Apparently, the city pays for the installation and gas to run them. All the property owner has to do is agree to have them installed on their house or building. It really does add a fantastic historical charm to the city. No wonder the city has such a program.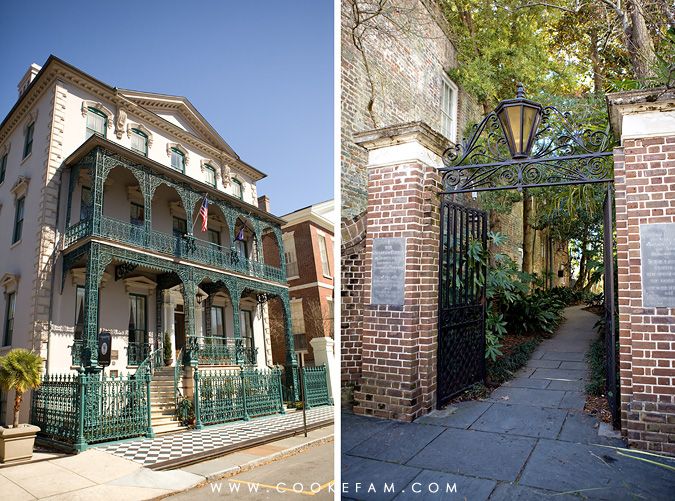 One final thing that I remember (but don't have a photo for) is how Charleston recovered after a huge, devastating earthquake in 1886. The city could not afford to completely rebuild so they installed earthquake bolts which basically allowed for buildings to be cranked back into their 90 degree positions. After hearing about this, I started seeing the bolts on ALL the old buildings. It's funny that I never noticed them before!
After our carriage ride, we went one block over and strolled through the
Charleston City Market
, which has been open since 1807. This is one end of the market. You enter through that archway at the bottom.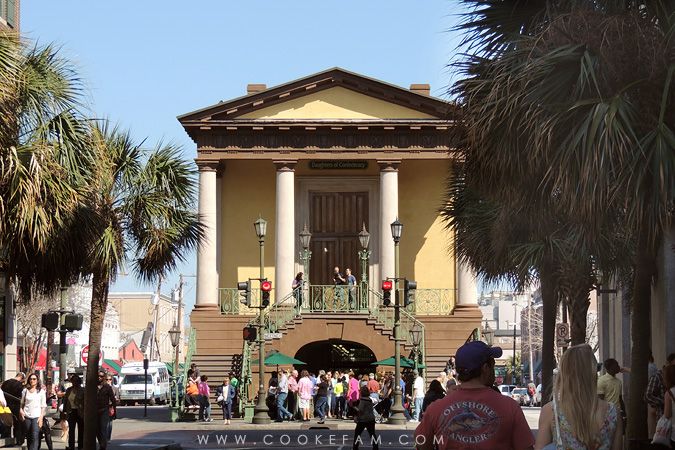 A huge Charleston tradition in the Gullah culture are the sweetgrass baskets. They are expertly hand woven from Charleston sweetgrass in a tradition that has been passed down through generations, originally brought to the Lowcountry by West African slaves. The baskets were originally crafted to collect rice and cotton on the plantations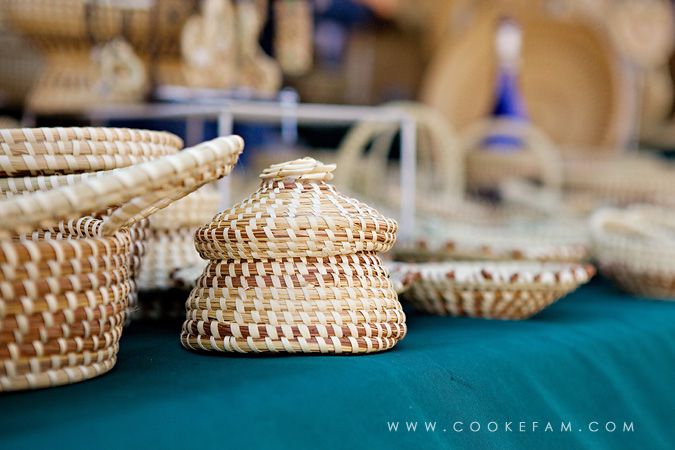 Some of the baskets and other items are simply beautiful. The handiwork is amazing. Unfortunately, they have the price tags to go with it (understandably so).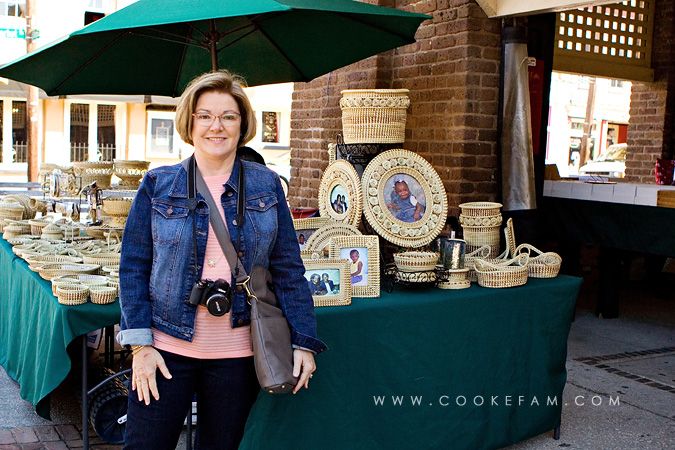 You'll also find food items at the Charleston City Market...such as grits, of course.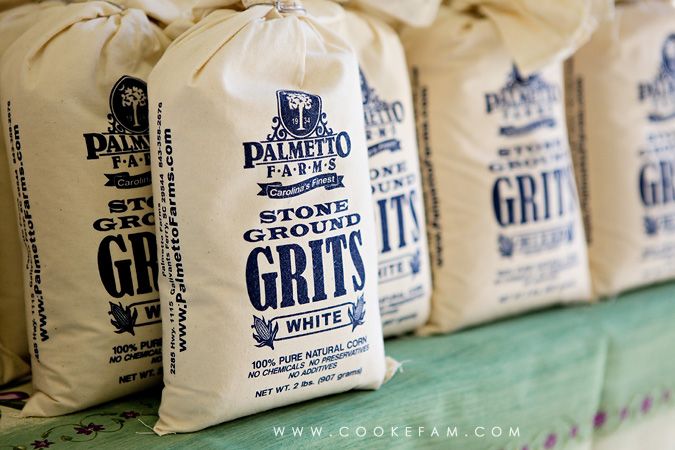 You'll also find souvenir-type things such as t-shirts, hats, books, etc.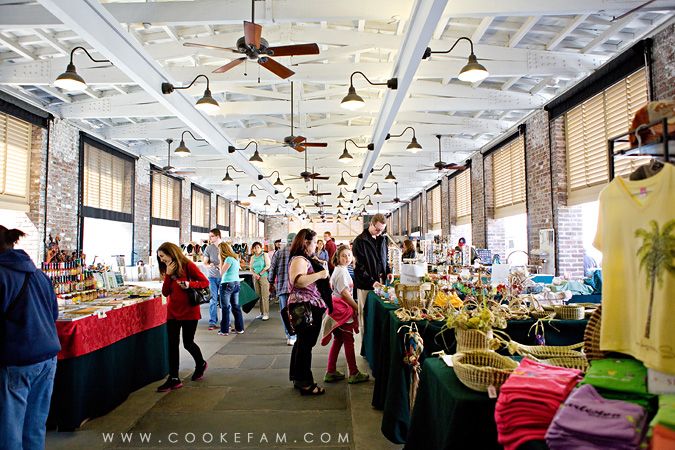 Check out these little sweetgrass "roses." Almost bought one of these.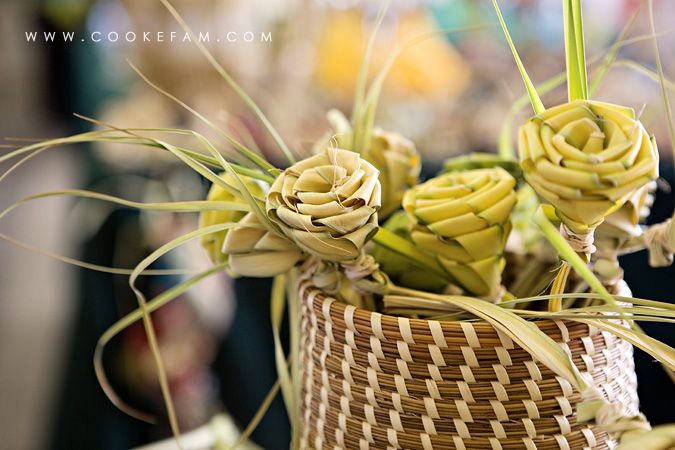 Mom has found a stash of handmade head wraps, which were very cute. Both of us came home with those.
Ah, more jams and jellies. To be more specific, corn relish, bean salad, apricot preserves, pickled asparagus...and more. And some dry herbs/spice rubs on the table top. Mom also found (and bought) some dried okra chips.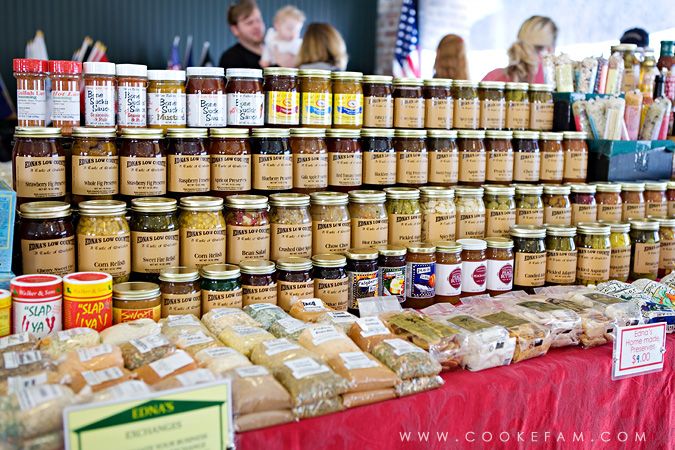 Here I am checking out some more baskets...they are everywhere.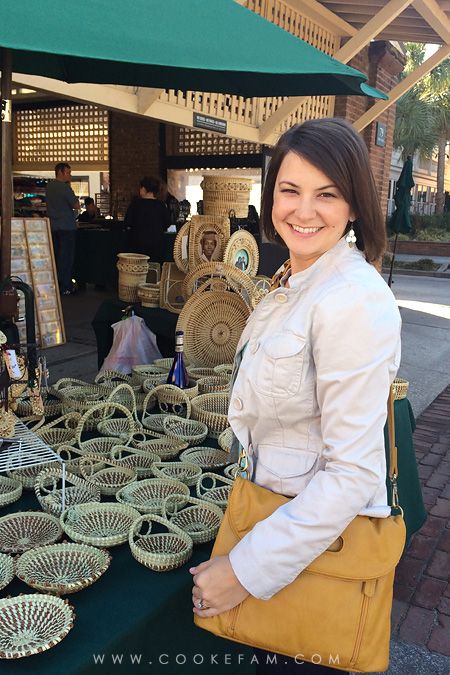 The indoor part of the market is sort of like a mini-mall and they've got some fun stuff in there.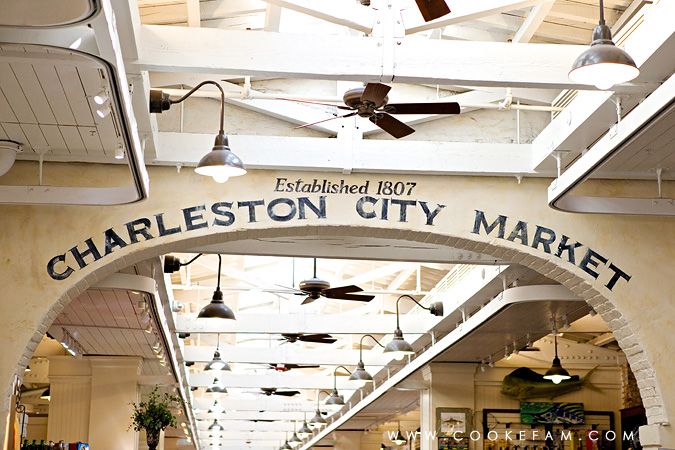 After making our way through the entire Charleston City Market, we headed over to King Street, which is the capital of shopping in downtown Charleston. And wouldn't you know, but it just happened to be "second Sunday" when they shut down the road to cars, and it becomes a giant shop-fest for pedestrians only.
While we waited to get a table at the next door Italian restaurant, we browsed the only open antique store on the street. Sadly, the antique stores close on Sundays...even on second Sunday. (Which is crazy to me because that street was packed with people shopping.)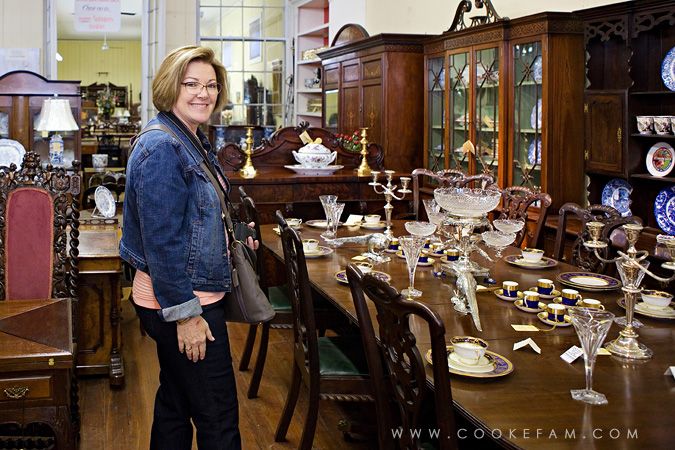 We finally got our lunch table (an outdoor table!) at
Il Cortile De Re
. The table was right on the street...only possible on second Sunday on King Street. Right away we ordered mimosas, made with Italian Prosecco, of course.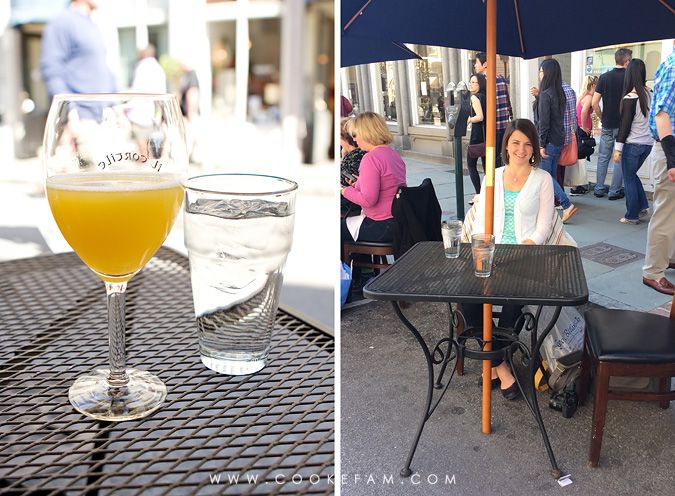 And then a light and lovely caprese salad...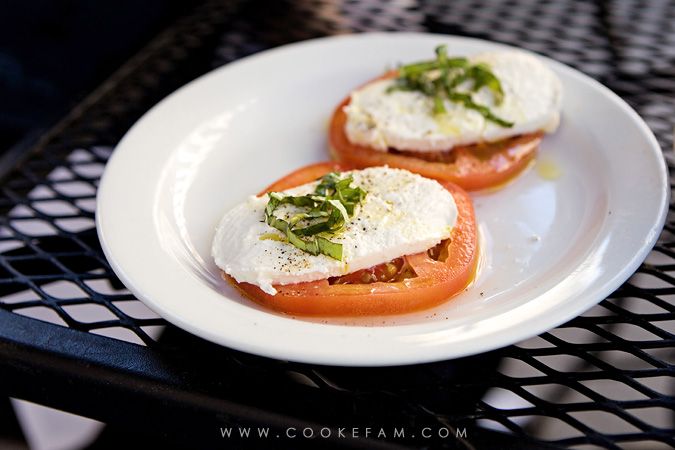 We finished off our light lunch with their Tuscan bean soup, which was delicious and perfect. I really wanted to try everything on their small menu. But what we did have was wonderful.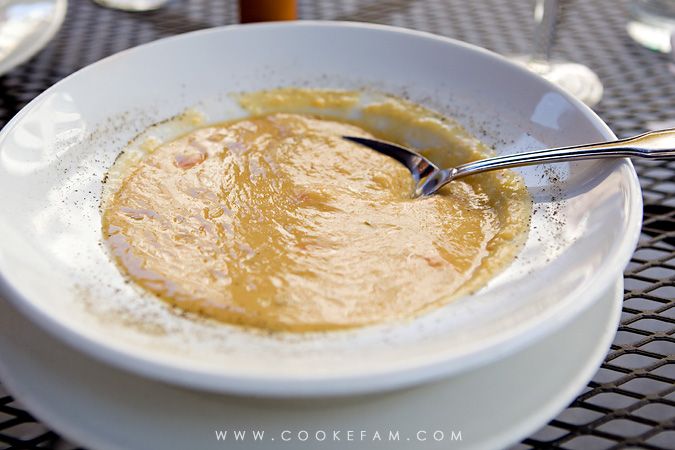 Before lunch, I had spotted
Cupcake Down South'
s cupcake van (it was actually a van, not a truck) parked down the road, so after lunch as we were browsing, we stopped for a little red velvet treat. I had high expectations for this cupcake because folks in the south know how to make a red velvet cake/cupcake. And it should only be done with cream cheese frosting (in my opinion). This one was right on the mark for taste and a nice little treat.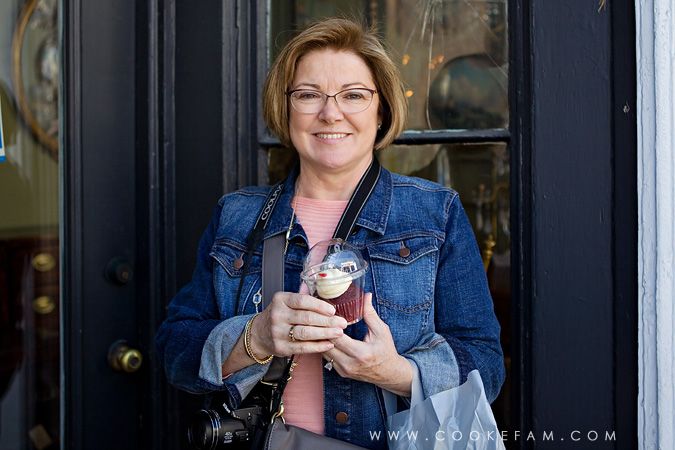 Since the antique stores were all closed and we weren't interested in shopping at the same stores we have back home, we left King Street to the throngs of serious shoppers (and their dogs...goodness there were tons of dogs.)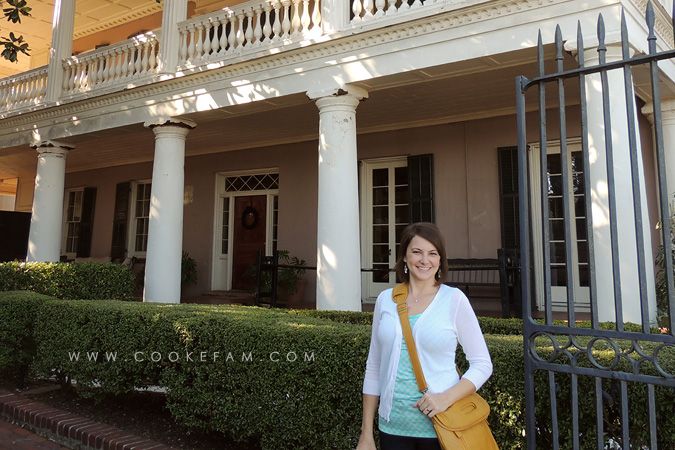 This house had some interesting historical significance (general Beauregard watched the Civil War attack on Ft. Sumter in 1861 from the piazza of this house) and was also one of my favorite interiors. Not my absolute favorite, but almost. The piazzas weren't bad either.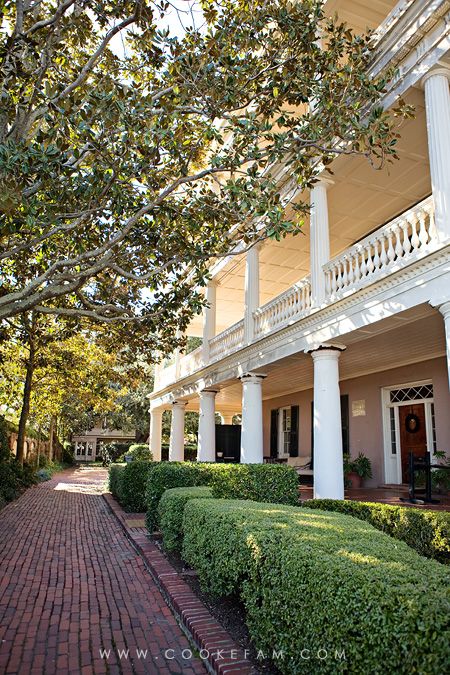 This is a partial view from the second floor piazza.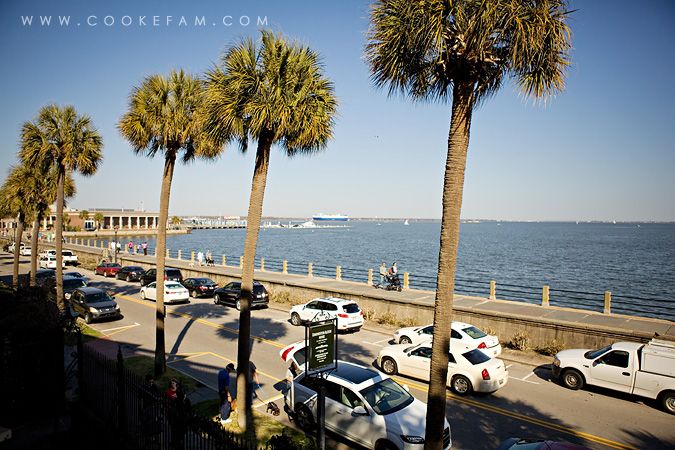 This was certainly not the first joggling board we had seen...a very unique "bench" found in the Lowcountry...and certainly not the first explanation of it's use and purpose. There are many theories but no consensus. They are usually painted green (this one is actually more green than it looks) and allow people sitting on them to bounce up and down as well as rock back and forth slightly because of the rocker feet.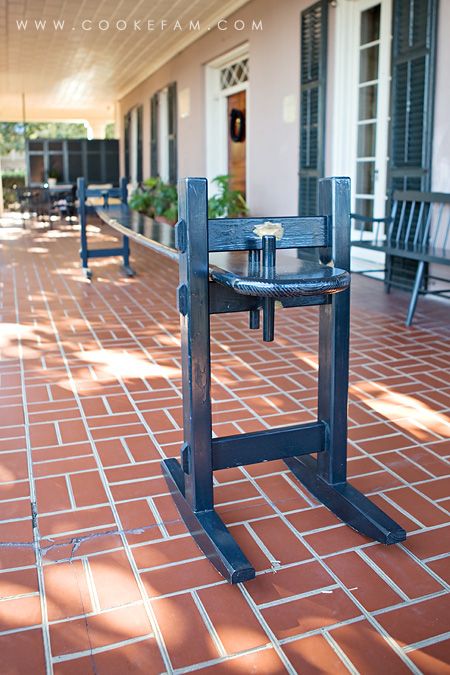 Those lovely aged bricks and tree with moss are also on the property of the Edmonston-Alston House. You can see that we were enjoying another gorgeous weather day since we had shed our jackets by this point.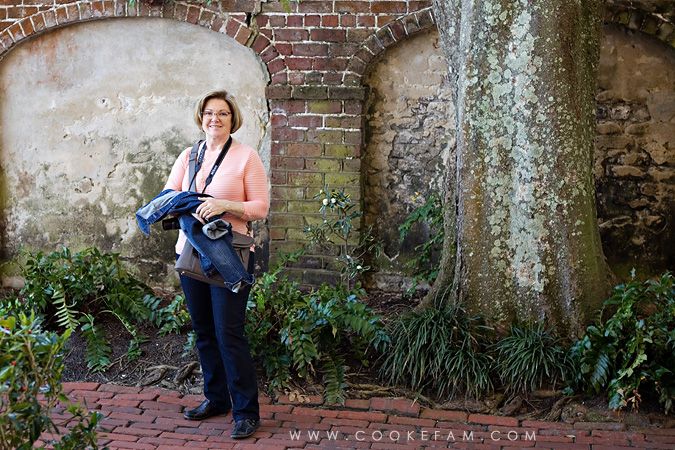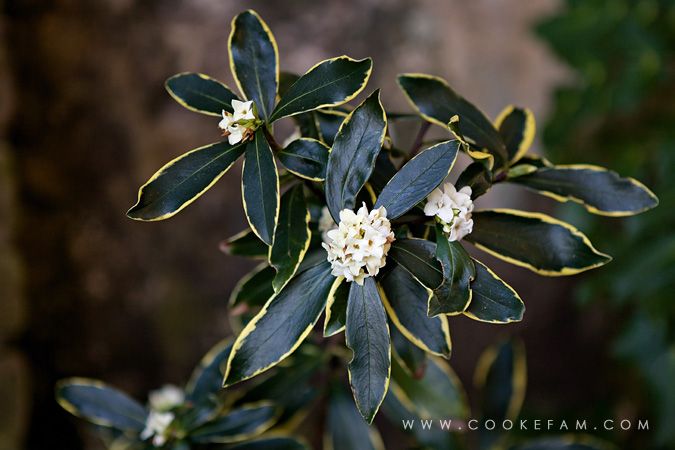 After our house tour, everything started closing again as it was near 5-5:30. But, we still had some time to kill before dinner so we headed over to
Waterfront Park
to have a look.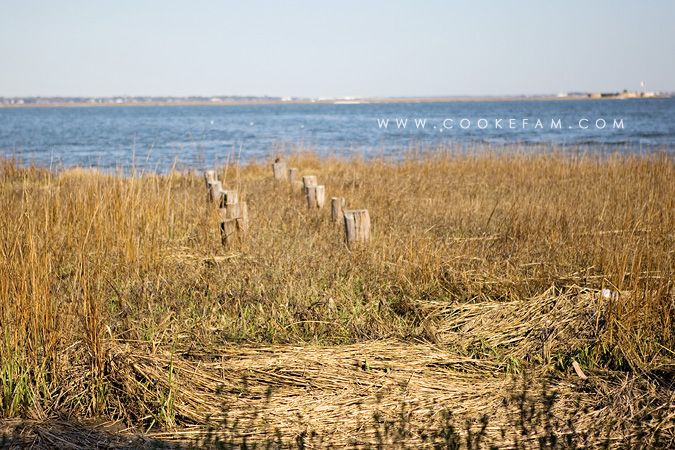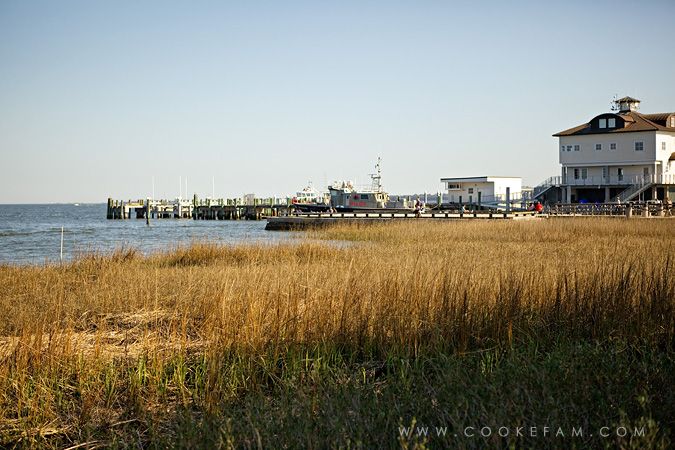 We were not the only ones to have this idea on a late Sunday afternoon. There was a lot of activity at the park since the weather was so beautiful.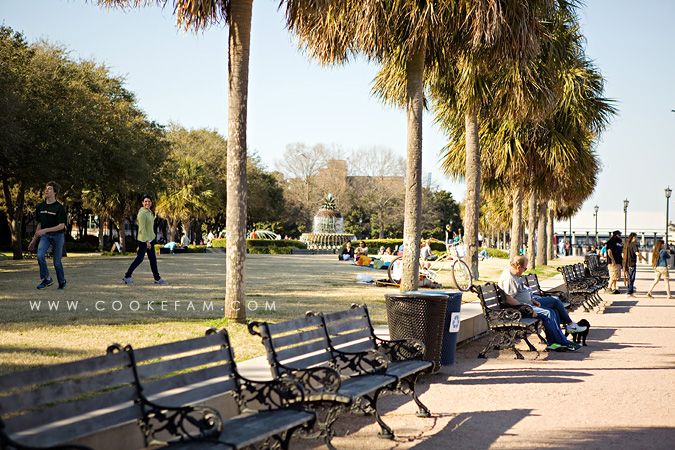 Hey, a little seagull even stopped by to say hello. Is it just me or do you also start saying "mine, mine, mine" in your head every time you see a seagull now? Thanks, Finding Nemo...it's now part of me.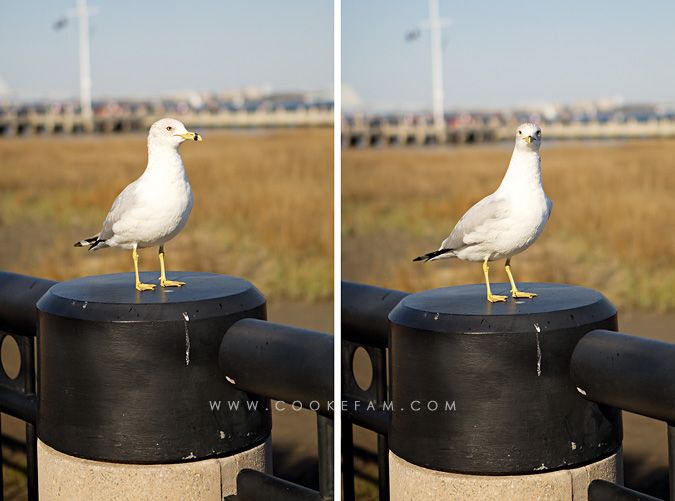 This is a pretty iconic fountain in Charleston.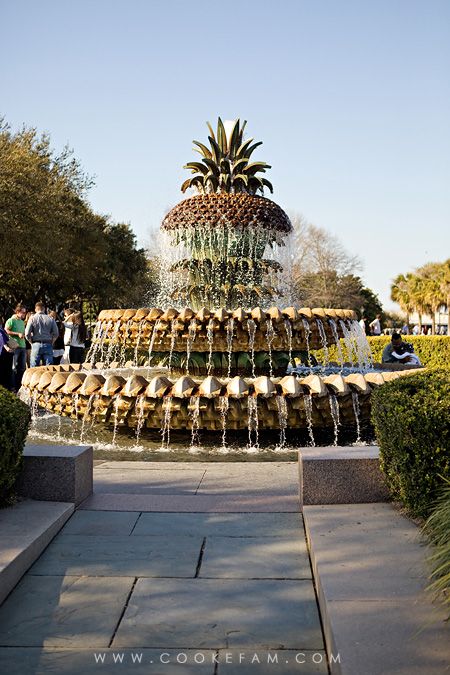 We began walking down the pier that juts out into the harbor, but stopped to sit on one of the swinging benches. They are pretty incredible especially considering the view you have while swinging.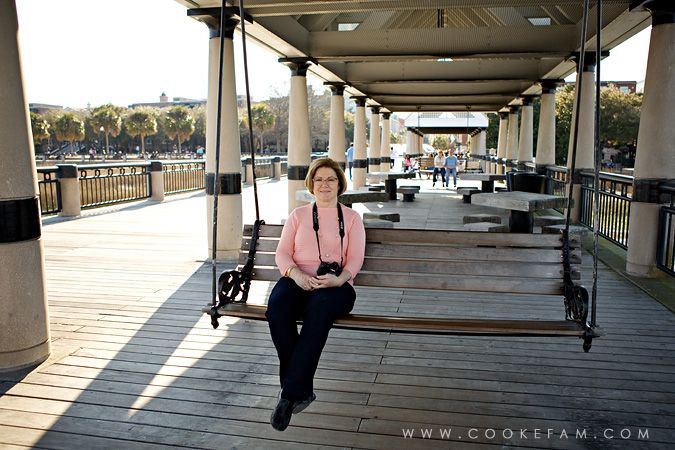 We sat out on the pier for a while watching the sail boats pass by. Then, we walked back to our car to go back to the hotel.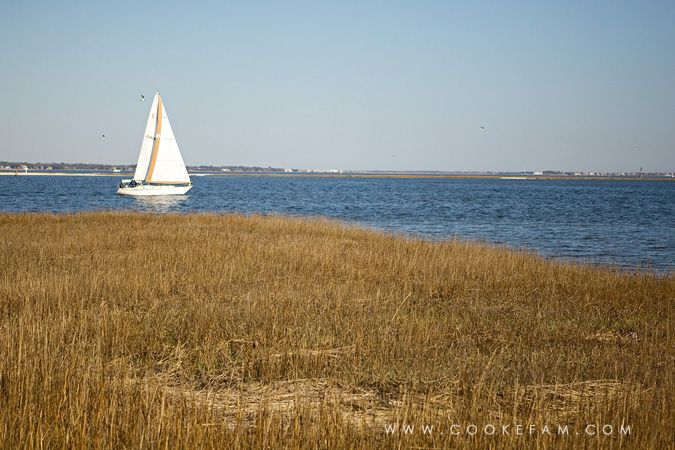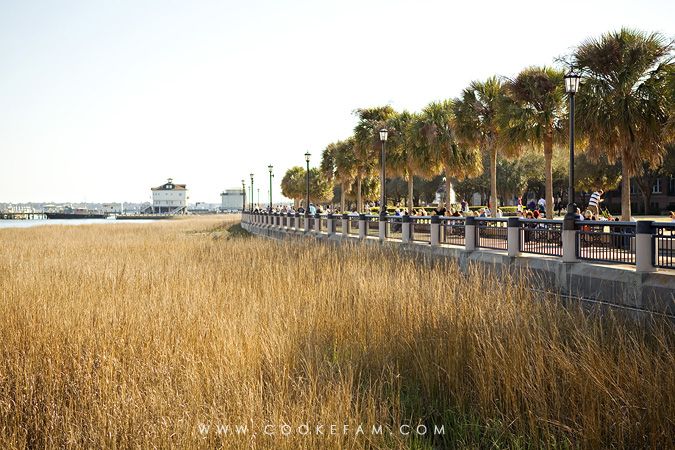 Right after we reached our room, the room attendant came for turndown service. She asked if we had been up in the mansion's rooftop cupola yet. I was totally clueless, but mom remembered that the gentleman who showed us our room on the very first day told us about the cupola. I seriously had not heard anything about it before this moment...I was too busy taking photographs of the room that first day and completely ignored what the guy was saying! Well, we decided to go up to the top floor and find that spiral staircase.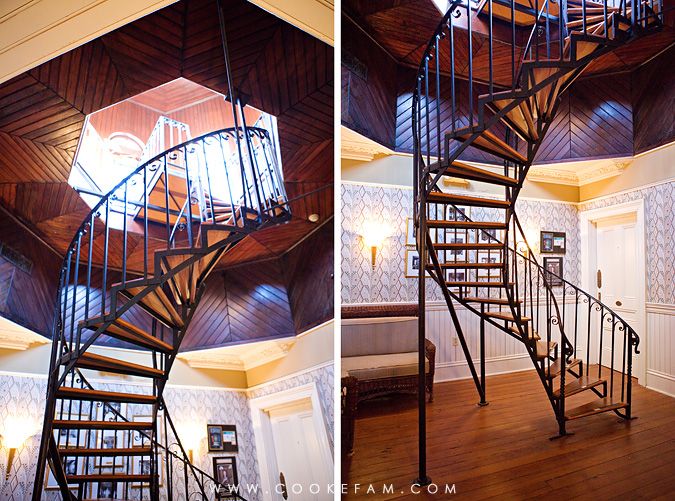 I am so glad the room attendant mentioned this to us because it was really perfect timing...just before sunset and the views were spectacular. We walked around the inside of the cupola for a while until I noticed that there was a railing outside and a door (duh).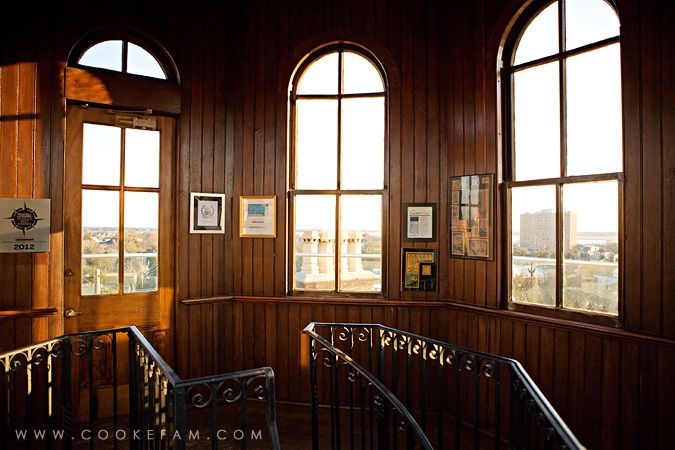 Of course, stepping outside was even better. We got a close-up view of the mansion's chimney too.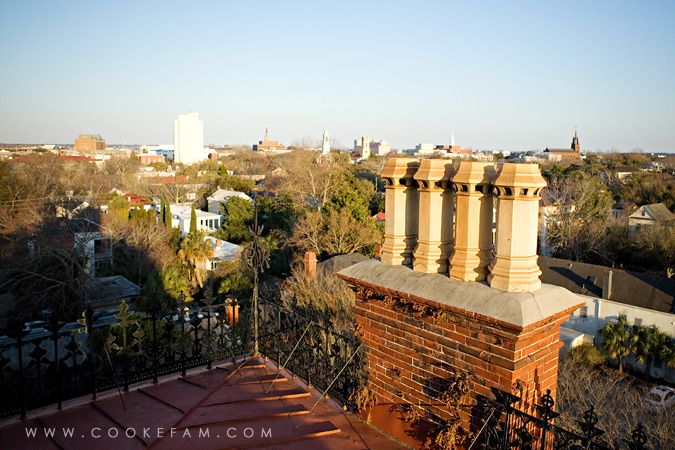 And a good aerial view of the amazing homes in downtown Charleston.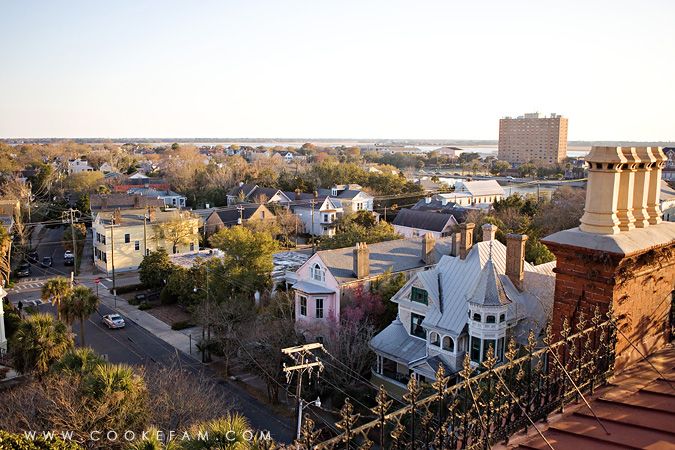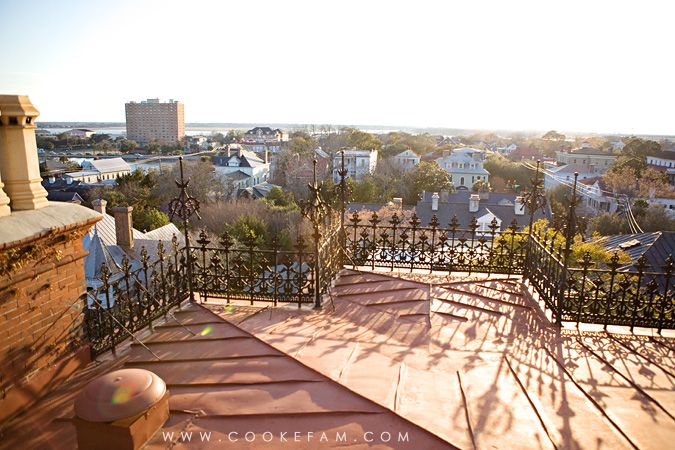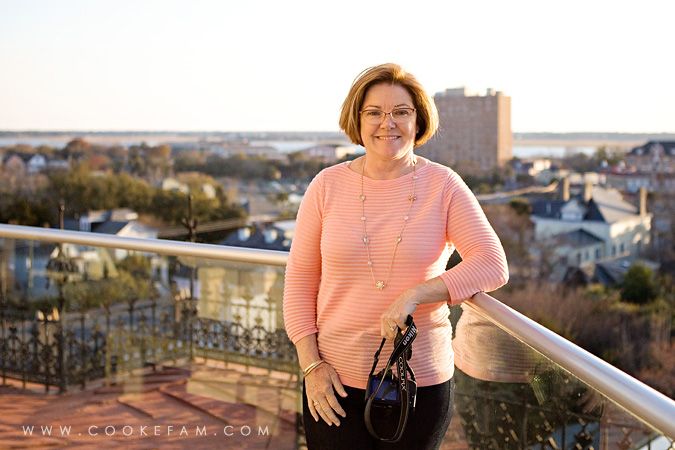 After coming down from the rooftop (so glad we didn't miss that!), we got ready for dinner and took to the streets again. We had reservations at
Slightly North of Broad
(S.N.O.B.), which came highly recommended.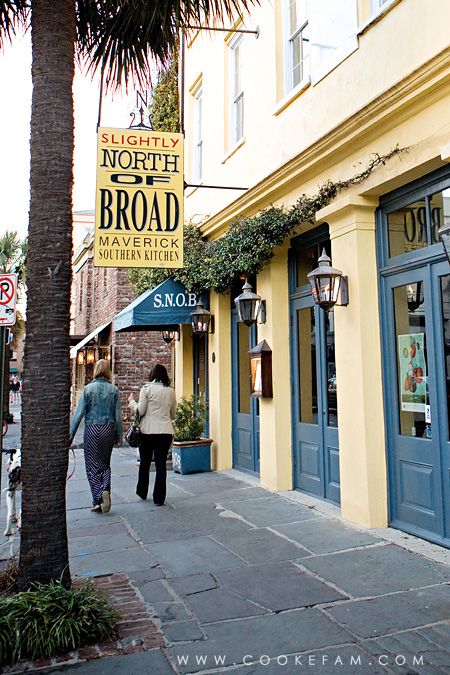 Their dining room was dark like most (so more grainy food photos) and really quite inviting.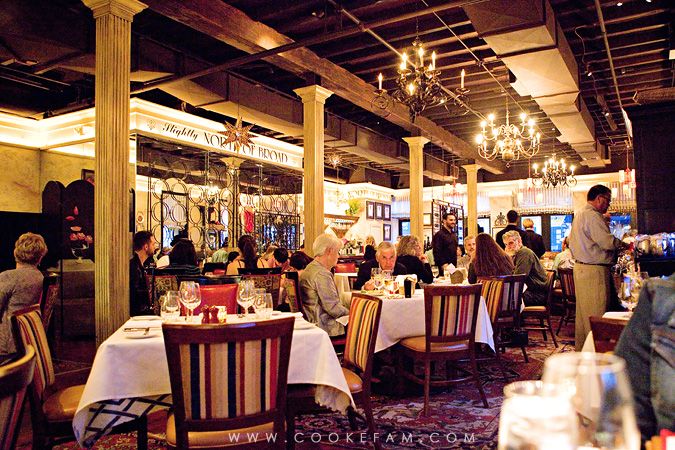 I started off with The Charleston Cocktail, which is Firefly Sweet Tea Vodka, Maverick lemonade, and fresh mint-infused syrup. Basically sweet tea with a nice vodka twist. It was great. Mom had the pear sangria, which was perhaps the most refreshing cocktail I've ever tasted (you can spot it in the background of the bread photo).
And speaking of bread...when I took the photo on the right below, I had no idea what was sitting just beneath that bread (which was pretty wonderful itself). Under that bread was the best cornbread I've ever had in my life. That's a bold statement where I'm from. But I mean it...I ate all of my share before I could snap a photo. It was perfectly moist, but dense. Sweet, but savory. When I got home, I immediately searched the internet for the
recipe
, which I found. Hallelujah.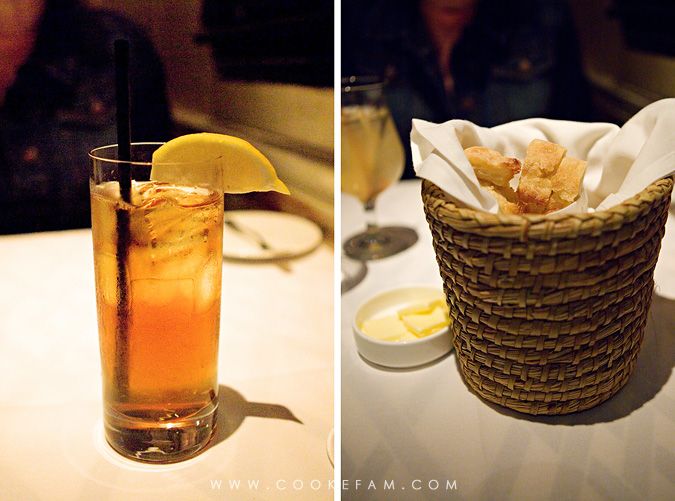 We skipped appetizers that night because we didn't want to fill up too quickly, but after we'd tasted the entrees, we sort of regretted that decision, because after a few bites, this quickly became our favorite restaurant of the trip. What you see below is my dish...the pan seared duck breast with Charleston Gold wild rice pirlou, Brussels sprouts, apple compote and honey thyme reduction. Every single bite was heavenly. I have no more to say about it.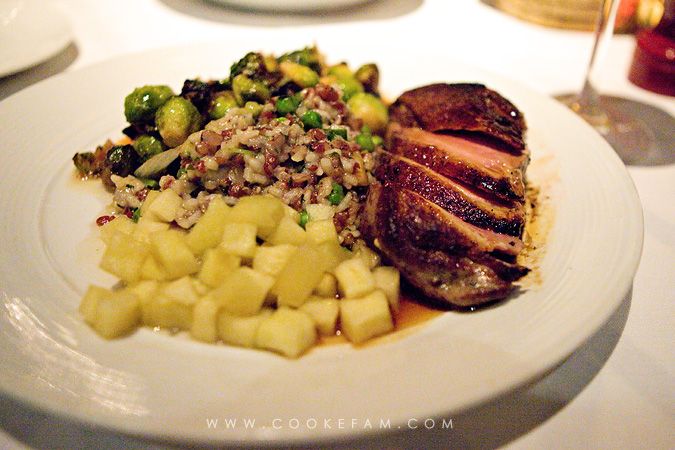 Mom ordered the pan seared New Bedford scallops with butter beans, okra, and tomato hock broth. Another winner.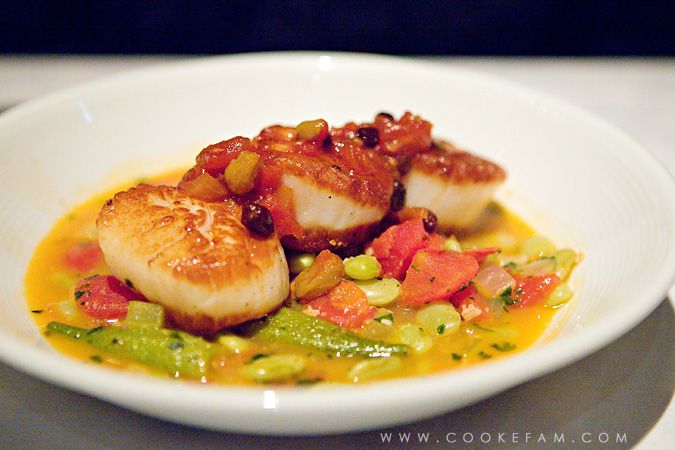 We weren't dumb enough not to try dessert at that point (who skips dessert anyway?). So, we ordered the Sour Cream Apple Pie with homemade vanilla bean ice cream. Holy smokes. This dessert was out of this world. And you know it had to be good if I'm saying that about a non-chocolate dessert. It was so good that we asked if they had a cookbook so we could cross our fingers that this would be in there. Our waitress said that they didn't have a cookbook, but she came back with a copy of the recipe for us. How cool is that? (Too bad I was a dingbat and forgot to ask for the cornbread recipe after that...but at least I found it online.)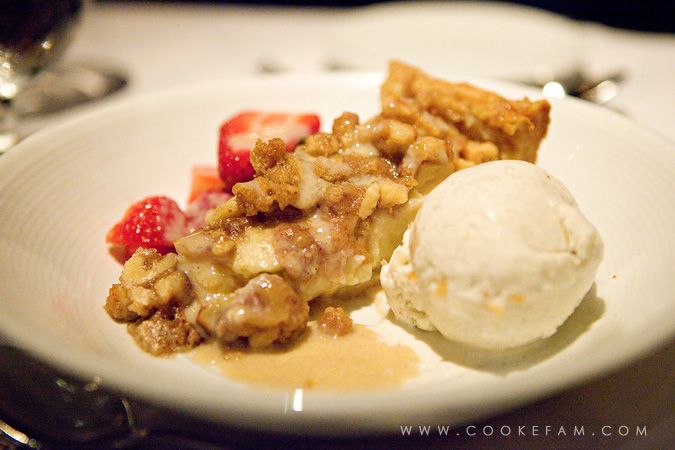 That was quite a sweet and satisfying ending to a day that could be described in much the same way.