Our fourth (and final) day in Charleston came too soon. We had loose plans for the day that started with breakfast, obviously. At Circa 1886 again. I got the special again, which was a potato and mushroom hash topped with two eggs. Sometimes I like savory things for breakfast, and this is definitely the way to do it.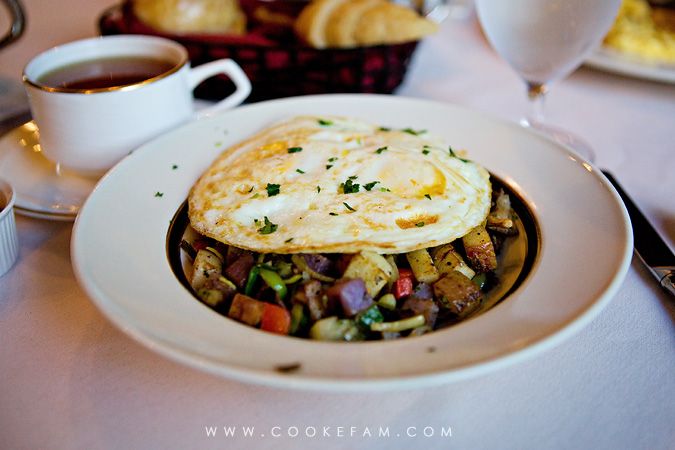 First on our agenda was the
Nathaniel Russell House
. This is a federal style house and has the earthquake bolts clearly visible between the window arches. Built in the very early 1800s and owned by a super-wealthy merchant (Nathaniel Russel), no expense was spared in the building and details of this house.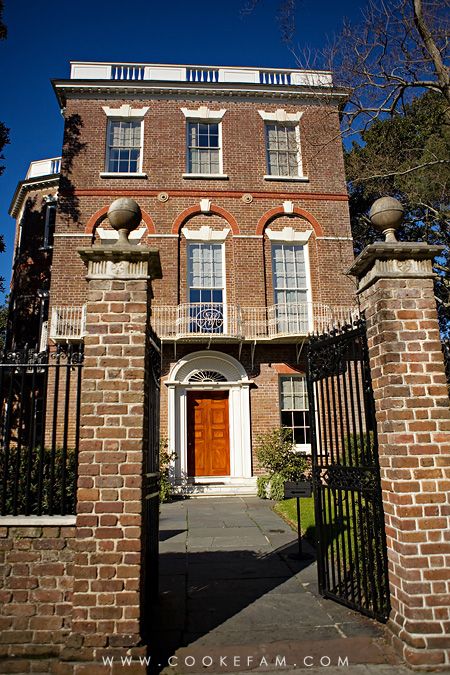 We walked along the side path around to the back of the house to buy our tickets. It had a lovely little garden and a huge magnolia tree.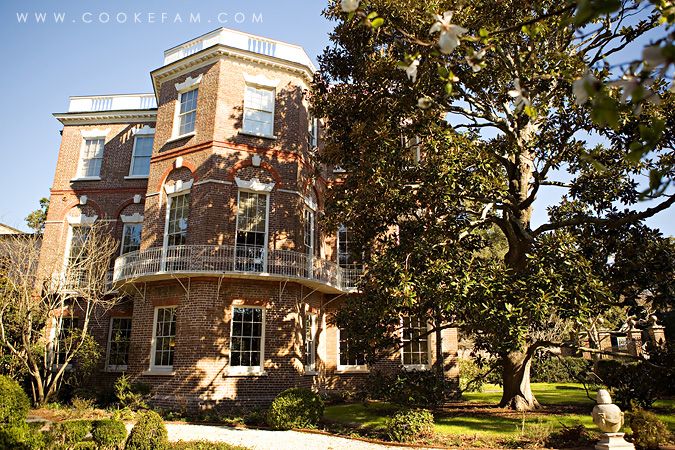 Here's a better look at that magnificent tree. We weren't allowed to take photographs inside (again) and it's really a shame this time because this house had my most favorite interior out of all the houses we visited. I loved the unique shapes of the rooms, the beautiful furnishings and antiques they displayed in the house. And I loved the exquisite mill-work and paint colors that brought the rooms to life.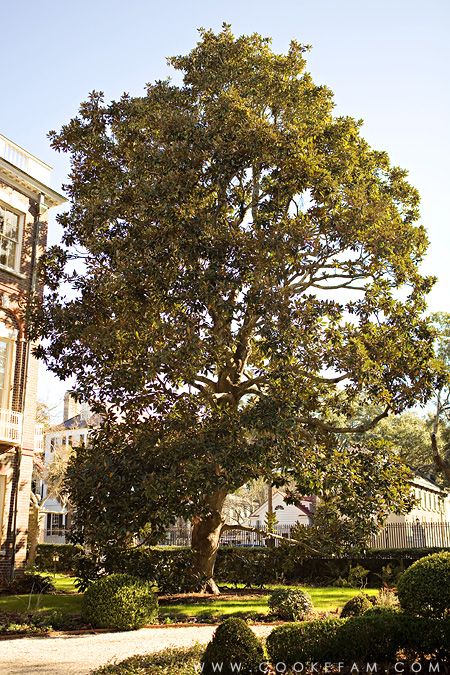 Our tour guide had mentioned something about
St. Michael's church
just down the street from the house so after our tour, we decided to pop in and have a look. We had passed by this church a dozen times in the past three days but never thought to go inside. (Strangely, we did the same thing with a
church in Asheville
on our last trip...we never planned to look inside but a tour guide mentioned it and we decided to go.)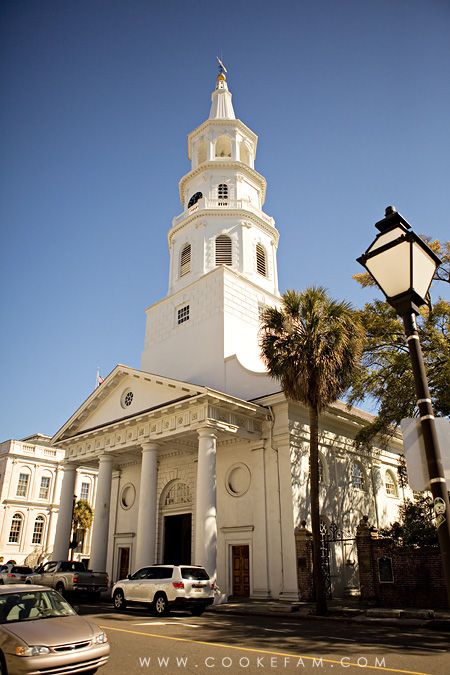 Built in the mid-1700's, this Anglican (Episcopalian) church has some history to it. George Washington and Robert E. Lee both worshiped here when they visited Charleston.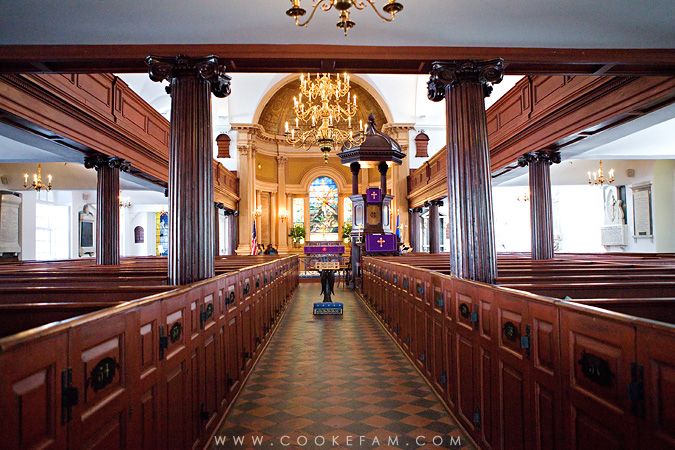 The church has also withstood earthquakes (although not without some damage) and the Civil War. It was said that cannons landed all around, but never a direct hit to St. Michael's.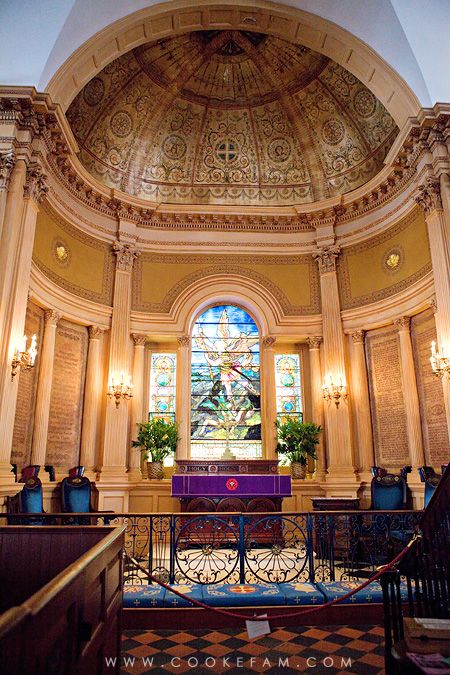 There was a little cemetery right beside the church and we decided to walk in there too. It turns out that there are a few interesting people buried here: Colonel Charles Pinckney, a signer of the US Constitution and several governors and senators of South Carolina in the 1700 and 1800's.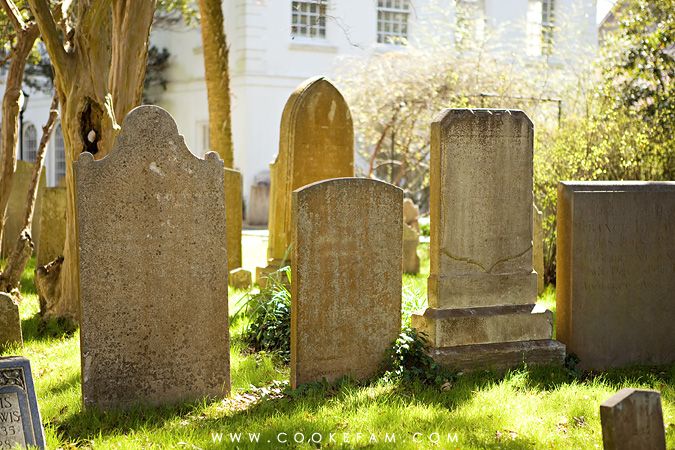 This one is just a random headstone, but it shows just how old the cemetery is.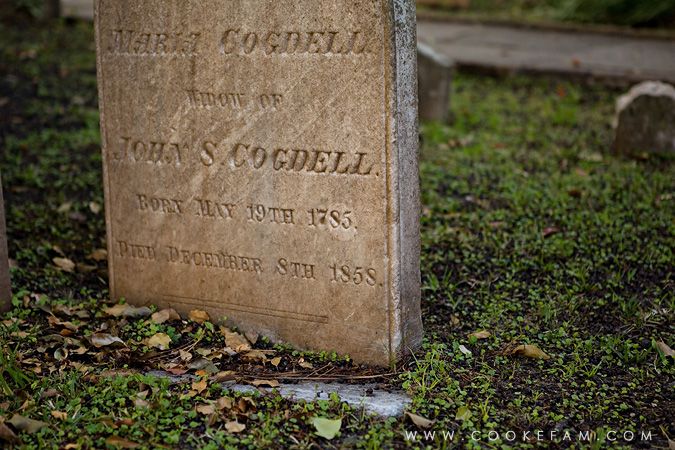 Walking back to our car, we could not help but notice (again) all the charming details that make Charleston unique and beautiful.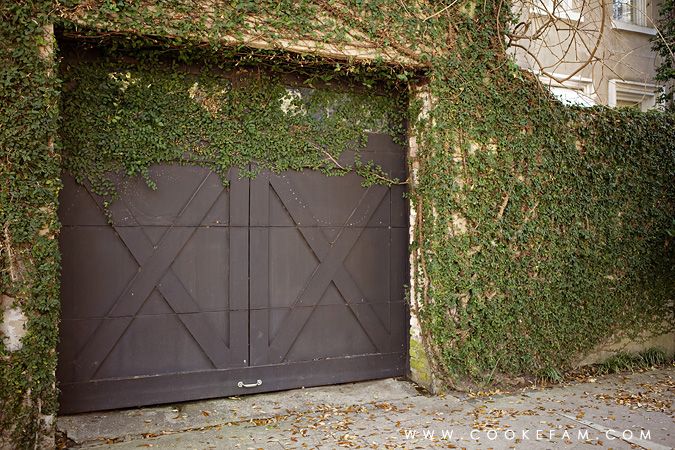 I love the name of the street in a plaque on the sidewalk.
And here is one of those city-issued gas lamps. Love it.
Everywhere you turn (literally everywhere) there is another gorgeous house and/or garden.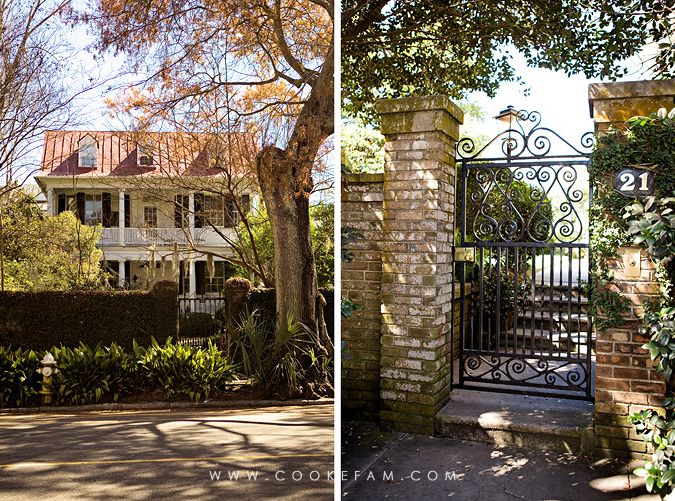 We were headed for another particular house to tour just down the street from the Nathaniel Russel House. This one was built later (1876), is much larger (35 rooms), and has a very unique interior.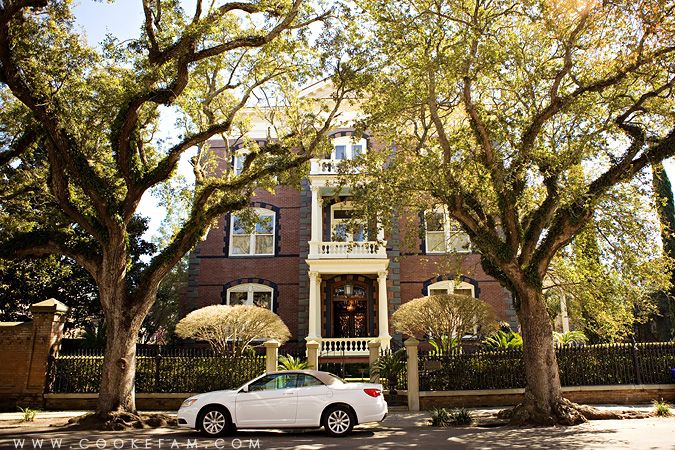 This stately home is the
Calhoun Mansion
, which mom and I both flagged as one that we didn't want to miss when planning our trip. However, what we saw inside was nothing like what we expected!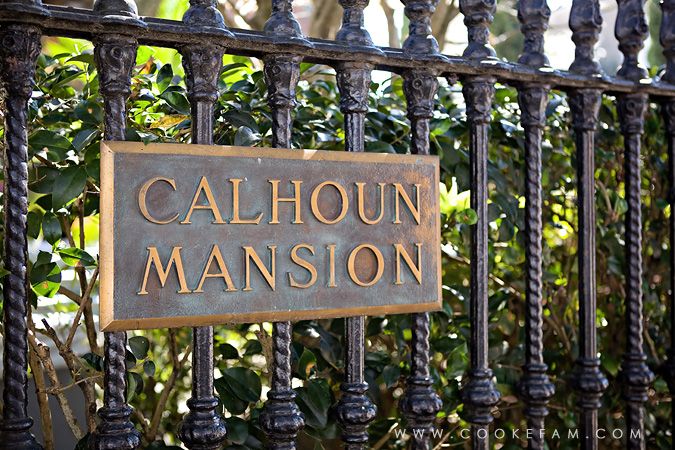 The outside is very grand and surrounded by manicured gardens.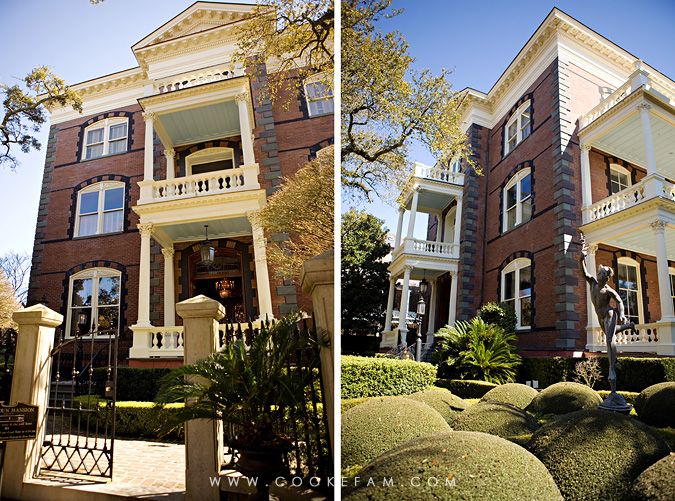 There were fun little duck fountains...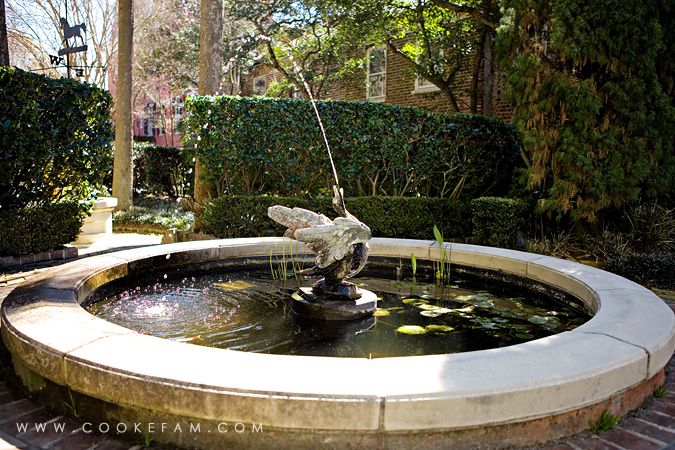 Charming herringbone bring paths, fountains and palm plants. We had to go all the way to the back of the house to buy tickets and then all the way back up to the front to start the tour, which gave us a great walk through the gardens...twice.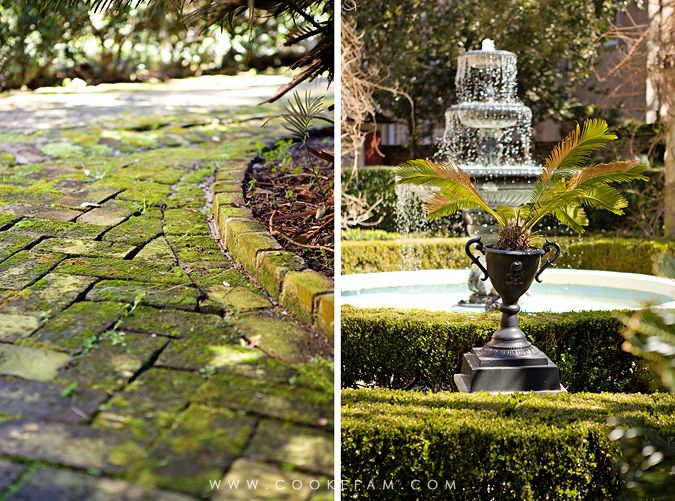 We met our wacky tour guide on the porch. He was different from any other tour guide we'd had, and his quirky personality definitely fit the house. It's hard to describe the interior, really. It was ornate, beautiful, huge...and every single inch of the place was crammed with stuff. Antiques, collectibles, art, furniture. Everywhere. It was nuts and completely unexpected...not even remotely what it looks like online. The current owners still live there and they just like to collect things. It was like walking into the house of a wealthy hoarder...actually, that's a really accurate description. It was really interesting to see, and one room in particular - the music room - was really stunning.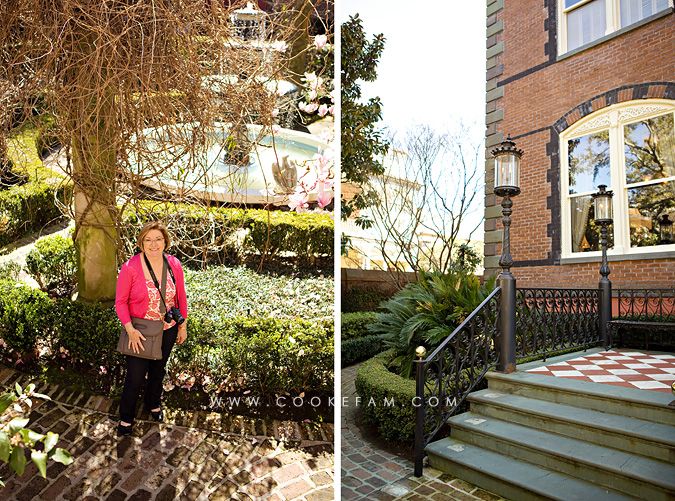 After that fun little tour, we didn't have a specific lunch place planned for this day so we decided to try
Jestine's Kitchen
. My friend, Christina, had recommended it to me and we had heard around town that it was really good. But, wouldn't you know...the one lunch we didn't plan didn't work out. I usually write down the hours and address of all the places we're going and keep it as a reference on our trip. Since we didn't exactly have definitely plans to eat at Justine's - it was just a possibility - I didn't have that information for it. And it was closed since this was a Monday. We were totally bummed. But, we quickly regrouped and just walked down the street a little ways to this place...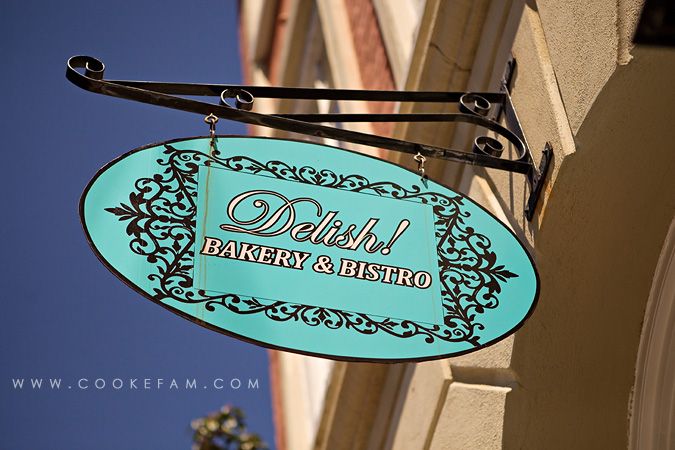 Delish
was a fun place to stop for lunch and rest our feet.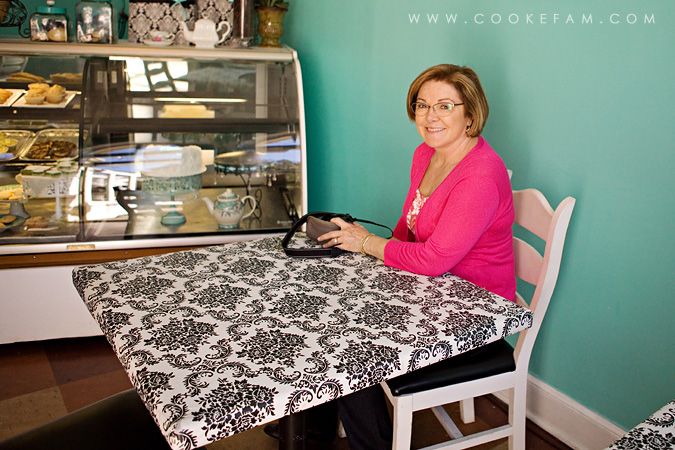 You can see that I ordered sweet tea again and it was perfect.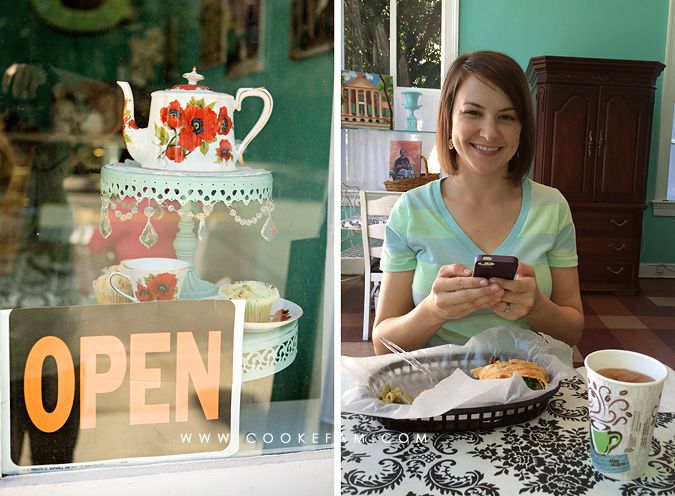 Mom and I split their balsamic chicken wrap, which was very good. It came along with their house pasta salad, which I loved. This was a perfect light lunch that allowed us to save room for a little treat.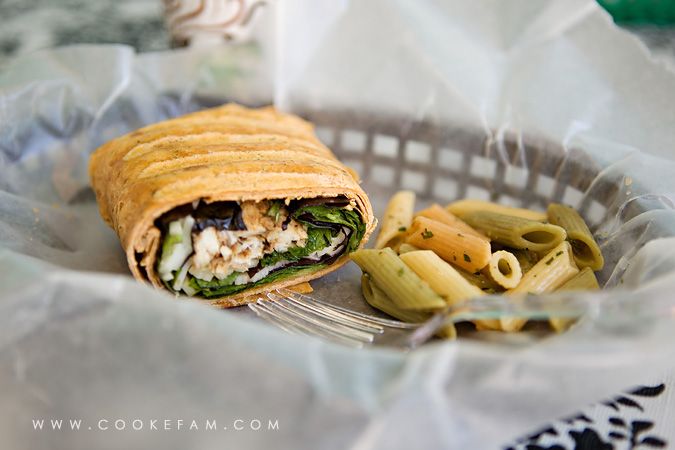 Since Jestine's Kitchen was closed, we followed their signs around the corner to
Jestine's Sweet Shop
. Dessert is never a bad idea.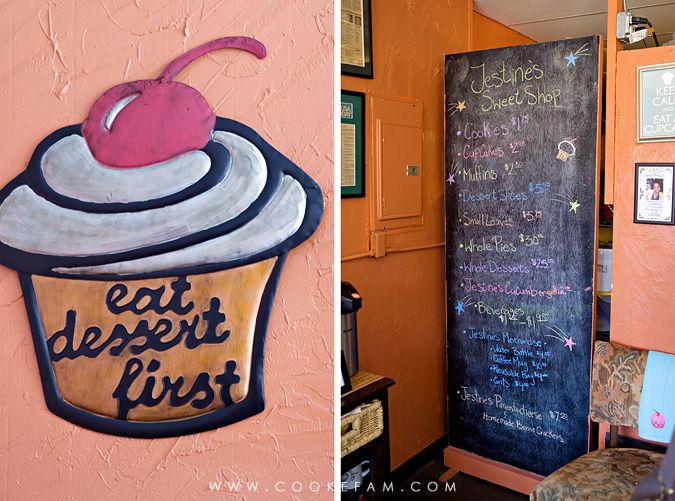 I got the mint fudge brownie and mom got a bourbon butterscotch blondie. We packed them up to go since we wanted to head out to do some antiquing. We ended up eating our brownies in the car a little bit later so I didn't get a good photo of them. But let me just say this...when I opened up my wrapper to reveal a really generous portion, I decided to only eat half and save half for later. Well, that went out the window after the first bite. I ate the whole thing and loved every single bite. It was one of the best brownies I've ever had.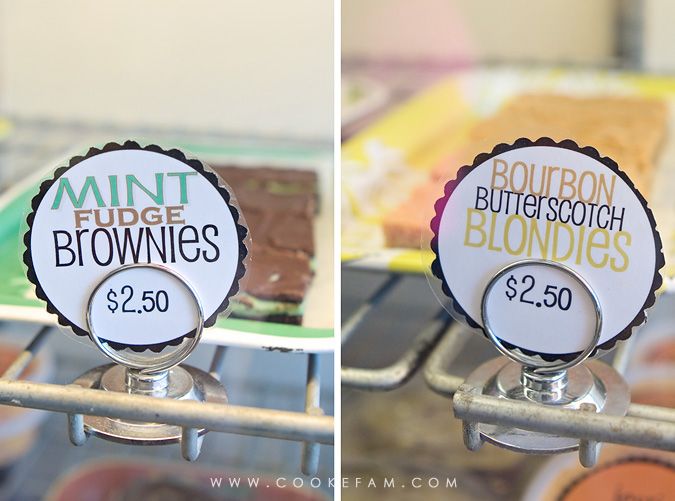 So, off went went to find some antique stores. Unfortunately, our sources led us astray for the first stop...the huge antique store was no longer in business. We found another one just down the street but didn't really find anything interesting in there. We went back to the drawing board and consulted a few more sources...and ended up driving across the Arthur Ravenal Jr. Bridge to Mount Pleasant.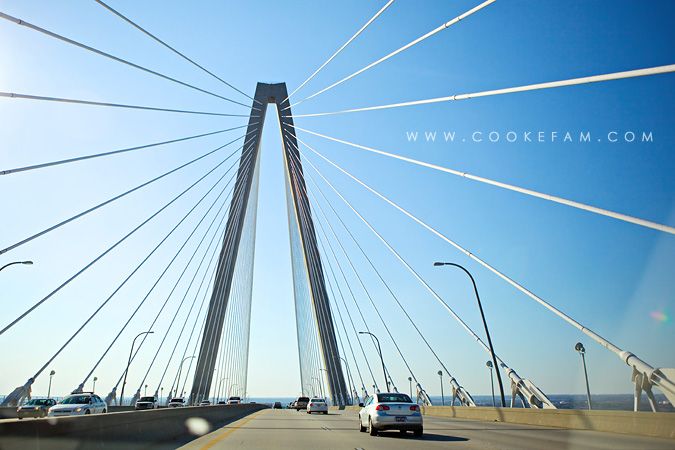 We had better luck over in Mount Pleasant. This one particular antique store was huge and we both found lots of things to love (and mom came home with a couple of lanterns from here).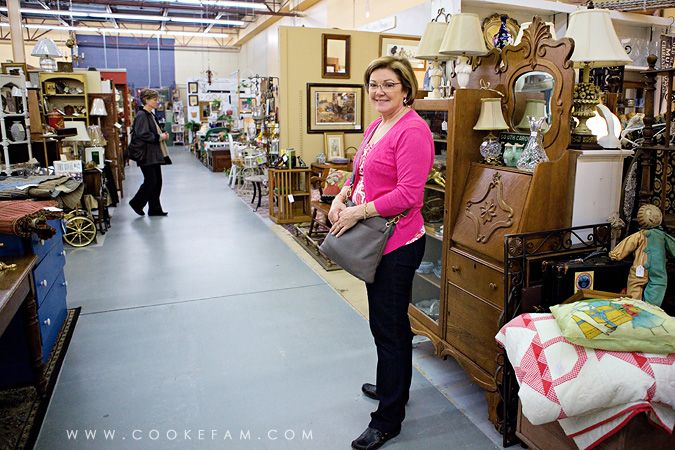 The next place was just down the street and quite unique.
Page's Thieves Market
was a really cool place with tons of furniture and awesome junk. It was not really the type of stuff we were looking for, but it was a fun, quick stop.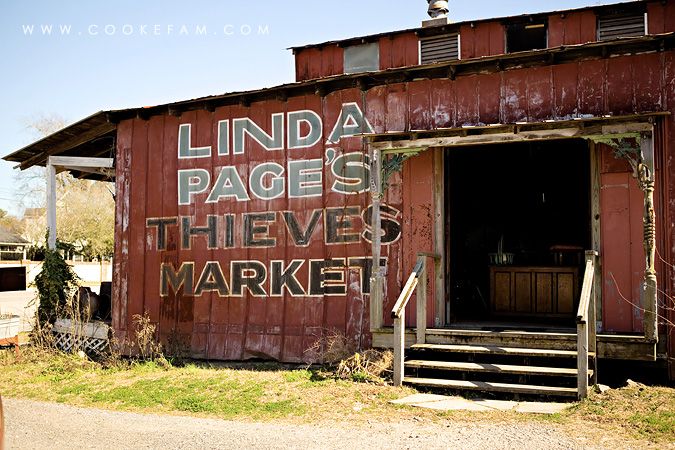 At that point, we decided that we were done antiquing and we thought we'd do something a little spontaneous. (Again, I'm reminded of our Asheville trip during which we found ourselves at the
Linville Falls
on a whim and completely unplanned.) We had actually discussed going to Sullivan's Island but were unsure if it was worth the 20-30 minute drive over. What would we see? Well, we decided to go for it. Man, I'm glad we did.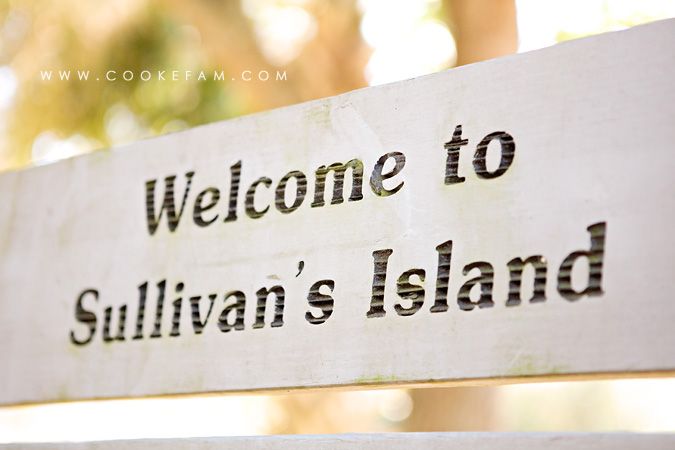 We took Ben Sawyer Boulevard (703) all the way until it ended and parked our car. When we got out, we found this...a path just begging to be walked. So we did.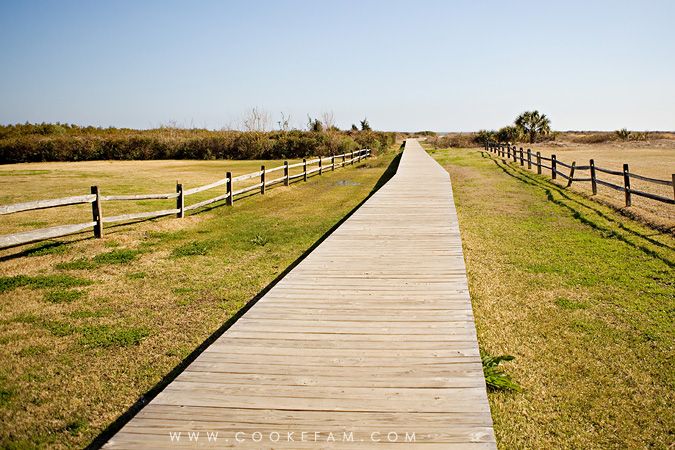 We passed some absolutely amazing beach front homes. I would take any one of them...they were gorgeous.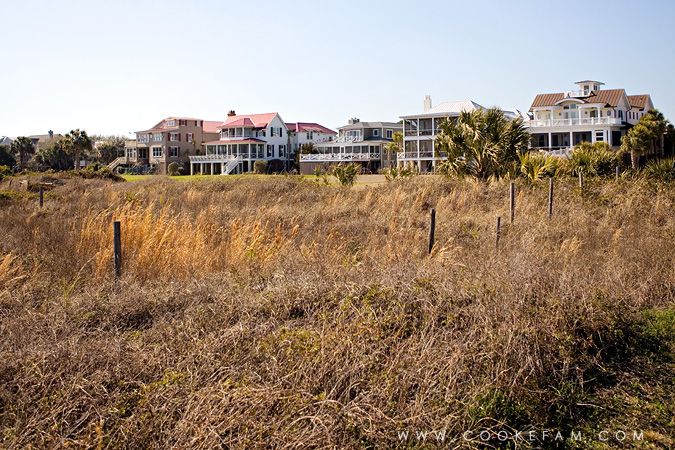 We kept going, past all the grass, and eventually started to see sand...and beyond that, water.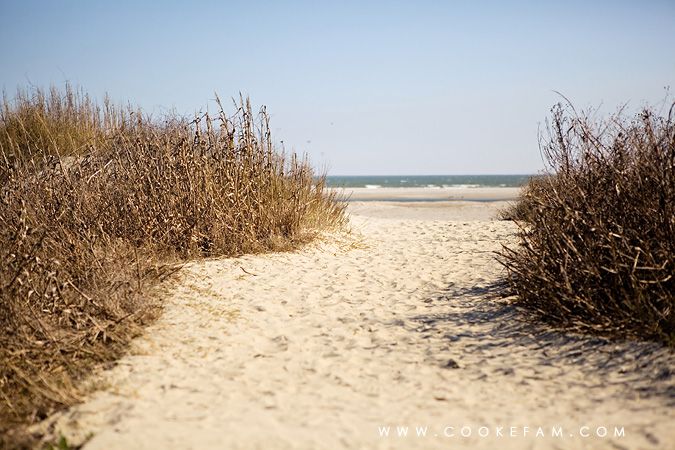 You will notice that mom has her sweater on. It was chilly! The wind coming off the water (and remember, this is the beginning of March), was quite cold. But, what's funny is that there were people on the beach in bathing suits. Seriously. There's no way I'd put on my suit in those temperatures. But I guess they were determined! It was a beautiful day.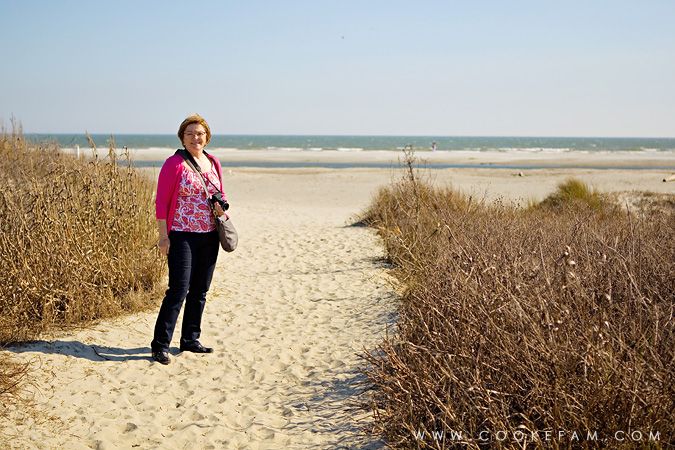 It was so fun to go outside the city and into the quiet and lovely Sullivan's Island. The beach was just beautiful...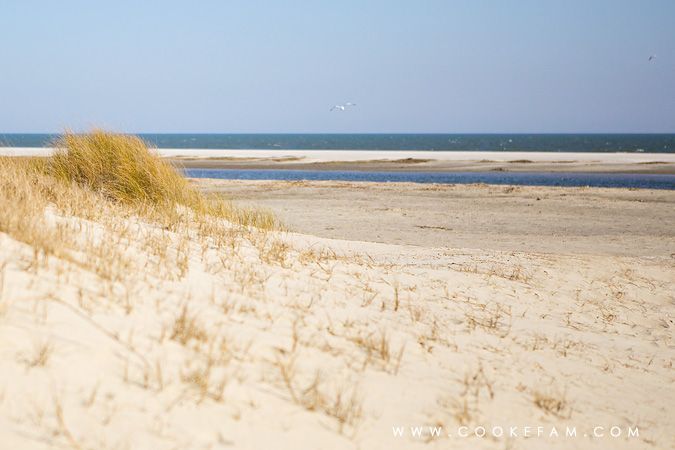 And a little windy...(I could have definitely used my jacket that I left back in the car).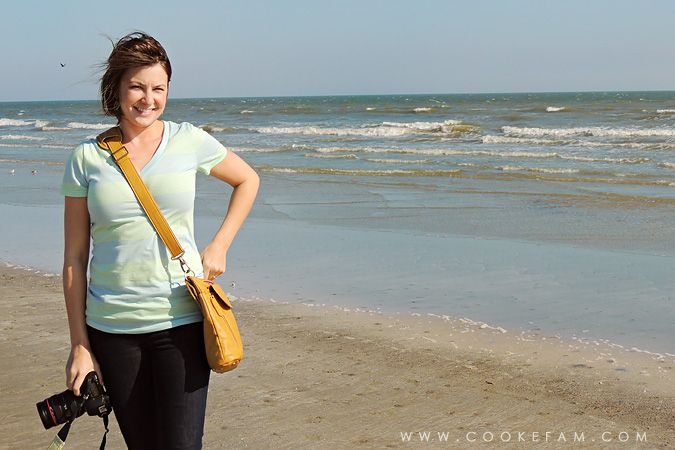 From the beach we could even see Sullivan's Island's light house. We drove by there after we left the beach. Not the most picturesque light house, but we were happy to explore a little.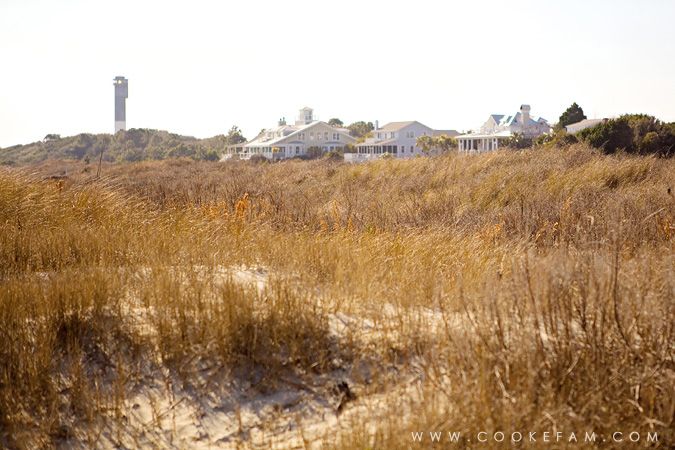 We were there in the afternoon, so the sun was still going strong. It would have been cool to stay until sunset, but it was hours away and we were ready to go back to the hotel for wine and hors d'oeuvres!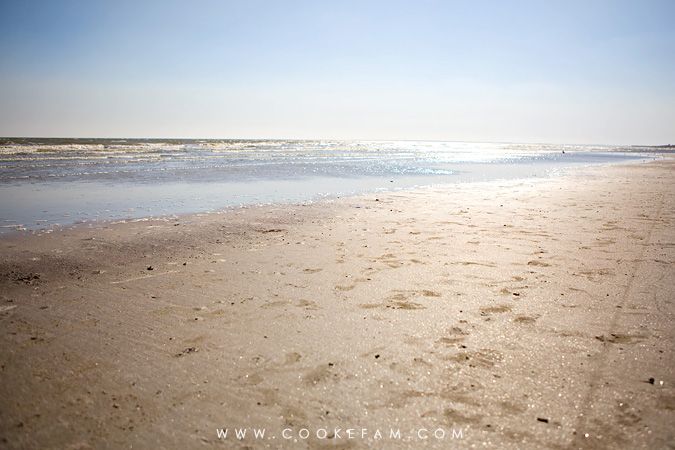 After our little detour into Mount Pleasant and Sullivan's Island, we headed back over the bridge into Charleston and to the hotel. We spent some time looking through the book of menus they have of local restaurants, admiring the blooms on the trees just outside the windows (purple!), and sipping our wine. Mom snapped this photo of me when she had a filter pre-applied to her photos...unbeknownst to her. It looked kind of crazy, so I just converted it to black and white.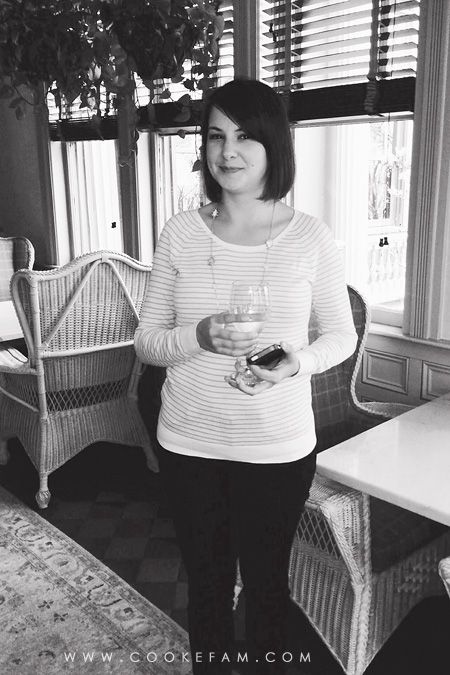 Dinner that night was at
FIG
, which stands for "food is good." And indeed it is...especially theirs.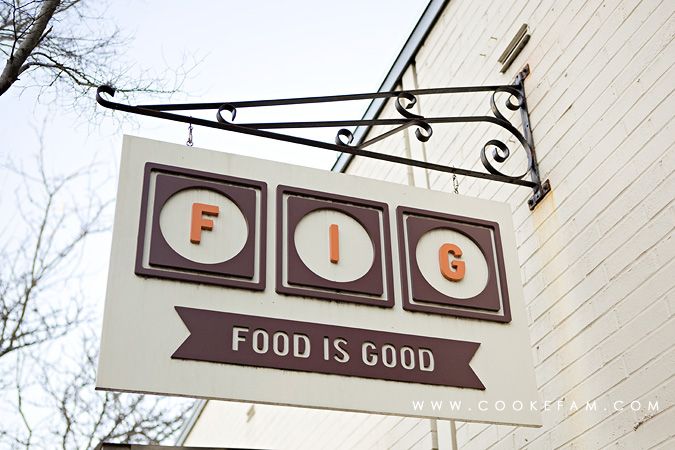 We had a wonderful waitress who recommended the ricotta gnocchi and sea-island grass-fed jersey bolognese for our appetizer. She said that although they change their menu daily, this gem will always be on it. As for me, I need little persuasion to try any gnocchi dish...it is a favorite of mine. And this was no exception. I cannot adequately describe what these pillows of rich deliciousness tasted like. You'll just have to go to Charleston and try them yourself.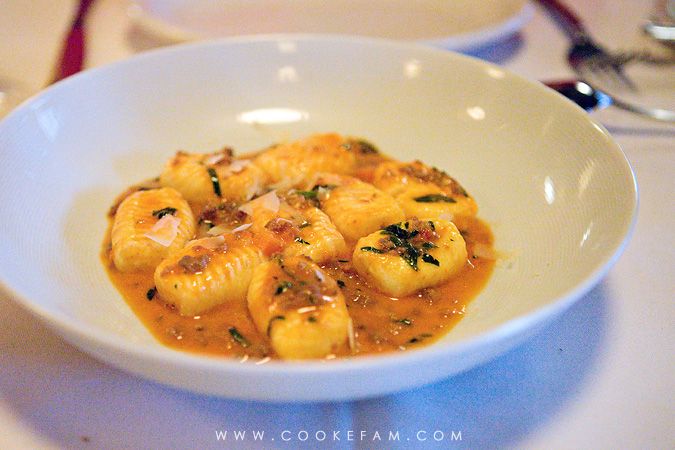 Four our entrees, we both ordered fish dishes. Seemed appropriate being so close to the ocean. Mom had the Cornflower Dusted Snowy Grouper with yukon gold puree, cauliflower, and piquillo pepper picata. I tried it. It was delicious.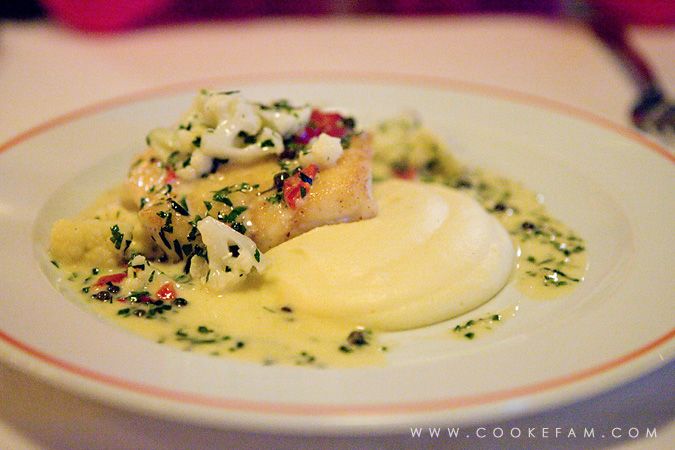 I had the sauteed gray triggerfish with Carolina gold rice grits, broccoli, benne seed, and espelette. The thing that stood out to me was just how amazingly composed these dishes were. The fish was cooked to perfection and the flavors blended perfectly. Apparently I can't think of another adjective...perfect just describes it. This is probably on my very short list of best seafood dishes I've ever had.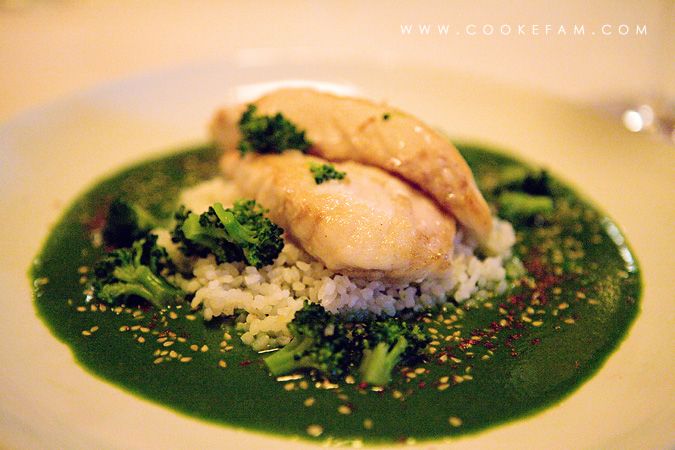 Although we were kind of stuffed from licking our plates clean (joking...sort of), we decided we should try dessert. We asked the waitress again and she recommended the sticky sorghum cake with calvados ice cream. That ice cream...wow. And the cake was delightful too. The moral of this story is...ask your waiter or waitress what to order. They usually know.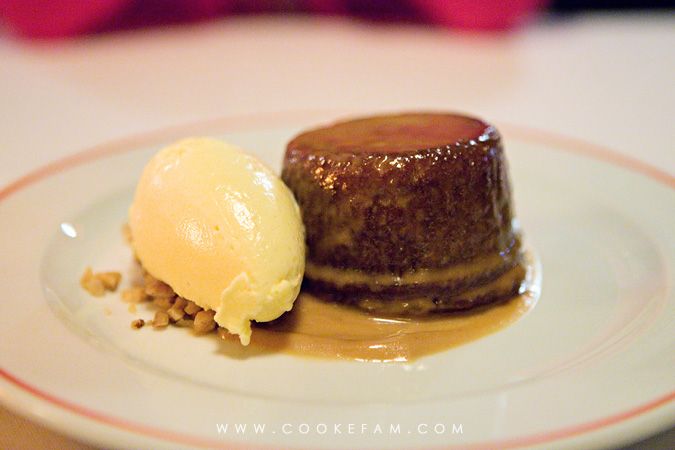 Well, the rest of our evening was spent packing (stuffing) our suitcases. We had to wrangle some room for our souviners. And actually, the next morning after breakfast, we shipped my mom's lanterns back via UPS after giving up on packing them. I didn't take any photos on day 5 since all we did was eat breakfast (I had the rice flour pancakes again), went to the UPS store (and had an adventure finding it), drove to the airport, and caught our flight home.
This was another absolutely perfect trip. Equal parts exploring, learning, eating, and relaxing. I loved it, and I love traveling with my mom!