On Easter we met Casey's family out at Grandaddy and Nana's house to spend the rest of the day. When we got there, we snapped a quick photo so everyone could change clothes. Not everyone was happy (Ethan!) about life at the moment.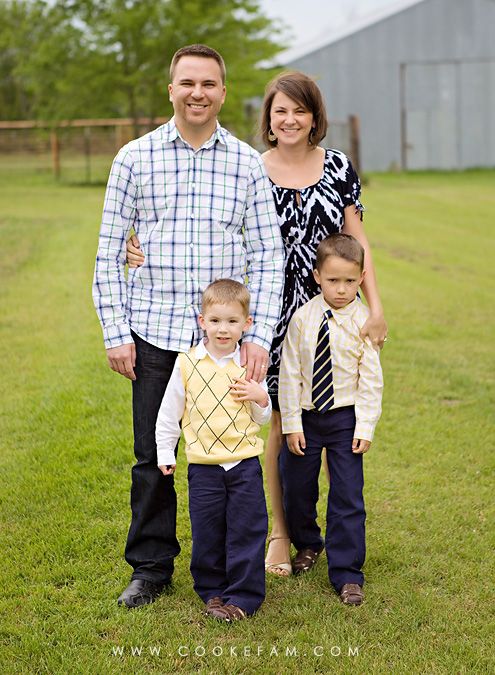 After we had lunch (burgers) and a celebration of Chelsea's 30th birthday (with cake), we lined up both sets of great-grandparents and made them take a bunch of photos. It is very rare that they are all four together at once...Nonna's dad and his wife, Betty, on the left side; Papaw's parents on the right side. Here's a shot with ALL the great-grandchildren from Nonnie and Papaw's family.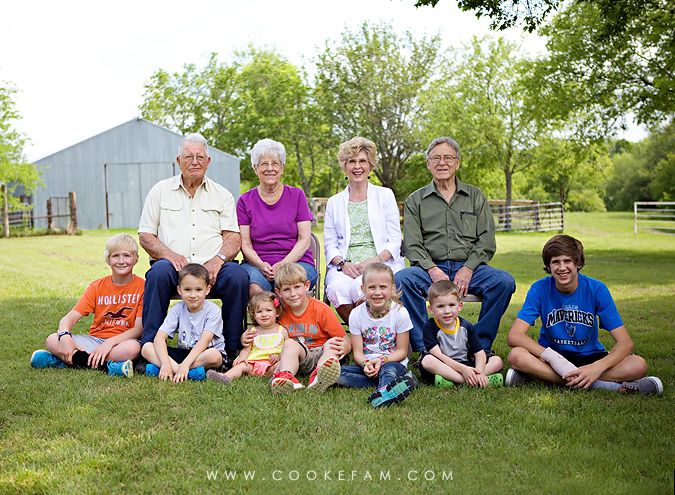 And one with just our boys and Casey.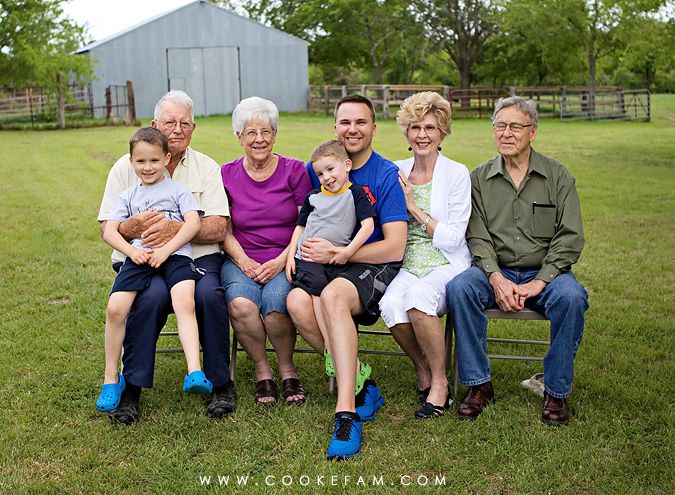 After everyone was released from photo-taking, a baseball game started up in about .2 seconds.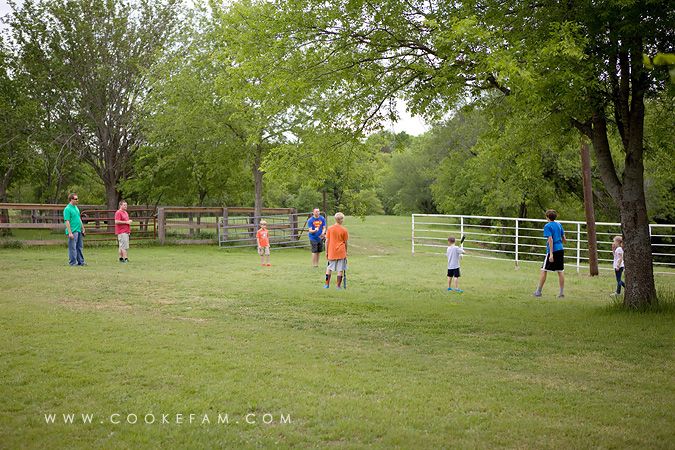 I forgot to mention that Duke was with us having a grand time.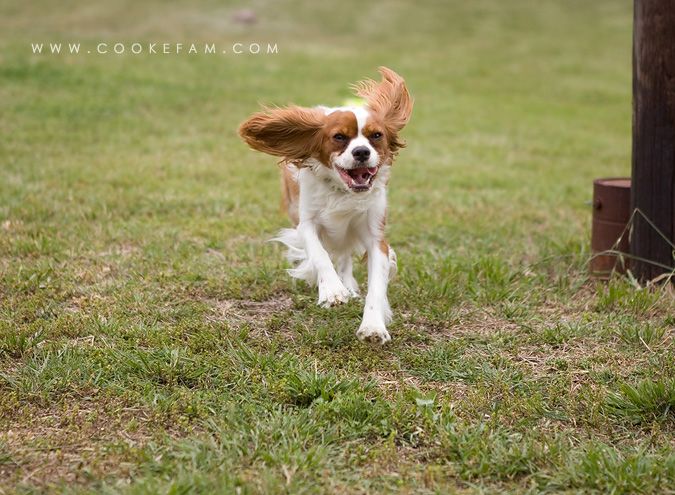 Ethan is up to bat...I think this is one of the ones he hit.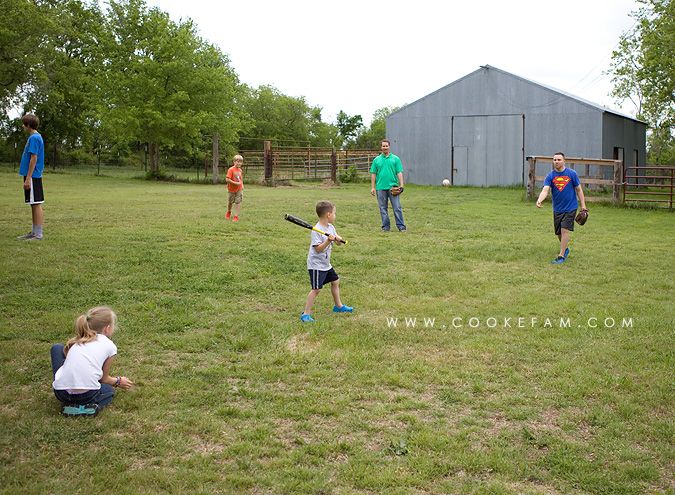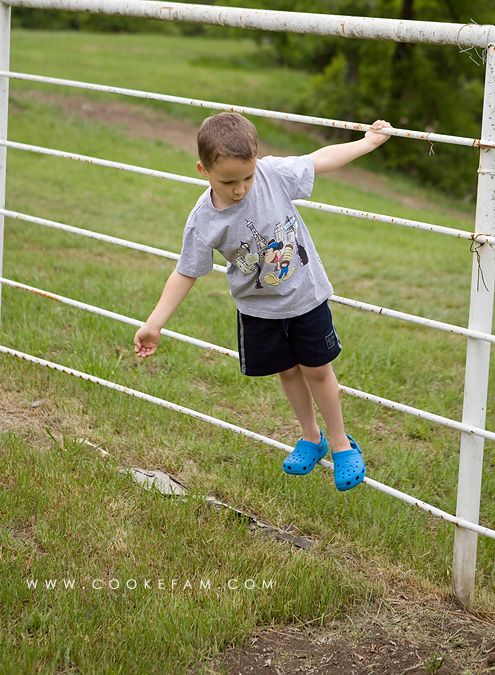 Ethan was really funny...he would worry if Duke strayed too far. He didn't want him to run off or get hurt!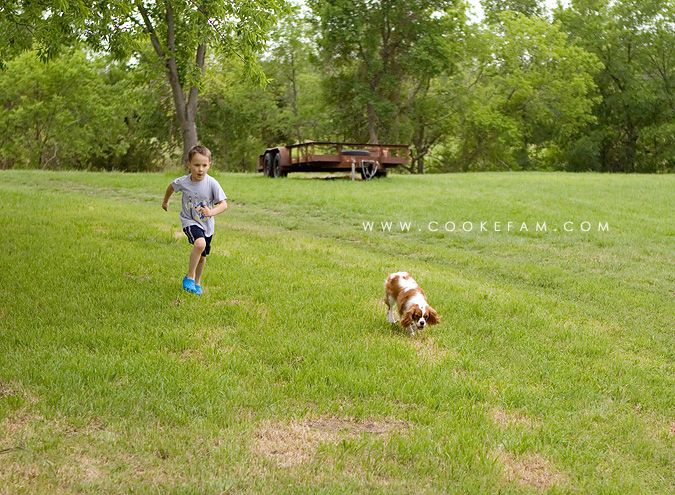 Even Memaw Cooke took a swing! This is very much like her.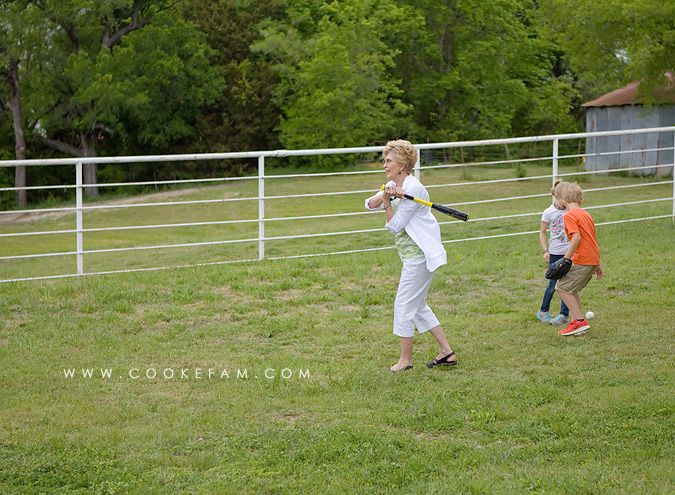 Next up was dyeing eggs. I purposely put my boys in clothes that I didn't mind getting messed up. And wouldn't you know, my forethought was not necessary...they didn't get a drop on them except a little on their hands. But I'm sure if I'd put them in nice clothes, something would have happened.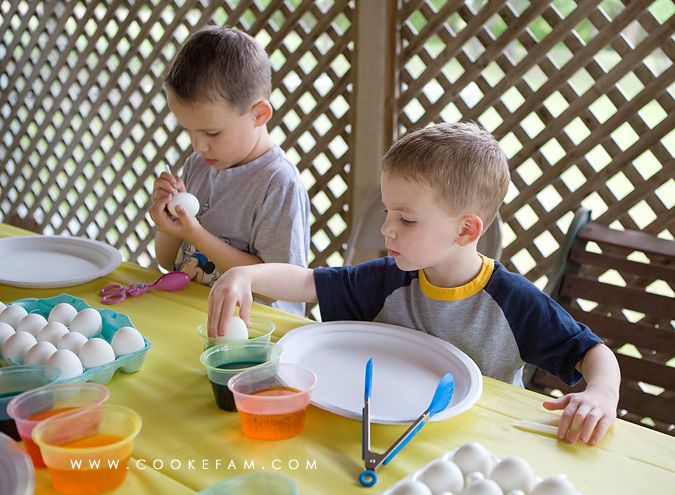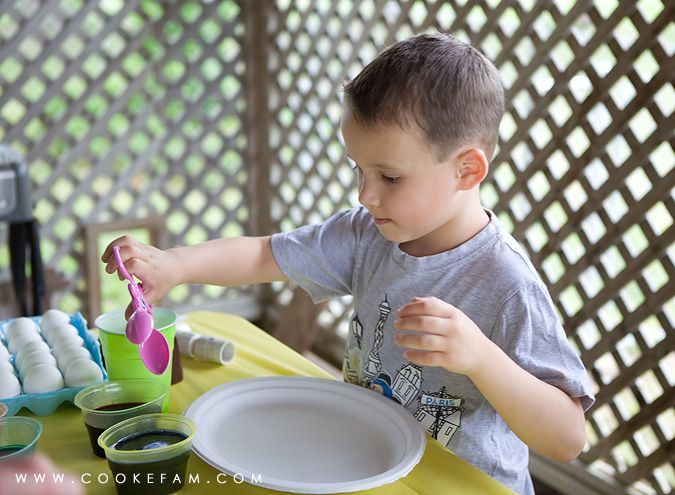 They both really love coloring eggs. Very serious about it too...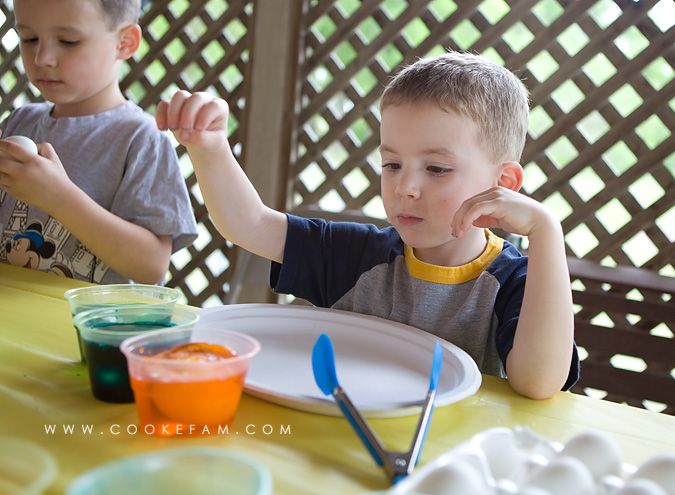 Logan mostly just plopped his in the colors. Ethan used the wax crayon a bit.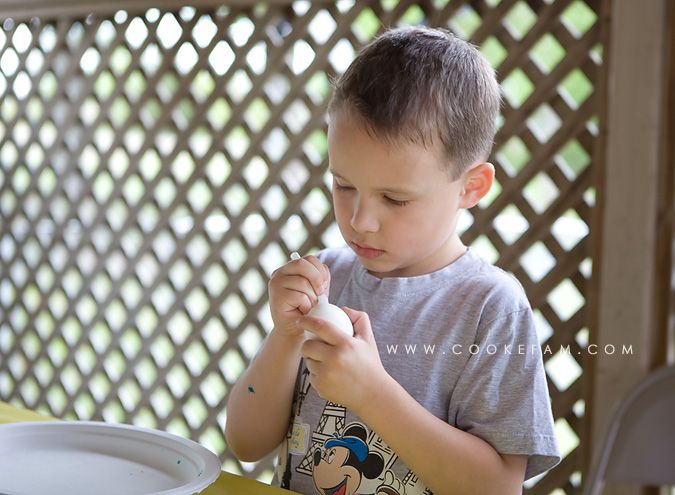 We used these cheap tongs I got at Hobby Lobby for the boys' birthday parties a couple of years ago to remove the eggs from the dye. It really helped keep their hands clean. Those little metal scoops included with the dye are a joke.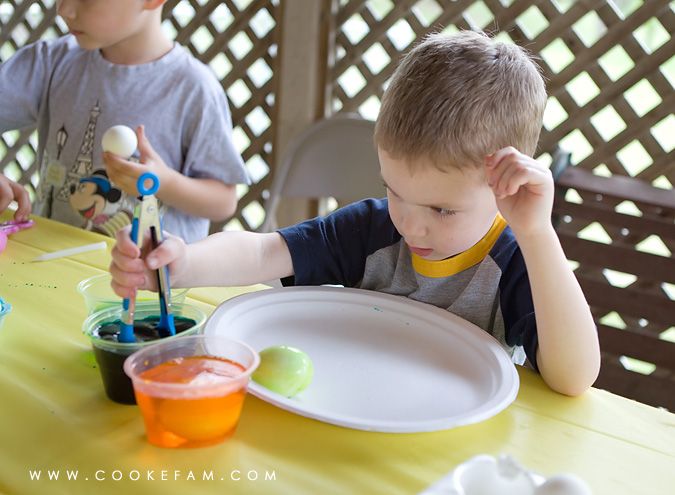 I had a couple of pairs of actual Easter egg tongs too. Ethan was super proud of the color and writing on this one. So bright!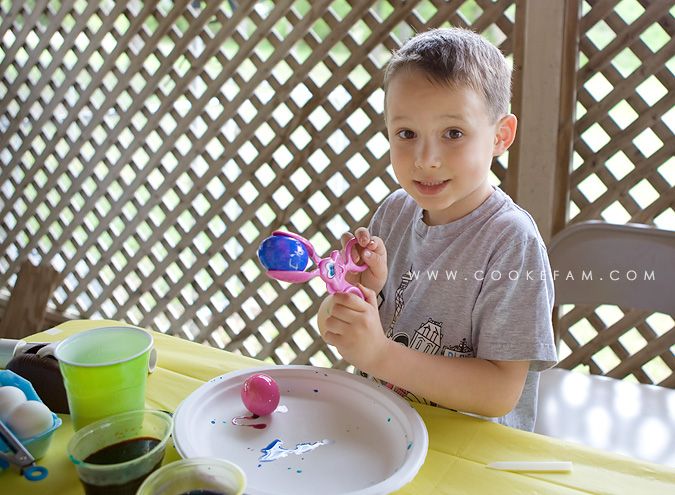 Logan dyed more than a dozen eggs in a matter of minutes. He loved it. And then he was done. But he was proud of his eggs. He asked me to watch them dry!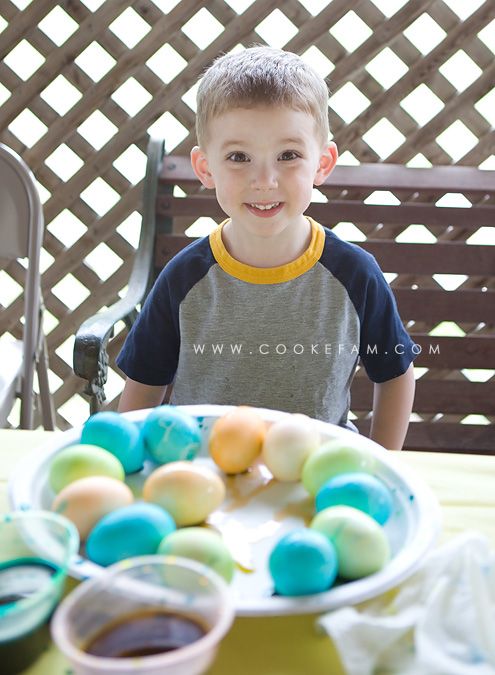 Here are Ethan's eggs. He was a little more patient than Logan and let his sit in the dye longer....thus, darker, brighter colors.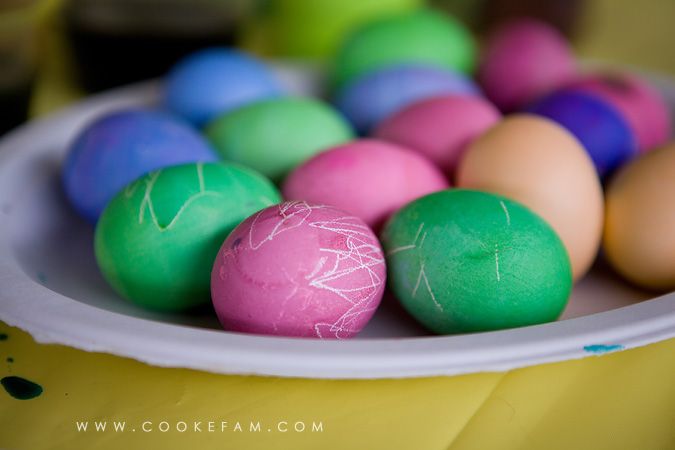 It really was a beautiful day that day. No rain, although we passed through some on our way down. But the temperature was just right and it was not too windy.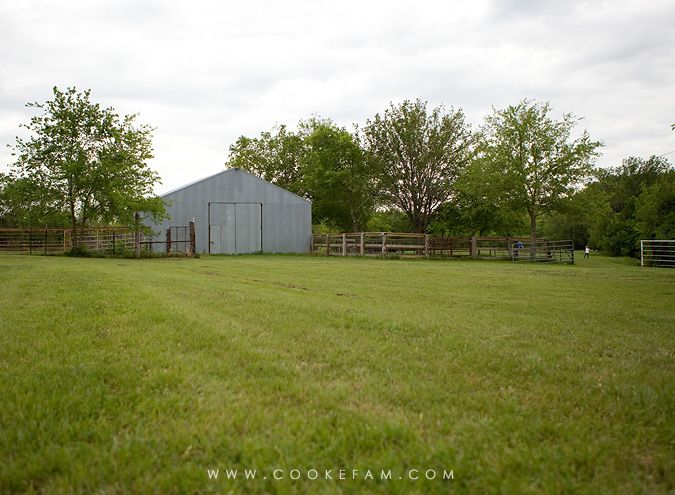 We all kind of just hung out outside for a while. Here is Ethan with two of his cousins, Kyle and Carter.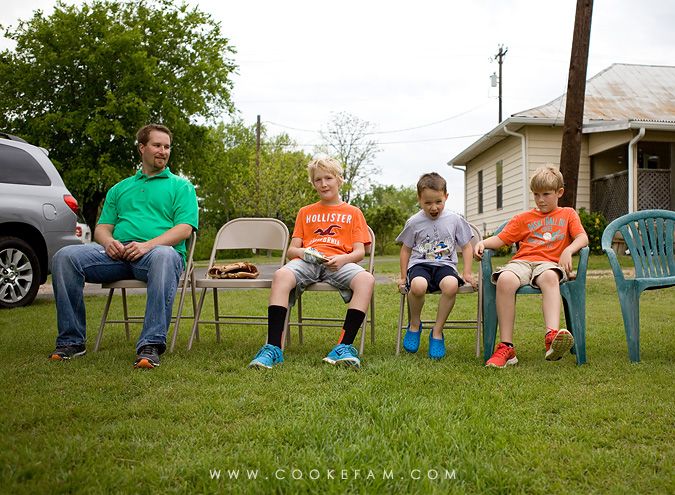 Apparently, running around at top speed wore Duke out! He's on the leash here because we were about to go on a walk.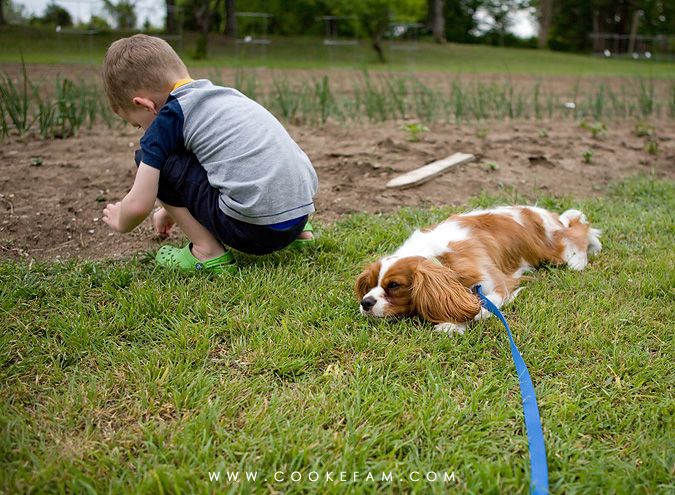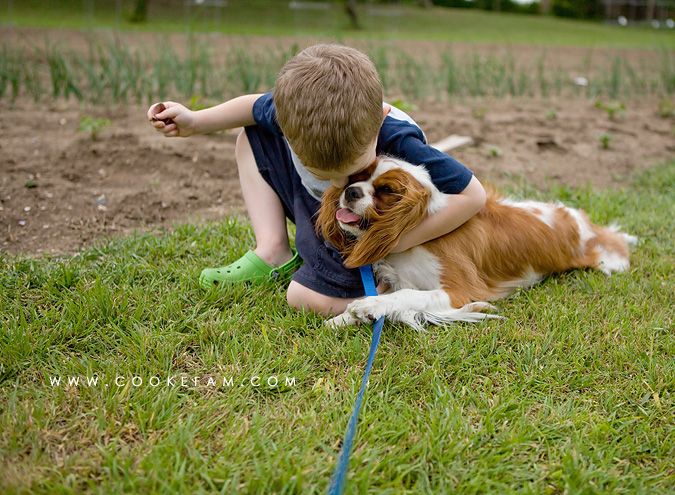 Casey wanted a photo with our boys, his dad, and his grandfathers. There's 4 generations there.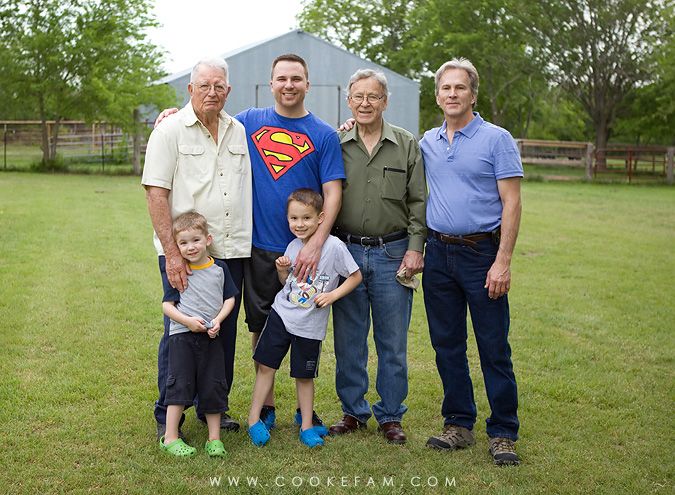 Look, there I am! I handed the camera to Casey briefly to document my presence. This is what he got.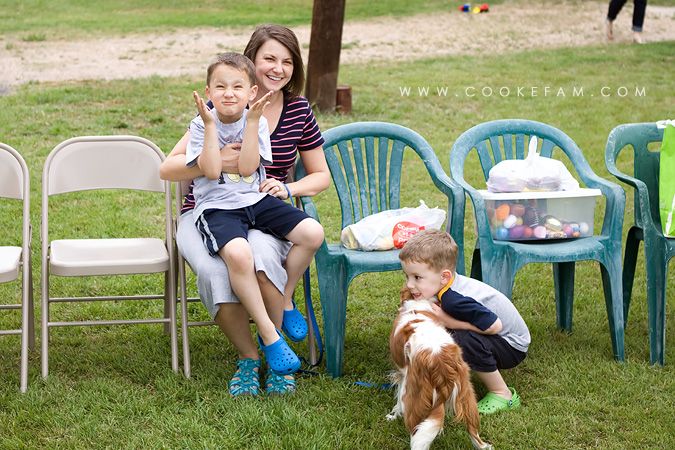 Papaw Cooke, Papaw, and Grandaddy chat while Nonna gears up for the egg hunt by holding all the baskets.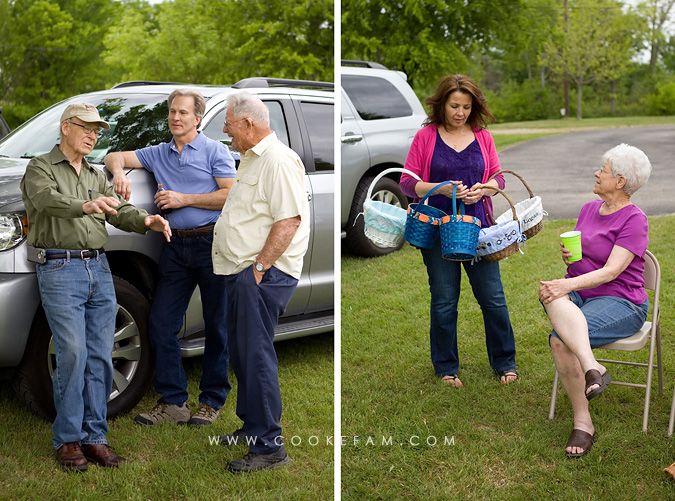 Aunt Linda and I took all the kids participating in the egg hunt on a brief walk so that the eggs could be hidden. They were too wound up to go wait inside the house.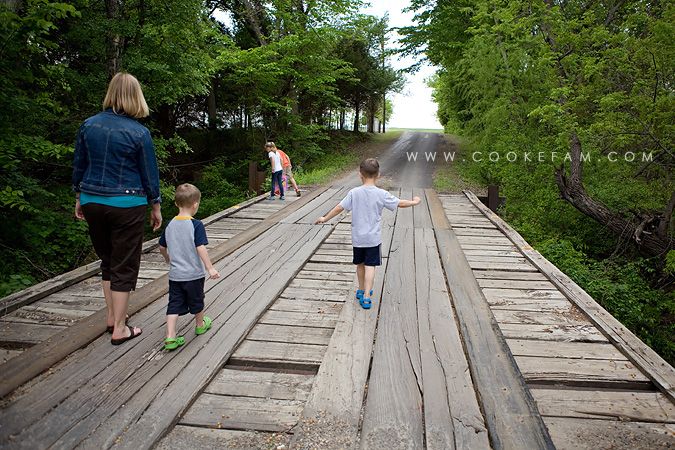 Burning off energy on country roads is always a good thing.
When we got back, all the eggs were hidden and the hunting began.
Looks like Ethan has found one!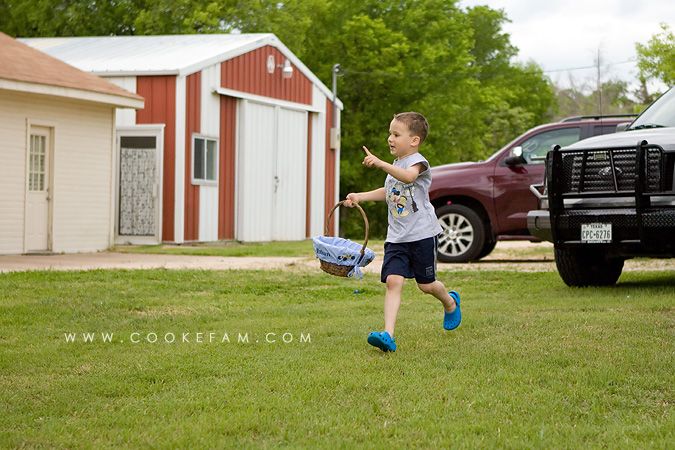 Yep.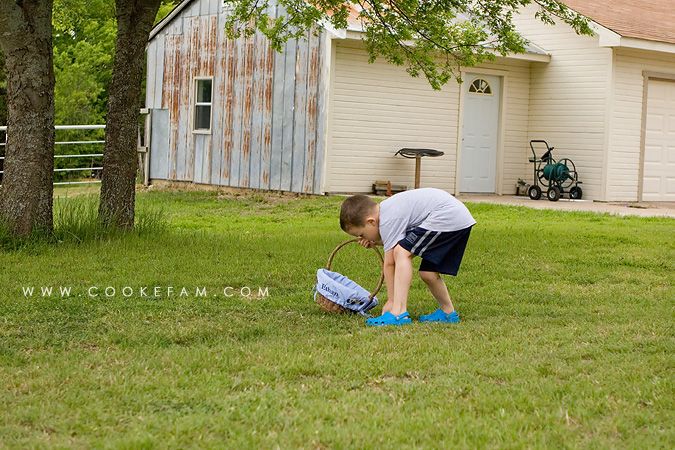 Such a cool place to hide and hunt eggs.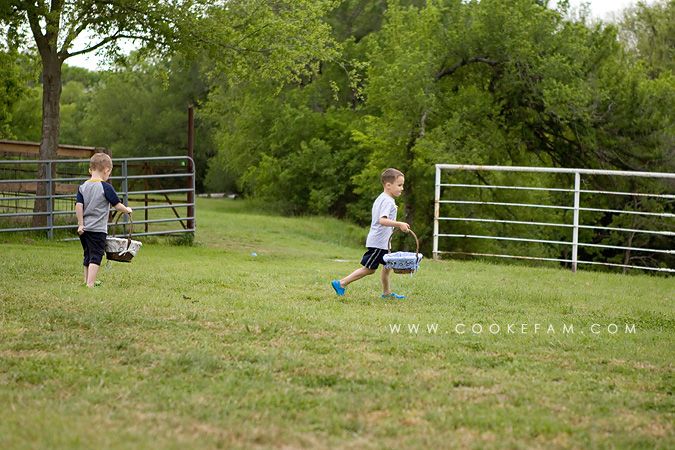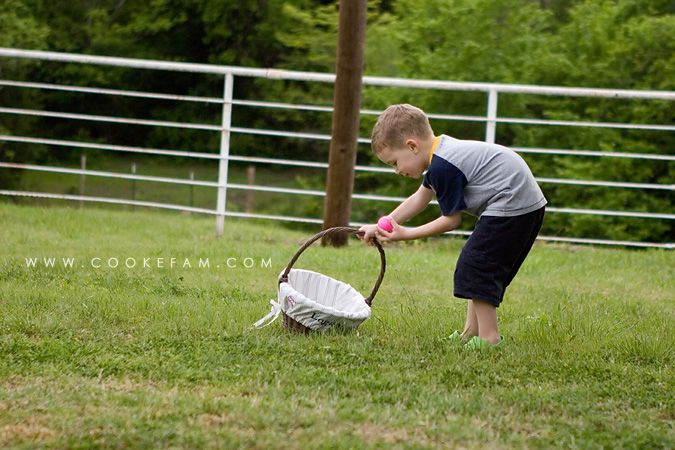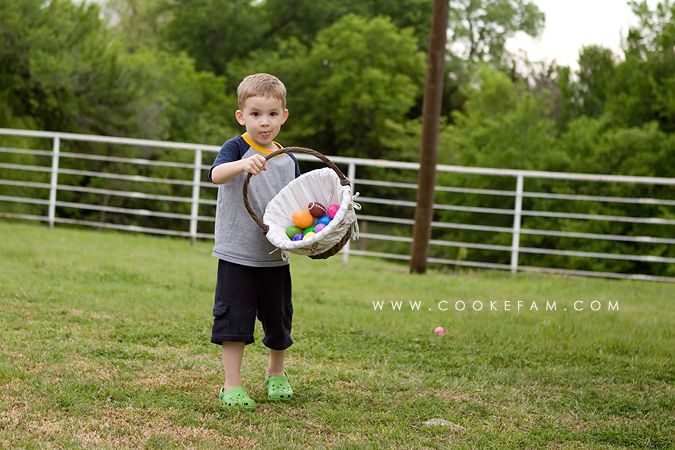 Ethan was really committed to finding eggs...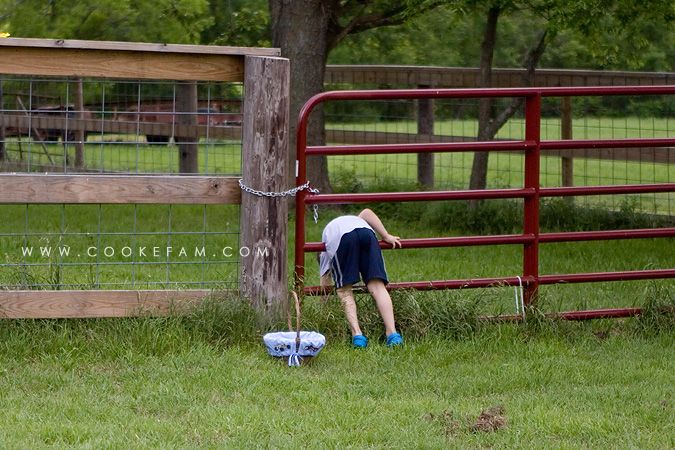 At this moment, I think he was wondering how to get back down. (He made it.)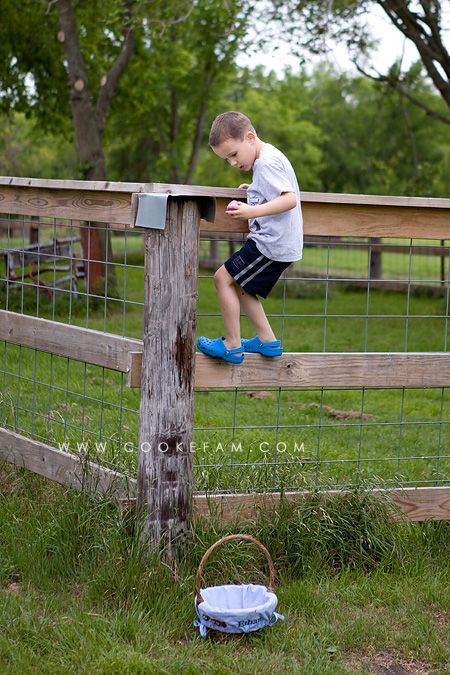 The peanut gallery of adults watched the kids run around like crazy gathering eggs.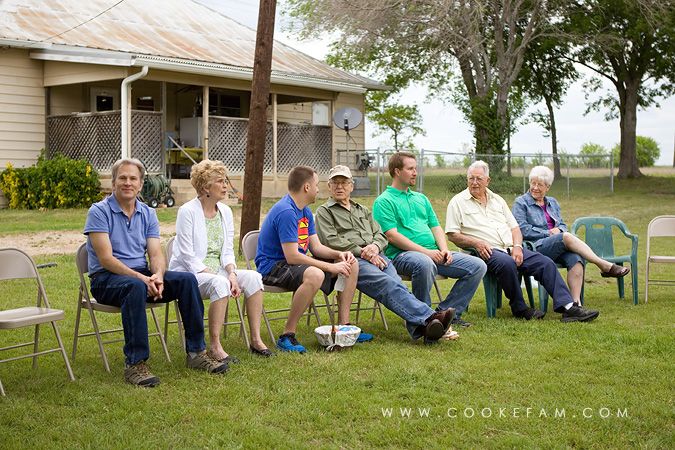 Duke ran around too, but we had to watch him closely because there were chocolate eggs hidden along with the plastic kind!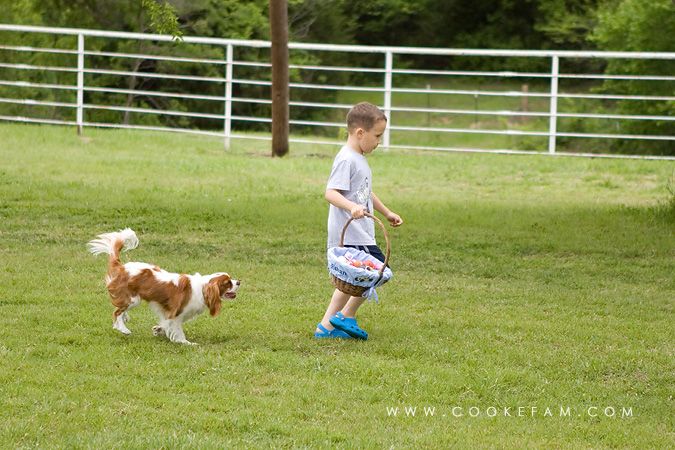 Someone is proud of their stash.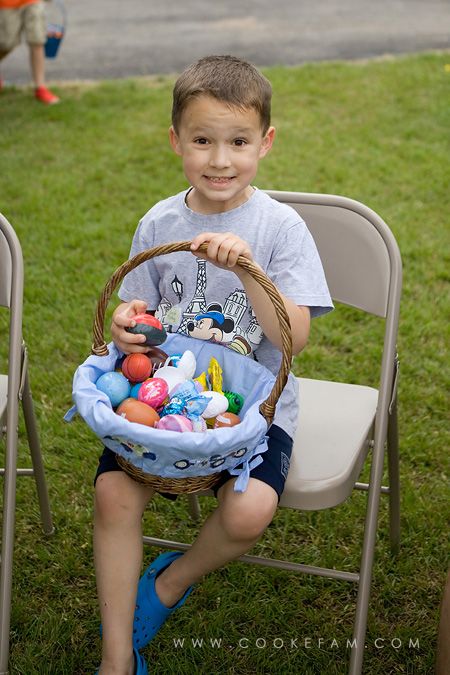 Nonna got the boys a small Easter bag with some goodies. One of the items was a truck for each of them. Logan knew immediately what he wanted to do with his and wasted no time getting to Grandaddy's garden and the dirt.