Ethan turned 6 this year! It's really hard for me to believe that we have been parents that long, but just as he finished up his Kindergarten year, he turned 6 years old. There's no denying it!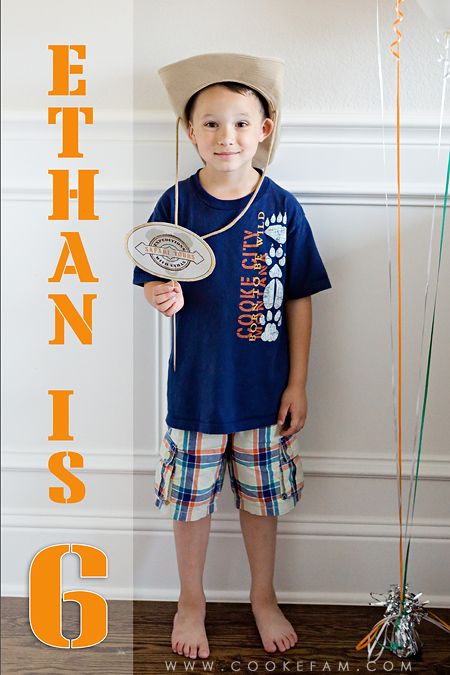 When he and I were discussing what kind of party he wanted to have, he mentioned maps and animals, so I thought a safari party would nicely combine two of his favorite things right now. What I didn't really know was where everything should be put for the party since this is our first one in our new house. I decided to put all the food (except the cupcakes) in the dining room.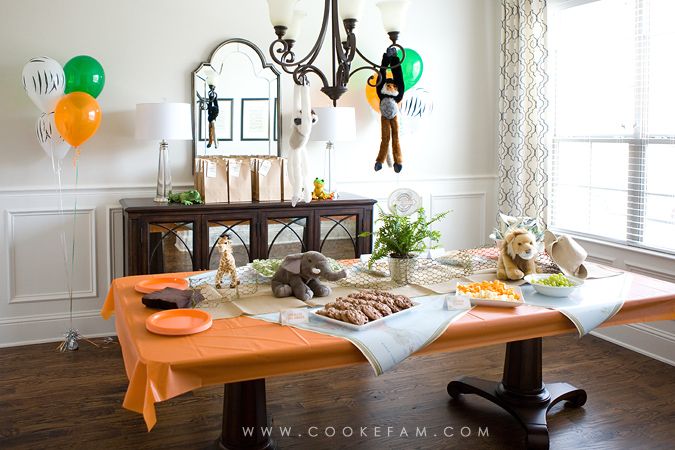 Thankfully, we already had lots of great things with which to decorate...stuffed animals, safari hats, burlap. I bought the maps on Amazon, and Ethan absolutely loved them. He is a kid who pays attention to details like that and appreciates them.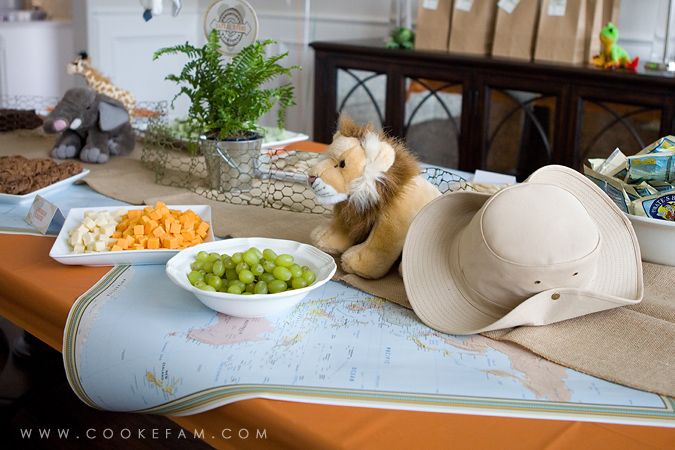 I used regular brown sacks for simple party favors and made my own tag. I also reused (again) those metal buckets that I've used in several parties before. I just plopped an inexpensive fern from Lowes in there with a sign I made on cardstock.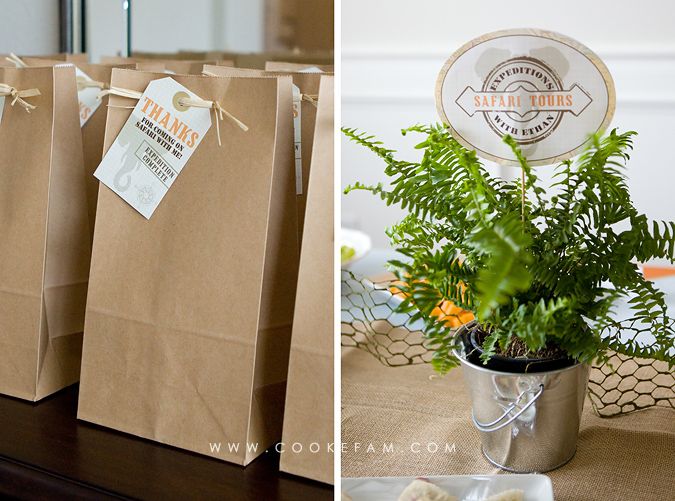 In the kitchen, we had drinks and cupcakes.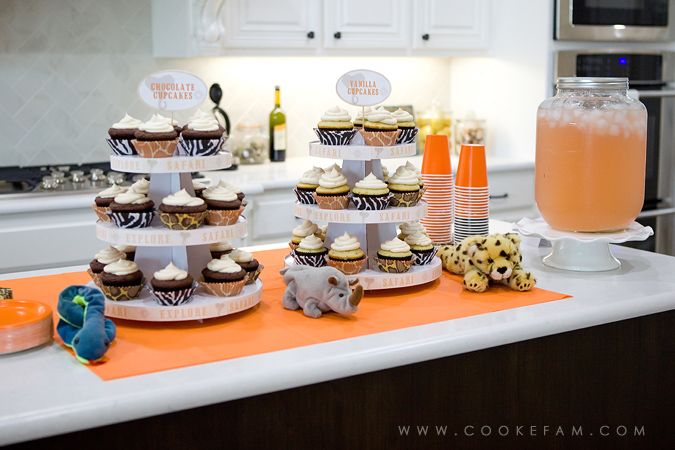 When we decided on a safari party, I asked Ethan if he thought it would be fun to have animals there that he and his friends could see and hold. He loved the idea, so that's what we did. I had Cathy's Critters bring out some of their soft and fluffy animals. (By the way, I was really impressed with Cathy's Critters presentation and employees...I would definitely recommend them if you need something like that locally.)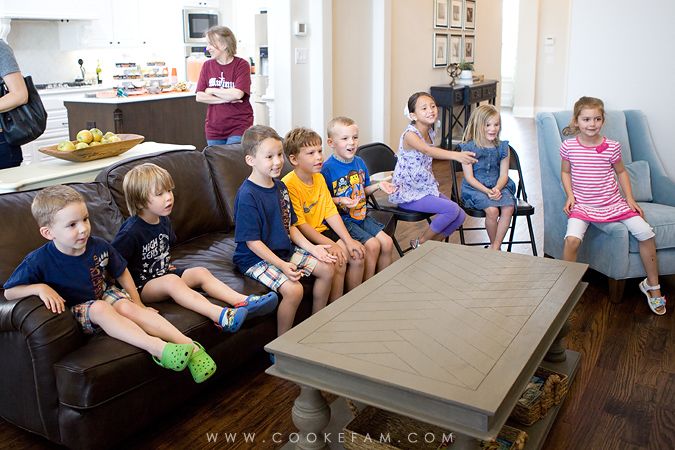 Before each animal was passed around, the presenter told the kids a little about each one. And I stress, a little. In my opinion, she said just enough to let them know about the animal they were about to hold without losing their attention and making them restless...about 2 minutes or less on each animal.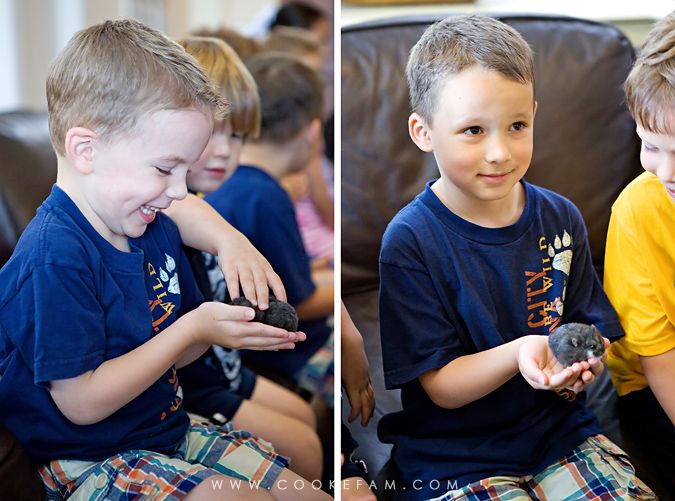 There were little chicks and a mouse. There were so many super cute photos of the kids with the animals, but I had to narrow it down, and here I've shown mostly my kids for that reason. But here's Ashton and Blake, Ethan's best friends. I love all of their faces!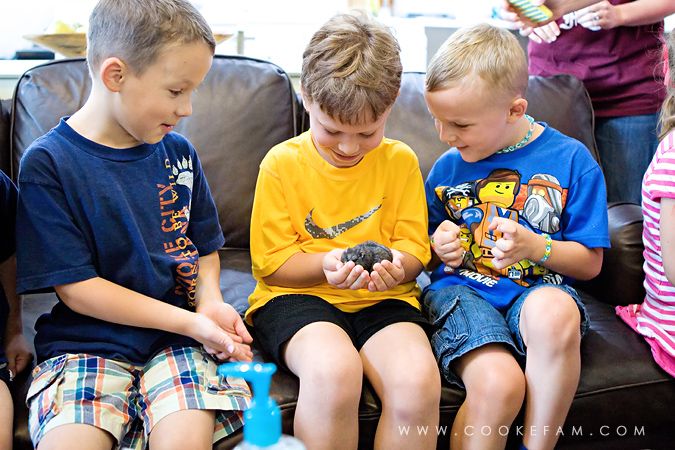 The ferrets didn't do well being held individually, so we put them on the coffee table for the kids to interact with. They were really quick,and we had to keep them from jumping off frequently, which elicited lots of giggles from the kids.
Even though I opted for the soft and furry set of animals, the Cathy's Critters presenter brought a snake anyway. She told me before we got started and asked if I was ok with that...and I thought it was a great idea. I loved that we got lots of cuddly animals and also the opportunity to hold a snake. Ethan, as you can see, was not afraid of it at all.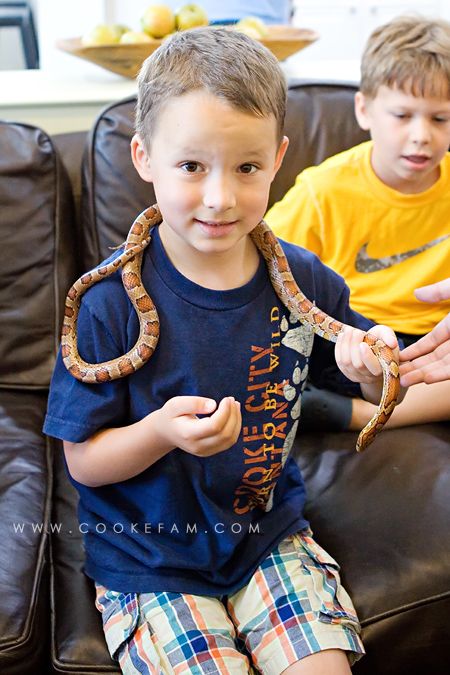 Logan held it too...as did most (if not all) of the kids...
...including daddy and Mimi (not pictured). They also had a beautiful bird that sat really well on the kids fingers. I think they all loved that one.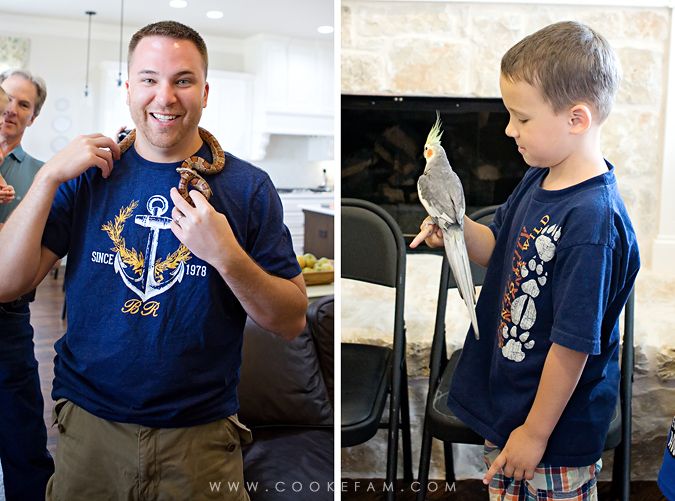 And of course, there were some adorable baby bunnies...a favorite of everyone for sure.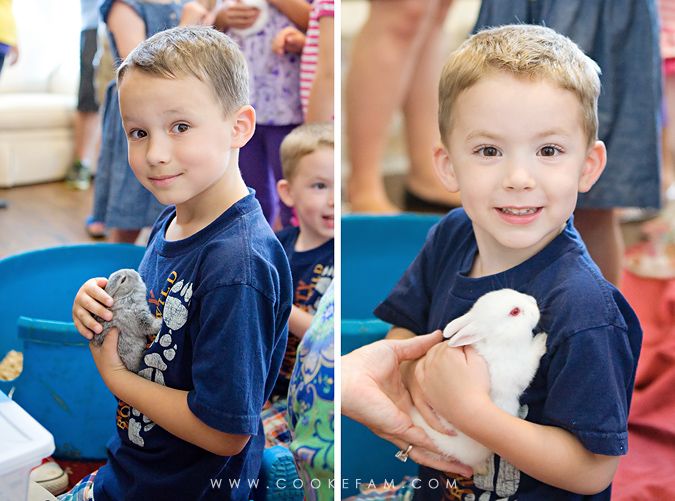 After each animal was presented, the handlers put the animals in containers and let the kids pick them up as much as they wanted. They passed the bird around as well...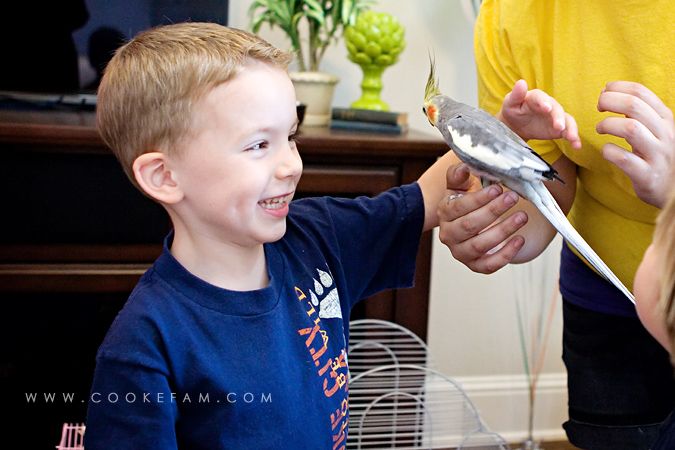 Here's Logan and daddy with one of the chicks.
After the kids had had plenty of time with the animals (really, it was a lot of time...the kids loved it), Ethan was ready to open his gifts. I love that most of the kids hand-made their cards. And I love that Ethan can read them this year!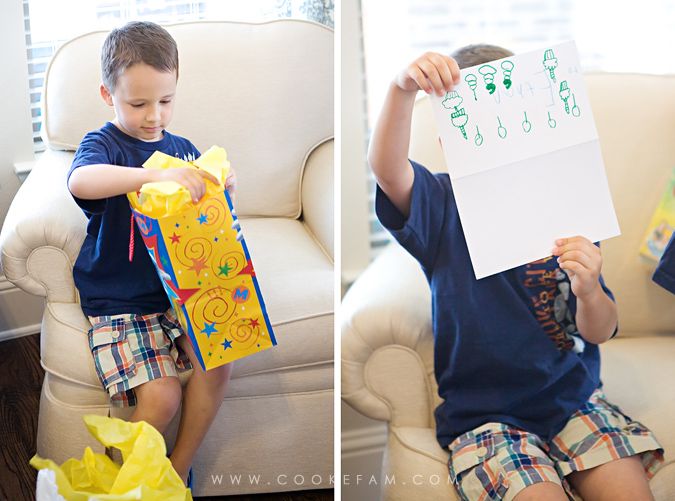 ALL of his gifts were awesome and he's really enjoyed them these past few months. By extension, Logan has too.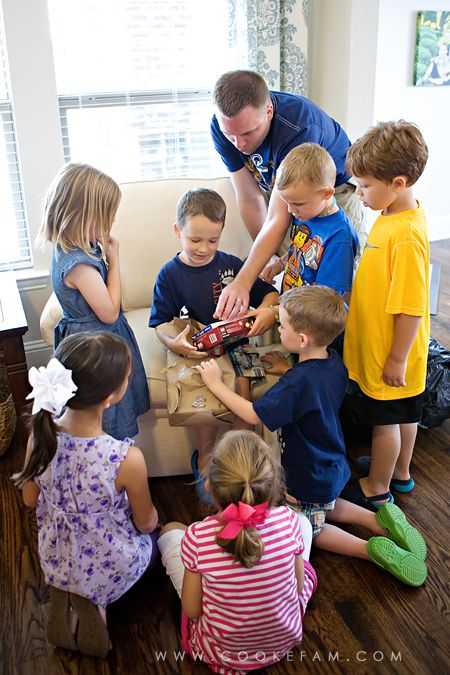 After presents, it was time for cake...or cupcakes, to be exact. I put a whole 6 candles in that one little cupcake and Ethan almost blew all of them out in one breath.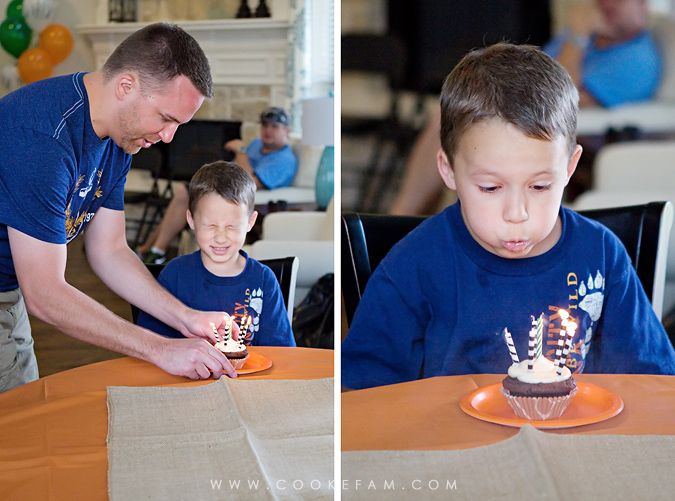 Then we got the kids situated with cupcakes and other snacks at their table outside. At the end of May, it was really pleasant outside so this worked really well.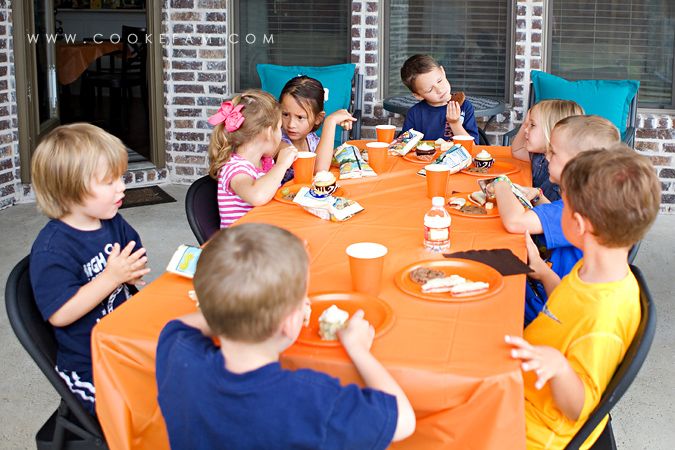 Of course, after they finished eating they all wanted to play outside, which was fine by me. Even though I didn't have any more activities planned for the party, they needed no direction. Kids are pretty good at playing especially when they're together. Thanks to my mom for getting this photo of them in the fort while I was inside.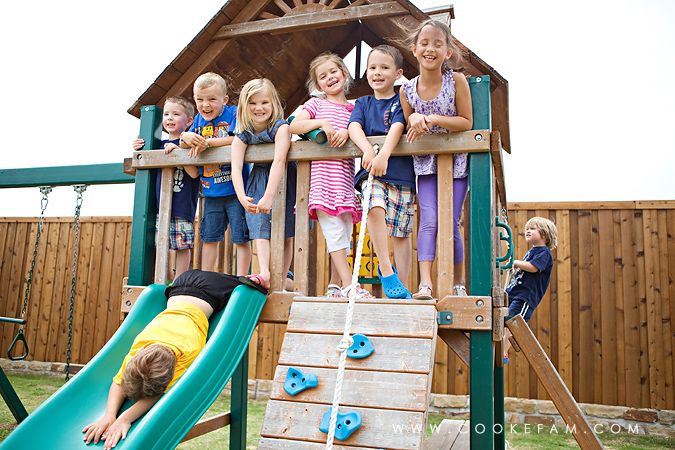 We had a great time at Ethan's party and are so thankful for our sweet boy.