I love photo ornaments. They are probably my favorite. I love looking back at my kids' little cheeks and sweet smiles on their ornaments each year when we set up and decorate our tree. And I also love seeing me and my brother on my mom's tree. So, ever since I had Ethan, I've been buying or making photo ornaments each year for each of the boys. Last year we were in the middle of moving so I didn't get any made. We didn't have our tree up anyway since we were living with my parents. So, this year I made two sets of photo ornaments...two for last year and two for this year.

I had been collecting a few materials here and there as I'd spot them at the craft store, so I already had everything I needed. I had bought some raw wooden ornaments and some mini square canvases among other things. And I always have craft paint, paint pens, hot glue, and ribbon handy.
It looks like a bit of a mess, but there were some ornaments taking shape in there. I also made a couple for my mom since she likes to hang these types of ornaments too. The ones in the top right of this photo are for her...they have a photo of both of the boys together.
(PS- I keep these sheets of packing paper rolled up with my wrapping paper and I pull them out whenever I need to do some crafting. That's why there's so many old paint marks on there.)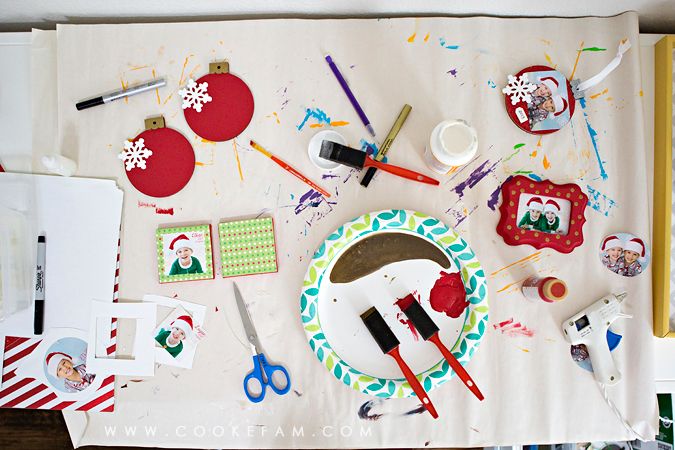 First up were last year's ornaments. For all of these, I "wrote" the words on the photos in Photoshop and printed them all out on one sheet of photo paper. I like to have their ages and the year on there. And I like it on the front so I can see it immediately.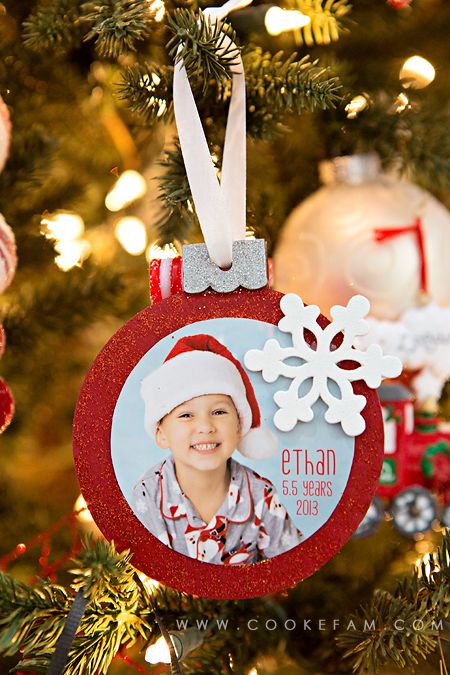 These could have been photographed better (my fault), but I love how they look in person. I found these wooden ornament shaped ornaments at Hobby Lobby last year and picked up several. They had twine through the hole already, but I swapped it out for some white ribbon since it went with my ornament better. They came unfinished, so I painted them red (obviously), and used a silver paint pen for the top part. Then some glitter, a wooden snowflake (also purchased at Hobby Lobby) and the photo, which I attached with hot glue.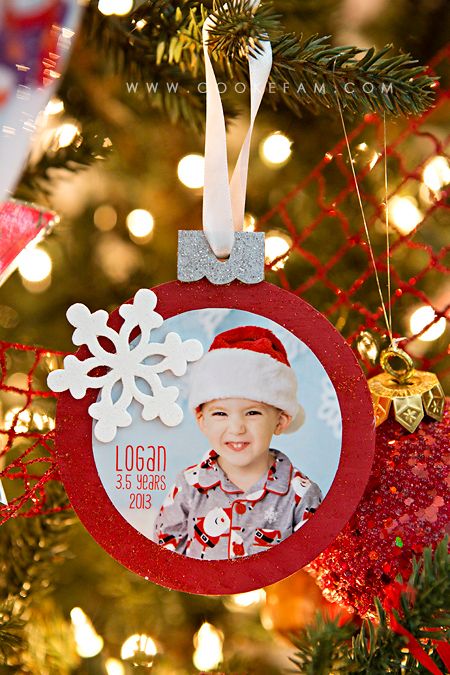 I made this year's ornaments using the mini canvases I had found...probably at Hobby Lobby, but I'm not sure because I've had them for a while. They are 3x3, I think. I painted the edges red and then used Mod Podge to glue on a square of scrapbook paper I had on hand. I printed off their photos in a square shape with the date and age information just like on the other ones.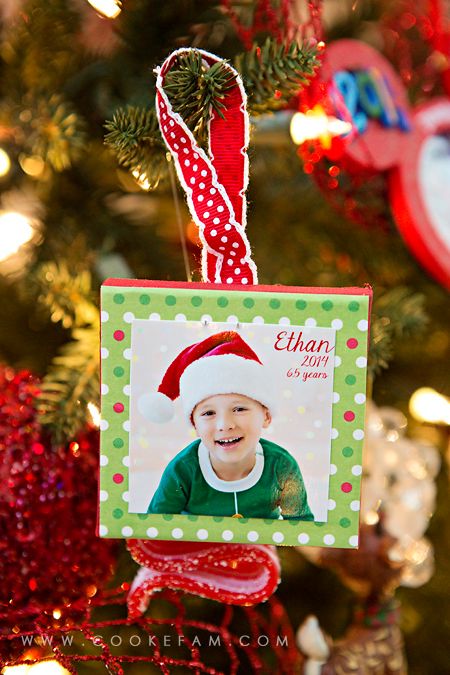 For the ribbon, I used a staple gun to attach it to the wooden frame on the back. I think that's a little more secure than hot glue, because, in my experience, hot glue has a tendency to not hold as well over the years for the hanging ribbon.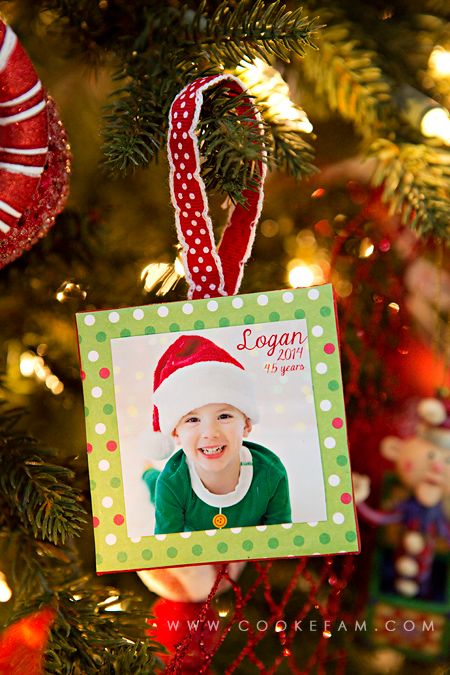 I am really pleased with how the ornaments turned out this year. I was in such a crafty mood that I almost wish I had more to make! There's always next year, I guess.