By the time we woke up on our Castaway Cay day, we were already docked at the island. The boys and I got dressed and went out on deck to have a look at where we would be spending our day while Casey got ready.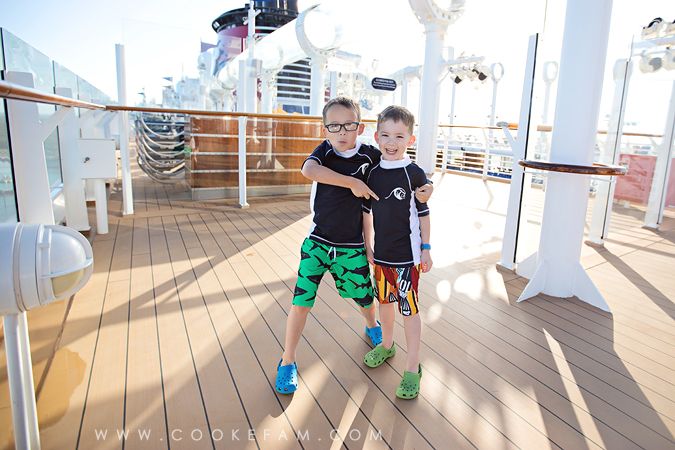 There she is...Castaway Cay as it looks from the ship. We could not wait to get down there.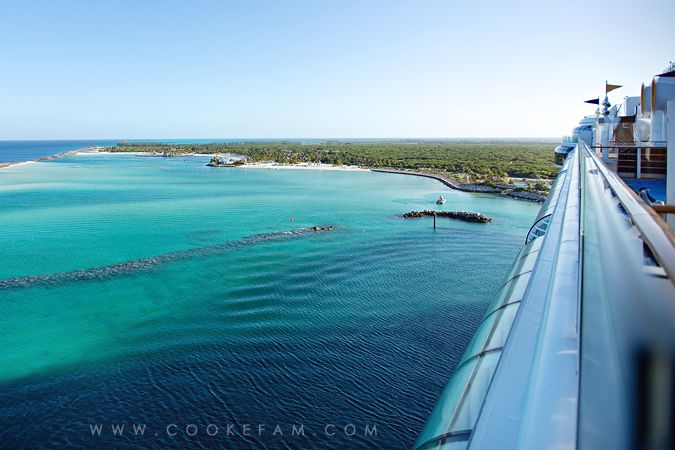 I love that Disney built a dock on the island so you don't have to tender boats in from the ship. That was so nice. We just walked off and there we were.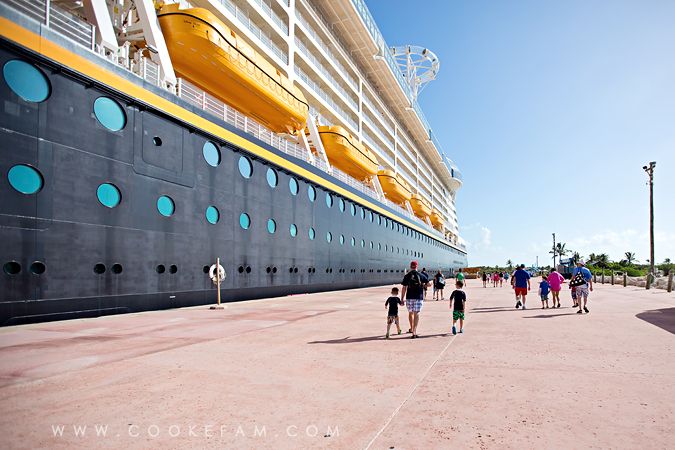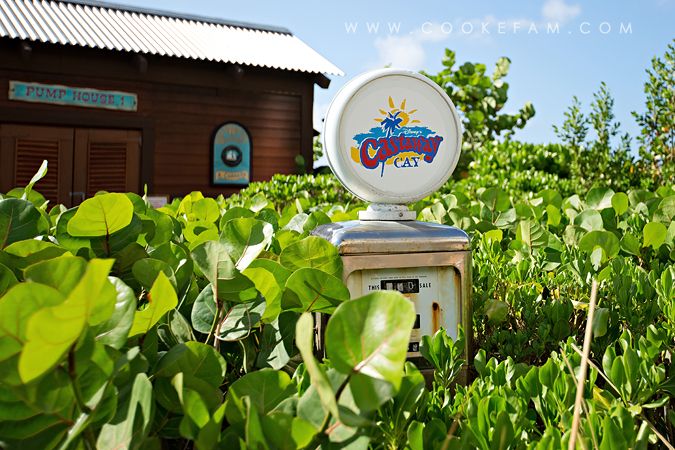 We had one of the photographers get a photo of us in front of the ship. The sun was right in our faces and the boys were more than ready to get to the beach.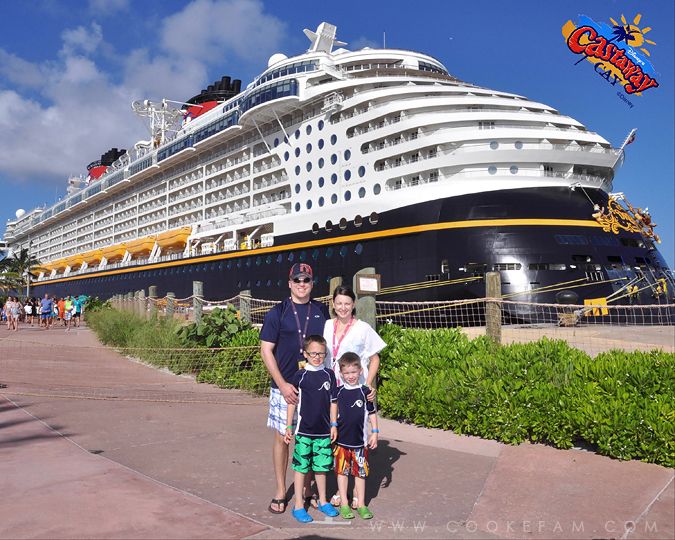 We started walking down the path toward the beaches. At some point we could have hopped on a tram to take us down to the cabana, but we knew there were going to be some things we wanted to see along the way, so we walked.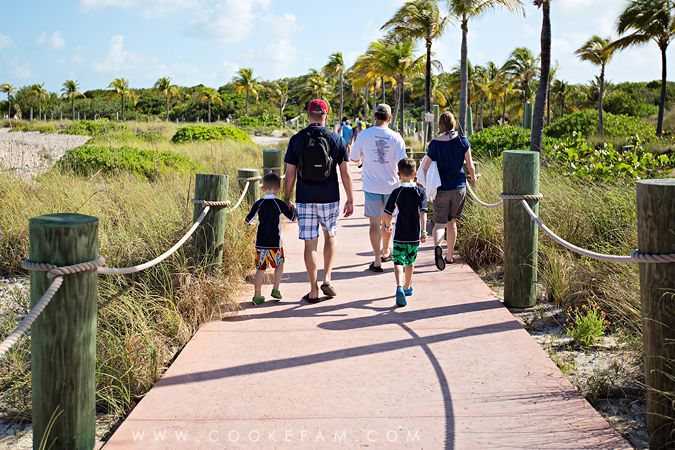 One of the things we wanted to see were some characters. Like Minnie...all decked out in her beach attire. I just loved the beach and ship right behind her.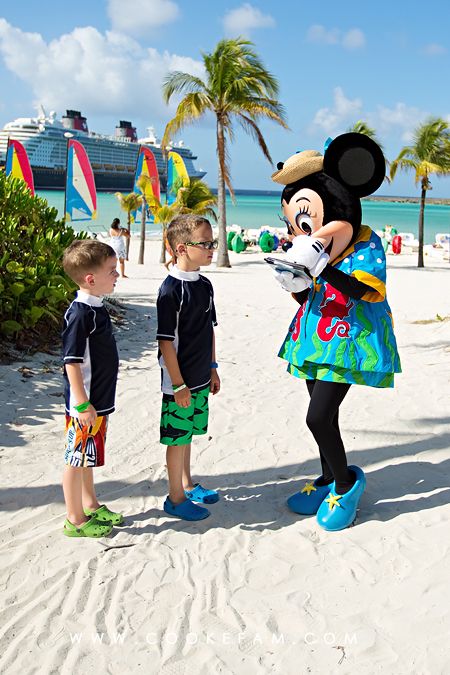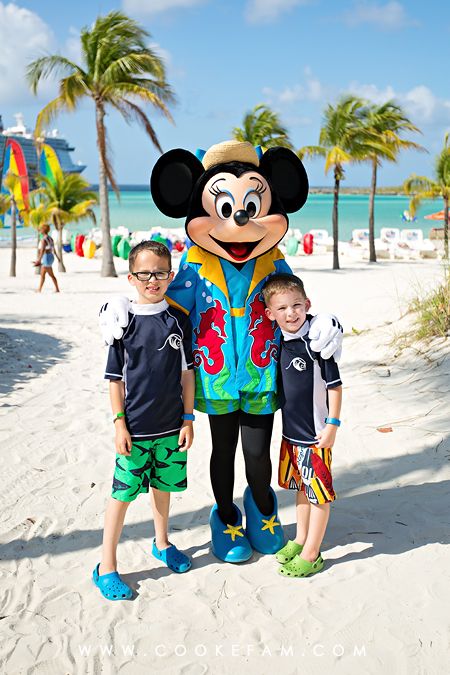 We met Pluto along the way too...already it was a good decision to walk.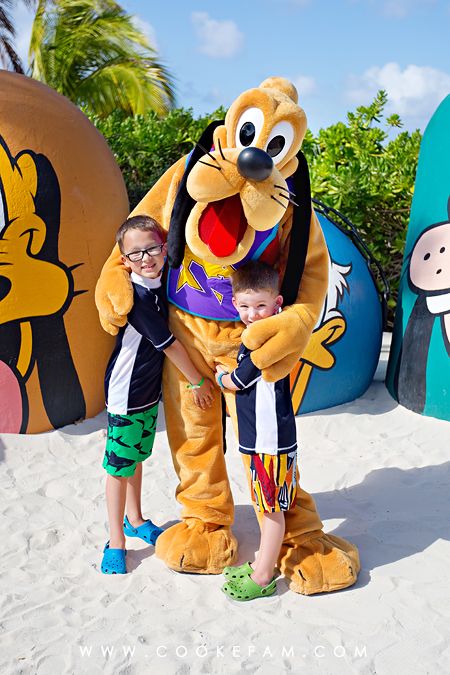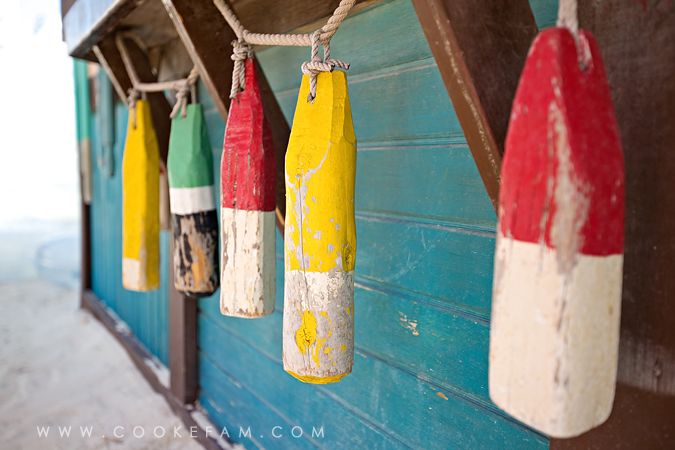 A cast member in a golf cart drove us to our cabana when we checked in at the cabana hut.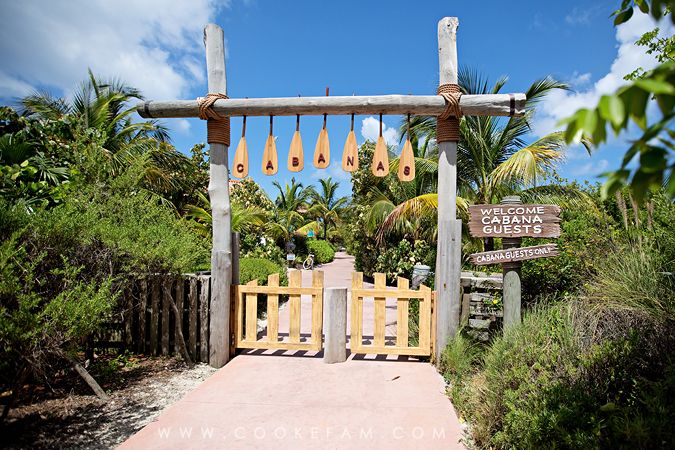 And then, when we arrived, the cabana attendant showed us around, pointed out all the amenities...including the call button that would bring her to our cabana anytime we needed anything.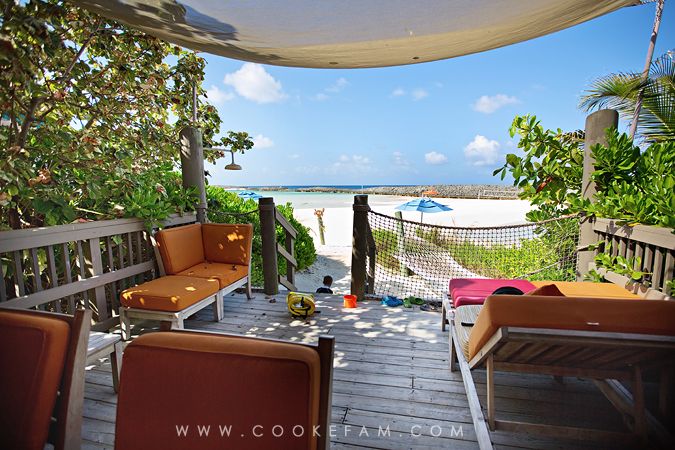 We absolutely loved the cabana. It was so nice to have a little refrigerator with drinks and snacks. A safe to lock up any valuables. Lots of comfy seating and shade.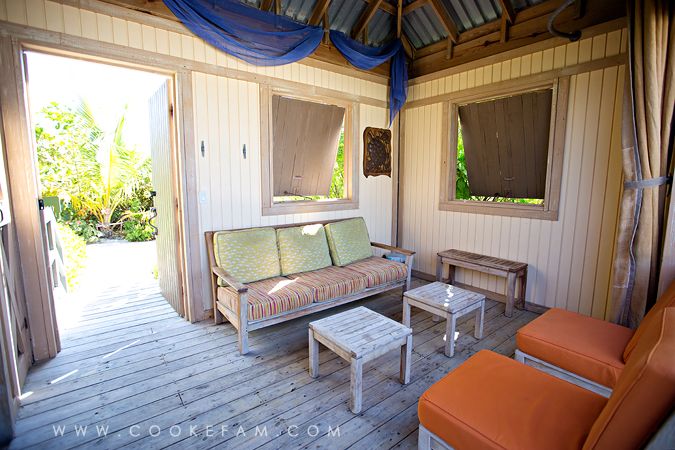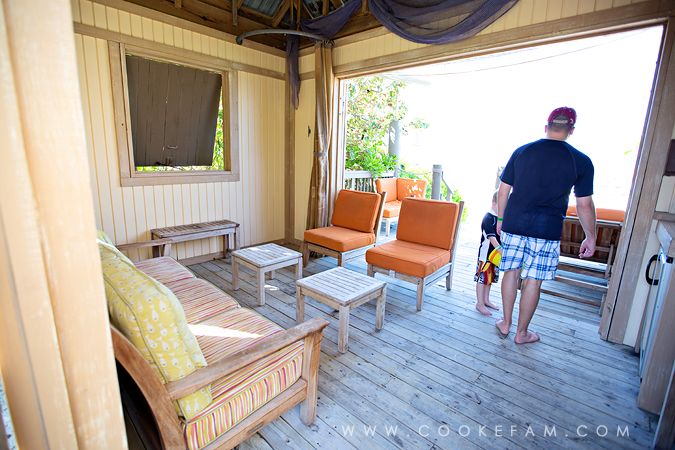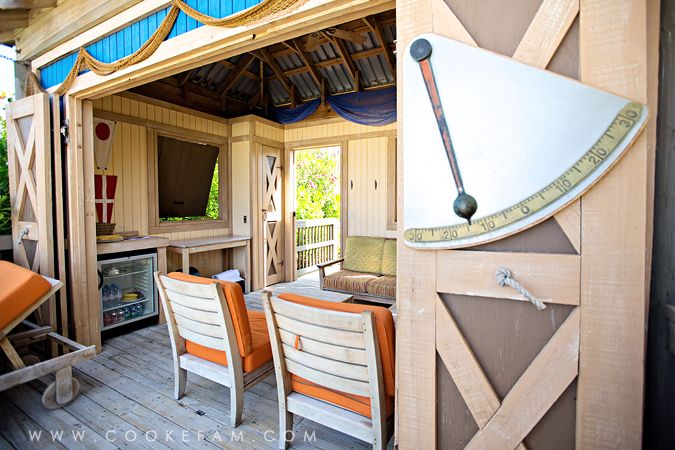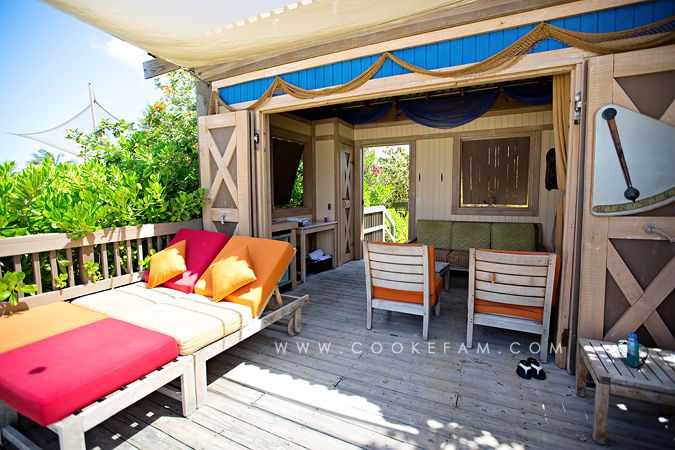 That hammock looked pretty nice too. But we never did spend much time in it. I think it was because it was always in the sun.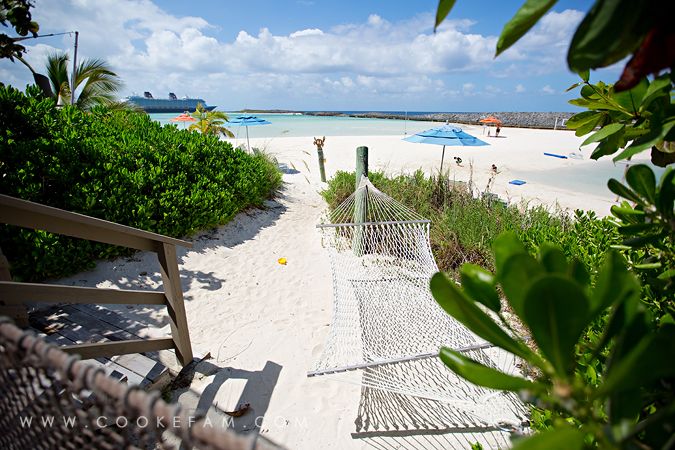 I am sure that Castaway Cay is just as wonderful without a cabana...it's such a fun place to be...but the cabana was amazing. We didn't schedule anything else that day. We spent the whole entire day (except for a brief lunch) on our piece of beach. And we loved every minute.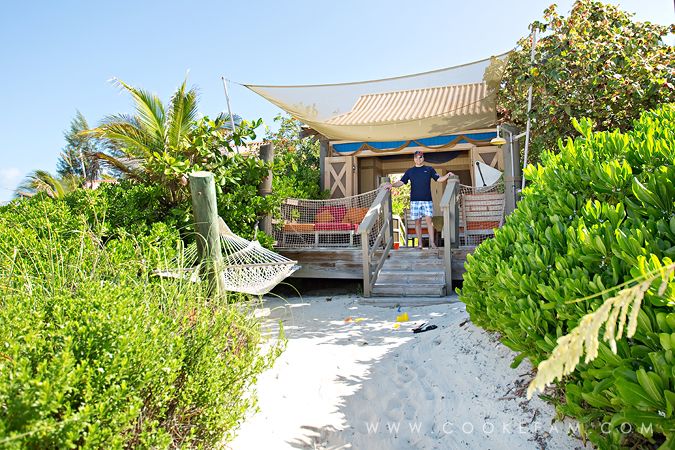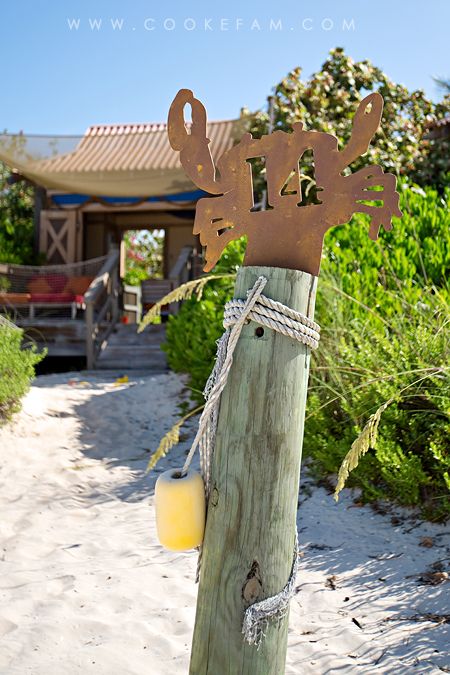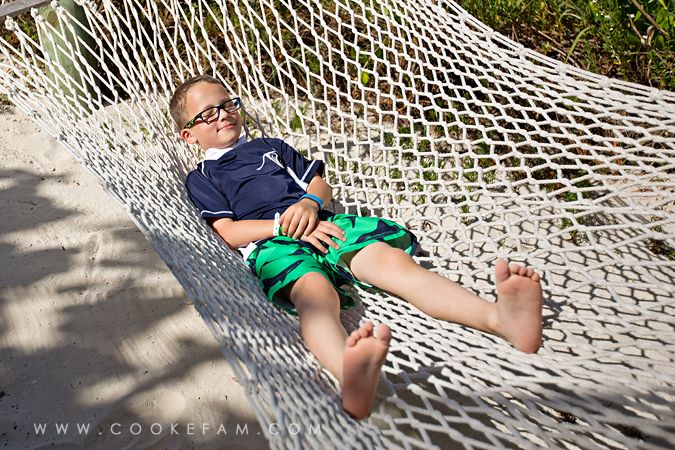 Every cabana also had these four beach chairs and an umbrella. This is pretty much where Casey and I spent our day. We moved the chairs around as the shade moved. This spot was the perfect place to watch the boys swim and play in the sand, which is pretty much how they spent their days.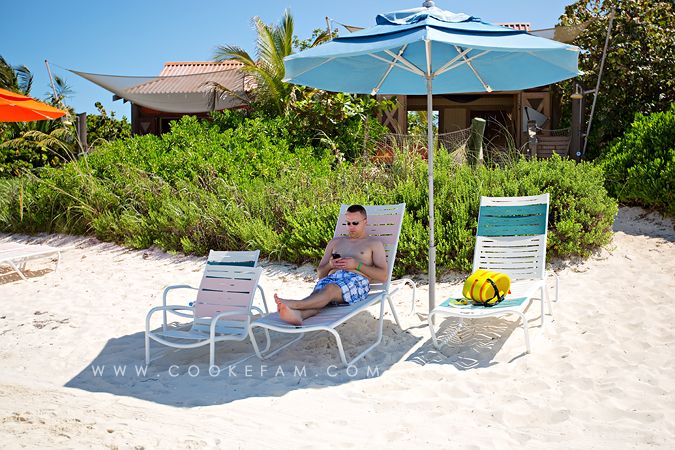 We could even see the ship from the beach, and the boys thought that was so cool.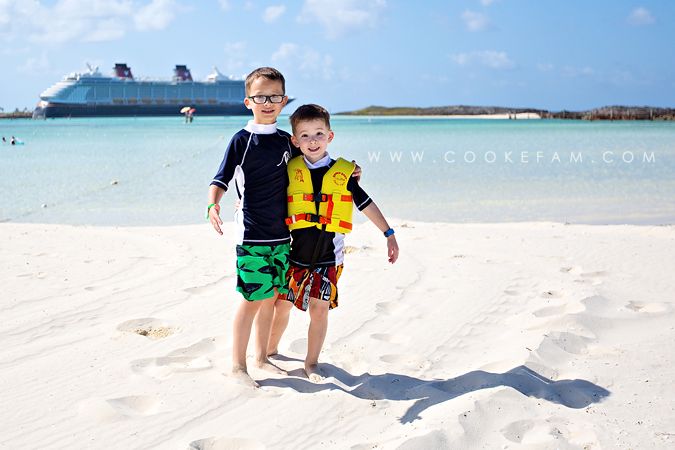 Our cabana came equipped with several sand toys, which were put to good use immediately. It was so nice to not have to buy or bring our own. And we got to leave the sandy toys at the end of the day instead of bringing them back into our stateroom!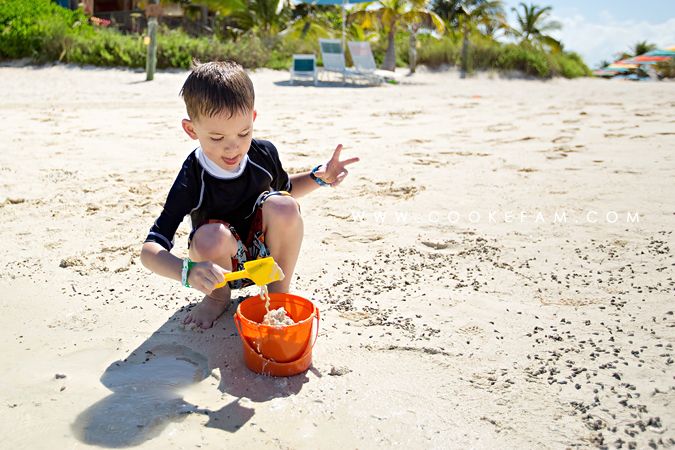 Over by our cabana, the sand underfoot was so soft and the water fairly shallow. The tide came in as the day wore on, but it was always just as calm as a swimming pool. We felt very comfortable letting the boys swim out there with us looking on from the beach. I loved that. We all got to do what we wanted to do that day, and that's why it was probably our favorite day of the whole cruise. That, and Castaway Cay is just a really beautiful, well equipped, fun island.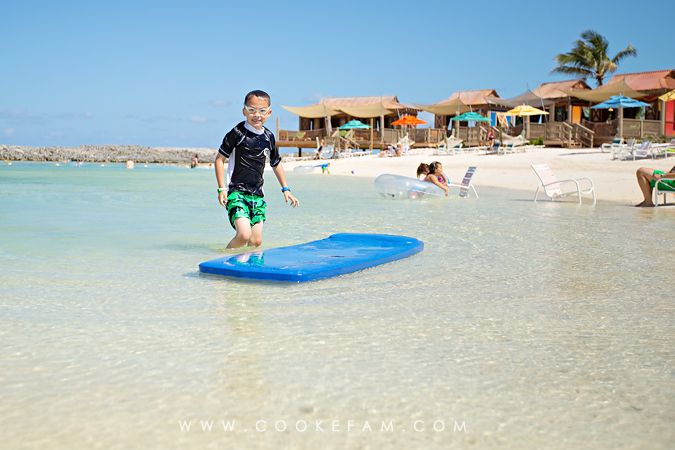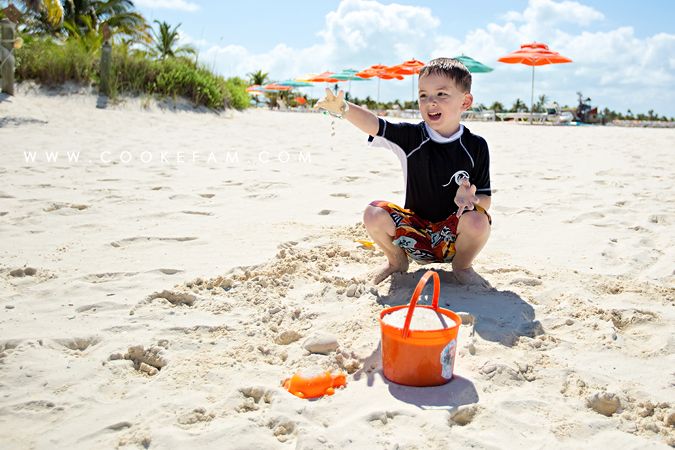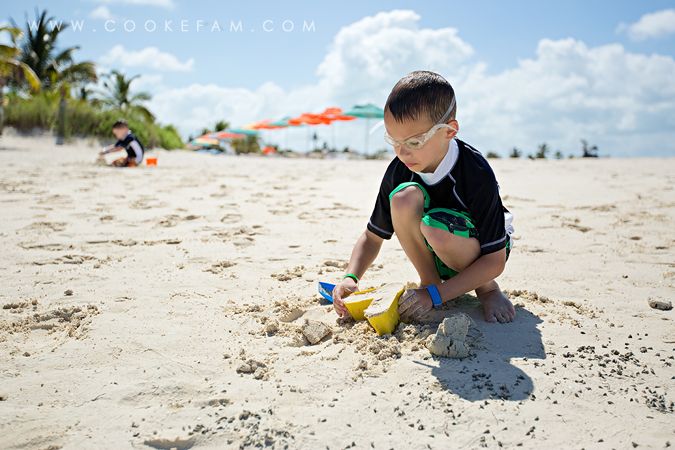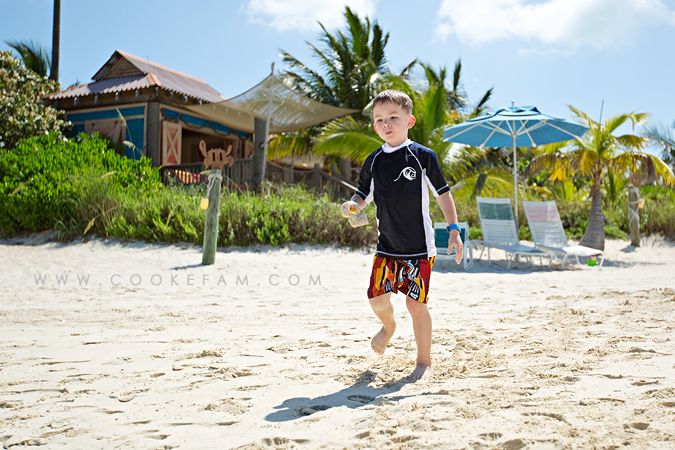 The boys each made their own castles...several versions of them. Ethan tried to fill his moat with water, but the sand just kept soaking it up.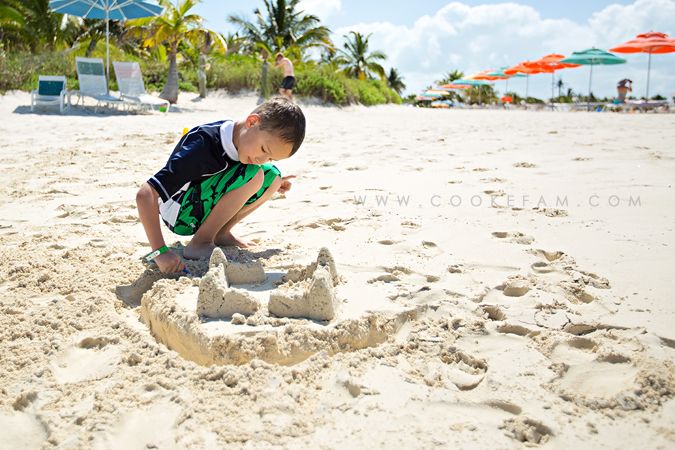 We were very fortunate to have gorgeous weather that day. There was a lovely breeze that kept us cool, but it was warm enough to really enjoy swimming and being wet.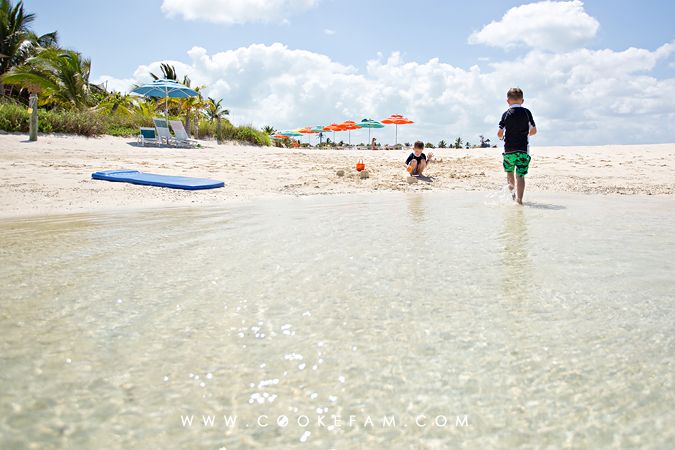 For lunch, which was included in our cruise, we went to the Cookie's Too BBQ buffet, which was actually really nice. They even had soft-serve ice cream machines out there. We took advantage of that. And because we were some of the first ones there, we didn't have to wait in any lines and had our pick of seating. We could have taken our food back to our cabana, but it was much easier to just stay.
The boys spotted a sandy Olaf enjoying summer...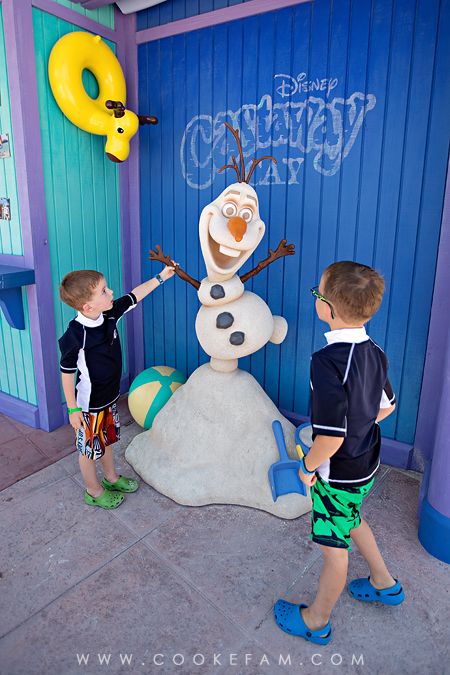 And we headed back to our beach for the rest of the afternoon.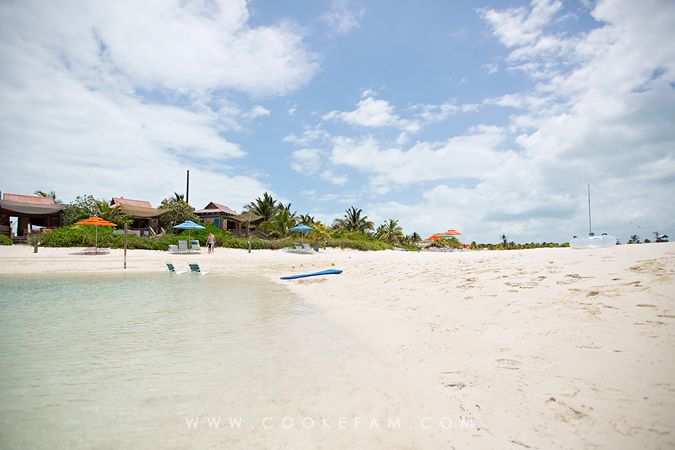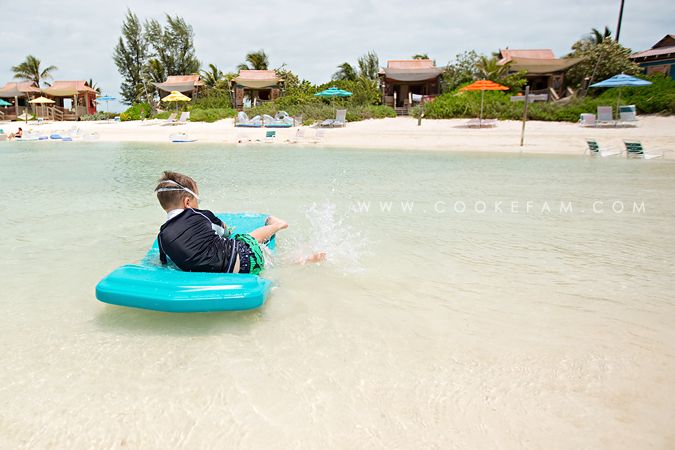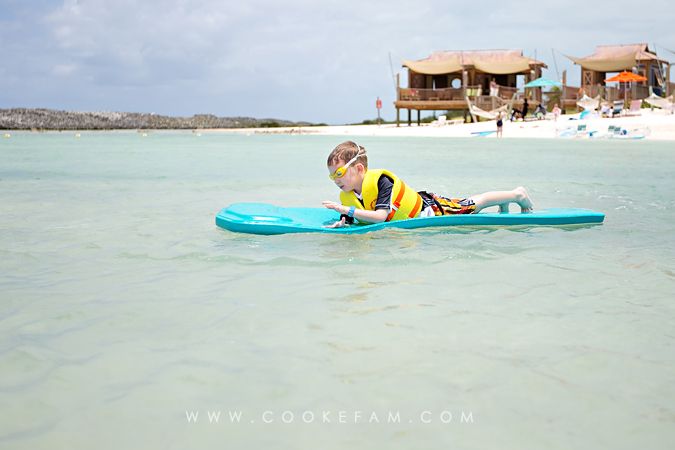 At one point, Logan decided he wanted to bury my feet. Then Ethan got involved too and they made some elaborate plans.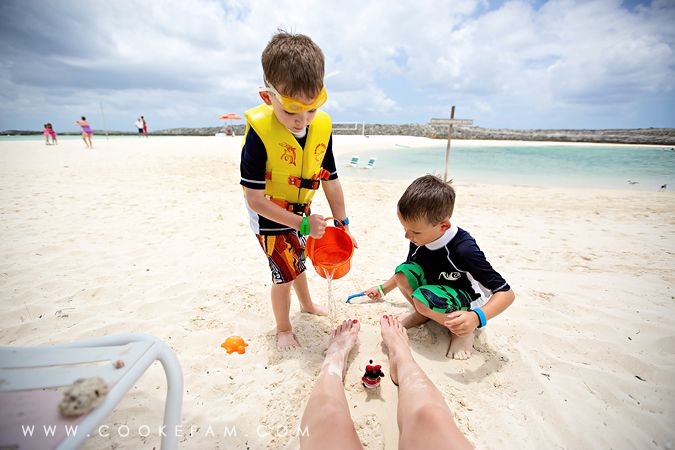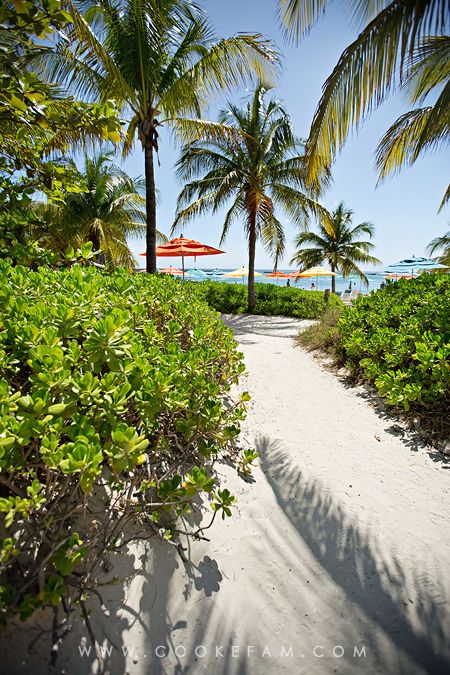 As the afternoon was creeping toward 4pm, we decided to pack up and say goodbye to Castaway Cay...reluctantly. We had to be on board by 4:45 and we needed a few extra minutes to walk back and then take showers before dinner. On our way back, we got someone to take our photo as a family.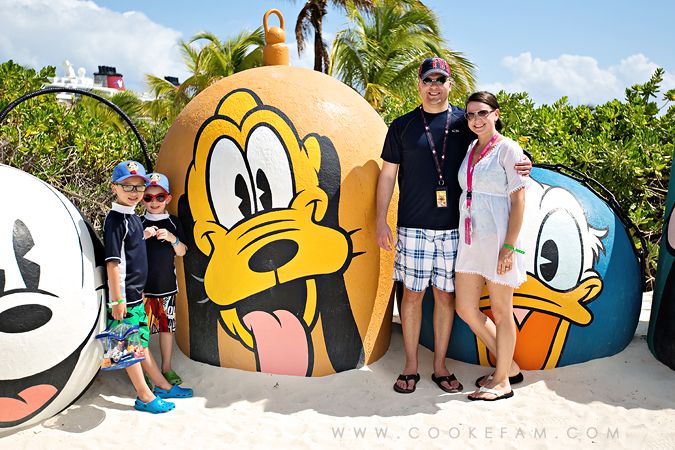 We had also stopped at the souvenir shop on the island. There is some merchandise there that you can't get on the ship or anywhere else. We didn't find much, actually, but the boys did get these two hats that came with red sunglasses.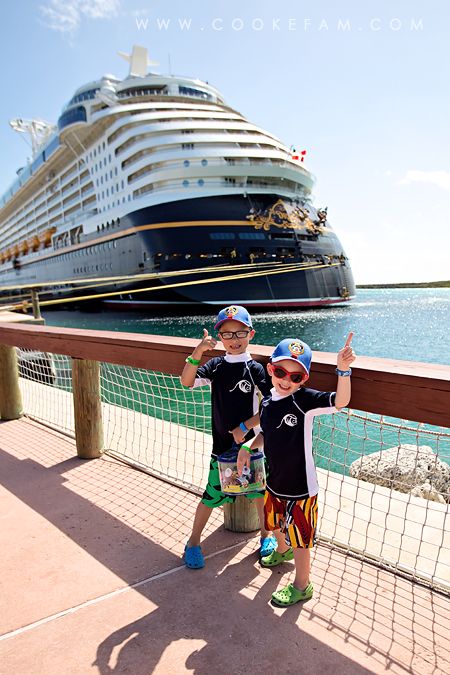 Back in our room, we were surprised to see a towel crab already. Usually we didn't have a towel animal until after dinner. We took showers and got dressed in our pirate gear for Pirate Night!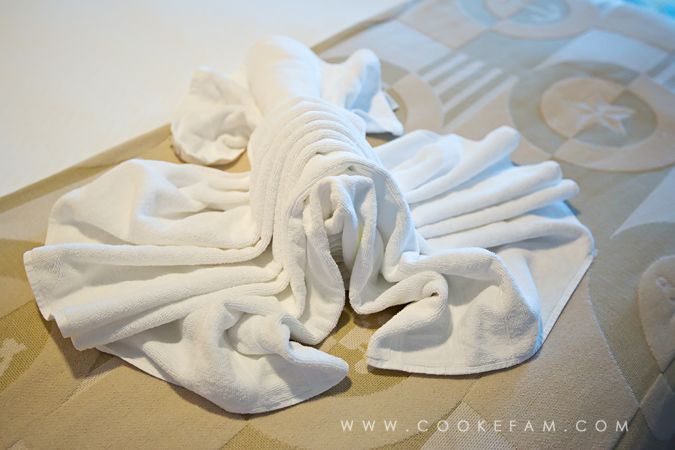 As concierge guests, we were invited to a private meet and greet with Pirate Goofy up on the concierge deck. Goofy is Ethan's favorite, so he was excited about this. Logan kept calling him "farmer Goofy." I guess he thought that hat looked like a farmer hat.
That night we ate in the Animator's Palate dining room again, but everything was pirate themed. Our two little pirates were getting along well enough to sit next to each other at dinner.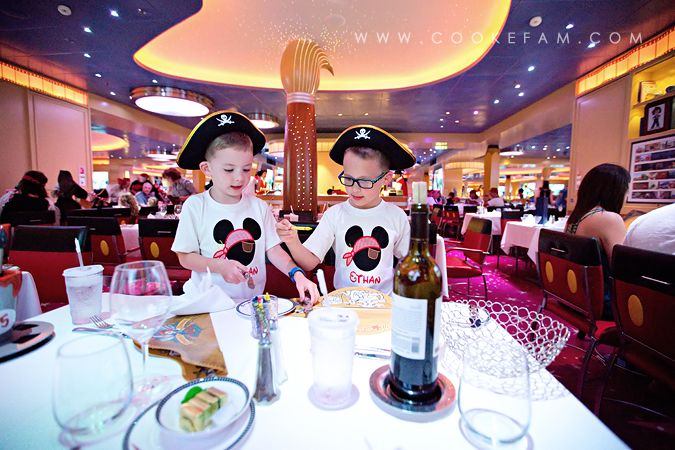 Everyone had to eat in the restaurant they were assigned the previous night, but all the dining rooms served the same special Pirate Night menu. They call this night "Pirates IN the Caribbean," which is sort of fun.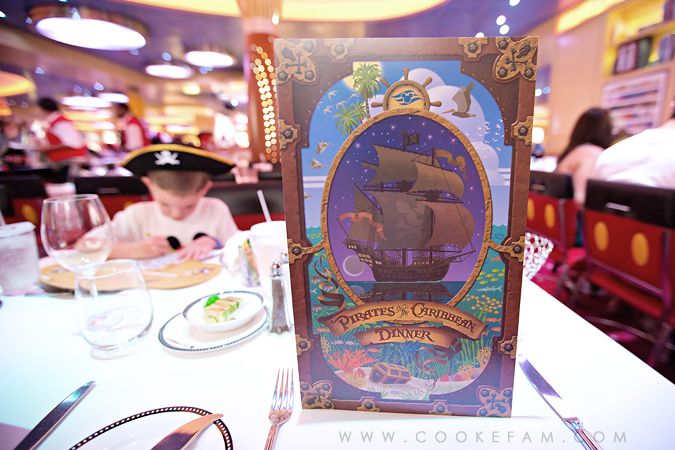 Saying "arrrgh" on the staircase in the main atrium after dinner. The Pirate Party and fireworks don't start until very late (like 10pm or something like that, which is really late for our boys). So, we decided to let them go to the kids' club after dinner since they would probably be too occupied to be cranky. After a full day in the sun at the beach, they were tired.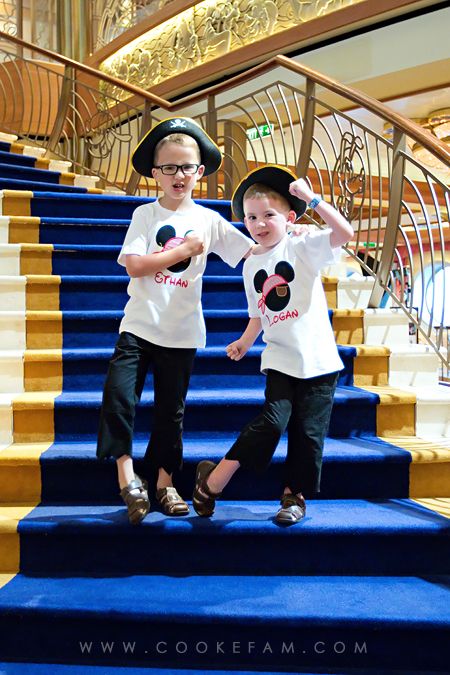 After we dropped them off at the kids' club, Casey and I went back to the room for a minute and saw another towel animal that our attendant had left for us. When Logan saw it later on, he was so tickled that she had used his sunglasses.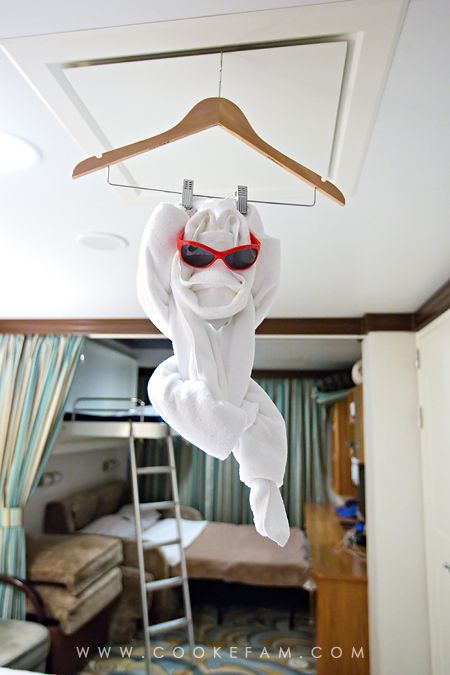 Casey and I were able to watch most of the sunset and just hang out for a bit while the boys played in the kids' club. We didn't have an agenda, but it was really nice to be alone (and quiet) for a while.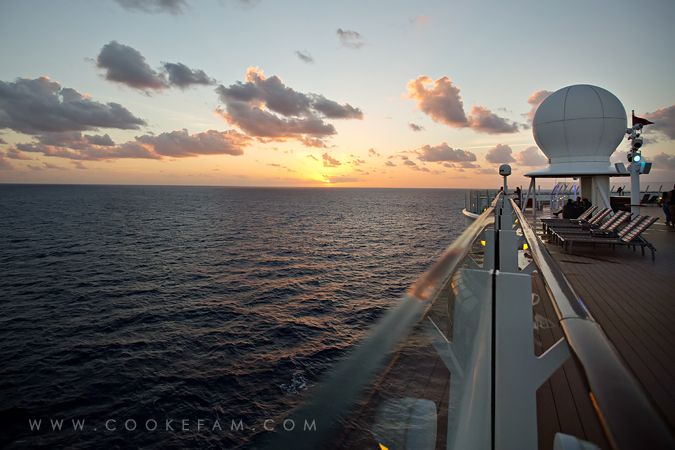 Again, I just loved how the ship looked at night. This is the adult pool with a swim-up bar. It was never very crowded, and at this time of night, it was entirely empty.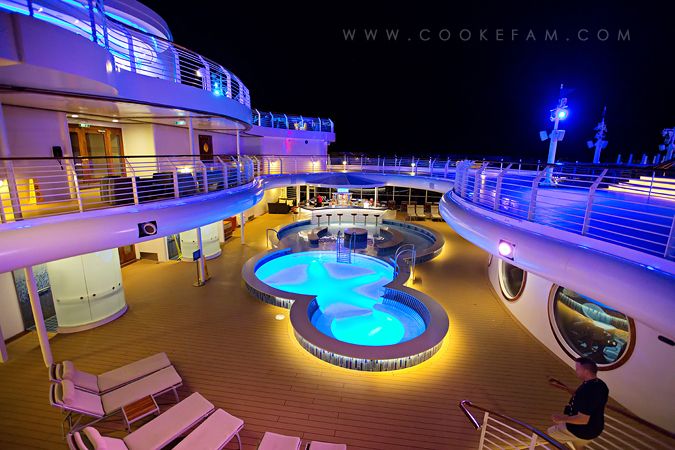 We picked the boys up from the club in time to get in line to meet Captain Hook and Smee. They really did not want to miss these guys. It was about 9:30 by this point, so Casey was on the top deck saving a spot for us for the festivities. If we hadn't been staying up for the party and fireworks, we might not have stayed up to meet these two.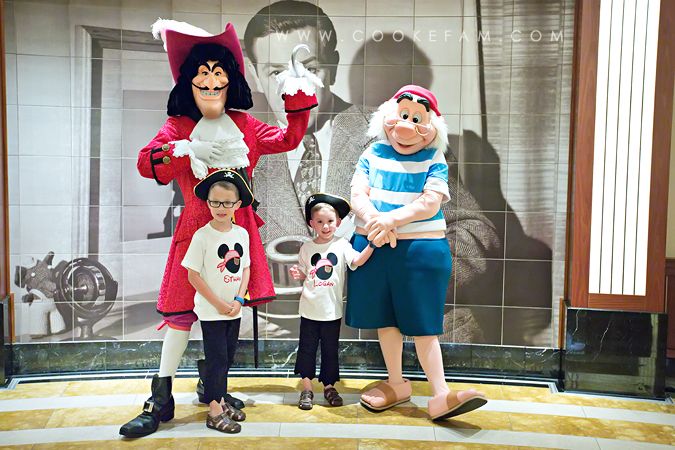 When we got up on the top deck, I was so glad that Casey had been saving our spot, which he said was not easy. Lots of people.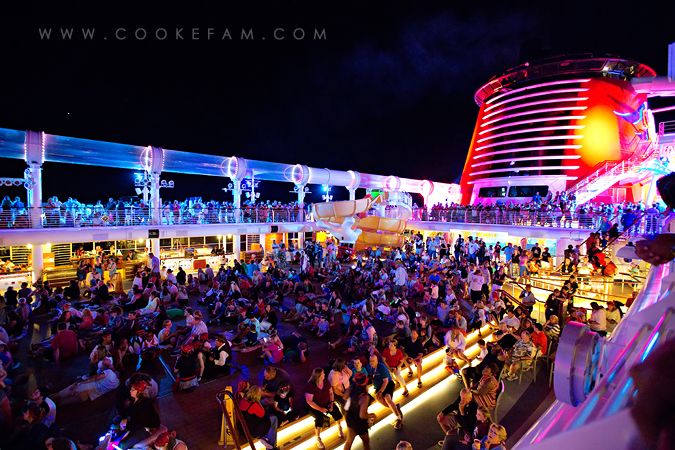 After the pirate show (which was okay), the fireworks began...the real reason we (at least our family) were there. Disney is the only cruise line allowed to shoot fireworks off their ship in the middle of the ocean. And let me tell you, it's pretty cool.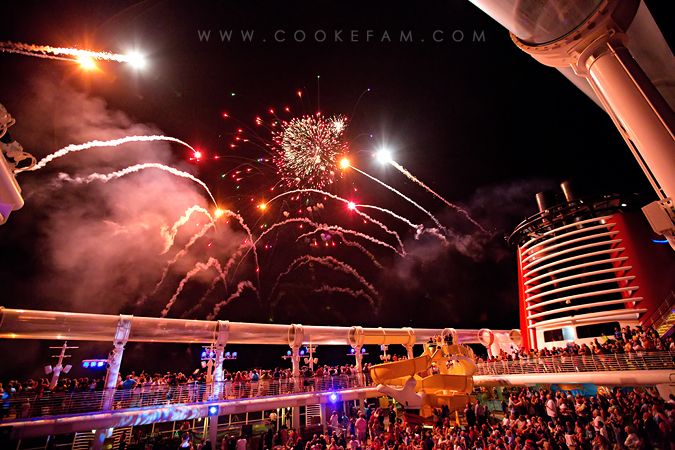 After the fireworks, we went back to our room and went straight to sleep...all of us. Thank goodness the next day was an at-sea day so we could sleep in!