Our day at sea, and the last day of our cruise, was so relaxing. We had so much fun with all the things the ship had to offer, which is why I would definitely choose another "ship" day gladly. We didn't have anywhere to go or anything we had to do. That is the wonderful thing about cruises. You can do as much or as little as you like.
On our first day, during our meeting with the concierge staff, they had asked us if we wanted tickets to any of the ticketed meet and greet events. You have to get these tickets on the first day and it is first come, first served. These events are mostly for princesses and I wasn't sure if the boys would be interested. We didn't go to the main princess meet and greet, but Ethan said he wanted to meet Anna and Elsa, so the concierge staff gave us some tickets. The event was on this last day at sea...and that morning, when I asked Ethan if he wanted to go, he said he still did.
He was so excited to get (and see) their autographs and he was adamant that they sign their own page instead of the same one together. And they were both so cute with him. They talked for quite a while, actually. Logan was with us, but he decided not to participate at the last minute. I think he was still tired from our late night because he was usually happy to meet anyone. Still, Ethan had fun and I'm glad we did it. It is fun for me to see the princesses after all!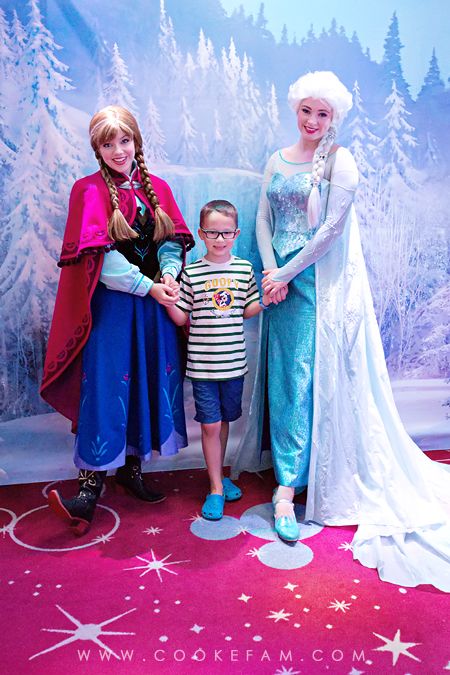 After our meet and greet session, we went to a late breakfast. Casey met us there. In Cabanas, the buffet restaurant, they have these huge tile murals...they are seriously so impressive. The boys ate, but Casey and I had other plans. After they finished, we took the boys to the kids' club again, which they were more than happy to visit.
After we dropped them off, Casey and I went to our adults-only brunch at Palo.
Right inside the door is this impressive Chihuly-esque chandelier. It was huge.
The brunch was a lot of fun. It started out with so many choices from a huge buffet. It had seafood, breakfast and lunch foods, fruit, etc. Then we sat down and while we ate those things, we ordered a few entrees, one of which was the chicken parmesan (very, very good) and a salmon pasta dish, which I also loved. We also ordered a grape and gorgonzola pizza, which was such a surprising and delicious combination of flavors. After all that, we hit the dessert buffet, which, as you can see, had a healthy selection. This was only a portion of what they had to offer.
Because it was brunch, a mimosa or a glass of champagne was included, which was a nice touch. We loved having this quiet meal just the two of us. And we loved that the boys loved the kids' club so much, which allowed us to do this.
After our brunch we picked up the boys and changed into swim suits.
We spent the rest of the day at the pool. Simple and fun. I didn't take a lot of photos. I left my big camera in the room whenever we went swimming. I did have the waterproof camera with me to snap a few shots. We had planned to go meet some of the Disney Junior characters toward the middle of the afternoon, but when I asked the boys, they just wanted to stay and swim. So we did. And we also watched the movies on the big screen by the pool and took a couple of turns on the Aqua Duck slide.
We had a towel frog on our bed when we went back to the room to get ready for dinner. The room attendant had used two of the boys chocolate coins for eyes.
This being our last day, the boys really wanted to go see Mickey again and get his autograph this time. So, when we saw on the schedule that he would be out again before dinner, we went down early...this time with our autograph books and pens. Ethan also brought his Captain Mickey stuffed animal that we had gotten the night before. Mickey acted really cute when Ethan showed it to him.
All three of my boys got Disney cruise shirts with stripes and I love them in this photo. I did not find a shirt that I loved, so I wore one of my dresses. I loved wearing dresses on the cruise. They were easy to pack, appropriate for most activities, and very comfortable.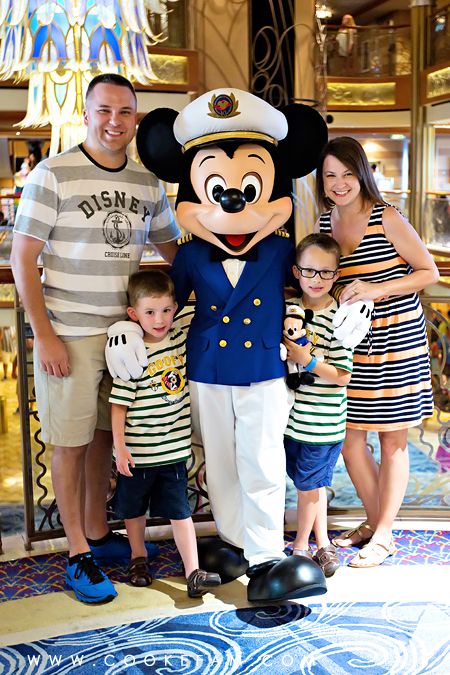 After saying goodbye to Mickey, we went downstairs to our last dinner on the cruise...in the Enchanted Garden dining room. It was really fun going to a new place every night because it was like discovering a new place each day. Even on our last night, we had something new waiting for us in this dining room.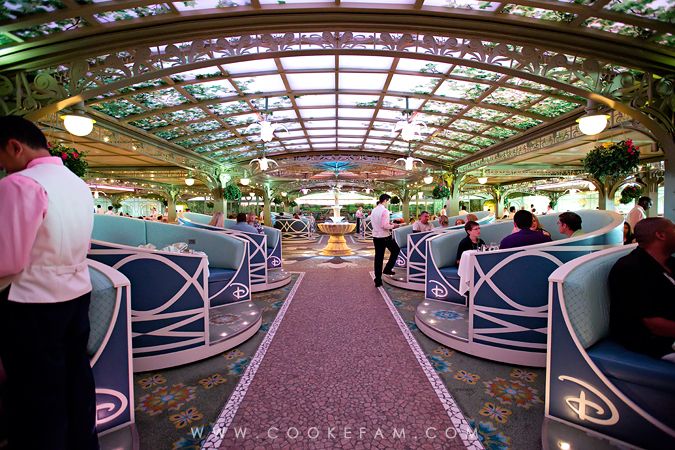 It's a lovely dining room, and as the evening progresses, the ceiling and lights change from afternoon, to evening, to night.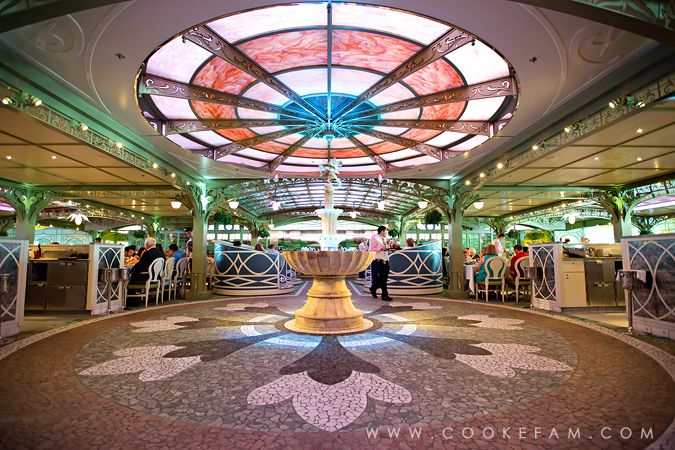 I don't know how we got it, but they had us seated at one of the circular booths down the center aisle of the dining room, which was fun. Our waitress took a photo for us.
At the end of our meal, Ethan asked me if it would be okay to get our waiter and waitress's autographs. I told him yes. They were surprised, but I could tell they loved that he asked. I can see why he wanted them...you really get to know your waitstaff and they really get to know you during your cruise.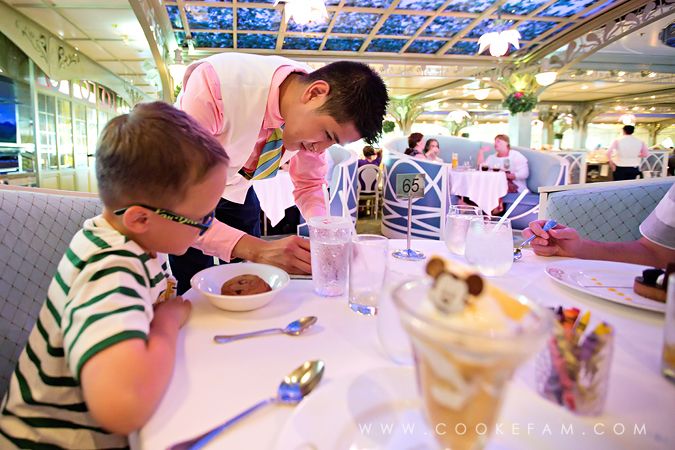 Back in our room after dinner, we had yet another towel animal. The boys really loved these each night, and I thought it was so nice of our room attendant to do more than one for the last two days.
In following the theme of our lazy day, we stayed in after dinner. We all changed into PJ's and the boys got in bed.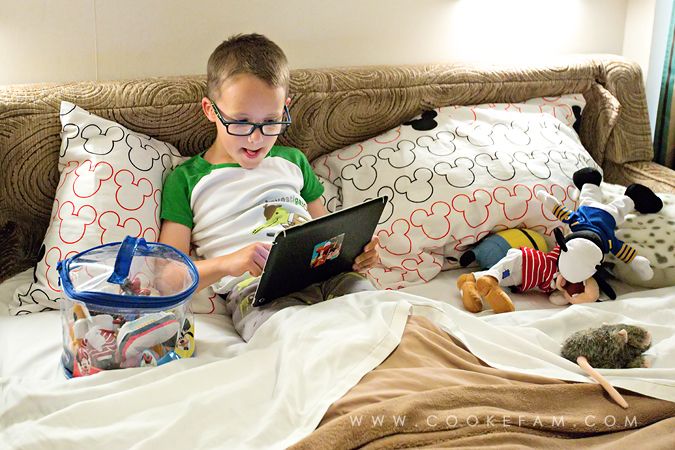 We were all a little tired and just wanted some down time, which is just what you should do on vacation.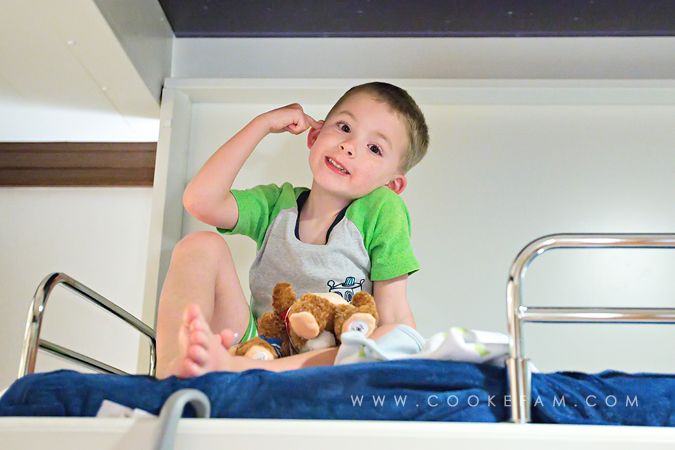 The first and only time we turned on our TV was this last night. The boys watched one of the Tinker Bell Fairy movies (which are some of their favorite movies) while I packed our suitcases. Packing was no small feat since we had entirely unpacked into all of the drawers and such. You kind of have to do that in a small stateroom. We had to leave our luggage outside our stateroom door to be collected that night.
We turned out the lights at a decent hour and tried to get some sleep. We had to get off the boat first thing the next morning, but we still had a fun last-day-of-vacation awaiting us in Orlando!