On Monday morning (Ethan's birthday!), we got up, checked out of our hotel, and packed up our rental car for the 1 hour drive to Cape Canaveral. It was an easy drive and we were at the cruise terminal in no time. And in usual Disney fashion, everything went like clockwork once we were there. And because we were staying in a Concierge level room, we were walked onto the ship right after we checked in.

On the way onto the ship, we stopped and had our photo taken. Although I loathe the border (why???), it's fun to see us as we're about to step on board the ship.
We were directed straight to the Concierge lounge to go over our plans for the cruise with a concierge attendant. In the meantime, the kids had snacks (chocolate covered Rice Krispie pops) and I had champagne. This cruise was looking good already!

Right after we finished discussing and confirming our plans, we went to our room, which was already ready for us.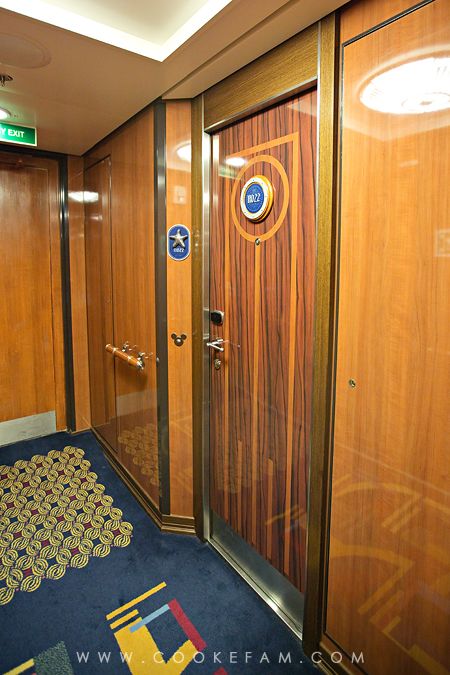 Like most cruise ship staterooms, it was compact, but actually bigger than most.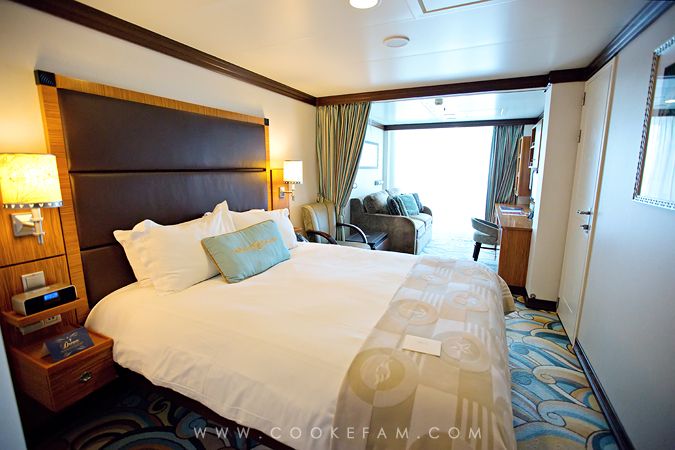 There was a curtain separating the bed from the couch/desk area, which would become the boys's sleeping area at night. There was lots of smart storage, which I really appreciated. You really can't have your stuff laying everywhere in a stateroom of this size.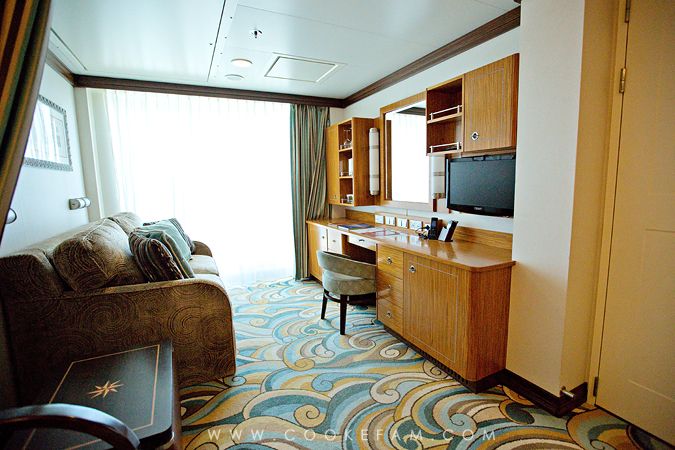 We also had a balcony, which was very nice. We used it every day.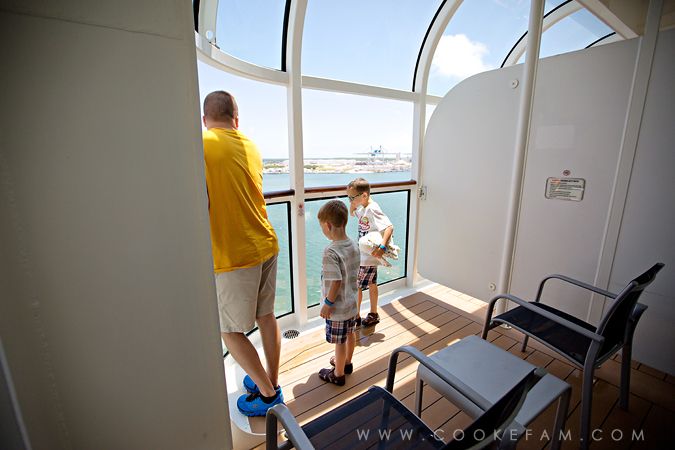 I liked how they had the bathrooms set up too. There were two rooms, actually. The first one had a sink and the shower/small tub. That tub would be perfect for babies or toddlers who don't take showers yet, but an adult would definitely not fit in there. But the rainfall shower head was perfect for me.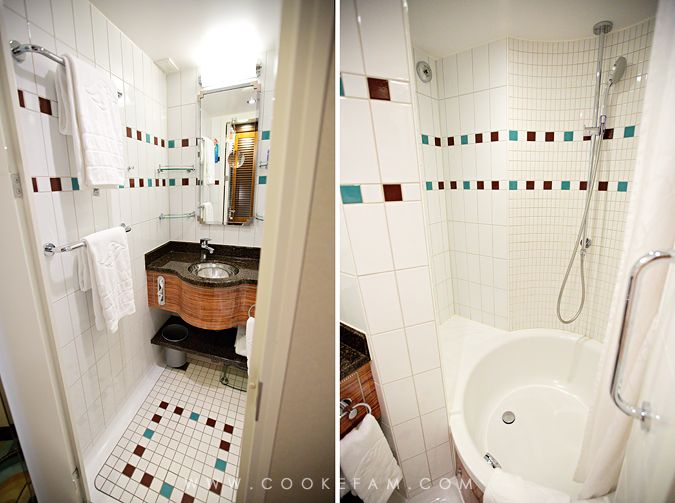 The second bath "room" had the toilet and another sink. These separate rooms really came in handy when we were trying to get all of us clean and ready at the same time.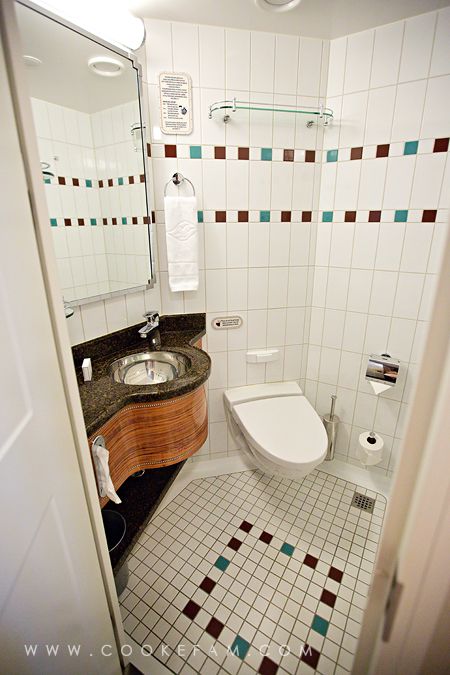 Of course there were tons of Disney touches and hidden Mickey's around the room that the boys enjoyed finding.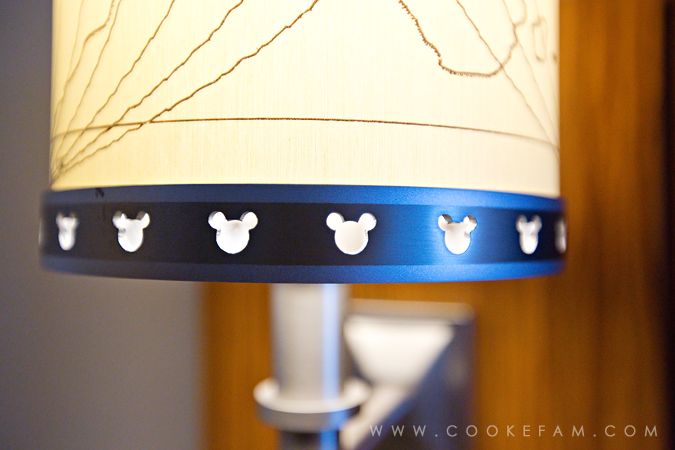 After we had seen our room, we went out to explore the rest of the ship before most of the other passengers were aboard.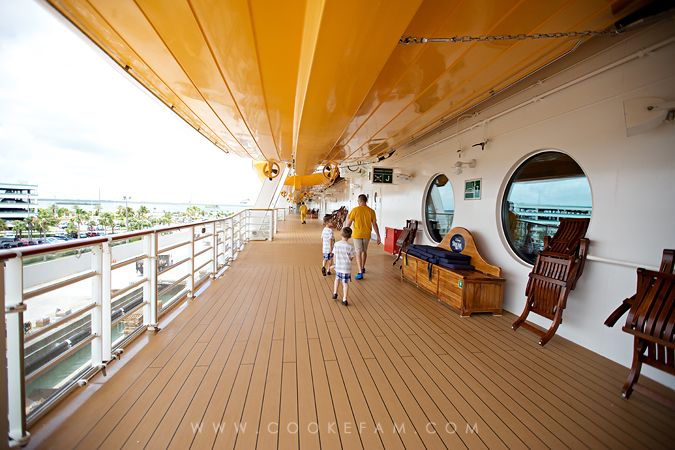 We went straight down to the kids' club because the boys had seen it on the website and couldn't wait to take a look. During boarding, it's open to everyone to take a look. It was never this empty again...the kids club is popular and run like a well-oiled machine.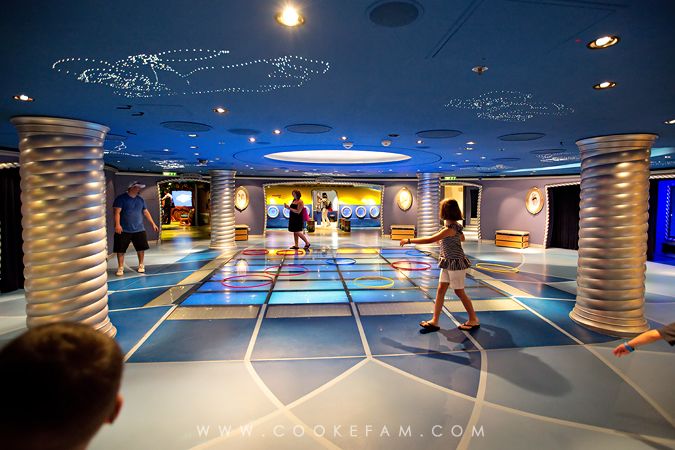 One of the cool things they have is these automatic hand-washers. The kids just step up there and put their hands in the holes. It sprays them with water, soap, and then water again to get their hands clean. This way, they don't have to leave it up to each child to make sure their hands are thoroughly washed. One thing about the Disney cruise that I noticed was different from other cruises (one among many things) was that they were serious about preventing illness aboard. We definitely appreciated that.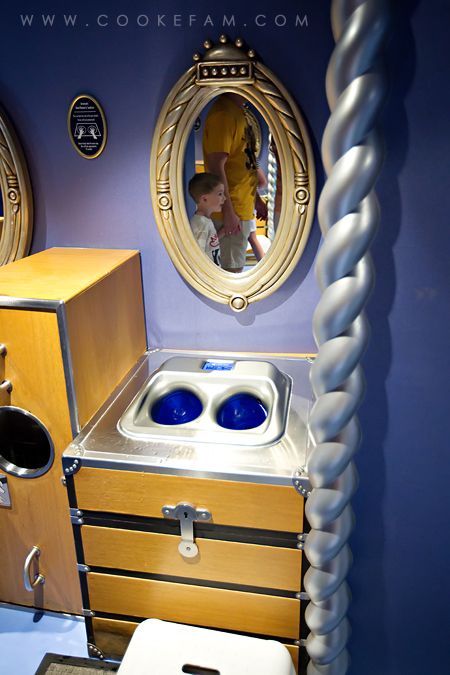 The first room the boys bounded into was Andy's Room from Toy Story.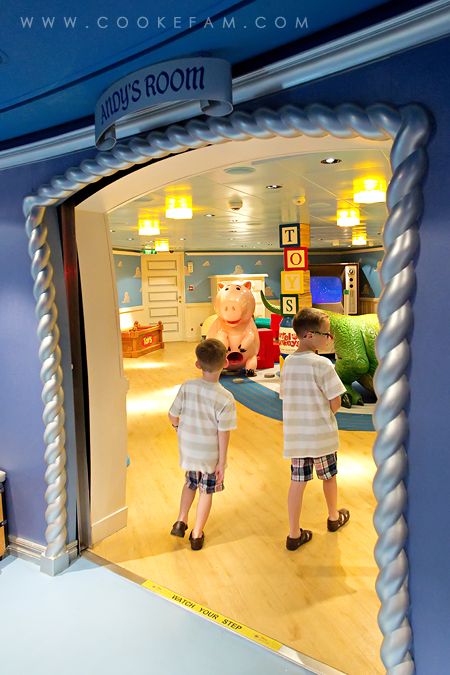 Although the room is probably geared toward slightly younger kids, our boys didn't seem to notice. They loved this space. Actually, I loved this space...it was so neat.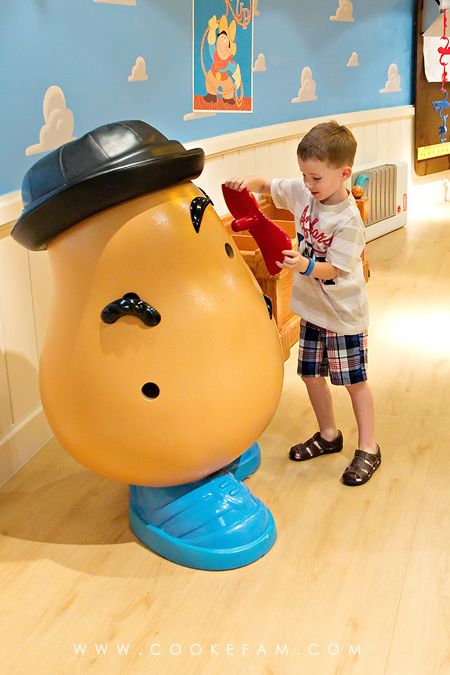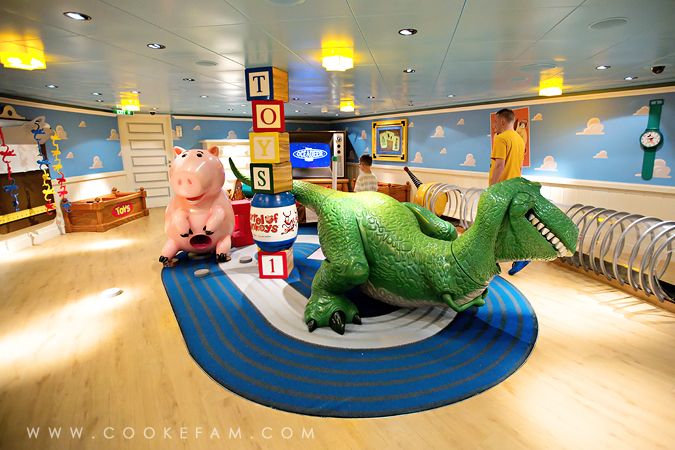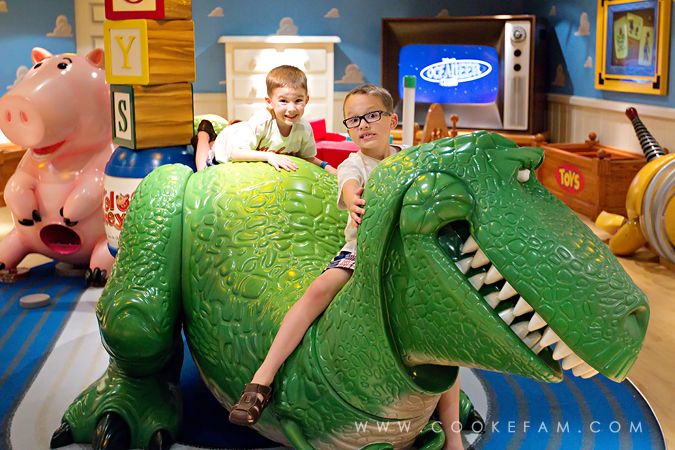 Another room was Nemo's submarine, which had computers inside with little stools. We found the boys here on numerous occasions later in the week.
Pixie Hollow was so cute and had a TV, art center, and more computers...as well as a dress-up area.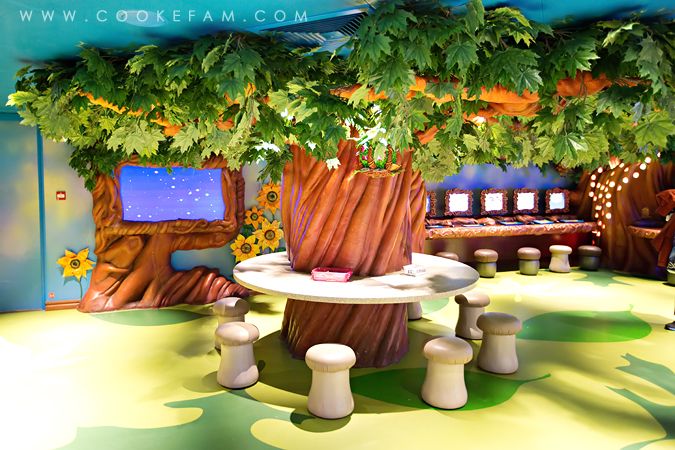 Then, there was the Monster's Inc. Laugh Floor.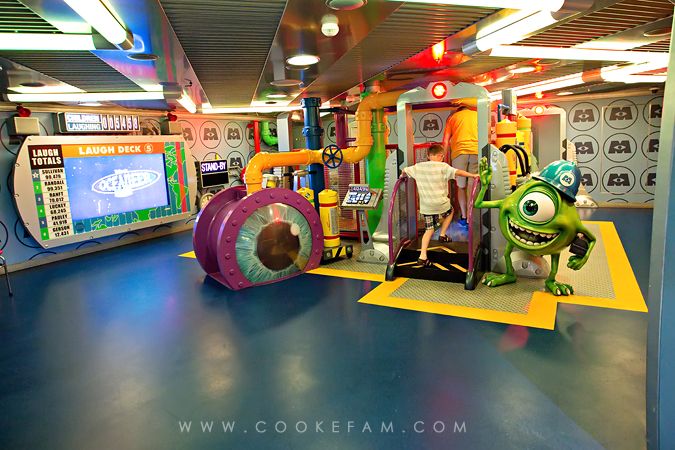 Besides the play space, there were a few computers in here too.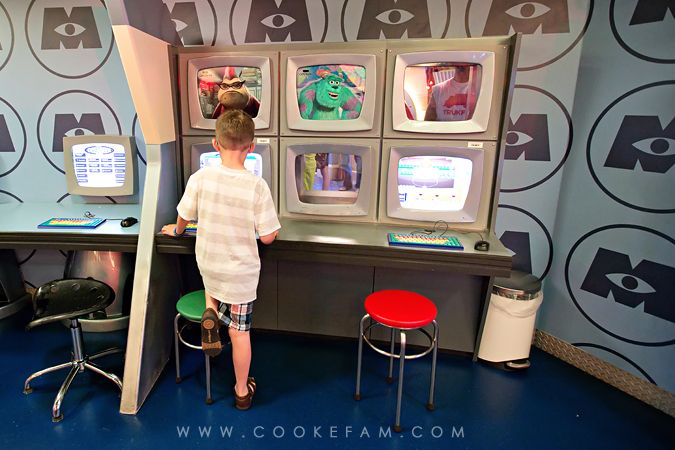 Back out on deck, we checked out the pools and restaurants. We had a late lunch at Cabanas buffet.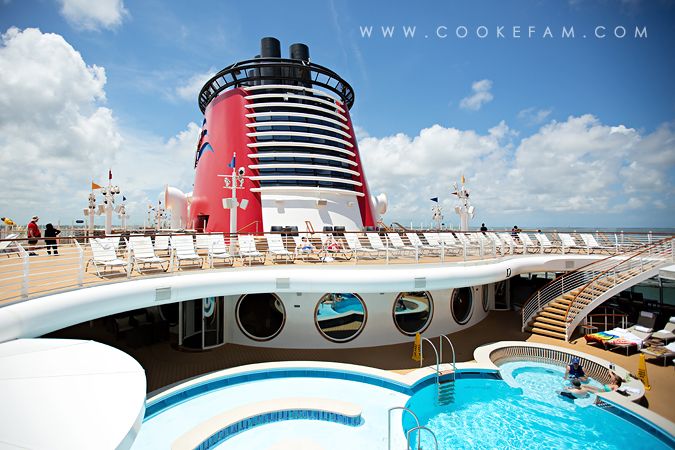 Before we knew it, most people were on board and it was time for the Sailing Away party on the main pool deck. Mickey and friends came out to sing as we pulled away from the shore. After that, we had our muster call where we learned about life jackets and emergency procedures. Then, we went back to our room to get ready for dinner.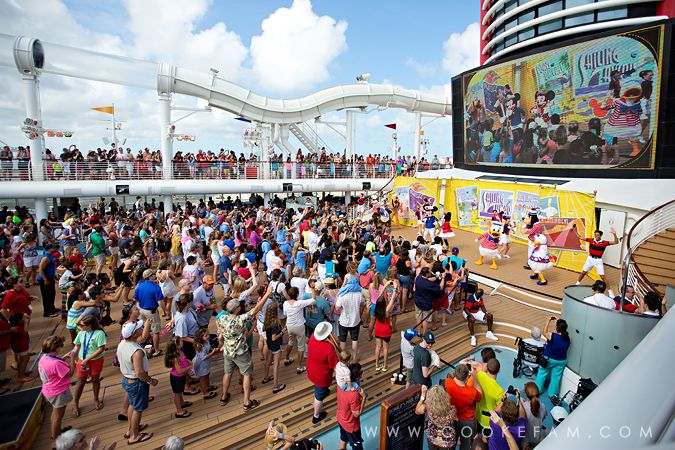 Every night on this cruise, you eat in a different restaurant (except Pirate night when you eat at the previous night's restaurant again). Our first stop for dinner was the Royal Palace dining room, which was themed just like you might expect...like a Royal Palace for princes and princesses.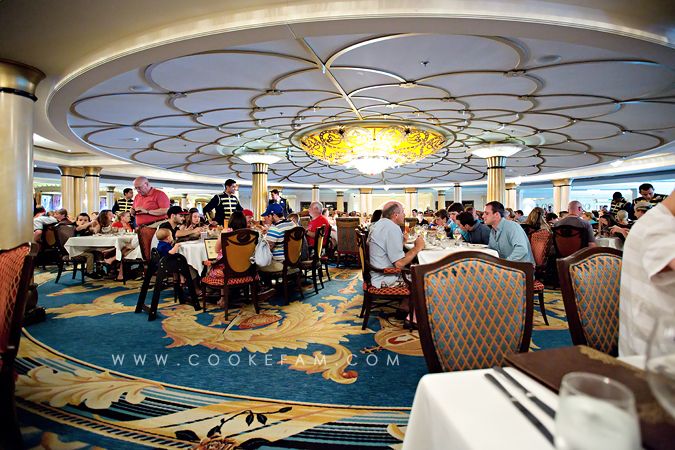 It was a beautiful dining room...right down to the tile designs on the floor.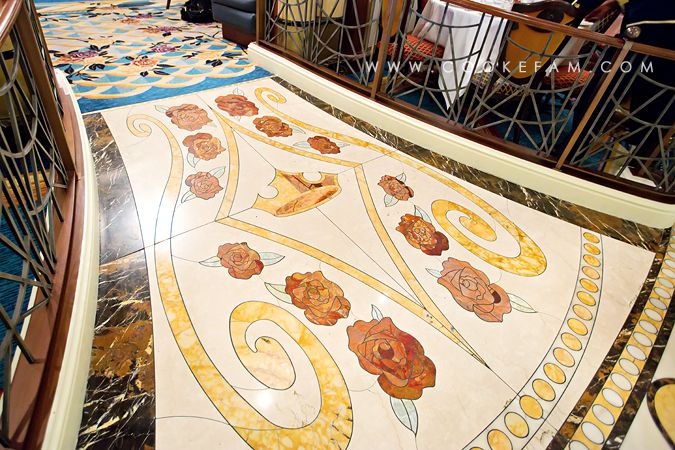 Little details like this carriage bread basket and the suit jacket folded napkin (below) are what carried the royal theme through in true Disney style.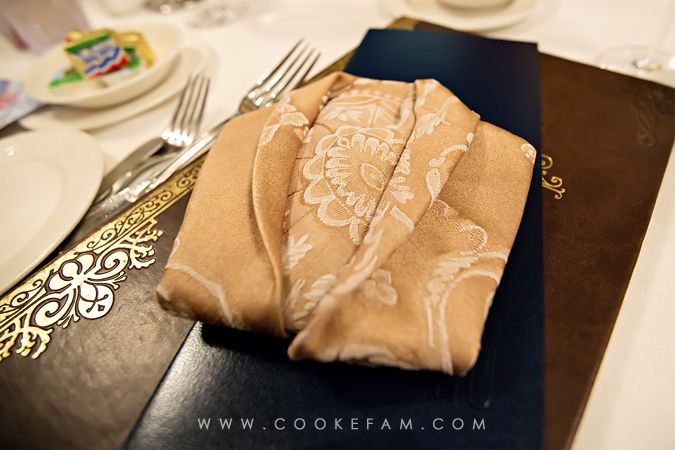 The boys got most excited about their Mickey shaped plate compartments. Ethan insisted that I take a photo!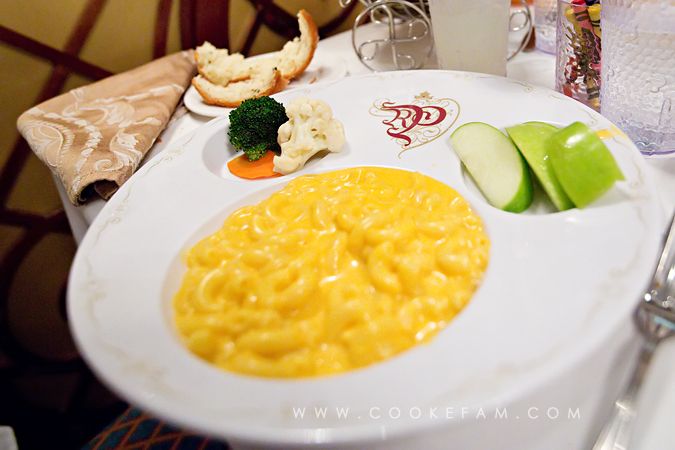 And look what you can order for dessert any night...even if it's not on the menu. Too bad the boys still don't like ice cream...
But like I mentioned at the top of this post...this was Ethan's 7th birthday! When we checked in, he got a birthday button and everyone was saying "happy birthday" to him all day. It was so special. And of course, he got some special treatment at dinner that night too.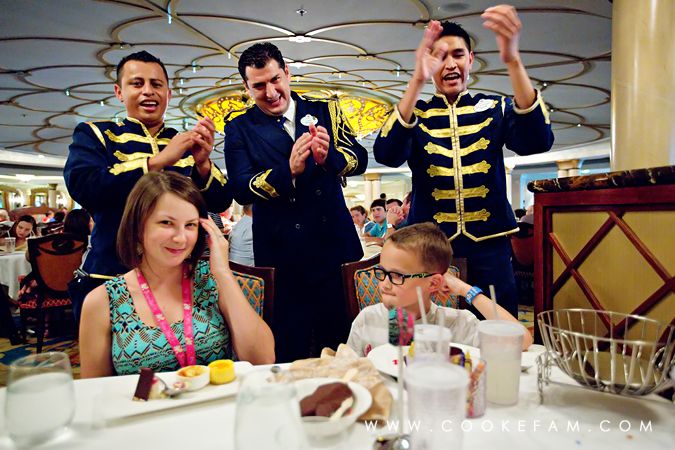 Including his very own chocolate birthday cake, which he was generous enough to share with all of us because that's just how he is.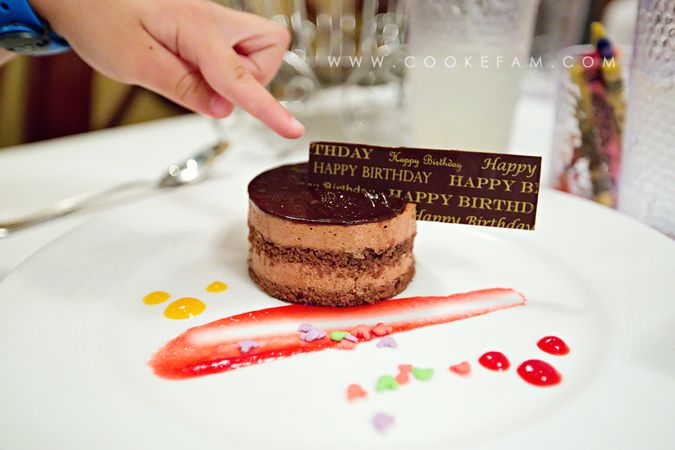 After dinner, we unexpectedly ran into Mickey. Well, we saw that there was only a short line to meet him and we decided to do it. The boys didn't have their autograph books with them at the time, but I told them we could come back another time and get Mickey's autograph if they wanted to go ahead and say hi. They did.
I got the photo that the photographer took with his camera too, but I preferred this one that he took with my camera. It was fun to meet Mickey on our first day!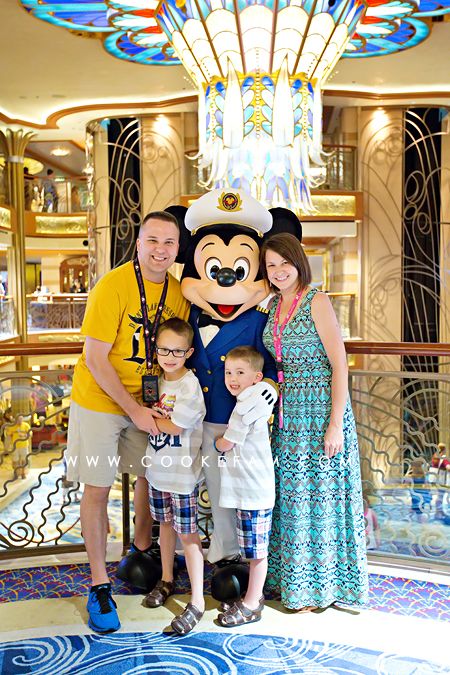 After we left Mickey, we went outside on the deck again to see the middle of the ocean. It was just a little while before sunset.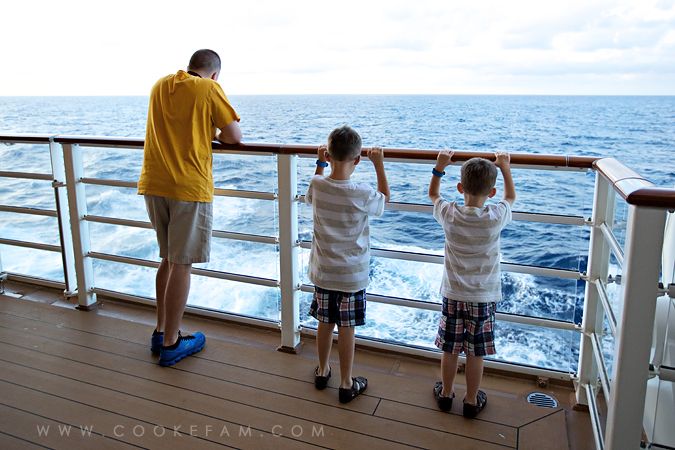 The boys were begging to go back to the kids' club (which was now open) for a while, so we let them.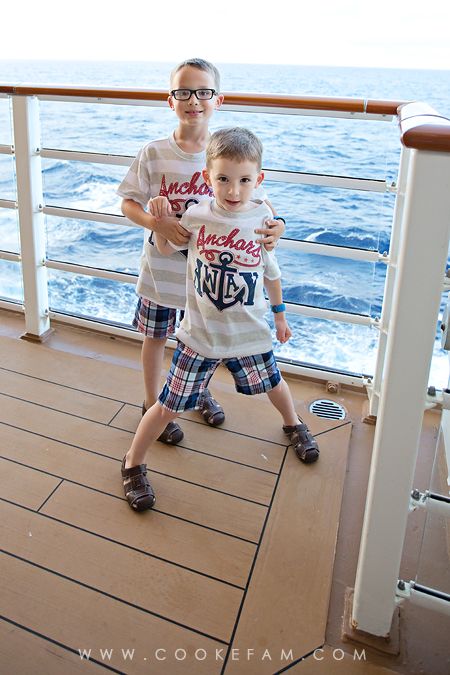 Casey and I went back to the room to drop off a few things and get him some Dramamine. The waters were actually really rough and he'd started feeling a little sick during dinner. I had already given a pill to Logan, thank goodness. Ethan and I never did feel any ill effects on the ship. And after that night, Casey didn't either.
When we got back to the room, we saw that our room attendant had been there and left us a towel snake wearing my sunglasses. And four Sleepy chocolate squares.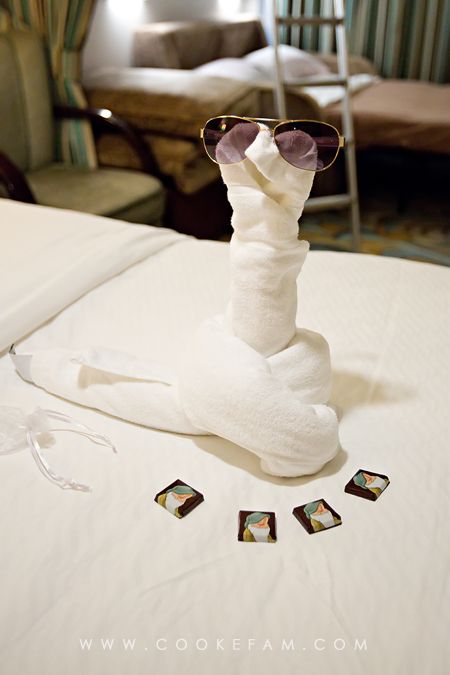 The room attendant had also pulled down the bed from the ceiling and made out the couch. We had the boys switch who slept in each spot every night. They each got two nights in the top bunk and two nights on the big couch bed. The fun thing about the top bunk was that there were little star patterns up on the ceiling when the bed was pulled out.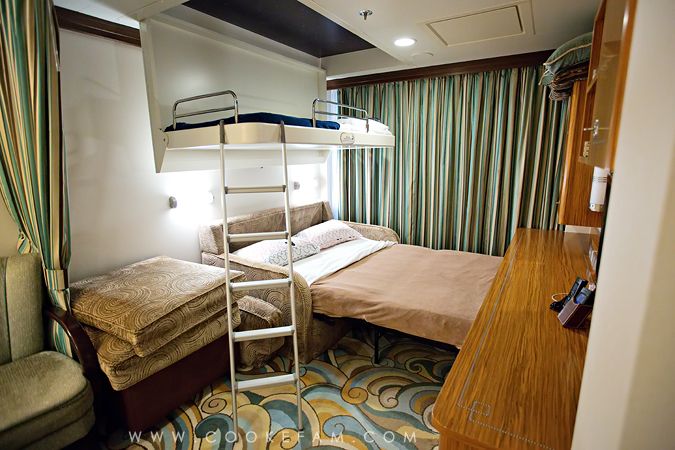 Casey and I went up to the concierge lounge deck to see what it was like. It was really nice with comfy furniture and no one else around at the time. But, it was also really windy, so we didn't stay up there for very long.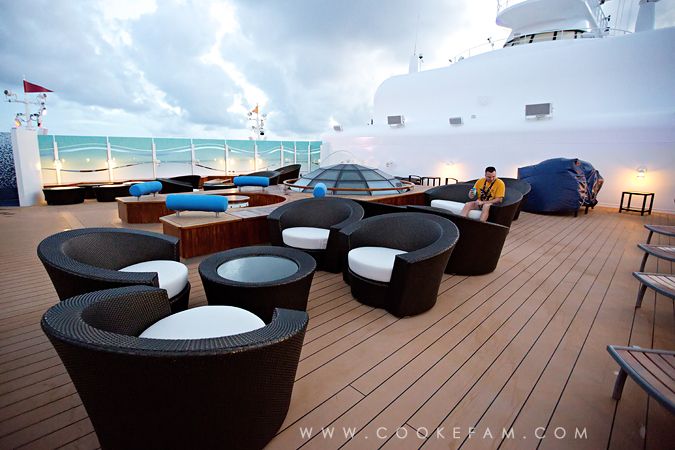 We went back down into the concierge lounge instead.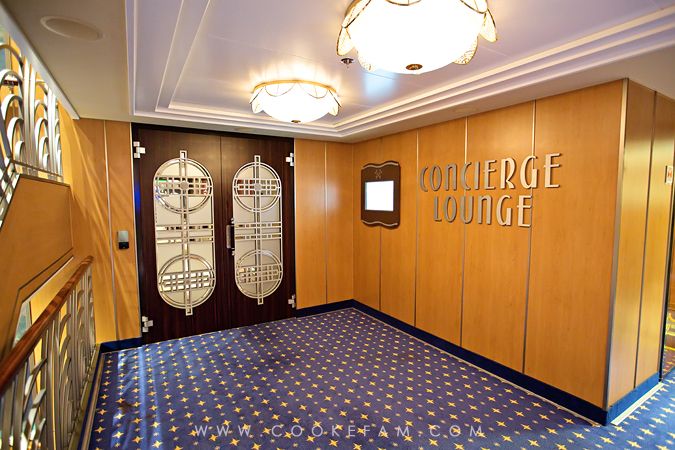 We had been told that they had complimentary drinks at certain times and this was one of those times. Let's just say that they don't skimp on the alcohol in those drinks. I had a glass of wine this time and it was actually a decent one. They also have a little buffet of finger foods laid out. If we hadn't been so stuffed from dinner, we might have had some.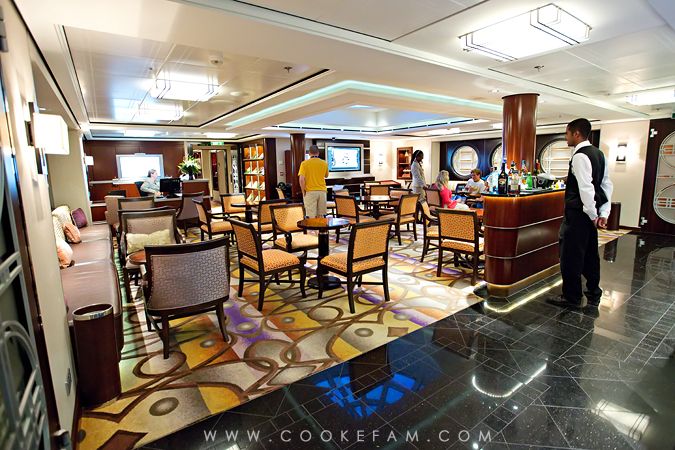 After we finished our drinks, we decided to go get the boys. We had an early morning the next day because of our first excursion, and we wanted to give them a chance to get some sleep. I really loved the way the boat lit up at night. And despite the fact that there were so many people on board, we never had trouble finding spots any time of day that were perfectly peaceful.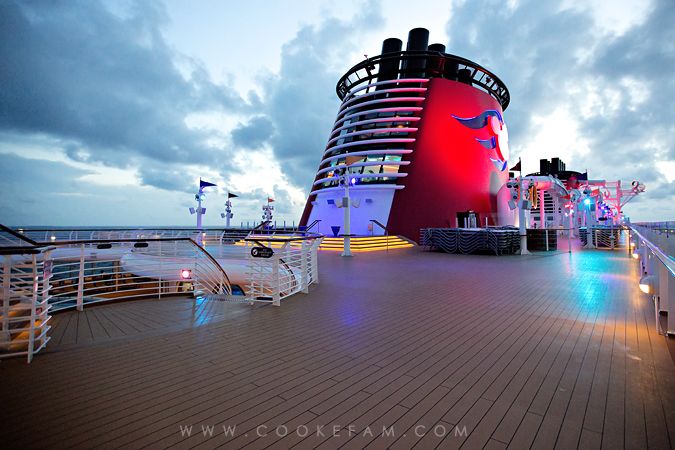 We were tempted to hop in the pool and watch the movie. But, instead, we went and retrieved the boys from the kids' club and then we all went to bed. Day 1 was a success!