This year, the boys started school on August 23 - 2 weeks later than usual. So we had 2 more weeks of summer, which we were all grateful for. It seemed a little strange to be starting so late but I really couldn't imagine having started two weeks ago!
Ethan is in third grade and Logan is in Kindergarten. They were both ready for school to start and to see their friends. I am so glad that they have always transitioned fairly well into school each year. They are always a bit tired and not used to the routine for a couple of weeks, but there is no major drama.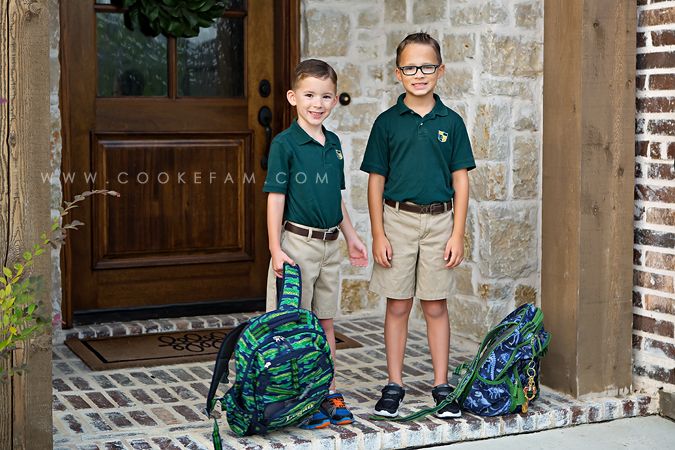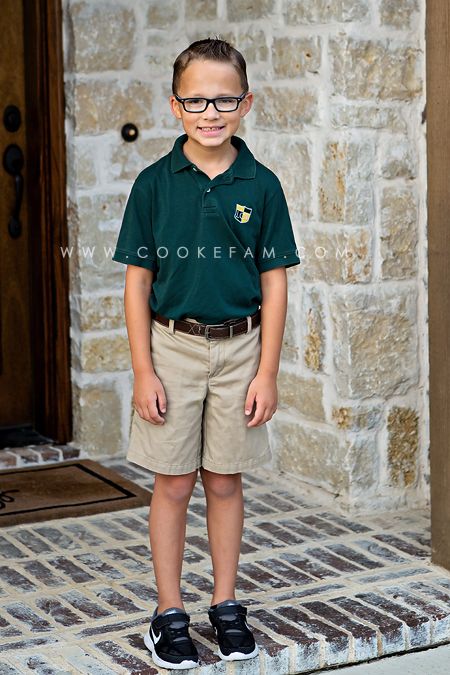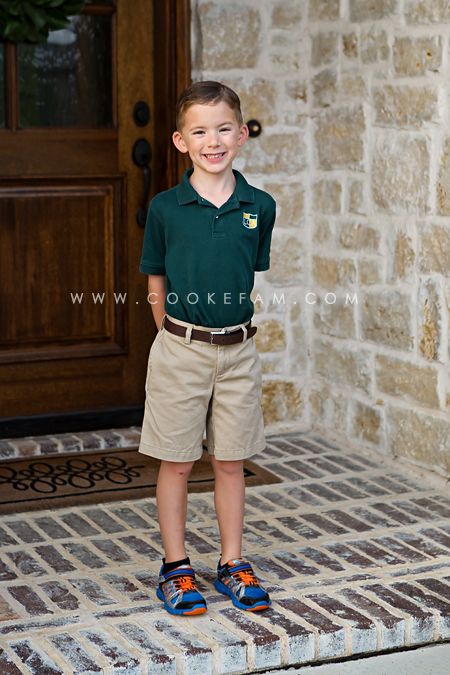 I love watching them walk into school together. Usually I'm in my car in the drop-off line, but this time Casey and I were following behind them.
Third grade classrooms are upstairs and this is Ethan's first year to have a locker. I didn't know about the lockers until 2 weeks before school started. They don't have locks yet, but the kids are just keeping their backpacks and lunches in them.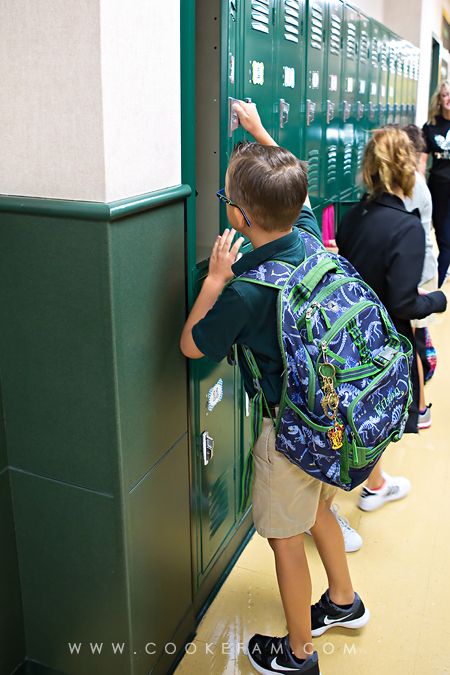 We did not do any elaborate decorations (like some people), but Ethan did want a few pictures. We used magnets to attach them to the inside of the locker door. He was pretty thrilled with it and I thought it was sweet that he wanted photos of us in there. His favorites are the photo with him and Logan on Santa's lap and our family photo.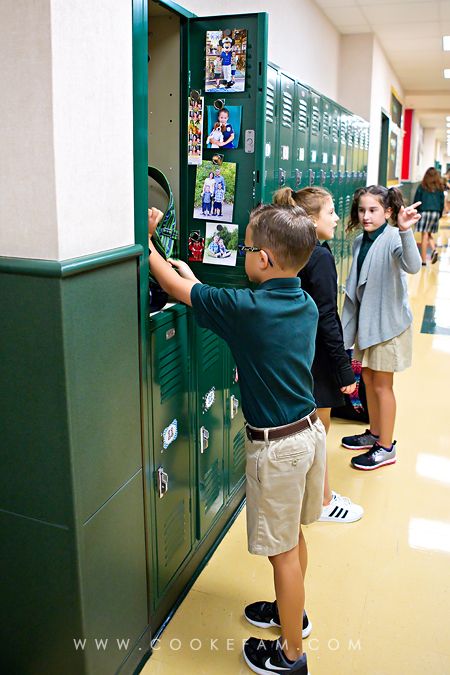 Ethan was happy to discover that he sits right across from one of his best friends, Koren. He is also #1 in his class this year (they each have a number for organizational purposes).
His teacher, Ms. Smalley, is new to the school this year, but seems really nice.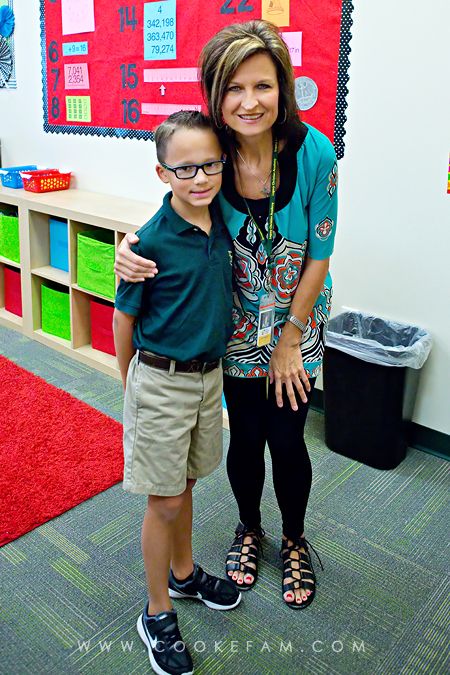 She took a family photo for us. It was pretty quiet in Ethan's classroom when we dropped him off. I don't know if the other families were dropping off younger children first or if they are not going inside the classrooms anymore at this age. I will go in and take photos as long as Ethan will let me!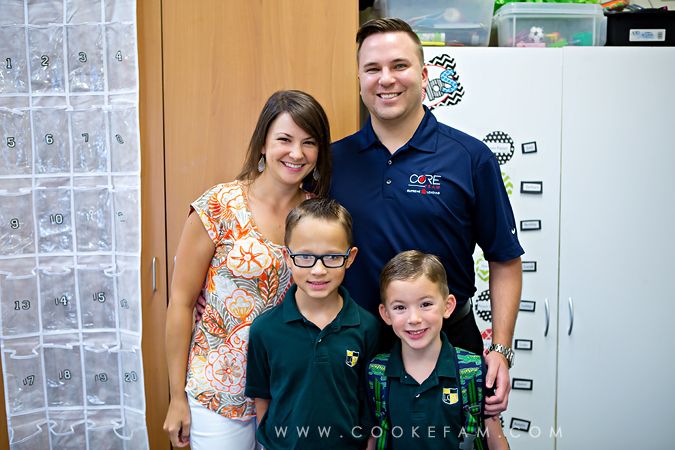 Sweet brothers saying goodbye before we left Ethan's classroom.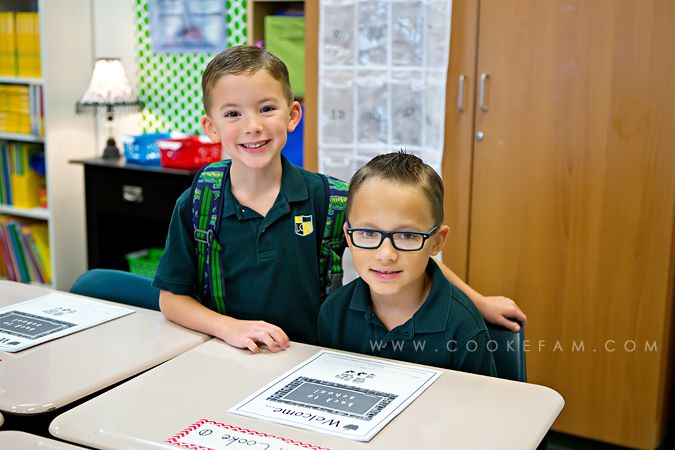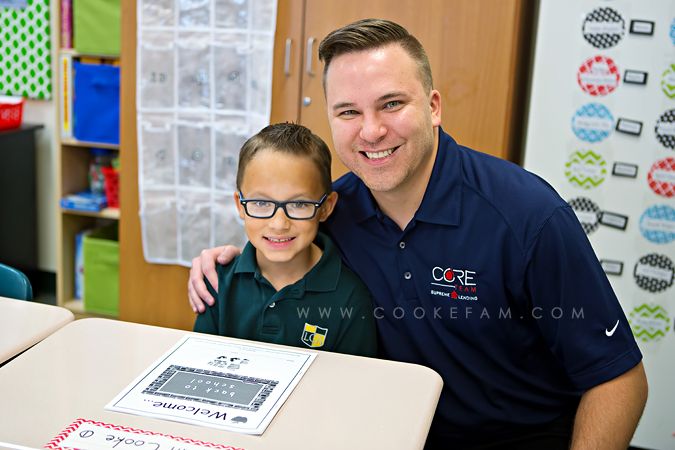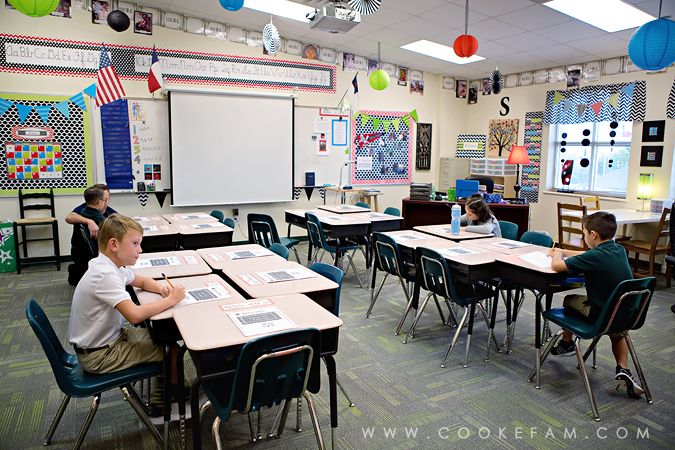 We headed downstairs after wishing Ethan a great first day. Logan was really proud to show daddy the way to the Kindergarten classrooms, which he remembered from last year.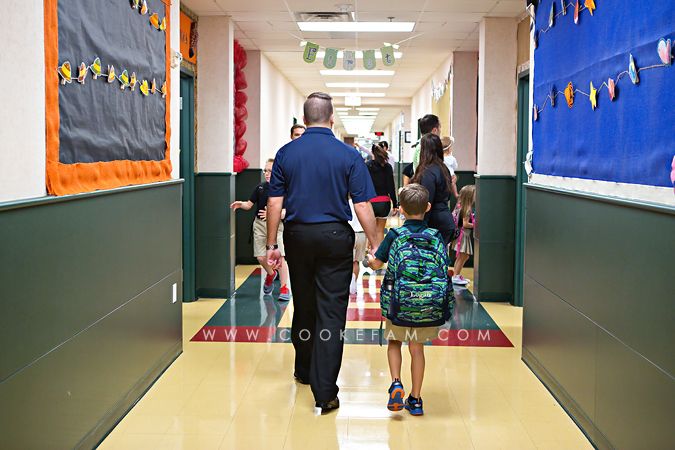 He is #1 in his class this year too (even with a "C" last name), so his backpack and lunch are in the first cubbies. He knew just what to do to put his stuff away before sitting down.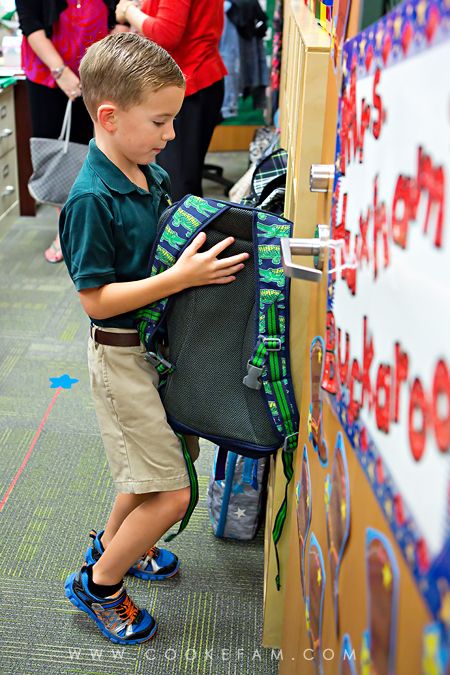 Logan is also seated at a table with one of his best friends, Asher. Let's hope they don't get each other in trouble or they won't be sitting together for long!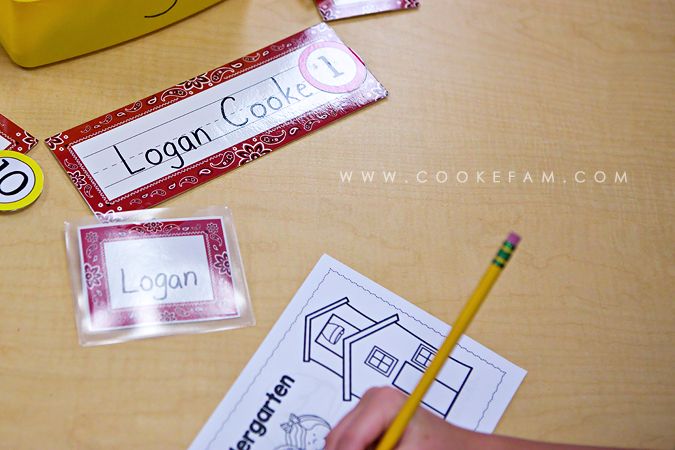 Logan was all-business, picking up his pencil and getting straight to work on his worksheet.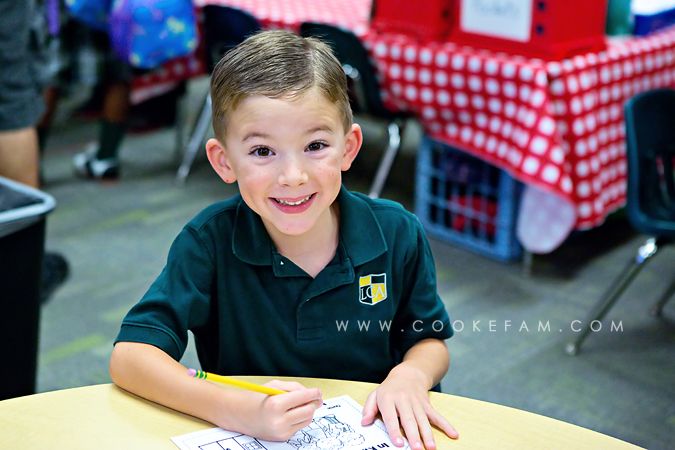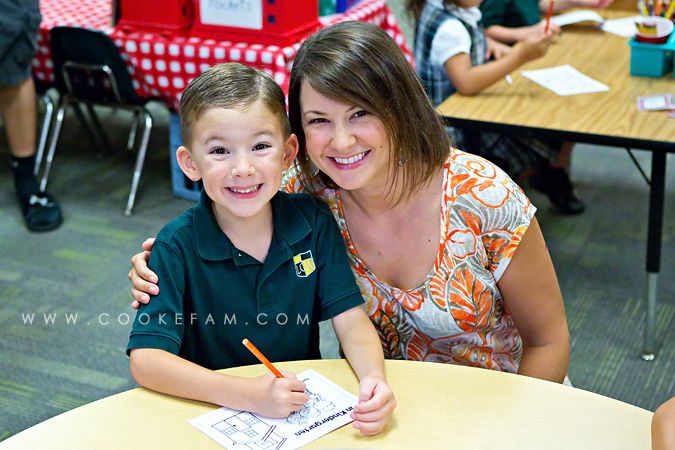 Mrs. Huxham has been a Kinder teacher at Legacy for a long time now and we are looking forward to Logan being in her class.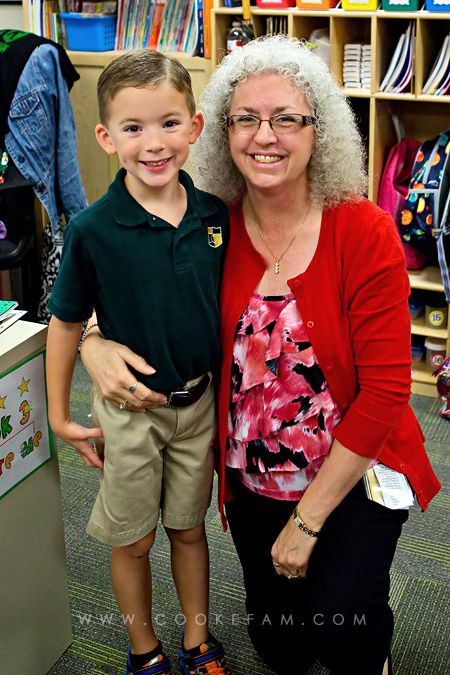 He didn't even look back when we left. It's always a bit crazy on the first day since the school is crowded with parents and eager students. But we left without any tears this year (from us - the boys have never cried). It felt strange for the Kindergarten transition to be so uneventful, but I'm kind of glad it was. Since Logan went to TK last year full time, this year just wasn't a big deal.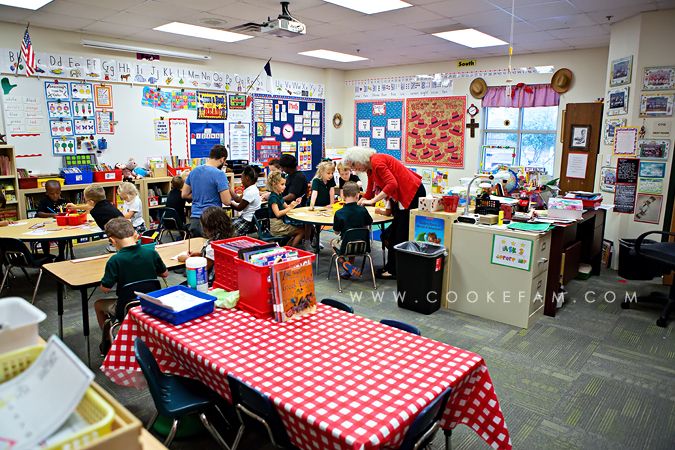 They both said they had a great day when I picked them up. They were a little cranky - probably tired - but it was nothing that a fresh chocolate chip cookie couldn't fix!