We stayed at two fabulous hotels on our trip. Usually, hotels are one place I choose to save money when booking a vacation...especially if we don't plan on spending much time at the hotel. But for this trip...where our main agenda was relaxing...I knew we wanted to make the hotels part of the trip. And they did not disappoint.
The hotel we stayed at in Orlando was the
Waldorf Astoria at Bonnet Creek
. It is a stone's throw from the Disney theme parks and resorts. They provide complimentary shuttle services every hour to and from the Disney parks, which we took advantage of. This hotel is fairly new and it was immaculate. The details and service were perfect.
THE LOBBY: Just like in the Waldorf in New York, this lobby featured a clock. But my favorite part of it were the one-inch iridescent tiles they had inlaid in the floor. You can see them in the foreground of this first picture.
THE ROOM: We stayed in a suite and it was beautiful. It had two large flat screen TVs...one in each room, a bar area (not pictured), roomy bathroom and shower, gorgeous bed, and a wonderful view. The bed, as well as being beautiful, was also so comfortable.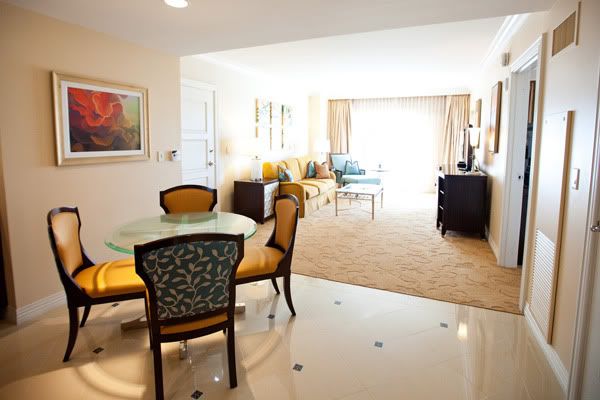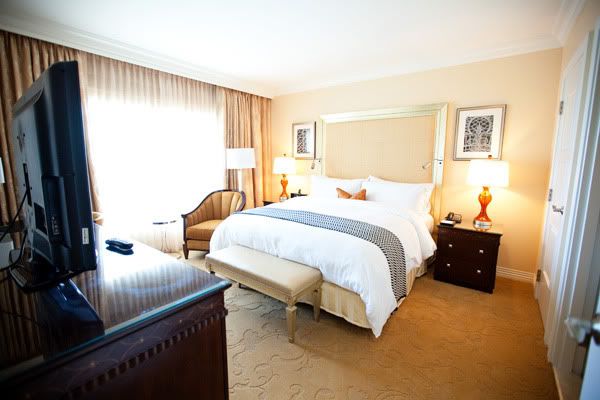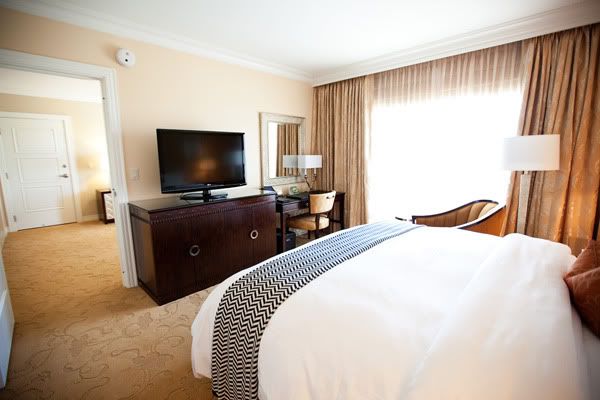 This was the view from our balcony...the beautiful pools, the golf course, and some Disney parks (Epcot, Animal Kingdom, and Hollywood Studios were all visible). We watched the fireworks show at Epcot from our balcony one night. We swam at the pool one afternoon too, and they have 10 cabanas (you can spot them in the picture below) that are fully equipped with refrigerators, flat screen TVs, etc. We just sat in deck chairs, but they are also full-service...towels, chair covers, drinks, food, etc.
THE RESTAURANT: Part of my criteria for picking a hotel was that it had a highly rated restaurant because, let's face it, food is also a big part of a vacation.
The Bull and Bear Steakhouse
was probably Casey's favorite part of our entire vacation. It was SO good. We started out with a lump crab appetizer that had a wonderful avocado sauce. Their house sourdough and savory monkey bread were amazing. Then Casey had the Colorado rack of lamb while I had a simple, but perfect filet mignon. The sides were definitely something to write home about...garlic whipped mashed potatoes and creamed corn. I cannot describe to you how absolutely wonderful that corn was. Between the two of us, we ate every last kernel. Then, if all that wasn't good enough, we had a chocolate souffle with Grand Marnier cream sauce. Piping hot and delicious. Oh, AND we watched a beautiful sunset from the window by our table while we were eating.